#GoingGlobal: Japan agri ministry partners with VSU for food security forum
Details

Written by Kim Kenneth Roca

Published: 23 September 2022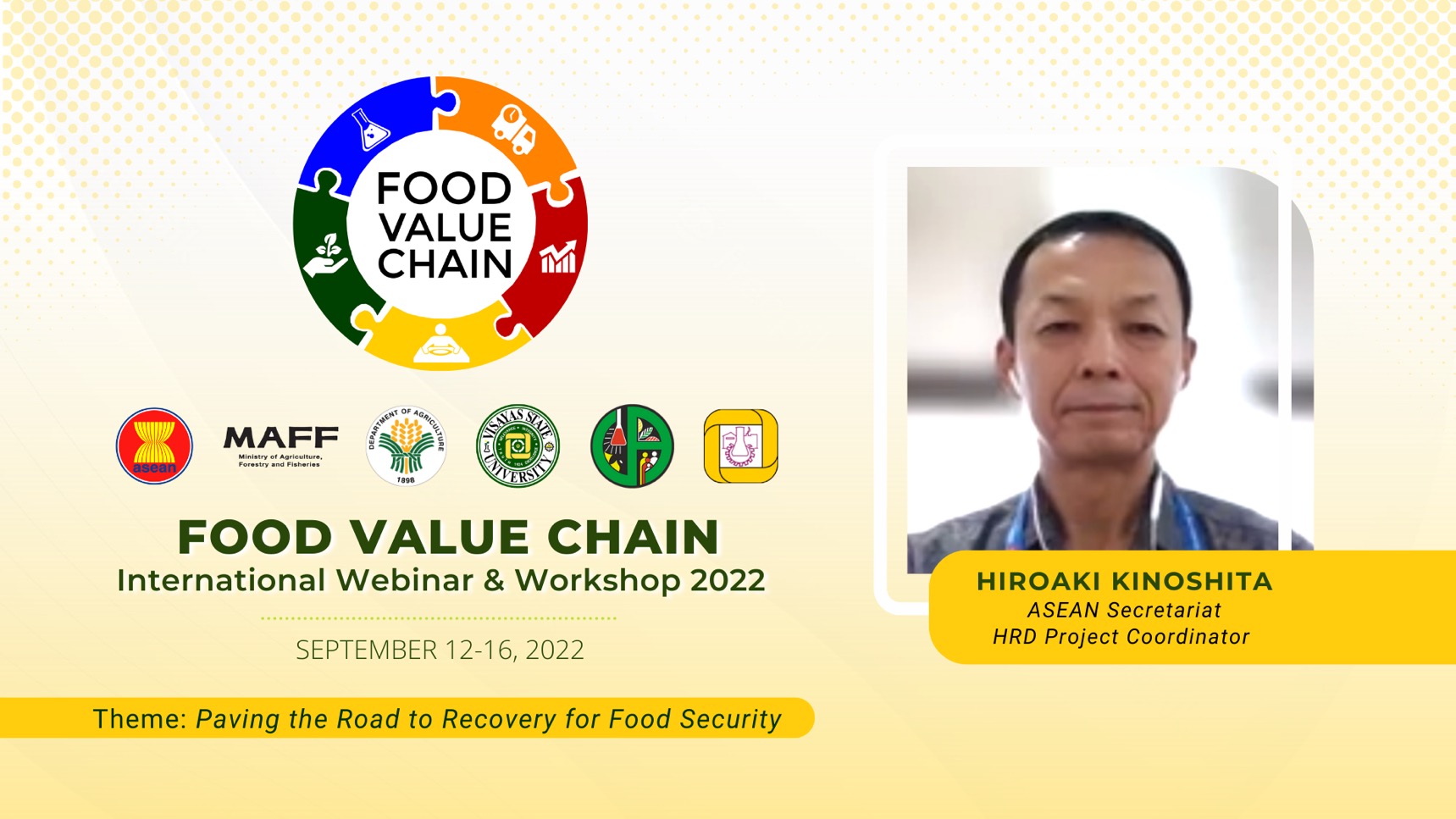 Now in its 6th year, the Association of Southeast Asian Nations (ASEAN) and the Ministry of Agriculture, Forestry and Fisheries - Japan (MAFF) have once again collaborated with Visayas State University (VSU) through the Department of Food Science and Technology (DFST) for the 2022 International Food Value Chain (FVC) Webinar and Workshop.
This weeklong virtual gathering ran from September 12 to 16, 2022 via Zoom. The FVC is an international seminar workshop with delegates from different state universities and colleges (SUCs) including line government agencies in the Philippines. The five-day activity showcased lectures from various experts in agriculture and food-related enterprises from reputable partner companies in Japan.
Anchored on the theme "Paving the Road to Recovery for Food Security", this year's FVC tackled topics on effective strategies for the recovery of food industries and the agriculture sector from the many impacts of the pandemic using Japanese technologies.
The theme is a resumption of last year's FVC topic on "Coping strategies for seasonal threats in food security under the new normal" which was aimed at looking into modern innovative solutions to cope with the threats brought about by the pandemic with particular focus on the food industry sector.
Hiroaki Kinoshita, ASEAN Secretariat and Human Resource Development Project Coordinator, hopes that the program would help reinforce the participants' understanding of the food value chain that is seen to benefit the Philippines in the long term.
"Through these lectures including Japan's good examples, I believe you could deepen your understanding of the food value chain. I also believe that you now have a new perspective that will help strengthen the food value chain in the Philippines," Kinoshita said.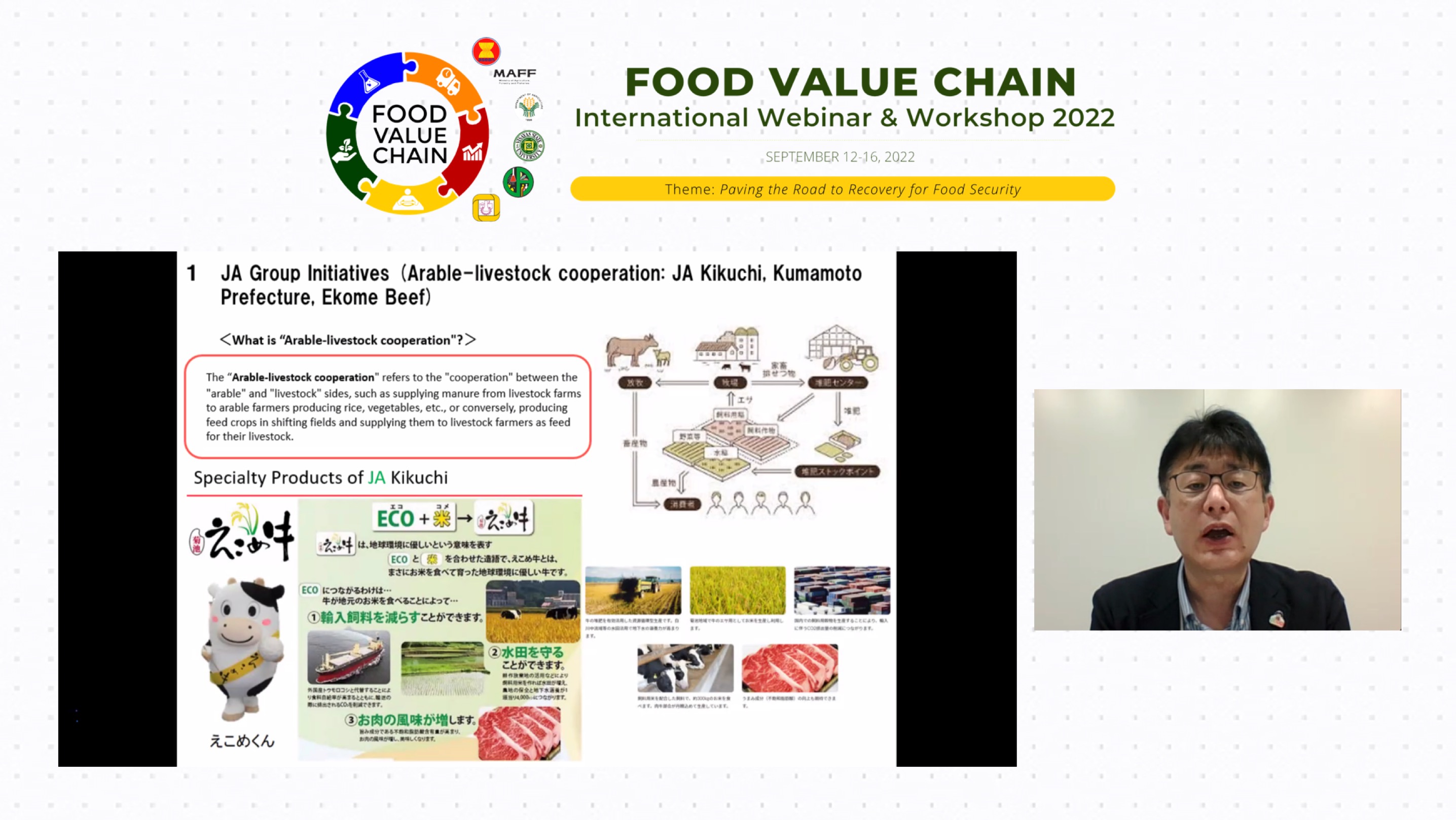 Kinoshita is currently leading the larger umbrella project 'Human Resource Development in Food-Related Areas through Partnerships with Universities in ASEAN Region-Phase 3' that initiated the FVC.
"The project expects you to put your knowledge to practical use. We [the project] believe that the participants will use it in the real world and contribute to the growth of the Philippine agriculture and food-related industries. [And that] The stability and development of agriculture and food industries will push through and will keep on improving for the benefit of the people," he added.
Among the topics discussed during the event were: food value chain concept, supply chain, and logistics, fast food and restaurant industry, meat processing/livestock and dairy farming, smart agriculture, value addition in agricultural products, food packaging technology, and Region 8's progress in attaining the Sustainable Development Goals.
To conclude the series of lectures, a workshop was organized in response to this year's theme. The participants were grouped according to their selected topics and presented their reports thereafter.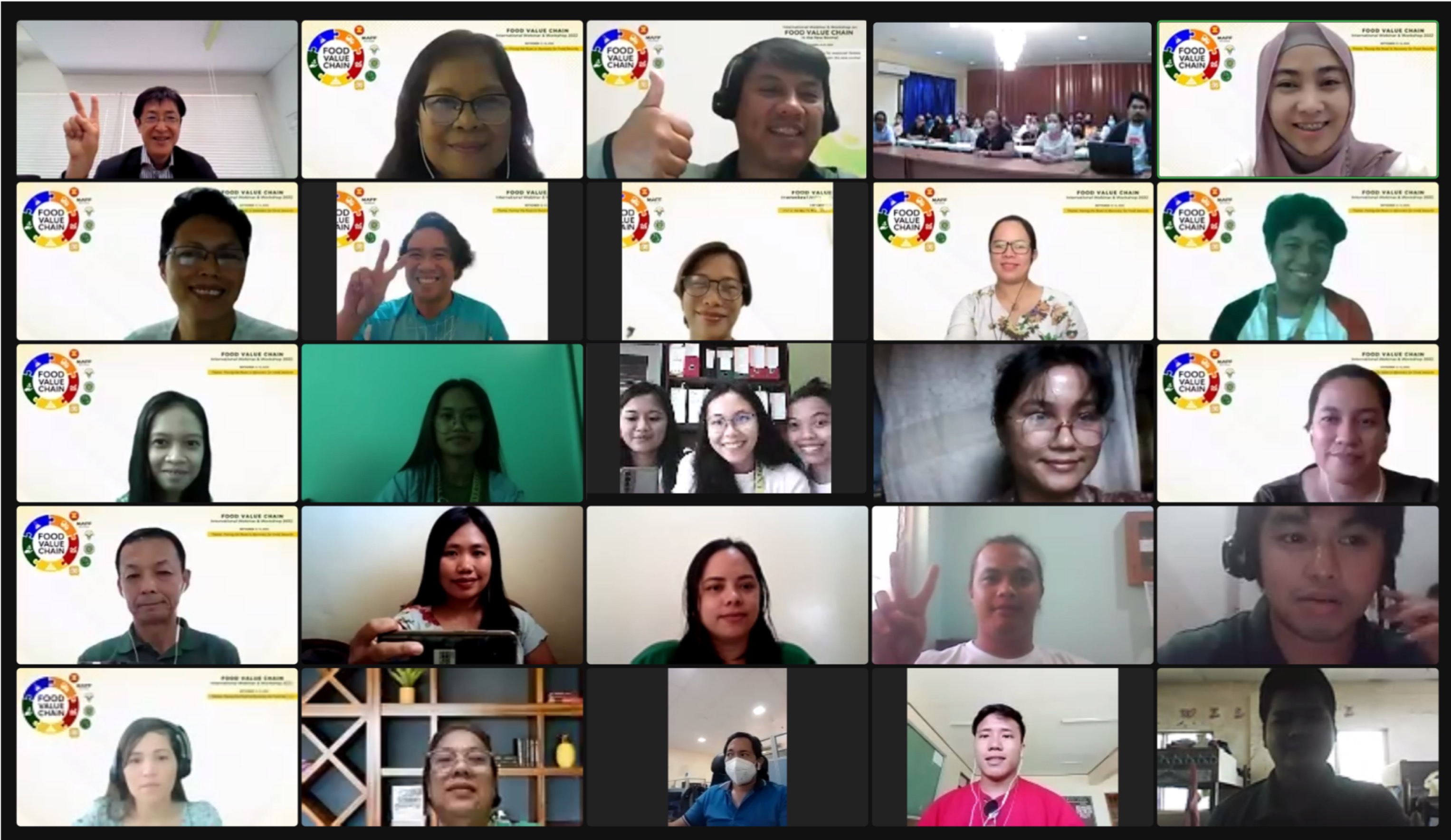 Yoshinoya, a Japanese multinational fast food chain and the second-largest chain of beef bowl restaurants, also conducted a job orientation for aspiring applicants who want to be a part of their company.
In line with this, Yoshinoya recently signed a Memorandum of Agreement (MOA) with VSU-DFST to provide industry-based technical knowledge to Viscans including students from other SUCs about the food service industry. A string of lectures will also be arranged as a part of the agreement which is expected to run from September to December this year.
DFST Head Dr. Lynette C. Cimafranca emphasized the importance of holding the annual FVC while also maintaining the strong partnership of their department with ASEAN and Japan MAFF.
"This is such a significant collaboration, especially with the pressing threats to food security that has been exacerbated during the pandemic. Since most of our participants are food technology and agriculture students, these relevant topics on addressing supply chain issues and strategies in creating effective systems for storing, processing, packaging, and distribution of food products are things that they can certainly emulate in the future when they enter the workforce," Dr. Cimafranca shared.
VSU President Dr. Edgardo E. Tulin expressed his gratitude for the continuing partnership of ASEAN and Japan MAFF with VSU for many years now.
In the Philippines, VSU is the only member agency chosen by ASEAN and Japan MAFF to implement this extensive human-resource development project aimed at improving and developing the needed human resources to enhance food security while also building out a network of young leaders who will strengthen the country's food value chain system as a key strategy for poverty alleviation.
The FVC seminar workshop also aspires to harmonize agricultural and food-related regulations and standards, increase opportunities for industrial development, and enhance ASEAN trade by investing in programs that will lead to greater competitiveness of its products, commodities, and other services.
More than 150 participants composed of faculty and students from different universities, food industry practitioners, local government units, and line government agencies participated in this virtual event.

Among the government agencies present were the Department of Agriculture (DA), National Economic and Development Authority (NEDA), Philippine Carabao Center (PCC), Department of Science and Technology (DOST), and the Food and Drug Administration (FDA).