#ProudViscan: VSU Tolosa records its first topnotcher in fisheries licensure exam
Details

Written by Marianne C. Bayron

Published: 15 October 2022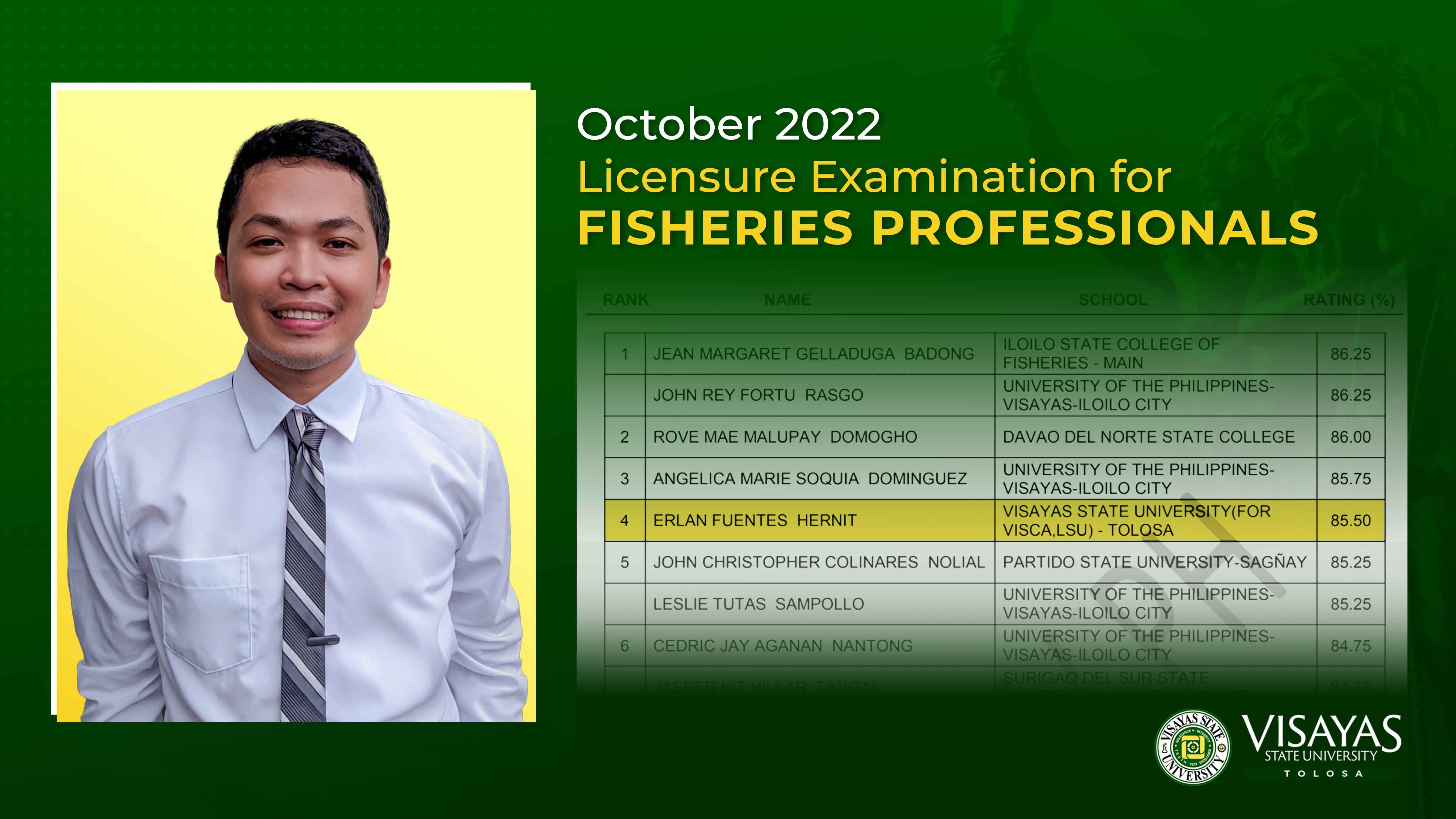 Mr. Erlan F. Hernit becomes the first graduate of the Bachelor of Science in Fisheries (BSF) program here in the Visayas State University Tolosa to make it to the roll of top 10 highest rated examinees.
He landed 4th place in the 2022 Licensure Examination for Fisheries Professionals (LEFP) among the 716 total number of successful takers coming from 95 universities and colleges offering the BSF program all over the Philippines.
With this achievement, Erlan proves that juggling between work and review is never a hindrance in making it to the top.
It took him five long years to finally get the courage to take the fisheries board as he had difficulty in securing a permanent position in the government without obtaining a professional license.
This 27-year-old board topnotcher graduated Cum Laude in June 2017.
Erlan hails from Alangalang, Leyte and is the third son among 5 siblings of Mr. Romeo S. Hernit and Mrs. Rowena F. Hernit. His father is a local fisherman who also inspired him to pursue a fisheries degree at VSU Tolosa.
Currently working as a Fisheries Quarantine Inspector at the Bureau of Fisheries and Aquatic Resources (BFAR) in Tacloban City, Erlan never expected the results of the examination.
It was Erlan's friends who broke the news to him as he was offline at the time that the results were released. He didn't believe it at first thinking that his friends were just pulling a prank on him. But when he got to see his name on the list, he felt very happy that he eventually became emotional about it.
He attributes his success to his mentors from VSU Tolosa who continued to believe in him despite delaying his board examination for many years now.
Erlan also revealed that his friends lent him their reviewers as he had no extra money to spend on expensive review materials.
Despite not having enough free time to review and prepare for the board exam, he still earned an impressive 85.50% rating, which was not very far from what the first placer obtained.
During his exam, he felt that the practical experiences that he acquired from working in BFAR were valuable inputs for his performance in the boards.
"I noticed that most of the takers find the situational questions, those that need analysis, difficult. In my part, that's where I really applied what I had learned most both from school and from my practical experience in the field," the board topnotcher reveals.
Erlan hopes that his achievement will serve as an inspiration to students to never stop believing in themselves. He is also proud of bringing pride and honor to his home institution, the VSU Tolosa.
VSU Tolosa Chancellor Dr. Quenstein D. Lauzon is very proud of this recent achievement of one of their graduates.
"I congratulate Mr. Erlan F. Hermit for his accomplishment of putting us on the map. This is a testament to our commitment of replicating the brand of excellence that we have here in the VSU system. I'm also hoping that with this news, we can attract more brilliant students in our fisheries program so that we can produce more board topnotchers and many more successful examinees in the future," Chancellor Lauzon said.
Out of the 1,966 takers of the October 2022 board exam, VSU Tolosa produced 28 new licensed fisheries professionals for this year.
VSU Tolosa obtained an institutional passing of 42.31% for the first time takers while retakers obtained an institutional passing rate of 38.46%. Overall, VSU Tolosa registered a 40% institutional passing performance which is higher than the national average of 36.42%.
The Professional Regulation Commission (PRC) administered this year's LEFP in Manila, Baguio, Cagayan de Oro, Cebu, Davao, Iloilo, Koronadal, Legazpi, Lucena, Tacloban, Tuguegarao, and Zamboanga from October 6 to 7, 2022.