Speech of PSC-PSI Deputy Nat'l Director Henry C. Daut for #VSUIntrams2022
Details

Written by Henry C. Daut

Published: 21 October 2022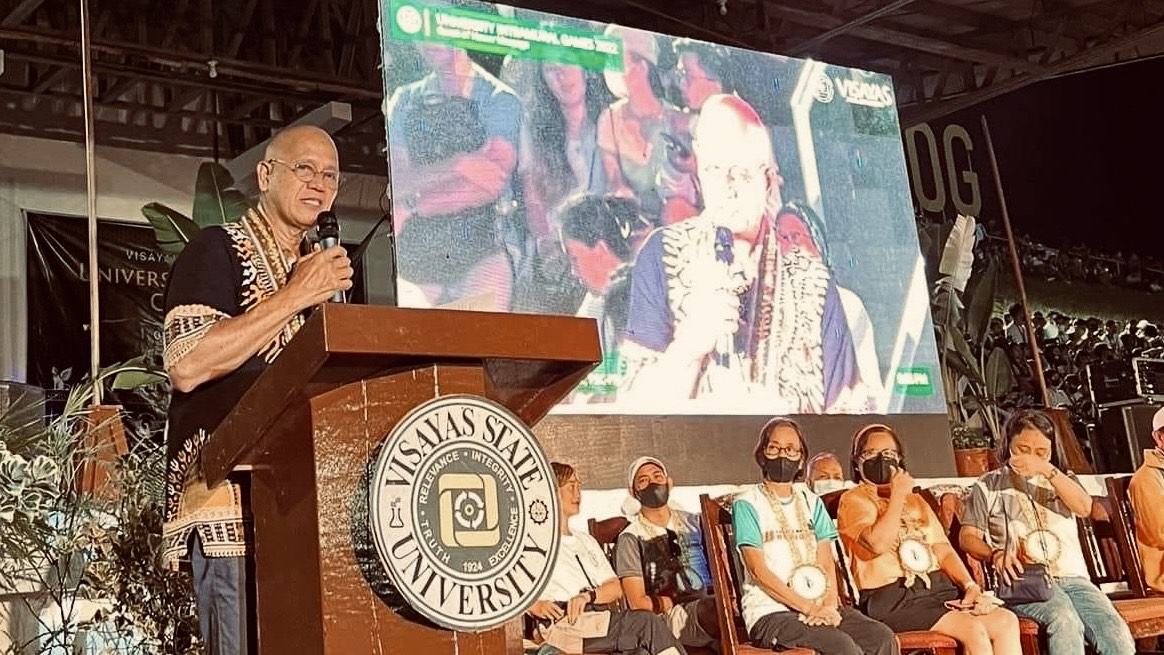 Baybay City Mayor, Hon. Jose Carlis Cari represented by City Administrator Atty. Florante Cayunda Jr., VSU President Dr. Edgardo Tulin and his beautiful wife Madam Tulin, Vice President for Student Affairs and Services Dr. Aleli Villocino, IHK Director Dr. Charis Limbo, Intramural Games Coordinator Ms. Sheena Eunice Tabudlong, Vice Presidents, Deans, Directors, Faculty and Staff, Students and Athletes, Ladies and gentlemen, Assalamualaikum, greetings of peace from Mindanao.
At the outset, allow me to express my thanks and gratitude to the University Administration, the Director of IHK, and my very dear friend the VP for Student Affairs Dr. Aleli Villocino for inviting me to be the Guest of Honor of your Intramural Games 2022 with the theme: SálingKusóg!
After 17 years, I am very happy to be back at this Very Scenic University - Visayas State University. The once laid-back campus has metamorphosed into one of the most Progressive, Productive, and High Performing universities in the Region and the country as evidenced by the many beautiful and modern buildings sprouting all over the campus and the National board topnotchers in various fields.
It is an honor and a great privilege to be invited to grace this occasion ushering in the return of sports at your prestigious institution. A very significant event in the calendar of activities of every institution. A program that every student looks forward to - as an athlete in the sport, performer in literary, musical, and dance extravaganza, or just a mere spectator cheering his or her team as they battle it out on the court, field, on the dancefloor or up on the stage.
Imagine a university without intramural games. Imagine yourself sitting in the classroom listening to lectures or reading books at the library for the whole year. Imagine school life without sports. It must be a life similar to the COVID-19 pandemic minus the masks and the vaccines.
After 2 years of living in the pandemic, we are entering a new normal of getting back to our daily lives not with fear but with caution, not with uncertainty but with resilience. For we have survived the worst of times and we are all ready to unleash the power of our strength through sports. If there is one significant lesson this pandemic has taught us, it is that of giving high value to health and fitness as an antidote to COVID-19 or any illness. It highlighted the importance of exercise and sports as instruments to make us healthy, strong, and resilient.
Today, we are gathered to witness the show of force of VSU's athletes and performers as they prepare to battle it out for the coveted gold. We shall be entertained by the talents of the performers kept on hold by this pandemic. The athletes are raring to demonstrate their abilities to shoot and score, serve and spike, hit a home run, swim the distance, or sprint to the finish line not just to win medals or championships, but more importantly to become winners in life.
This pandemic has reminded us that health is wealth that can be developed through exercise and physical activity like sports. If you ask me what life is? I would say Life is Sports and Sports is Life. Life is a competition that we enter not just to win but for the very reason of giving our best.
Sport is a great teacher. And I believe that most of the things that a child can learn in life can be learned In Sports and Through Sports! Sport teaches us the values of respect, honesty, discipline, hard work, cooperation, teamwork, and sacrifice. Values are necessary to succeed not just in the sport that you play but more significantly in your family, work, and life.
Likewise, sports allow you to experience the joy of winning and the pain of losing. Sports challenges you to be gracious in defeat and magnanimous in victory. Losing does not mean failure but an opportunity to bounce back and train harder and better, thus developing sportsmanship and resilience. These are experiences that will enable us to face whatever challenges and obstacles we will surely encounter in life.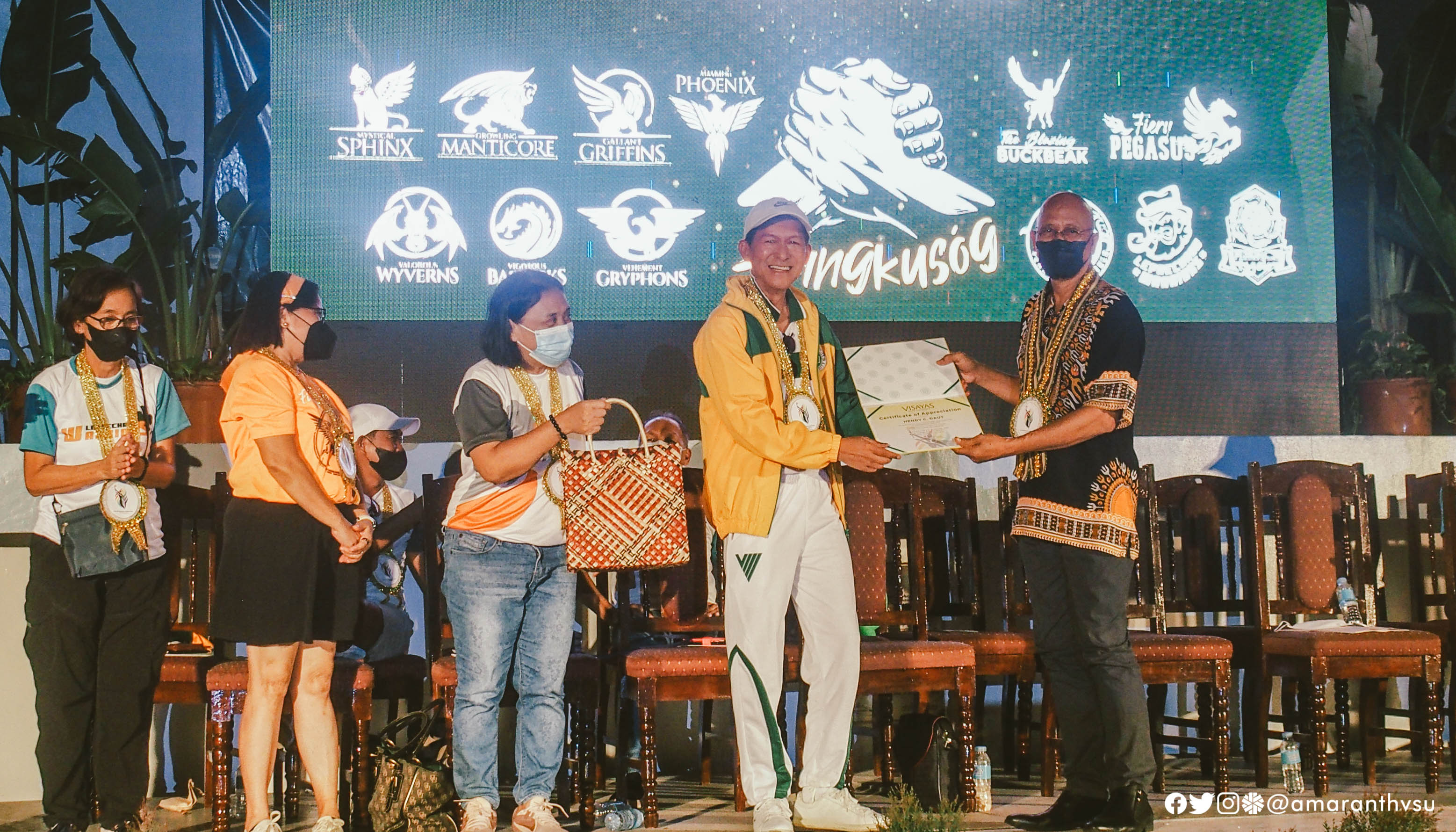 Tomorrow the actual competition will commence. You will begin your quest for glory. Let me remind you, dear athletes, that the real opponent is not the team or person on the other side of the court or net. Your real opponent is yourself. How you can control your emotions, tempers, and anger while playing will determine not only the kind of athlete you are but also the kind of person you have become. Play therefore not just to beat your opponents but more importantly to conquer yourself and become a better athlete and better person in life.
Finally, let me congratulate all of you for joining in these Intramural games and for adding life, color, and action to your student life on this beautiful campus. I wish everyone all the best. Good luck and may you all come out winners not just with medals but with wonderful experiences and lessons in life. Mabuhay ang VSU! Thank you so much!
[Photo courtesy of Amaranth]