[FULL LIST] 2018 VSU College Admission Test Qualifiers
Details

Written by VSU Admission Office

Published: 12 April 2018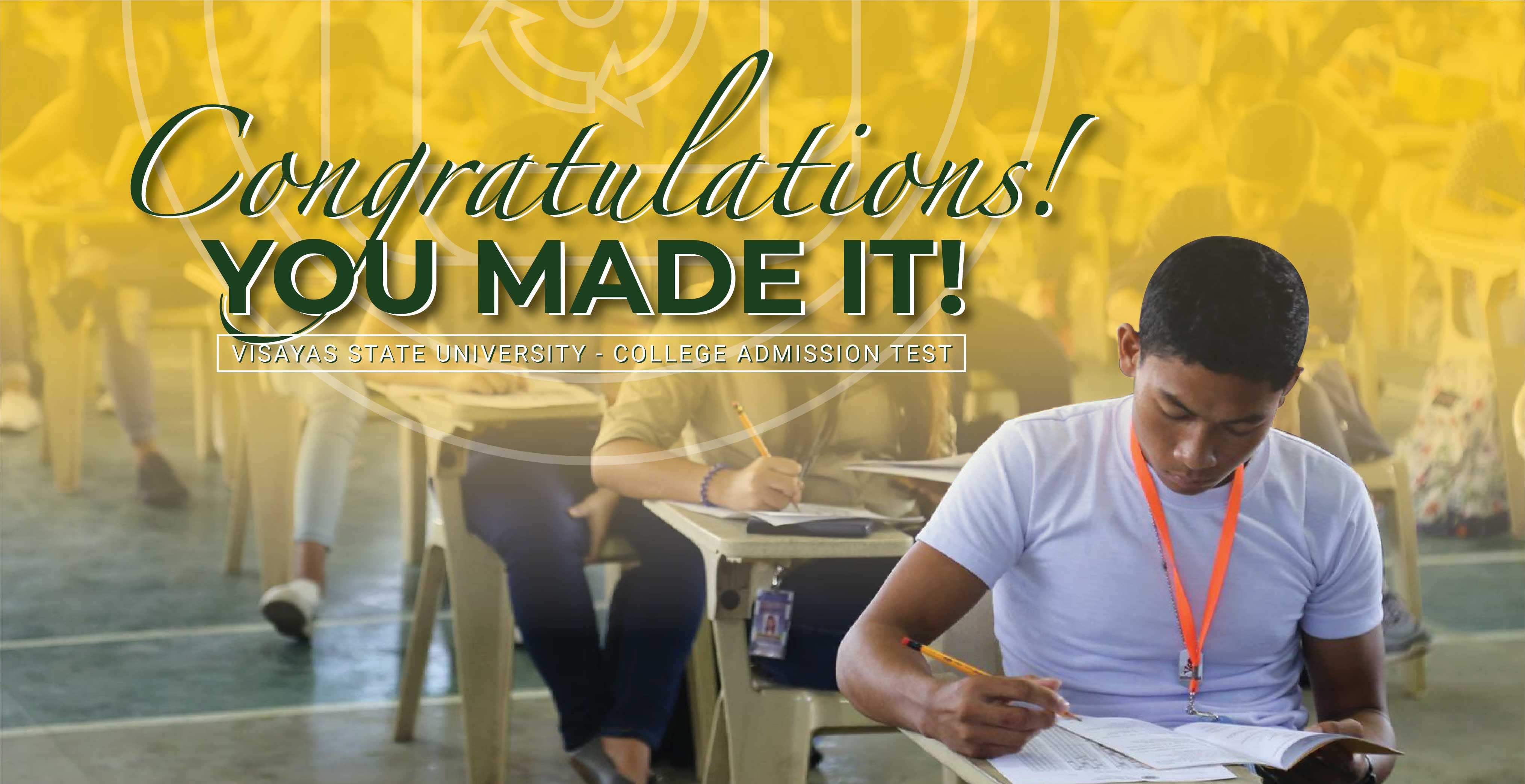 The Visayas State University (VSU) administered its first ever College Admission Test (CAT) from February to March this year in different testing centers across Visayas and Mindanao. Of the 5,886 total number of examinees in the Main Campus, only 2,500 qualifiers would be taken in by the University for School Year 2018 to 2019.
All qualifiers of VSU-CAT are eligible for free matriculation and other school fees following Republic Act (RA) 10687 or the Unified Student Financial Assistance System for Tertiary Education (UNIFAST).
The following are the list of exam qualifiers for the main campus, arranged by degree program:
Meanwhile, qualifiers who did not make it to their priority courses in the main campus may enroll in the following degree programs with vacant slots:
AB English Language – 13
B Elementary Education – 25
BS Agribusiness – 5
BS Agriculture – 119
BS Agricultural Chemistry – 17
BS Culture and Arts Education – 5
BS Development Communication – 32
BS Development Education – 69
BS Environmental Management – 25
BS Exercise and Sports Science – 24
BS Food Technology – 61
BS Forestry – 63
BS Hotel Management – 25
BS Statistics – 14
Here are the list of exam qualifiers who are eligible to enroll at the VSU Main Campus ON A FIRST-COME-FIRST-SERVED BASIS in the degree programs with vacant slots: JUMP TO LIST.

Additional Qualifiers (APRIL 17, 2018)
These are the examinees who qualified for admission but were not included in the previous list.
Dela Cruz, Wendhey Mae
Impoc, Jennifer
Labay, Mylene
Manayon, Christy
Orbiso, Jel
Pepito, Marrian Mae
Satore, Jomari
Ayo, Aldwen - ABE
Gerbacio, Deniella Jayn - BSF
Gonzaga, Jason - ABE
Quilisadio, Shannaia - BSN
---
ABABAT, FELTON V.
ABANSA, ANGELO JUSTINE D.
ADOLFO, WAYNECIE NOREEN R
APELADO, RICO A
ARAÑEZ, KHIM F
AVES, ANNA CHARINA D`
BACALAN, JESSA E.
BALDO, CHRISTIAN S
BARCOS, WILFREDO S.
BAYLON, NICU BERNARD E.
BAYO, TRIXIE T
BIOC, MARIA JUDIT S
BISMANOS, RG ANGEL S
BORRES, RAY-ANN S.
BOTERO, TRIXIE ANN B.
CASAS, JUNRAY GIL J
CASCARA, JEHANNE J.
CERRO, MA. MICHKAELLA
CLAPANO, JHOLIA PRINCESS T
CLARECIA, JESSICA C.
CRISPO, ROHONNEY JANE D.
DE PAZ, EFREN JOSEPH G.
ELARDE, IRMA T.
ELEGIO, BREANA KAYE L
ERRUA, TRISHA J.
ESCOTOTO, CHARLES KIM A
FERNANDICO, ANN MELLENE C.
FORNIS, NOREEN SARAH A
FORNIS, PAUL VINCENT L
GALVEZ, AARON PAUL N
GALVEZ, MARRHLLA A
GUMBA, PAUL ANGELO
GUY, ERICA JOY
JIMENEZ, RHEA
LEAÑO, ALEXANDRA NICOLE T.
LOPEZ, FERDINAND WEIZ V.
LUCHANA, MARIA RODIZA S
MACALALAG, VENICE KINAH T.
MALOLOY-ON, JANPAUL P
MARINAY, AIMAE E
MIANO, NIKKI V
MONTENEGRO, LESLIE ANN
MORENO, LANIE REY U
OPONDA, JINKY P
PARILLA, CAMILLE ARIANE C
PELAEZ, EMAN JHAYKO E.
PEPITO, BERNADETH P
QUINATANA, JARELLE B.
QUINTO, EUVA SHAIRA T
ROJAS, MERRY JUSTENE R
SEVILLA, JOYMILLE S
SODE, ABIGAIL S.
SOLIJON, KLENT JAY A
TISADO, ELIEZA RACYJOSS E
TRIPOLI, AMOR T.
TUTOR, JED VON S.
VERSOZA, MARK JERICHO G
VILLADOLID, ROCHELLE P
YAN, QUEEN JENNY ROSE M
ABRASADO, MARIE CRIS A
ACILO, ADRIAN JOSH
ALBIOS, MAIKO
ALBUNA, IZRA C.
APEPE, MAY D.
AUGUSTO, OPELIA G.
BACAT, LAVIE ROXELLE B.
BACUS, JERLYN MARIE C.
BASALO, ARAM VICTOR B
BATING, ANNA MAE A.
BAYRON, WINAH LOUIE B
BEJOC, JAMES SHADLY Q
BORJA, BRIAN MATTHEW M.
BUNGA, JULITO JR. A
CABANGANGAN, AILEEN T.
CABANIG, SEAN KIMBERLY C.
CAINTIC, JOAH ELIAKIM Z
CAJARA, JAYMAR A
CALATRABA, JENNY
CANUA, JEREMY Z
CAPRICHO, THERESA MAE L.
CATALINO, SHEILA MARIE V.
COBRILLA, RACHELLE M
CONTRIDAS, GLENN L
COTIAMCO, JANN RENSILLE T
CRUZ, MARIAN JAY C
DECASA, HARGIE D.
DEDAL, SYBIL ANN O
DY, KENN E
EBRADO, ELBERT JOSHUA V
EMBERDA, LYKA JOYCE B.
FAMOR, MARIANE P
GAÑA, DIANA MARIE S
GARGASIN, DAN REY G
GLORIA, CARLA JANE M
GUCELA, ANGELIE C.
GUEVARRA, JOSHUA R
INTEGRO, ELVIES WHRITE N.
JOYO, ROSELYN R
JUSAY, NIEL C
LACE, RHEA MAE M
LORETO, LIO CRIS I
LUMACAD, LYCA M
LUMICTIN, JOYLIN B.
LUMINARIAS, MARIE CLAIRE P
LUSARES, JEFFREY J.
MAHINAY, ROMEL T.
MAHIPOS, CHAEL MHAR
MALQUISTO, JOYCE E
MANGCO, KARLA KATREENA D
MASENDO, ROSE JEAN S
MEJIA, NIMITZ F
MONSANTO, RHEY CHRISTIAN O.
MORALES, MARY JOYCE G.
NOVERO, ROSS FRANCE M.
OCARES, MECCA JANE S.
OCEÑA, JOHNNY GIE C.
OLO, VYRA MAE L
PACAYDE, EJAY A
PEÑA, LYKA B
PERALES, NIEL P.
PEROCHO, RENE RAPHAEL D.
PIAMONTE, MARVIN
REYES, HANNAH GRACE S.
RONATO, ANDREW P.
ROTO, NIÑO PAOLO
SENDIONG, IRENE LEE G
SERUNDO, SHANDEE RHIZ M
TADORA, EFRIL WENDY B
TAM-IS, ROCELYN J
TAPAN, MA. BIANCA L.
VALENZONA, JOSE MARI S
VEGA, RACHEL B
VELARDE, JHONNA G
VESTAL, NEIL CARLO B
WAGAS, CHARISS KAREN L
YEBAN, LADY LIZA V
Bachelor of Science in Agriculture and Biosystems Engineering
ABAD, JUSTINE CARL M.
ABOYOT, QUENNIE L.
ACEBES, JANE YVONNE G
AFABLE, JANE M.
ALMOROTO, QUEENIELYN D
ALTURAS, HYACINTH DYEREIN C
ALVIOLA, JESS BASIL P
ANTOLIHAO, RHEA P
ARANAS, MERIE JOIE V
AROTCHA, VERNIEL D
AUSTRAL, CHARISHMAE P.
AYO, ALDWEN A.
BACASON, SHEILA C
BADAD, GWYNNE MARI M
BADAD, JAYNE DENISE M
BERNIDO, YVONNE SHAINE N.
BESTUDIO, KIM KARL
BISNAR, NEMA P.
BOTEREZ, RACHELLE
BULADO, CLARK RAYMUND B.
BURERES, SHERLYNE C
CABILING, ERIKKA R.
CAGADAS, PAOLA ATHENA V
CAINONG, MA. VRECY C
CALUNSAG, PAOLA JADE M
CANARES, EDUARD A
CANDUG, MEDIATRIX B.
CARINO, JOEMAR S
CARNECER, MELVIN E
CASANGCAPAN, ATHENA VALERIE C.
CASAS, JESSA P
CASINILLO, JESRIEL C
CASINILLO, JESSA I
CASUPANG, JAWRENCE BENZ O
COME, ZHEA GHIA MAE Y.
DAWAL, JAMES LAURENCE R.
DIAPOLET, JOBELLE C.
FERNANDEZ, ANTONIETH LESLIE C
GELIG, ELIZALDE Y.
GESULGA, JANE CLAIRE C
GLEMA, HILDA P
GOMEZ, PAUL KELVIN A
GONZAGA, JASON R.
HALINA, JEANIE N
JIMENEZ, APRIL JOY C
LAGUE, MA. NELIA N.
LANDIA, MA. LEXA G
LEPRADA, RUBELYN C.
LINA, ROSALIE S.
LLANITA, ALJOHN JOSHUA I.
LORETO, LEIGH JEANNE A.
MATA, NIÑO JAN M.
MILLARES, MIKKA PAULINE M.
MIRANDA, JAN NIÑO M.
MORETO, MARY JOYCE T.
NARTEA, JAKE O
NARTEA, JAY O
NEGAD, CYRA JUNE A
NEGRADAS, RICHENN U.
OLIVER, RODION M.
PABROQUEZ, FAITH J.
PAGATPAT, CHRISTINE P.
PAME, ERIC
PANTO, WELSON V
PAREJA, MARNELL JOY J.
PARRILLA, KRISTEN M
PELIAS, JOANNA T.
PINEDA, JOMAR
PROMENTERA, ELOIZA L.
PUNDAVELA, DELLY JANE L.
QUINTERO, MYLES A
QUITORIANO, JANIENE G.
REGALARIO, JENNY ROSE L
ROBLES, IRENE MAY P
ROJAS, ALISA GRACE L.
ROSALES, EZEQUEL JR. L
RUTOR, SHAIRA JOY C.
SALANAP, NIXON P.
SALVACION, LEANDRO III M
SANCHEZ, KAYLA KORINA V.
SANTIANEZ, KYLA GAYLE P.
SAPAN, PAUL ANDREW M
SARABIA, KIM C.
SATO, KENJI D.
SIMEON, KARL MARIE B
SOLAYAO, ANGELA T
SUAREZ, JOHN GIL A.
SURBANO, DONNABELLE S.
TIMKANG, GRETCHEN V.
TISMO, JOSHUA EMMANUEL B
TOLENTINO, ADRIAN GERICO G.
TUMAMAK, FRANCIS EMMYLOU C
UGAT, DEXTER ERL S.
UY, JELLY L.
VAN STEENHUYSE, TYLO JUNIOR L
VILLAMOR, ABEGAIL B.
YAO, KENNY PETER A
YAP, JOMER L
YUNTING, KIM PHILIP B
ZALDUA, OSHO GAUTAMA MAHAVIR D.
ZARATE, MICHAELA
Bachelor of Science in Agribusiness
ABAD, ELVIE M
ABANGAN, MARY PRINCESS CINDY
ABAYAN, IVANA CARLA V
ABENOJA, JELLIBIE D
ABENOJA, JERRICK A
ABRASADO, MARIE CRIS A
AFABLE, SUNNY REAL T
AGAPAY, DANEL GEE V.
AGUAVIVA, LYA MAY L.
AGUILAR, ISABELO PAUL O.
ALBARICO, REGINE H.
ALBESA, ELEA MAE M
ALICAYA, ALEXIS R.
ALORRO, RHEA MAE A
AMPONG, RHEALIE G.
ANADIA, LOVELY R.
ANGCAY, JONNA MAY G
ARAR, BIEN DIEGO G
ARPON, MARY ANN G.
AUMENTADO, MONIQUE A
AUREO, MA. IZABETH MAGDALENE L
BADURIA, JOANA
BAGUIO, CHRISTY C.
BALAHAY, EDRALYN B
BALDERAS, LEONEL
BALDO, EDCELITA A
BANDIBAS, JAN IRISH JOY D.
BANGOT, JULIE-ANN P
BASALLAJE, LYCA V.
BATISTER, MERBEN A.
BAYO, SANNIE CHELLE ANN P
BENIGAY, CHERY MAE E.
BERNALDEZ, ROSELLE O
BIHAY, JELLY A.
BIONG, MARY JOYCE B
BISMANOS, RG ANGEL S
BRANZUELA, MELISSA JOY R
BRAO, JAIRAH L.
BRAO, NOIME JANE
BREGILDO, LOVELYN V.
BULACAN, JEA GRACE
BUMAGAT, RAE AYI MAE C
CABAHAGA, KRISTEL LEIGH L
CAHIPE, JAMAICA R
CAMOMOT, LOWIE MAE P
CANTAY, RODIELYN D.
CAPEÑA, MEL-ALAN A.
CENTINO, ENGELBERT M
CERDEÑA, ROBILYN U
CERRO, HAYDEE V
CHAVEZ, ALVIN C.
CLANSA, XYRA CRIS P.
CLAVERIA, NOVEAMIE C
COLASTE, HERSHEY MARIE A.
CONCILLO, MARYJANE B
CORNICO, MYRA MAE
COSTILLAS, JACQUELYN O.
COSTIN, KENNETH C
CREER, MARIA BERNADETTE C
CRISPO, ROHONNEY JANE D.
DACAL, ELAINE MAY J.
DACUNO, EDITHA MARIE P.
DALAGAN, JESSEL JENE C.
DANDAN, JASELLE A
DAVID, FRANCES ISABELLE C.
DAYAP, SHEENALYN L.
DECLARO, DARLENE
DELA CERNA, REGGIE P.
DEMIT, LARAH JANE M.
DIAZ, PATRICE JOI A
DINOY, JERALYN M
DONAYRE, ALTHEA P
ELLASER, TRIXIE MAE N.
ENCARNACION, MECHELLE P
ENCLONA, HANNAH G
ESTRAÑERO, BRYAN C
ESTRERA, RICHARD T
FLORES, RHONA P
GALLARDO, SHYRYLL ZHYNN B.
GALVEZ, MARRHLLA A
GANDOLFOS, NOVA MAGNE S
GARCES, RUBIELYN N
GARCIA, HEIDEL GRACE A.
GARCIA, WYATTEARP A.
GARZOTA, LIEZEL A
GARZOTA, MARVIE R
GOLO, SHAIRA C
GONZALES, KAREN S
GONZALES , ROLLY JR. L
GORON, MARY GIL D
GRANADA, JONILA MAE
GUIAO, SHAINA
GULAYAN, MICHELLE CHAMPAGNE
GUMBA, REMELYN G.
HERMOSO, KHELA P
HUMANGIT, NOELHYN J
IGOT, DESIREE JANE M
JABILLO, AMANCIO JR. A.
JANOLA, REGIENE A.
JAYAGAN, JESSAH P.
JUEGO, ALIAH KYLE
JUGAR, CHIARAH MAE I
JUNTILLA, ARCHILES S.
LAMADORA, CORAZON L
LAMOSTE, THEREZA G.
LAUDE, RIZA S
LAURON, LESLIE ANN P.
LAVIDES, JHANARA MIN MAE B.
LLAMAS, MARIBEL T
LOPEZ, BEBY JANE P
LOZARES, MYLENE O
LOZARES, VERLYN
MAAGHOP, GRACE ANN MARIE G.
MACARANDAN, ELVI P
MADJUS, APRIL JOY A
MAYAO, RHEA D
MAZO, LALAINE M.
MINGUILLAN, MICELLE C.
MOLINA, JOYCE LENE T
MONDAL, CAROL V.
MOPAS, JOVILYN B.
MORENO, DIANNE CHRISSIE C.
MULIG, CHRISTINE F
MUTYA, RESIE C
NARCA, JOVIE A
NARTE, JULIET A
NEBATO, BLESSYL ROSE G
NOPAL, ARA P
NUÑEZ, JAYM VALIANT B.
NUÑEZ, KYLE D.
OBADO, FLORTIMAH P
OLAZO, MICHELLE S
OLINO, ANGEL CHIARA THERESE B.
OQUIAS, JHEZEL B
ORACION, MARIEL B
ORZALES, YLLIANAH MARIE L.
PAGLINAWAN, HAROLD G
PAHUWAYAM, MEA ANN D.
PANIS, ANGELIE A.
PARCO, BERNIE B
PARONGAO, SHERBIE S.
PELICANO, CHRISTY MARIE M.
PENING, ALMERA P
PEPITO, BERNADETH P
PERANDOS, ROSANNA C
PLEÑOS, REGINE S
POLISTICO, GUADA MAE L
PONDOLANAN, JEROME R.
PULTA, HELEN L
RAMIREZ, GISELLE JOYCE B
RAMIREZ, REYNALDO JR. T.
RANCES, SHEINA L.
REGALARIO, JENNY ROSE L
REOMA, HANNAH JANE L
REPANA, TONI ANN C.
ROBIN, DENVER PAUL P
ROM, JOBERT JADE C.
ROMA, PRECIOUS JOY S.
ROMO, ANAROSE B
RUBILLOS, SUNSHINE S
RUIZ, FERLYN P
SABALZA, STEPHANIE B
SALES, JULITA JOY P
SALUNDAGUIT, MARIE JOY P.
SAMBO, CRYSTEL MAE V
SARCO, JUN LISTER A
SEBIDOS, LADY MAE C.
SEGUBRE, NELSON JR. I.
SEVILLA, JONATHAN B
SILVOSA, JUBERT M
SUAN, ERICA FAITH R.
SUAREZ, WILLAFLOR M.
SUMAYA, MARY REINA D
TAMAYO, JOVELYN R.
TEOPALES, JESSON H
TIZON, AIRA MAE D.
TORREON, CARMEL NADINE L.
TRECEÑE, KYLE A
TRIPOLE, JUDY ANN D
TRIPOLE, NIKKI MARIE M
UBAY, ALBIN O.
UNDRAS, MERLIE JOSEPHINE M
USMAN, NUR-AIN C.
VANZUELA, ALEXANDER D
VARRON, CHENNIE N.
VARRON, CRISTY ANN D.
VARRON, GEMALYN B
VELARDE, JHONNA G
VERALLO, MEVELL ROSE R.
VERANO, SELWYN IAN F.
VERDIDA, CHADEL C
VESTRA, ANN GAY D.
VILLA, JEZZA
YONGCO, ABRIEL PITCH A.
YUNTING, KIM PHILIP B
Bachelor of Science in Agriculture
ABADIEZ, RIC ANGELO G
ABANGAN, MARY PRINCESS CINDY
ABAYAN, IVANA CARLA V
ABENOJA, JELLIBIE D
ABERILLA, LOUWELLA G
AGUSTIN, RUBY N.
ALABAT, RINHARD P
ALICAYA, ALEXIS R.
AMANDE, JULLIEN CLARISSE B
AMBROSIO, MAY B
AMOLO, REX M
AMOTO, NOREEN MARK G
AMPONG, RHEALIE G.
ANGULO, CARISSE JADE E.
ARANETA, JULIAN DAVE F.
ARAR, BIEN DIEGO G
BABARAN, JOHN EARL BRIELLE
BACHINI, ANNE JUSTINE C.
BARBOSA, JOBERT G
BATIDOR, EVE B
BAYARCAL, IRISH KATE M.
BENDULO, SHEMAN ALLEN O
BENUSA, JANICE M
BISNAR, ELLA MAE P
BOLAÑO, VIRGENIA S
BOYONAS, VAN PATRICK
BUHI, JUNMARK T
BURAWIN, IWO GEMMA B
BURCE, GLAIDALE ANN P
BUREROS, KAYE NATHALIE P
BUYA, JUDY DAVE Q
CADIGAL, MARICOR P
CALINOG, RITA FELICISIMA C
CAMELOTES, JADINE NOVA G.
CAOMES, JEDYX JUDE M.
CARANDANG, CHRISTIAN MARK P
CATALAN, EDUARD JOHN C.
CAYETANO, ARIEL B.
CODAL, CRIS FEBE C
CONCILLO, MARYJANE B
CONDAZA, CHERELYN N
CRIBILLO, ANA ROSE D.
DALAGAN, JESSEL JENE C.
DE GUIA, PAMELA ANN V.
DECLARO, MARILOU LOVELY B.
DELA CRUZ , JAIME JR
DIENDO, CRIS MARK S.
DILLO, CATHERINE L
DOMANACO, DENNIS
DONAYRE, CAROL NIÑA S
DULA, RONALYN R.
EDRADAN, MILLENE RUTH R.
EGIDO, ADRIAN LUIS P
ENERO, DANELYN A
ENOSARIO, GLEO B
ESGUERRA, KAREN S
FABON, LOWEL VAN A
FERNANDEZ, VINCE ANTHONY C
GASES, JEROME R.
GECOMO, SHANANI M.
GERALDO , TEOFILO II A
GOCELA, JERAMIE C
GOYO, APRIL JOHN M
GOYO, MART JOHN M
GRANADEROS, RENEROSE F.
HINAYON, GERALD P
IBAÑEZ, ANGELICA P
KUIZON, JOHN ALBERT C
LANDERO, ARLYPY T.
LAPASA, GRYLLE MARLON V
LLAMAS, MARIBEL T
LLANOS, RIZA JEAN C.
LLOREN, ANALYN M.
LUCHAVEZ, ADRIAN D
MANAGBANAG, RYALIDA I
MAPILI, SUNSHINE Z.
MARQUITO, MARK NEIL D
MASENDO, FRANCO JR. T
MASIBAG, DAVE LESTER D.
MEJIA, BEATRIZ A
MINGAO, KAREN I
MODINA, ROLLY O
MOLATO, SAMUEL JED P
MONTEDERAMOS, CHRISTINE JOY Y
MONTES, AIZA M
MOSQUERA, KAYE CATHERINE S
NACION, RICH M
NAIDAS, NIÑO RYCHERRSON J
NEGRU, ROSEMARIE M
NUÑEZ, MICHELLE C.
ODIAS, EMMALYN D.
OLIVA, CRISTY M
ORAÑO, JUNE ANTONELLA P
PANAL, NEIL JASON M
PENING, DIVINE FATIMA R.
PERMI, JASON Z
PILAPIL, JOSE MARIE D
PINAMONGAHAN, GLEAR S
PINO, MARK JAYBERT P.
POCSON, EDELLE MARIE G
PONO, ROLAND S
QUIAMCO, DONNI ROSE C.
RAMIREZ, JESSA MAE M
RAMOS, GILBERT JR. M.
RAMOS, MONIQUE MARIA M.
REPORIOL, HYRA C
REYES, HANNAH GRACE S.
RODRIGUEZ, MAE LADYLYN L
ROMAY, LEAH I.
ROMBLON, RHECHILLE P.
RUBILLOS, SUNSHINE S
RUFILA, RYAN JADE
SALAZAR, MA. CHARINA C
SARDIDO, JEANREA S.
SERIOS, CHOANA H.
SIMEON, KARL MARIE B
SIQUENIA, MA. GEOVILLE R
SOCO, LOYD L
SOLIS, MYCEL A.
SORIA JR., JOSE ROLAND T.
SUMARIA, RDE A.
SURI, JONALYN F
TAN , NARTON P
TAVERA, SARAH MAE P
TEROY, JEFFREY L
TOMADA, MARIELIZ A.
TOMOL, DARVIJEN D.
TORREJANO, NORILENE
TRASMONTE, JAYSON C
TRIPOLE, BENJIE M
VEGA, RACHEL B
VESERA, JOB M
VIOJAN, ARCHIEL M.
Bachelor of Science in Agricultural Chemistry
BERDOS, JINIANNE KYRCH J.
DEDACE, JERSIE NEAH C.
DEMAPE, RELYN O
EJADA, KELLY KAYE O
GLORIA, JERICO
GRANADA, JOHANALYN T.
JAVIER, ANGELICA MAE B
LUMAPAS, AESA MYKA A.
ORONAN, CECILE FAITH T
PITLO, DAVIE MARIE C
SACRO, VANESSA M.
TAN, KARL VINCENT R.
TAN, RICK MARIUS J.
Bachelor of Science in Biology
ABAYAN, ANNIE MARSHA P
ABUCEJO, MIRIAM YOLLIE F
ACEBU, ESTRELLE LOISE V
ARMADA, FIONA ABBYGALE O.
BALDOS, FAITH ADRIELLE M
BAOY, LARA LOUISSA F
BENTOY, SHASNEY R.
BLANCO, CHRISTIAN REY T.
BULTRON, SHELDON KATE D
BURAWIS, LEANICA C
BUSTILLO, NORWELL B.
CABAGNOT, VINCE JON PHILIPPE S
CABAHUG, COLLEN ANTONETTE M.
CADIENTE, JENDELLE KAYE L
CAGATA, MARK IVOR S
CAORTE, JOVY R
CARUNGAY, MARIELLE ANN A.
CENIZA, KURT JOSE DANIEL D
CODIS, EUGENE L
DALAGUAN, JEAN ELIZABETH H
DEMETILLO, KARYL MITZI ANNE D.
DIOCTON, JERIC V.
EDAR, LARALYN K.
EDISAN, JADEL H.
ELARDO, MARIENETTE A
ENDRIGA, JUDELYN L.
ESCULTOR, EMA LOUISE G
GALO, HAZEL JOUHANNA B
GLORIA, ELLA L
IGLORIA, JOENABETH L
LATORENO, RIO PHELAN S
LENDIO, PHILIP NATHANIEL G
LOR, SHEENA CLAIRE R
MACEDA, DEXTER B.
MANGUIAT, NICOLE CHELSEA B
MANINGO, KIM R.
MARATAS, GWYNETH N.
MAYONADO, JOANNA PRECY A.
MELENDRES, JOYCE C
MILLAN, MARC JEFFERSON M
OLORVIDA, CATHLEEN M
QUIBLAT, ROSEL ANN A.
ROSA, JOYCE MELANIE F
SALINASAL, AILEEN JANE A
SUMABAT, PHIL ANTHONY B.
TUMULAK, JELYN D.
TUPAZ, LOWELL JAY P.
ULSON, BEA NIÑA M.
VALIDA, ALMA D.
VELARDE, JOSHUA G
VISTO, PAMELA I
Bachelor of Science in Biotechnology
ABELITADO, JOSHUA L
ABORDO, JESSEL MAE C
ACEDO, RUELYN C.
ADOVO, ARVIN JAKE A
AJOC, MARY BETH D
ALPUERTO, JUDE ADRIAN S
BALITON, PAMELA G
BARGAMENTO, MIKHAELA ANNE THERESE A
BAULA, MA. ABEGAIL B.
BELARMINO, SHEVA ROSE D.
BELECINA, MA. JEZABELLE A
CAPARAS, CYRIL KATE V.
DATAHAN, JEMMA MARIE
DELLORO, MEL S.
DOMINGO, JAHPRIL MAYE B.
EVALLO, JOANNA M.
FLANCO, MA. WILLIE JEL G
GAYAS, AIME G.
LABONETE, HENSLY JOY P.
LADIAO, NERLA IOLAINE A.
LUISER, MAYLYN GIAN A.
MAGPAROK, JENJEN L
MATALCERO, LJ M.
OBEJERA, REYNALYN
OPINIANO, CHEM LLOYD P
PARAN, FE MARIEL G
PEPITO, BERNADETH P
POCSON, DAVE A
RELI, CHRIS MIGUEL Y.
REUSORA, ANGELA MEA R.
ROJAS, MERRY JUSTENE R
ROMERO, SHAIRA JOYCE C.
SABEJON, HANNAH FLORETTE B
SUDARIO, LENCE KAREN C
YU, NASH LEIGH S.
Bachelor of Science in Chemistry
AGULTO, BEA PATRICE R.
ALEGRE, JOTHAM LLOYD Y.
ALMENDRA, FIEL CARL S.
ALMORADO, MARY JEAN H.
ANDAYA, JENAIA A
BAGARES, SHAWN S.
BELUAN, ARIANNE JOY B
BENGALAN, GLYDEL T.
BERTULFO, GERALDINE M
CABAÑAS, JONALYN L
CABRERA, JEANYEN JULES Z
CADELIÑA, RICHEDEL L
CAINTIC, JOBELLE C.
CAJERIC, CARLAMINA T
CAÑIZARES, SHELLA MARE P
CASTIL , JOYCE B
CELLONA, PATRICIO KYLE III B.
COBARDO, MAYUMI MARIE N.
CORNITES, NOLI A
CORPUZ, REYNAND E
CUSTODIO JR., ALBERTO D
DE ASIS, MARILYN M
DELMIGUEZ, NICOLE KEITH D.
ESPINOSA, FRANCES NICOLE S.
FELICIO, AILAH A.
FLORES, JULIENNE MAE R.
GARCIA, RALPH GRIFFIN Q
IGNACIO, KRIZIA MAE D
ISRAEL, JUDE P
KREUZER, KARL ALEXANDER T
LABRA , ALEXANDER JR. Y
LANSANG, JUMARK L.
LAO, FRANCIS CARLO A
LAUDE, IRISH MAE M.
LAURENTE, REYNANTE JR N.
MAGALLANES, ROBIE ANGELO S
MAGNO, CROMWELL C.
MATUGUINA, HANNA A.
MIRO, KHRYSTLE CARY P.
MISOLES, HARVIE H
MOCENO, RHEA MAE C.
MORALES, RESYL BEI S.
MORTEL, JAMES M
MUÑEZ, ANGELA CARMELA N.
NAYRE, DIANNA MARRIE M.
NIÑEZ, SHANIA M.
OCARES, RAYMOND R
POBADORA, JUDAH L.
RENDON, KYLE BRYAN A.
ROCA, NIKOLEI WAYNE E.
SACRO, VANESSA M.
SALABAO, SWEET MILLANE V.
SALGO, RENIEL S.
SORITA, IAN REY L
SOSING, ARAMELLE V
SOSMEÑA, JOVIN A
TAJOS, JOHANNA MAE M.
TAPANG, ROBIE L
TOCAYON, ANTHONY C
VASQUEZ, JADE C
VENTULA, FRANZ JOSEPH A.
VILLEJO, EXEQUIEL JUN V
Bachelor of Science in Civil Engineering
ABELA, JOSEPH LEEWEN MAR P
ABRANTES, JASPER P
ACABO, EDISON J
AMBULO, LYNETTE C
AMPO, KYLA D
ARADOR, JOZEL ROSE A
ARCILLA, JUPETH A.
ATIS, ZION L.
BACOL, KATE MARIES P.
BANANIA, FRANZ CECILIO A.
BANDE, RODA FAITH L.
BERNALES, JOHWEE SAM L.
BOILES, ROBERT
BORJA, ERICA R
BRUAN, KIMBERLY C
BUNA, MARK ANTHONY A.
CAJES, JOHN PAUL A.
CALENDATAS, RYAN MICO S.
CALUMBA, JOANNA MARIE P.
CAMARILLO, QUEENIE A.
CAMBRONERO, ALYSSA KAYE M
CAMILO, IRISH JEAN B.
CAPUTOL, BRYLE ARVIN T
CASILLANO, JERICO P.
CENITA, HANNAH JANE N.
COGAY, CHRISTINE O
COMANDANTE, FERNANDO C.
CONCHA, LAILANIE C
CONSUELO, SANDRA LUZVIMINDA A
CORDOVA, MA. CHRYSLER D.
CUBILLAS, JONAH C.
CULLANO, ELPEDIO III C
DACUNO, RYAN KEN L.
DAJOTOY, PASTOR JR. O.
DECAMOTAN, EDISON R.
DEL PILAR, MARK DOMINIC L.
DELDA, MARK ANGELO L.
DELUVIO, GARY G
DESOYO, ARIANE TROY T
DINO, HARVEY JOHN O.
DOLLERA, GLISTER DIADEM A.
DUMAGUING, RONALYN M.
EDILLOR, JAMES KENNETH S.
ENCABO, ANGELIE ROSE G.
ESCOPETE, KIM P.
ESTRERA, ALTHEA KRYZIAH J
FRUTAS, LEO ANDREW C
GARRIDO, ABIGAIL P.
GERALE, KENZO BRAYE R
GIL, FRANCISCO LETO C.
GO, MITZIE D
GONZALES, JETHRO CHISTIAN F
GUCOR, NOREEN MAE ANN M
GUIMBAL, MARY ROSE M
IGAYA, JOYCE CHARMAINE C
JACA, JEMMEL P
JAOJAO, CARL JOHN
LACEA, GERALDINE Q.
LAO, MICHAEL ANDREW G.
LAPINIG, JHUDEMAR P.
LAPLAP, HARLENE
LLUVIDO, JUN TIFFANY B
MADERA, SANTIAGO III B.
MAGALLON, NORBERT GABRIEL I.
MAGNO, ALEXANDER P.
MAHAYAG, AISA CATHRINE M
MALING, JOHN RAFAEL M.
MANIWANG, ISABEL KINCY A
MANTAL, MA. ROSELLA B
MARTEL, ARJAYL P.
MATIBAG, DON JULLIANO C.
MECASIA, BRYAN L.
MEJORADA, ACE VINCENT F
MEMBREBE, JOHN MARI D
MILLEZA, KENNETH CARL R.
MONTENEGRO, LIKHA Y
MORADA, DAISY JOY O.
NAPONE, BARBY GRACE A.
NORONIO, JOMAR P
NOTARTE, WAYNE D.
OBLIGADO, ALFREDO
ORACION, HENRY JAMES F
ORAIZ, AIRA A
PADERES, LEANDRA MARGRETT L
PAJANUSTAN, JESSE JASPER M
PALLOMINA, KING ARBIE S.
PASCUAL, JOSHUA MIGUEL O
PATON-OG, JAY HANS D.
PERNITES, MARK JOSEPH S.
PERTURBOS, ARNOLD S
PICZON, FRED ARNNOLF B.
RISOS, JAYSON REY
SAMONTE, HAZEL G.
SEROT, JOEMAR V.
SUGETARIOS, JAYSON A
SUPAS, REGINA G.
TAJOS, JOYMAE P.
TANG, EDWARD CEDRIC O.
TANO, NIZA MAE E
TINDOY, JASON D.
VARGAS, AMIE MARIE B
VELOS, REGIE NICHOLAS F
ZABALA, MARVIN S.
Bachelor of Science in Computer Science
ABERGAS, ASHERAH- ANN P
ABRANTES, JEXTER JAY A
AGTARAP, CHRISTIAN B
ALBARICO, REYDEN C.
ALBERO, JAKE S
ALEJANDRE, NOAH GLYNN A
ALPOS, DANIEL BENEDICT S.
ANOPOL, JOSEL C.
APA, JAMES ROY R
ARAÑA, EDCEL M
ARIÑAS, JEAN LYRA D
ASMOLO, DESIREE P
AVELLANA, NELISA B.
BACUSMO, BERNARD
BALAGUSA, FRANCIS JONEL T
BALASANOS, MARK ALBERT M
BALUGO, MARION JAY M
BARING, STEPHANIE AIRA G.
BASEA, JOHN IVAN J
BOTO, ALQUEN P
BULAWAN, BRIAN CRISTOPHER L.
BULFA, ROMMEL NIÑO B
CAINTIC, MARVIN B
CALIPAYAN, AHL ANDRIE L
CASTILLO, EJAY MARK L.
CINCO, JOHN MICHAEL O.
CLAVA, JOSHUA A
CORBES, JOHN VINCENT A.
DAGAMI, BONAPARTE D.
DECANO, JERICHO B
DEVOCION, VAL EDMAR C
DIGMAN, DIANNE T
DUMAGIL, FRITZIE MAE D.
DUMANDAN, JAY C.
ENATO, JUNEL D
ENCABO, GIM GERALD G.
ENDRIGA, CHRISTINE O.
ESPANTO, ELGIN RAY ISAAC A.
FERMANO, ROMEO JR R
GALLARDO, ORLAN JAMES C.
GIL, ZIV LLAGANE C.
GLORIA, MICHAEL DOMINIC G.
GO , RAQUEL G
GOMEZ, NOEL A.
GUYA, ALJUN D.
ISRAEL, RALPH LEONARAD T
JABILLO, LEALYN MAE E
LABIN, MARK LISTER R
LUTIACO, MARVIE R.
MACARAT, REY JOSHUA H.
MANATAD, FELIX CZAR T
MARABANTE, IAN W
MENDEZ, ALLEN A
MONTEROSO, ELI DANIEL I
NAPOLES, BONA DEA E.
OLARAN, ORVELL D.
ORTEGA, ANGIELA MARIE V.
PACOMIOS, JEROME F
PADIN, KIETH VINCENT R.
PAIGAN, DENNIS NIEL G.
PALER, JERI PATRICK A
PANCITO, RYAH MAE N
PARAN, JOBE R
PARONE, EARL R.
PEDRANO, GABRIEL C
PENDON, JENDIE BOY C
PEQUE, DENCE JEUREM P.
PEREZ, RODEL R.
PIAMONTE, DARYL A.
PILAPIL, JOEDIZZA MAY NOVERRA L
RAMAL, IVAN REY G.
RAMIREZ, IVAN WREN O
REMEDILLO, EVANGELINE O
REMOTO, DAN DAVE Z
REYES, MA. SHINABEL D.
RONA, JOSHUA MELECIO M.
SAJULGA, KATHY MARIE M.
SANCHEZ, CRISANTO L.
SANO, CHRISTINE B
SESTOSO, MARIA ROUELA C
SIENES, ANDREA ANGELA MAE S
SINGSON, JAMES LEE M
SOCORRO, JEAN B
SOLERMO, CHARMAE S.
SOLIS, MARK NIEL A
SUAN, NATHANIEL DAVE E
SULLANO, YUL VICENTE E.
TABURADA, CARL JOSHUA P.
TAN, EDILLE JOYCE A
TEJEDOR, TEY JAY AMID R
TILLAMAN, RYAN BENEDICT B
TRINIDAD, JOHN LHESTER M.
TRUYA, ANDREI JOSHUA D.
VALMORES, WENDELL B
VERANO, JUBERT V
VERDEJO, ANA LEE N.
VILLACAMPA, RAZEL LUICA
VILLAFLOR, GLENN MICHAEL N
VILLAFUERTE, TRISTAN JAY P.
VILLARO, EPIFANIO JR. U.
YAOYAO, VIANNA CARMELLW B.
Bachelor of Science in Development Communication
ABENOJA, MARIA GLADYS ANN L
AGUHAR, GINPAMAE M
ALBESA, FE KRISTINE V
ARCEO, JOHN PAUL N
ATENDIDO, AINEE LEIGH M
BAYANI, KOREEN C.
BAYRON, MARIANNE C
BOJA, KIM CHRISTINE S
BOTE, CHRISTINA MARIE S.
BRAVO, AHRA L
BUCABUCA, RICH MARC C.
CABUG-OS, APRIL DIANE KRYSTAL A
CANABE, DARLENE L
CAWAYAN, ARIEL A.
CORPUZ, DAVID KRISTOFF F
CREDO, JHESSA MAE C.
CUBIAN, MARYJANE R
DADULA, ROXANNE B
DANO, CLARIZA P.
DEVOTA, KRISERL H.
DIAMOS, VHERNA MAE
DIMPAS, IRIS KAYE P
DURAC, ANGELA THEA B
ELIZAR, DAVE T
ENGNAN, RUFFA MAE B.
ESLOPOR, MARGRAF VON JEAN G
GENERALE, GLESRILKEN A.
GOZON, PAUL JOHN S.
GREZOLA, PRINCESS CAMILLE S
GUSTON, CHRISTINE JOY L.
HIBIONADA, ARGIE ARIS C.
ILIGAN, ANN FRANCIS P
JABIAN, NOVIE KRYSTIN M
LAO, LADY KATE J
LEOCADIO, MARIA MAE M.
LERIOS, ANN GIELYN AIVY O
LIBARIOS, HYACINTH M
LOPEZ, VIA B
LOYZAGA, MARK JASON G.
MAHUSAY, JAY K
MAYOR, JOAN PAULA C
MEREDORES, MARY ANTONETTE G
MONTERON, CHRISTINE JOY S.
MORALDE, JENEVEVE C.
NERI, VICTOR S.
OLAYVAR, PROSE IVY M.
OPINIANO, CHEM LLOYD P
PALER, HANNAH MAE L
QUINTANA, LEOCRIS R.
RAGA, ROSE MARY GAIL C
REYES, HANNAH RAE R.
RIVERA, REX R.
ROA, APRI KATE J
ROA, CAMILLE MARIA JOY V.
ROMAY, LEAH I.
ROSIANA, RIALYN L
ROTAIRO, SHERRY ROSE C.
ROTO, NIÑO PIOLO
SANTIAÑES, SHEINA S
SILVOSA, JUBERT M
SOPOSO, LEAH C.
SYDIONGCO, JUVEL ELOISA L
TANAID, SOPHIA I.
TARIPE, ELROMER S
TIOZON, HAZEL ARAH T
TUBAN, BEVERLY JHUNE P
VALENZONA, FRTIZIE ANGELA
VARRON, ALMIRA
VERGARA, VINCENT KIM E.
VILLANUEVA, JERICHO A
Bachelor of Science in Development Education
BARTOLABAC, REYSHEBEL KAYE C
CALACAT , AMY A.
CLAVERIA, MELODY E
COLMINAS, ALBERTO JR. J.
GARBO, APRILYN
MOLON, NEAL JOSEPH L.
PEREZ, RHODLYN B
QUIÑONES, LAIKEN VALERIE Y
REBOJO, HERBERT S
SANTILLANA, MADELEN B
VINO, JOAN R.
Bachelor of Science in Economics
ADAP, LYDA D
ALBALADEJO, ALVIE G.
ARPILLEDA, AL JOVEN D.
BALURAN, GENEVIE D
BANTAYAN, JECEL E
BARTIDO, ROSE ANN NISTAL N
BATION, JOCHELLE-ANN G.
BAYRON, RODNEY LLOYD S.
BONGOT, SOPHIA JULIENNE O
CANILLAS, FEBE ANNE C
CAWAYAN, AL VINCENT C.
CENTINO, CHAMPAGNE ROSE P
COSARES, JACKIELINE C.
CURAYAG, ARVIN JOSEPH M.
DAWAT, CONNIE CRESTINE R
DOSDOS, RHEA MAE A.
DURAN, MA. DELROSE M
EDRADAN, MHARBI G.
FLORES, KLERE JANE C.
GONTIÑAS, JENILYN P
GUSTILO, CHARA MAE T
ITABLE, HELEN P
JUANCE, JOANNA RENEE M
LAGUNA, HIANG SHAN P.
MALACORA, NECA JANE O.
MANAGBANAG, JODIE ALTHEA M.
MANTAHINAY, LORRELYN C
MELLOMIDA, JIMSON P
MIRASOL, JOVANNIE
MORALDA, JINTY V.
NARCISO, PRINCESA V
OCHIA, ALJON C.
OQUIAS, JUDY MAE F.
ORTIZ, MARIE JOY C
PIEDRAVERDE, CLEFF LENNARD M.
PO, PATRICE ANN S
RAMIREZ, JAYGEE YESSAMIN M
REBECA, ANNIKA C.
SAMBERE, GENNIE Z
SORIMA, KRIZZA T.
UBAS, ANDREA B.
Bachelor of Science in Environmental Management
ALDIANO, PAULA ANN MARIE D
ARTUGUE, ERICA T
ASOMBRADO, JANNELE G
BACUS, ALIAH C.
BILLONA, DOROTHY JOAN U.
CABUSAS, VENICE MAE
CAMARINES, CHONA A.
CINTO, MARK ROBEN M.
DONAIRE, ADORA L.
GAVAN, AIRA MAE T.
GAYO, JOLINA P
GUTANG, VON ANDREA A.
HIJOS, CENETH JAN P.
LEE, OJIB HEILSIN B.
MANGADA, MICKYLE JEOB L.
MODINA, JOHN MICHAEL M.
MONDRAGON, SHAIRA MAE A.
NALDO, DIANE PEARL A.
PASCUAL, LAURICE LENE A.
PLA, JESSA MAE J.
SALVE, LUCIUS JOSEF L.
SANO, RAYMUND JOSEPH N.
SARONG, FRITZ ANGELO C
SUFICIENCIA, CES JOAN C.
YORDAN, ANNABELLE F
Bachelor of Science in Food Technology
ABONALES, MARIA ISABEL P
ADINO, JACHA MAE A.
BACALLA, MARJORIE J
BAÑEZ, MELISSA B
BERNAS, MARY ROSEDALE A
BUNA, JOANA MAE C
BUTLIG, REGGAE
CACHO, ALFRED ANTHON C
CADUNGOG, ORLEAN GRACE D.
CORETICO, JHUN REY P.
DANIEL, DANIELA LORRAINE B
DAYANDAYAN, JOHN JASPER L.
DEGAMON, MARLEJOY B
DESTRAJO, ANGELA VICTORIA C.
GARCES, TRISA LUZ L
IBALE, JELLY ROSE R
KINTANAR, VICTORIA ROSE B
LABIDES, WENDELL M.
LASTIMADO, SHEENA MARIE G.
LOSA, MARIEJOY V.
MARINO, JOHANNA RECCA C.
MEDALLE, RALPH P
NARRA, JENNY ROSE F
NOCERALE, ANALYN M.
OGDOC, JENNY D.
OLAYBAR, RENCY R
PALENCIA, PHOEBE JOYCE D
PIAMONTE, ARCHEL
PULTA, CHERRY LYN B.
RELATA, JERALDYN T.
REMOJO, REA MAE G
RUFILA, JUSTINE MARK G
SALIGUMBA, RYV FARAH A
SAMBAYON, MISAEL S.
SANDIGAN, JENNESEL R
TAN, DAISY MARIE A
TORION, KENT IAN R.
TORRES, DIANNE GRACE A.
YBAÑEZ, JOYCE
Bachelor of Science in Forestry
ABANGAN, MARY PRINCESS CINDY
ABARICO, DALE BRIAN G
ABENOJA, JELLIBIE D
AGORDO, JOSEPHINE
AMIZONA, CRISLY S.
AÑOSA, CANDY MAE M.
BABON, ELLOUISE JANINE D
BALEDO, JOYLIN M
BETITA, HANNAH MAICA B.
CABALLES, ROI ANDREI
CARIN, DANIEL P.
CULMINAS, AIMAE S.
DE PAZ, OLIVER R.
DECENA, HONEY GRACE P.
DEGUITO, ROMEO JR. T.
GALES, LEAN RAY S.
GAMUTAN, RINA JANE G
GAYO, ANGELICA G
GERVACIO, DENIELLA JAYN C.
HUERTA, RODEL A
INDITA, ERLYN
JUMAO-AS, WALTER JAMES A
LOPEZ, GENEVIEVE KAYE C.
LUCERO, AIZEL A
MORALES, JERILYN V.
NIÑERIA, ARVIN M.
OLEDAN, ABBYGAIL SHANE N.
PAMANIAN, REYNALDO JR. M
PAMUGAS, JENNIE
PERMANGEL, LYRA G.
PIALAGO, HONEY JANE O.
POGOY, FEVBIEN C.
RAMOS, EMMANUEL O.
ROM, JOBERT JADE C.
RUBAS, ANGELICA D
TARIPE, CYRUS H
TAYOM, LESLEY SEPH W.
Bachelor of Science in Geodetic Engineering
AARON, JERYLU J
ABLEN, PRECILLANO RAY P
ABOGADO, EIRNEIL DAN M.
AGRAVANTE, KHAYZELLE KATE S
ALBANO, JESEBELLE R
ALONSO, LHORYN C
ALVARADO, MICA CLAIRE S.
ANDO, MARNE JOY R
ARBILON, JOSEPH ABRAHAM M.
ARCE, KENT CLARENCE L
ARONES, FRETHER JULES E
ASID, MA. CLARISSA B
AUSTERO, ANDREY B.
AVERGONZADO, JEZA MAE E.
BAGOLOR, LOU DIMPLE L.
BAJAO, ACE A
BALABA, NAPTHALI A.
BALANZA, JOANA MARIE R
BALMORIA, CAROLINA I M
BALONGA, ALYSA P.
BANAYAG, GRANT HAROLD S
BAYAOA, DARIAN JAY A
BAYSA, JANELLE ANNE S.
BEDON, CHERRY MAE S
BELARMINO, JOHN LOUISE C
BERNALES, NYHL ANZEL S
BIONG, MARY JANE A.
BUERA, CHRISTIAN N
BUGNOS, JUNREY R
BULA, JANE GWYNETH C.
BUNAFE, CRISELDA A.
CABANGAL, MARK GIL D
CABLITAS, CHAD QUINCY M
CAMOGAO, RANELL T
CASAVERDE, VIAMAFEB M
CASTAÑARES, CARL ANTHONY G
DAGPIN, LOUIE JAY V
DAMOLO, SHENA MAE G
DAQUIADO, AMETHYST DANIELLE T.
DAWAT, RAMSAN JANE P.
DE JUAN, RONELL T.
DELA PEÑA, APRIL LOVE BERNASOR B
DIZON, MARJORIE A.
DUMANILLO, KEVIN C.
DUMARAN, JOSEPH G.
EGOS, JUDE BRYAN M.
EQUIPAJE, SEAN MARVIN M.
ESPENIDO, BABY JEAN P.
GACUTNO, ALFIE MYKO P
GANANCIAL, MARC JOEMEL C
GIVA, JOHN LLOYD C
GOMEZ, QUENEE N
ISRAEL, CONNIE VIOLA H.
JAPITAN, FLOYD CYRIL B
JUMAWAN, MA. NOREEN S
JUNDIS, JULIET R
KAYSON, RYAN
LAGUSAD, JOHN MEG S
LANGAMAN, MARK ELMAN P.
LIBRES, PAUL ANTHONY C.
LIMA, VERGIL NIÑO R
LUEGO, AIKEN JAKE F.
LUGATIMAN, JESSAMAE B.
MABANSAG, ADRIAN LORENZO U
MAQUILAN, NEIL ALVIN A
MARIMON, JANE L
MASLOG, ANTHONY L
MONTEROLA, CHRISTIAN JAE S.
MUNEZ, DYFFIN JUN T
NAVAL, YURIKA S
NIOG, NIEL VINCENT N
ORDIZ, FRANCIS JOHN C.
ORILLANO, MA. MICHAELIZA O.
ORILLANO JR., EMMANUEL S
ORTIZ, MARIA TRICIA D.
PALOMAR, CLAIRE B
PALOMAR, MARK ANDREW
PANGILINAN, JANE MARIEL M
PANTINO, JASPER JOHN N
PAPONG, LEOMEL C
PARANAS, SOPHIA MAE ASTRID D.
PASCUA, LLIANA VANIZ L.
PEDIDA, CYRELL E.
PEDOY, JOESSIE RHEYNA A
PELIAS, DANICA ALAIZA J.
QUITAN, SHERLYN G.
RAMOS, ROBYN ASHLEY P.
REALINO, CARLO D.
REBANO, DANICA M.
RECILLA, ROLAND F.
ROQUE, ISMAEL JOSEPH C
SALVE, LUKE ENRICO T
SARAGENA, SAMUEL JR. P.
SEÑORAN, LEONIEL P.
SERON, PHIL JAN E.
TABANGCORA, JAMAECA ROSE S
TANEO, JAMES ARILD
TIONGCO, LIRA JAY L
UBAS, JETHER JESS C
UGSIMAR, JHOANNA B
VELOS, REGIE NICHOLAS F
VILLALINO, ROYCE CASEY Y.
VIOJAN, VANESSA D.
YCONG, DANIELLE G.
YCOY, MA. LECILLE J
YONG, DANIELLE LOUISE M.
Bachelor of Science in Hotel Management
ABELARDO, GELLA MAE M
ABUNDO, JESSA T
ACUESTA, HANNA MAE B.
ADINO, JACHA MAE A.
AGUILOS, JAMES ANTHONY H
ALBARACIN, SHANIA MARIE G.
ALESNA, ROSEL B
ALIGWAY, JOANE GAY L
ALVAREZ, DAVEN LOUIS N
AMODIA, JADYN R
ANDRIANO, VANESSA T
ARCAYA, SHARMAINE J.
ARCINA, MERIAM C
BABA, MERCELITA S
BAÑOC, JOHN V.
BANTAHINAY, MARICEL A.
BAROTO, ALLONDRA S.
BERSABAL, PRINCESS ALMERA P.
BOHOL, RAVEN CONCEPCION R
BORINAGA, CHRISTINE A.
BORNEO, MAE CLAIRE A
BRAGA, MARY JOY B
BUENAFE, JESSA MONICA C.
CABALLERO, AIRA A
CABELLO, FRITZI KATE A
CALINA, JHAM I
CARBONILLA, ARNI LORAIN S
CARDOZA, MARY ROSE C
CENTINO, RAPHAEL A
CONCILLADO, CHERY LOU M
CONSULAR , MARK JOSEPH B
CUATON, JHOMER
DACERA, GINA G.
DACLIZON, CHRISTIAN N
DANDOY, ANGIE MAE B
DASIG, JAY ROSE G
DELA CRUZ, RAYMARK M
DOLAYBA, MARL VALVIN GUILLER D
DOYON, ELAH P
DUMPE, JANELLE P
DURITAN, DONNA
ELISEO, RITCHIE HAY M
ELLAR, GEORGIA A
ESCUADRA, JUVELYN B.
FIGURA, CANDACE MAE COLIE G.
GABOT, ANGEL M
GARCIA, JAMES C
GENITA, CRIS ANN A.
GENITA, MARIA MYCA R
GESULGA, JANNINE L.
GILBUENA, NIKKA P
GONZALES , FELIX NIÑO JR. D
GRANADA, GENALYN L.
GUTTERREZ, MARELY P
HUISON, JEALSON A.
ILAIDA, JENNIFER A
JACOBE, GLADYS T.
JUMAO-AS, LOVELY-LYN L
KISTERIA, KIM DARREN C
LABRAGUE, CRYSTAL C
LAGBAS, MECA ALLANA P
LERIOS, JIM PAOLO D
LIGUID, RACHEL L.
LIPARDO, FRAULEIN MAE M
LIPIAN, MARIANTONIETTA L
LLANO, JHEANAGEN N
LORA, GIOVANNI
LOTERTE, CHERRY JOY T
LOZANO, RHEA C.
LUGAGAY, NICOLE M
MACHATE, MA. ELIZABETH L.
MACOD, JUNAIRA A
MAGALLANES, ROSITA
MALATAG, MARILOU N
MANLAMBUS, OLIVE CLAIRE T.
MARIKIT, LOU JANE E
MELQUIADES, ELAME L.
MILANO, ROSEMARIE Y
MONTECIANO, JUBILEE C.
MONTEDERAMOS, ARVIN C.
MONTESCLAROS, JAME JERRICO P
MORATA, MAE C
MOSQUEDA, REGINE MAY L
MUYALDE, LEA RICA T.
NGOHO, CHABBY B
NOBLEJAS, JULIE MAY T
OCENAR, LYNJENNE M.
OLIVA, NIÑA ADORA B.
ONGUE, EDLAINE P.
ORIT, PRINCESS ARLIE L
PACAONCIS, MARYVIN F
PARDILLO, MELANIE JEAN NIÑA I
PAURILLO, JAIA D
PELICANO, ROWENA LYN
PEPITO, SARAH A
PETILLA, ALYZA MAE D.
RABOY, MARY GRACE G
RAPAS, TIFFANY GRACE D.
ROA, CAMILLE MARIA JOY V.
ROBARO, JEAH MAE S
RUTA, SHANNEL APRIL C
SALAZAR, ARTCHIE C
SALEM, VERAJANE APRIL M
SALVA, LOVELY ANN P
SANDTORV, JOY ELAINE A
SARVIDA, RICARDO E.
SEGUNTO, RONALUZ T
SESCON, DENISE MARIE G
SIBI, RAY FRANCIS T
SUGANOB, FRUTTI FAYE V
SUGANOB, MARCTEODOR SILVE A
TADLE, JOSIAH JIREH A
TAGANAS, HESED KHAN D.
TEVES, PIA TREXIE P.
TOLIBAS, JEWEL LOUIE A
TORREFALMA, MIA PRINCESS C.
TORREON, VANESSA GLEE T
TORRES, LORD GENEFORT L.
TULANG, ROSEBEB A
VIERNES, AUBREY D.
VILLAMOR, GENERA MAE
VILLANUEVA, JOHN MARK C.
VILLOCINO, LYCA G.
YACAP, FHEL ROSE-ANNE A.
ZAMORA, RANNIELLE ANNE O.
Bachelor of Science in Tourism Management
ABUCEJO, RENZ ARTHUR Q.
ADTOON, JOHN PAUL L
ALAS, JUNA MAE D
BACATAN, SHELLY BELLE F
BISNAR, LUCY MAE D
BONGATOR, AJIE K.
BONIFACIO, CHILDA Z
BORINAGA, PATRICIA NICOLE
BUENO, MARYNE FARREDA C.
BULFA, MAY LYNN L.
CABONILAS, CHRISTINE JOY I.
CANDAWAN, CHRISTIAN KIER V.
CANDELA, LADYLYN M
CANUTO, ARA MAE N
COMPENDIO, HANNAH ANGELA R.
COQUILLA, MONA ROSE L
DABALOS, LYKA R
DELA CERNA, LYLE TRISTAN
DELA PEÑA, APRIL GRACE B
DENIEGA, MARY ANN B.
DIAZ, JASMINE C
DOCENA, ARIANNE MAE C
FELIPE, YLIZIAH JELL C
FERMANO, MARIEBETH R.
GENITA, FAYE V
GILO, ARABELLE M.
JUDILLA, CORRINE G.
LABRADOR, CHARLOTTE L.
LARIOSA, CHOLINE JILL N
MADERA, CRISTILLE M.
MADRAZO, MARYLOU V
MARTIN, MARIYAH ALEC NICOLE
MATOL, MARISOL FAITH B.
MORALES, SHEENA A.
OLORVIDA, JIYA MAE
ORTEGA, RONALDE REY B
PACATE, EDEN EVE B.
PADERES, LALAINE L
PATRICIO, JOY S
PEREZ, MITZIE S.
RAMIREZ, JAN MARI V
REGLAMOS, MARIANNE M
REMANDABAN, PAMELA B
RONDERO, CHRISTIA MAE
SIGUA, JANSSEN S.
SORILA, BLANCHE CLAUDETTE DEBONAIRE C.
TALBO, FRANKLIN M
TAN, JEWELL O
TEVES, MARISS D.
TOMAUB, MA. JELLIE VICTORIA D
YAYON, AIREZ C.
Bachelor of Science in Mechanical Engineering
ABADINGO, MARIA ANGELICA F
ACOSTA, DUANE GYLE D
ALBARICO, ACHILLES C
ALBARIDO, IVAN RAY C
ALUDO, GINESSE L.
AMAC, RODEL C
ANDOY, JESSCARL D
ANDRADE, ALLAN JUN
ARCALA, MYLES ALESTAIR KLYDE B
ARCINA, AL JAMES G
ARIÑO, JOSHUA BREMON B
ARPON, CHRIS JUSTINE C.
ASTROLOGO, CHRISTIAN M
ATIZON, ME-ANN L
AVELINO, MARX A
AVILA, KENT U.
AVILA, MAR ZYNETTE T
BALING, JINO S
BALURAN, NORBERTO MANUEL V.
BAÑEZ, CHARITY P.
BAÑEZ, ROSEBEN Q
BASIYA, ROMEO III C
BATHAN, JIGGY LAWRENCE S
BATION, TREXY O
BAYLON, JAVE S
BAYLOSIS, JAYMAR P
BELTRAN, JOSHUA E.
BENGALAN, LESLIE JOY G.
BENTULAN, RIZA A
BESONIA, REYVIN C
BOYLES, NECITAS V.
BUG-ATAN, ZEHV L
CABAGNOT, PIOLO JULIUS G
CABARDO, CLARK QUINN
CAÑETE, MERORAMRAM C.
CANOY, WILTON JOHN A.
CATOR, MABELLE O
CONCON, ROLAND CHIME
CUAYZON, DIANNA JANE P
CUTANDA, ASI P.
DADIOS, RHEILA T.
DADULA, JEREMY B
DALINA, ADRIAN JAMES M.
DEL ROSARIO, ROBERTO III L
DELA CRUZ, CYRIL R.
DIMATAWARAN, ADRIAN T
DOMINGO, RODRIGO JR. R
DUALLO, PAUL RIAN N
EDILLO, LERRY III P.
ESTRADA, JESSAME C
FORTALIZA, CHRISTIAN E
FORTALIZA, JEHANN DAINTY S
GONZALES, GENN ANTHONY S.
GULLENA, JEANYSEL B.
HINDOY, DARREL M
HOYUMPA, CHRISTIAN ARNUL C.
ILUMBA, PETER ANDREW A
JAYAG, PATRICIA SHAYNE
LAGAN, MELCHOR D.
LERIOS, JANZEL M
LINA, PRINCE MAYLORD A.
LOPEZ, RYAN ANTHONY F.
MABALATAN, ALGIER V
MAGLASANG , KHRIS ANDREW G
MALAZARTE, CHRISTIAN KYLE B
MAMAYANDUG, MACAI V
MARAVELES, ARIEL D
MARTINEZ, MARC CHRISTIAN F
MAYLON, BILLY PHILIP PAUL C
MEJARES, KELLY JOHN B
MONDANO, REGINE G.
NGOJO, JESSE ELIEZER D.
OLEDAN, CHRISTIAN A
PACAÑA, JOVIE JR. P.
PACAYRA, JOHN RODNEY A
PAGAS, DARYL A
PALERO, SHANIA EDRISH M
PALINGKOD, MARK JAY H
PARAC, PAUL PHILIP M.
PARAC, VAN REYNAN S
PARAISO, WARREN T
PREMEDILES, JOHN CLIPPER G.
RAÑIN, JUNARD B.
REN, ANECITO JR. L.
RETANA, PSYBILL RINCO D.
ROBIN, JOHN PAUL A
ROCAMORA, DEANNE FAITH
ROMERO, JOSE LAURENCE L
ROSAL, MARK D.
SAAVEDRA, CHARLES CLINT L
SONET, MARY GRACE Y
TAGNIPEZ, FREDERICK D.
TALBO, JUSTINE CARLO O
TEJOME, KRISTOPHER T.
TODAVIA, PETER JOHN M.
UBARCO, JOHN NICHOLE G.
UBAS, ALDRIN B
UYBINES, BON JAMES L.
VILLEJO, EDMARK R
YUCOT, VERNIE A
Bachelor of Science in Nursing
ADINA, CHRISTINE M
ANGELIO JR., EDILBERTO A
ARGUTA, FLORENCE O.
ARRADAZA, VAN JASON A.
AVILA, ARWIN PAUL S
BAILLO, DEVINA A.
BALDESCO, JILLIAN MARRE B
BANDALAN, ROBIE MAE S.
BASTE, AQUINAH LOU P.
BAUTISTA, YOHBEL M
BERNARDO, JOAN ELOISE S
BONGAC, JOHN VINCENT A.
BRIONES, IVY CLAIRE L.
CABRERA, MARY ANN C
CABUS, XYREEN GRACE P
CALIXTRO, LAIDELLE JASCINTH M.
CALUMPANG, CHRISTIAN R.
CAÑON, LILIAN D
CANTO, INA COLEEN A.
CAPUY, MARIA ARIANA A
CELEBRE, EARL JOHN R.
CERRO, BOYD JONELL C
COMPENDIO, JESSA B
CONDENA, HANNAH JANE D
COTEZO, JESSICA T.
CUMAGUN, ANGELA MARIE M.
CUTANDA, JENNY A
DELA PEÑA, CLARIZ JOY R
ELEGINO, LOVELY N
ELLORIMO, ANN GABRIELLE A.
ELVIÑA, CARISSA A.
FABROA, MA. JESSICA P
GALVEZ, JHUCYL MAE C
GARCIA, JAMES C
GARCIA, THESSA LONICA C.
GAYO, CHERIEVIC M.
GOLOSINO, ELNI JANE B
GRANADA, LANCE ALYC C.
GRANADA, LIEZEL L
GUDILOS, REYSA MAE S.
IBAÑEZ, IZZA MAE L.
ICALINA, MARY AUDREY R.
INFANSO, MA. LOBELIA E
ITUMAY, ESTHER GRACE A.
JABONE, EDELLEN MAE A
LAGANSON, KIETH CINDY
LANSANG, EVELYN L
LAURENTE, ANA LUISA C.
LAUS, ANNA BHEA O.
LLEVARES, SHAYNE G.
LOMBRES, QUENNIE MARIE G.
LOPEZ, KIMBERLY LOUISE M.
MAGLASANG , SOPHIA MARIE P
MAGNANAO, ALEXANDER JR. V.
MANASIS, KRISTINE S.
MARIANO, DICK CHRISTIAN T.
MATURAN, EARL GENE L.
MESA, LORNA MAY L
MORQUIANOS, LANCE M
MOSENDE, ALTHEA GRACE C
NABLEA, MARY SAMANTHA R
OLINO, RYAN BENEDIK P.
ORTIZ, KATHERINE V.
PALACIO, GLENDALE A.
PALARAO, SHAIRA JANE
PAREDES, EDRIAN JOSEPH C
PASADAS, JERICA MILLEN ALBERT L
PEDOY, JOESSIE RHEYNA A
PEQUE, AYESSA MAE A
PLA , GLECY ELAINE E.
QUILISADIO, SHANNAIA V.
RABUYA, LEA MARIE P.
RENEGADO, AUSTIN REINETHLYN B
ROA, JESZAR FAYE C.
ROSAL, PATRICIA MARIE R
ROSALES, GWYN A.
SANCHEZ, ARIANNE HOPE D.
SILVA, SHENA MAE ANGELA C
SUMALPONG, CHRISTI MARAE C.
SUYOM, JEHU MAYNARD T
TESADO, MARY MICHELLE H
TOLENTINO, GLORY MAE C
VILLAR, APRIL ROSE N
YCOY, MARIENE DIVINE P.
Bachelor of Science in Statistics
AMBAGAN, CATHERINE C.
ARIOSA, ELLA L.
BACALLA, JAYCEE MAE B
BAYANO, SAMANTHA JANE L
BERDOS, REGIE S.
BONIOL, MARRIAH A
BRACERO, JESSABEL M
CABALO, MARK JAY D
GARZOTA, MARVIE R
GONZALES, TERESA MAE C
HOMEDIA, EDGAR IAN O
MALAYAN, ALONA C
MARILLA, MARY JOYCE D
NAVARRO, KIMBERLEY T
NEIS, LIZA MAE V
NUÑEZ, MOLLEY VENICE
PEREZ, IVY P.
POMAREJOS, POCH JOJO B
POMENTIL, LORELIE CHARRESSE C.
SALVO, CRISHA R.
SORIA, RHEDA MAE M.
Bachelor of Elementary Education
ABRIO, NOVY GRACE E
AGUIRRE, FREDERICK P.
ALAS, NOVELYZA L
ALKUINO, MANILYN A
ALMAZAN, KARL GIAN C.
ALMINAR, MARIANNE IRES M
ALVENIZ, DARYL JIREH C.
AÑANO, ROWELLA R.
ANGCOG, MYLIN G
APARIS, DIANE T
BAGUIO, IVY G.
BALEÑA, MAE BELEN D
BANTES, MARY GRACE
BARRIDA, CHRISANETH M
BATES, ERRA MAE M.
BATINO, ALLIAH C
BATIS, DENISSE LIZ F.
BOHOL, NICAH MAE S
BORINAGA, LOUELLA
BREZO, RUSSEL R.
CALABIA, TRINA M
CAMPO, VALERIE M M
CANONIGO, REY P
CANUTO, THELIA MARIE S
CAQUILALA, IRENE MARIE S
CASTANTE, JENNY
CELEDONIO, ALNE MAE N
COBACHA, JUDY ANN J
CODILAN, ERICA C
COLARINA, TRIXIE MAE C
CUTAMORA, RANELENE B.
DANIEL, EVA MAE S.
DOGUILES, LOVEJOY A
DOGUILES, RODNEY B
DOMINGUITO, KIMBERLY MAE
DONAIRE, JELCAE MARIE T.
DUALLO, DAVIE KRISTIA M
EGIDO, JEAN MAE O
EGOS, DIVINE GRACE B.
ELMIDO, RICA G
ESTREMOS, MA. NELIT ALFIE P.
EXILE, ROSE MARICOR O
FLORES, HUGHIE LEE R
FLORES, MICHAEL V.
FUENTES, JOVEL Q.
GALVEZ, MARRHLLA A
GARCES, DANIEL KRISTOPHER BRIAN P.
GERALDO, PRINCESS MARIE L
GERUNDIO, ROMER MIKE B
GLORIA, NIÑA VERNA P
GOZON, MARIFE S
HAWAY, JANE E
HERMOSO, LYKA HASSEL A
JAVIER, MARIA JAY-ANN M
KELISTE, MYLYN G
LAGUNA, KAYLA JANE P
LALUNA, JULIANNE A.
LANUTAN, MARY JANE V
LASACA, EDLYN O
LIMOSNERO, JOY E.
LINGGAS, KARE SHEILA E
LONGHAS, GWYNETH P
LUCERO, ELLA MAE M
MABALATAN, FAITH MARIE B.
MALBUESO, DESIREE MAE A.
MANAIG, RAFAELA N
MILLADAS, MYLENE L.
MONDRAGON, ROSELLE S
MONTALBAN, MARY GRACE
MONTEJO, BIANCA MARIE L.
MONTES, GLEEN O
MORATA, MAE C
NARRA, CHERRY ANN B
NIVERA, JOHN PAUL
NUEVO, KIENTH SHANDY P
ORACION, MARIANNE B
ORENDAIN, VIRGIN ROSE B
ORTIZ, MARIA TRICIA D.
PARANTAR, JHOEFIEL T
PILAPIL, YVONNE G.
RAVELO, SOFROMAR O.
REBALDE, MARY JOY M
REBALDE, MIRENISA M
RELENTE, KRISTINE L.
REPOSPOSA, JOHN KEVIN DAVE P
ROJAS, NORJOY C
ROMO, CHARLYN A
RUELA, ANGEL MAE A.
SABINAY, HONEYLYN O
SACAY, ANA MAE L
SALON, MARIELLE N
SATUROS, CHERSEY LAE O
SEGUIDO, SHENA MAE R.
SINDAY, MARY CHRISTINE M.
SUSPA, CHRISTINE JANE N.
TAGOLGOL, MARITCHU S
TAMBIS, MARICAR M.
TAPAN, MERAPE B
VILLACORTE, NEILYN FRANZ L
WENCESLAO, MAE P
Bachelor of Secondary Education
ABASTAS, JANESSA B
ABATOL, SAUDIA ARABYA MAE C.
ABERGIDO, ANA MARIE D
AGUDERA, MYLYNE M
ALPAR, CHRISTOPHER A.
ALPECHE, ANGELINE JOYCE P
ALTERO, JEE CLAIRE A
AMBI, JENALYN D.
AMIGO, JIM RHODEL P
ANDAO, LAYLAN D
AÑEDES, MARY ABIJEL P.
ANGELIO, ANDRIE JANE G
APIPI, RUELITO L.
AREVALO, MERRYL ROSE B
ARONG , MARIELLE ALLESSA R
ARTILLERO, NERRY B.
AYUBAN, MARY ANN D
BACAREZA, MARIFE
BALARES, ANDREA NICOLE P
BALLADA, MARISA N.
BARAL, JOHN NIMAR M.
BARRETTO, CARLA MAE M
BASA, CARLO P
BASA, DEVINE GRACE C
BATUCAN, RESHEL P.
BELOY, ANTONETTE JANE L.
BERNABA, ANNIE KAZEAH S
BOHOLST, AIRA V
BOJA, KIZZY MAE S.
BROÑA, CHRISTIAN DAVE
BUAL, MA. JOANNE B
BUANGHUD, CARLA FE P
BULAGSAC, AVELIN GRACE D.
CABELTIS, CHARIEBELLE B
CADIZ, JUNIELYN P
CAGADAS, JES ANN N.
CALABDAN, BONNA KARLA G
CALIWAN, CATHERINE R.
CAÑETE, AILEEN MAE G.
CAÑEZO, XAVIERY RIC G.
CASAMAYOR, MARY ROSE
CASIMERO, RIZZA MAE C
CASINILLO, JOSHUA B.
CATADO, JESSA MARIE
CAYANGHO, ABIGAIL
CAYUNDA, MARBEL N.
COTING, ERIC GUILLER M.
CUADRA, MARIA JOEFRELIJ J
DAGANASOL, HAROLD GYN A.
DANIELES, CHARLENE
DAPITON, JAYSON C
DE JESUS, SHIELA MAE S.
DE VILLENA, JOHNNA MAE
DELGADO, CINDY M.
DEVOCION, AINA P.
DIAZ, ROSE-ANN B.
DIGMAN, ANGELICA R
DULHAO, JOESILO C
DUMAGUING, JANELA A
DUMPA, RAISAHLAM M
EBRADO, STEPHANIE JOY L
ERDA, VANESSA O
ESCULTORA, ROSELLE I
ESPINOSA, ARCELIE S
ESTOR, JOHN MICHAEL B
FERNANDEZ, CAROL R.
GABITANO, CYRIEL CHRISTIE C
GALLEGO, ANTONETTE MARIE
GARCIANO, ICIE A
GIANAN, PAULA THERESE M
GITANES, KIMBERLY L
GORON, NATHANIEL B.
GREGORIO, AMMI ERICA E
GUMALING, HERVIE C
HITGANO, ANGEL ROSE J
IGNACIO, JUDE CHRISTINSON ANTHONY S
JOSEPH, KATHLYN G
JOSEPH, WENALYN B.
JUNIO, CRISTY ANNE C
JUNTILLA, RUSSEL A
KELESTE, RICA C
KINTANAR, PORTIA LYN B
LADAO, MARJONIL M
LADERA, RENZ BERNARD I
LAMBO, RITZELLE G.
LAMO, HANNAH V
LANUZA, AMORFIE M
LAUREJAS, RECHILYN O
LINA, AIVEE L.
LINA, KIMBERLY C
LOPEZ, BEBY JANE P
LOQUILLANO, EMERSON L.
LORA, LOUIE JAY L
LORETO, MA. TRINA C.
LUEGA, CHRISTINE CHELO S.
LUNGAY, ALYSSA D
MAHINAY, JESON O.
MALAZARTE, GHEA V.
MALOCLOC, DOMMENIC C.
MANAGBANAG, JAY G
MARILAO, LOVELL B
MARQUEZ, JEM AREVE VEIGNE Y
MAYAO, ANTHONY L
MENDOZA, KRISTELMIE C
MESIAS, ABEGAIL Q
MONTERA, JANETH M.
MORANO, JHONAVELE B
MOSCARE, WILLCIE MARIE L
MURELLA, CHRISTOPHER LEMUEL M.
NAJIAL, DIANE LEOCEL MAE E.
NAVARRA, HENYA A.
NOVAL, ANGELICA H.
NUÑEZ, ELLA MARIE G
OBEDA, MARICHU L
OJENDRAS, JERLYN MAY C.
OLARTE, JACKLYN A
OMALAY, ANA MARIE A
ONG, CHARLENE T
ORAPA, ELOISA JANE A
PADERES, LYKA MARRIE B
PAGALAN, JELYCA T
PAJARON, ARBIEN JOHN F
PAPONG, MA. KATRINA O
PARAMBITA, JENECILE B.
PATROCENIO, JERRY C
PAYOT, JUVAN V
PELICANO, JUNE MEKKA V
PEÑAFIEL, GRACE R.
PEPITO, JAMILA
PERALES, JIA B
PEREZ, GREG ALEN B
PERNITES, MARY JANE C
PILAPIL, APRIL ROSE B
PINOTE, RAYMOND T.
POLINAR, ARLYN C
PORCARE, REGI
QUILLA , ESTEVIN C.
QUIMBO, CAREN C.
RELOS, SHELDON FRANCIS T
RIVERA, NIESSAN JOY P
ROBLE, JENNY MAE L
ROBLE, MONALISA T.
ROBLES, RHISHELANIE L
RODRIGUEZ, KELLY CAMERON C
ROLLO, HANZ LLOYD V
ROMO, DHEA MARIE E.
ROMO, NIECY MORE G
RONDON, CHRISTINE JOY
ROSAL, NIKITA AISLE M.
ROSALES, ALVIN P
SABALLE, RICARDO JR. N
SABINO, RAFAEL V
SALUBRE, FRANCIS LAURENCE E.
SANACO, BEHLL FLORENCE O
SANCHEZ, SHIELA MAY T.
SANICO, IVAN RYLE C.
SEMILLANO, JHEL MARC F.
SIERAS, ANGELIE B.
SILVA, CHARLENE DONN S.
SILVANO, ELEOGIE ANNE E
SIOS-E, YVANHES T
SIVILA, JAVINA AIESHA E
SOMBILON, HANNAH JOY F
SORIMA, QUENNIE P
SUAREZ, RAVEN DARYLE MAE D.
SUMALINOG, MERGEL JR. S
TAGALOG, MARIA REGINA A.
TALAMO, ALISA MAE D
TAMBA, GLYDEL V
TAMSI, SHEHANE GLEA M
TANGOG, JEANIRECA T.
TERO, ANDREA A
TESION, ROMALYN E
TILACAS, ANJECHEL T
TOCMO, JANIELA MARIE E
TORRENUEVA, LORELYN MAE S
URDANETA, CHERRY MAE B.
VALDUEZA, RIZA L.
VILLAFAÑE, DANIELLE BIANCA S.
VILLOREJO , VENUS CHRISTINE N.
WENCESLAO, MICHELLE P.
WONG, BEA MARIE
YANGYANG, MONICA MARIE M.
YMAS, RICKA MAE MARIE L
ZAFICO, DAISY ANN M
Bachelor in Physical Education
ABERGIDO, CARL JOHN PAUL C
ALCASODA, JELAYA J
APOLINARIA, LORDSWILL G
BALBARINO, DARYMPLE C
BALTAZAR, MARIJO M
BAQUEGO, LEAH F
BATISTIL, VIVIALYN D.
BELLEZA, RAY P
BULABOS, MA. LESLIE ANGELU R.
BUTAD, ADRIAN PAUL J.
CAAGAY, MARIMEL P
CABILLO, JENNY M.
CAONG, NIMFA D.
CATORCE, AVIE WYNE
CORNICO, MYRA MAE
CUSTODIO, JERAMIE S
ENTINO, IRENE T
FERNANDEZ, SHARMYLOU G
HINAYON, GERALD P
IMPAS, MARLYN B
JAPSON, MURPHY P.
MALATE, KRIZA MAE B
MARCELLANA, JOSHUA J
MAZO, VAN ADRIAN E
MENDOZA, RHICA MAE G
MONTESCLAROS, GENEVIVE H
MONZOR, DAVE B.
MUÑEZ, JOSHUA B.
NAYA, REAH ARCEL N
OLITRES, BVLYN
ORCULLO, AL JHON L
PALACIO, JOHN PAUL C
PALER, RHODA P.
PAMAT, LUZAN MAY V.
PARAON, CRIS MARIZ CONCEPTION L.
PURACAN, KARYL ANN T
RODRIGUEZ, GERRY
ROSCO, RYAN KITZ B.
SULIVA, JOSE FERNANDO A.
VARRON, JESREL G
Bachelor of Culture and Arts Education
AGUSTIN, VILNIE MAY G
APARI, RICHALYN
AQUINO, IHRA M.
AQUINO, RICO JAY G
ARCAYAN, JEZREL S
BAZARTE, ME KYLE L
BELANO, RYZTHEL R
BERNADOS, MARCELINO JR. P.
BOCTOTO, SHEILA MAE B
CANCIO, ANN FATIMA P
CASIMERO, JASMINE P
CENA, ERIKA D.
CONTRIDAS, SHEENA O
FUROG, JONALYN T
GACUD, MANUEL III D.
GALES, EDCEL A.
ISRAEL, MARCIAL JR S.
LEOPOLDO, ARMIE B
LUTA , MARY ROSE B
MAGALONA, MA. MELANIA L.
MAGHACUT, ROELYN E
MAHINAY, JAYPEE D.
MATUGUINA, JOHN PAUL R
NAYRE, CHRISTELYN C
NICOLAS, ADELAIDE
OMILA, CHRISTOPHER S.
OSABEL, ELIES MAY C
OTEDA, MIRASOL P
PEDRERA, HANNAH A
PERJES, KIANA L
POCSON, KRIZIA MAE
TAMAYO, DAREN G.
TAN, SILVER JUDE B
TINDOG, REXLY G
TORCINO, BRIAN NIEL A.
Bachelor of Science in Exercise and Sports Science
AÑORA, MARIAN M
CALAYAG, MARIA CRESTINA T.
ENOT, ROA A
GAMBOA, ARCHEL MAY B
GUBALANI, ABEGAIL C
LAO, DIANNE ELIZABETH
LUBAY, JENNIFER C
LUCHANA, MARIA RODIZA S
MUÑEZ, JOSHUA B.
NABLE, JHONEL A.
PAJO, JHERENE MAE G
SOSMEÑA, KISHIEN S
TACOY, SOPHIA ERIKA D
TEMPLADO, CLARK B.
TOBE, LYNELL FIONA G.
VALMORES, MARIA ANGELICA A
ABAYON, MARY ROSE S
AGUELO, REYNALDO SEEN JR. S
ALABA, DACYLLE LOU C
ALTAMERO, JESSA C.
APUAN, VANESSA MAE Y
AUXTERO, KATE MARIE A
BACALAN, JESSICA E.
BAJENTING, DEAN MATTHEW M
BAJENTING, MILSER JEAN D.
BALIAR, JEVI JEUNESSE P
BARNIDO, JONATHAN REX R
BASA, DANIELLE ANGELA V.
BELANDRES, JEANETH CLAIRE M.
BERNABE, DARRLYN NORMAINE P
BONGON, RAPHAELLE MEAGAN S
BOONYARAT, VIA DAME S
BRAO, DIANA LYNN Z
BUENO, VANESSA B
BUGHAO, PAULINE MAE C.
CABRAL, PEDRO ALVAREZ V
CAHIG, THEREZA MARIE L.
CAMANDONA, SHIELO MAE F
CAPUNO, CARL RALPH M.
CASTILLANO, CHRISTINE D
COBILO, JOSHUA J
COMPAY, ERIC JR. S
COMPENSINO, AMIEL JUNE KHINE T.
CORRE , ABIGAIL Z.
COSTANILLA, JOCELLE R
CRISOLOGO, JUVY M.
DE PAZ, MARIAN KIM C.
DEGOLLACION, IRABELLE
DELA CRUZ, ARAHVEL S
DIAZ, PATRICK ADRIAN C.
DUBLADO, GLENNDON G.
ENRIQUEZ, JESUS JR. C
FAELNAR, DOLLYSA G.
FAMOR, MILVIE R.
FERRY, EAVERA LOREIN B
GALLARDO, CARL JAMES T.
GAMALO, SHERYN B.
GARCIA, AMADEUS FRANCIS NIÑO
GATELA, MARIA BIENESSA L.
GECA , JAYSON M
GERALDE, NATHALIE JAE Q.
GERVACIO, RANELYN V.
GOMEZ, DAVID EMMANUEL A
GRANDEZA, VANESSA MARIE C
GUARIN, GLEENICE ANNE D.
GUILLERMO, VERONICA FAITH T.
ILAGAN, LYCA T.
INIT, RIJEAN JOLIA E.
JAVIER, NICOLE VAN H
JUMAWAN, CHERRY BEA V.
KAW, JOSHUA DANIEL G
LOMOTOS, CATHERINE JOY M.
MABUTOL, MARISSE A.
MAITEM, GLOREINA C
MAKILING, KHAIRA HONEY ANNE A.
MAPAIT, IRISH JOY S.
MAR, ERA MAE G
MARAÑON, CARLO ERBERT G.
MENDIOLA, MICHAEL C.
MESA, MARGA MARIE C.
MESIA, JOVY B
MONTE, ALVAR JAN G
MOROÑA, REALYN
MUÑEZ, MARK WENDEL A.
NALUGON, WILLIAM A.
NIÑO, PHILFRED ANTHONY N
OPO, JOHN PAUL C.
ORAÑO, ANNE CHRISTINE
ORIGENES, MERBERT B.
PAGATPAT, LAURA ANNA S
PARAO, ANA KAREEN A.
PEROCHO, APRIL C
PESCA, CHRISTINE MAE B.
POBADORA, JEHOSHAPHAT N
POLIQUIT, AGA R
PORE, KYLA ROSE T.
RAGA, JEAN CAMILLE E.
RAUT, MARIAE FRANCES IANNE T
ROLLO, VINZ NEIL V
SALAMAT, FEL NIÑA D
SANCHEZ, JULIANNE CARMELLE P.
SANGUENZA, SOFIA LOREN F.
SARABOSING, STEPHANIE ANNE A.
SOSING , FERNANDO R
TABOSO, TRISHTAN DAVE L
TAPANG, ELAHMAE NIÑA R
TAYONA, KRIZYLDO GWYN
TOROY, ALEXANDER
UTZURRUM, EMMANUEL M.
VELMONTE, HAZEL GRACE F.
VERDEJO, MILLEN BLETH M
VERMUG, CRISTINE Y.
VERRA, PRINCESS MAE V.
WENCESLAO, ANGELICA G.
---
The following applicants have passed the admission test and are eligible to enroll on a first-come-first-served basis in the degree programs which are still open:
ABABAT, CLYDE JAY P
ABIAN, MYRA VERNAFLOR P.
ABIERAS, LENNEL BEMM L
ACEDO, RUELYN C.
ADEL, JANINE R
AGAPAY, HARVEY T
AGUHAR, GINPAMAE M
AGUIRRE, DHAREEN JOBIL L
AJOC, MARY FLOR D
ALACHA, MARY CLARE THERESE E
ALBIOLA, XYRELLE JEAN G.
ALISING, JUNREY A
ALLARCE, CARMELLE G
ALVAREZ, MARIANE FAITH G
ANOOS, FLORES N
APALE, MELJAY A
ARCINA, MERIAM C
ARTIAGA, MARK LESTER S
ASARES, RHEA CLAIRE P
ASTRONOMO, JEAN A.
AUSTRIA, KYLA D
AUTIDA, HASTY JEWELS S.
BABIANO, LANCE BARRY S
BACAT, LAVIE ROXELLE B.
BAGARES, KRISTIAN BON B.
BAILADO, MARIE JANE D.
BAJADE, STELLA MARIE F.
BALASABAS, HANNAH JOY B.
BALDOMAR, JASPER T.
BALEÑA, RECHELLE R
BALITON, PAMELA G
BANDALAN, JUSTIN JOY L
BANDOLON, DANICA MAE M.
BAÑEZ, MELISSA B
BAÑOC, SHEILA MAE T
BARBARONA, ROBERT C.
BARBARONA, VIC ANGELO R
BATIS, KARLSTEINE M
BAYANI, JENNY MAY S.
BAYAOA, DARIAN JAY A
BERDOS, REGIE S.
BERMOY, ZYRA JANE C
BERNALES, BRINOJ SOPHIA JOSE
BERON, ANGELICA V.
BONNER, LAZAAC A
BORCES, DARYL ANN H
BORJA, BRIAN MATTHEW M.
BOYONAS, JELLIE MAE S
BRIGILDO, JASTYNE MAE D
BRITANIA, TRINA B.
BUCOG, JEVA T.
BULADO, KIZZIAH D
BULAWAN, RUFFA-MAE S
BULINGIT, MARIETHA JOY D
CABALLERO, MARIBEL L.
CABIER, LORHYNE C.
CABIGON, KYRSTN IAZEL M.
CADUNGOG, METHYL E.
CADUNGOG, ORLEAN GRACE D.
CALIBOD, EME ROSE H
CALUNGSOD, PEDRO IV P
CALVARIO, RHINA MAE D
CALVO, KENNETH A
CAMILLO JR., RAUL V
CAPARAS, CYRIL KATE V.
CARAMOL, DUANIE GRACE T.
CARANIAS, FRITZ GERALD G.
CARILLO, BILLY JHUN P.
CARILLO, SHYMAE C
CASAS, JESSA P
CASIDO, HONEY FHER I
CASIMERO, JOEL F
CASTRO, ANGELICA NICOLE C.
CASUNDO, GERALD C
CATUMAL, CHRISMARIE P.
CAYANONG, KEIRBY L.
CELADA, LECEL D.
CERNIO, JOSHUA P.
CINCO, JESSA MAE O
CLAPANO, JHOLIA PRINCESS T
CODERA, BEGIE ALANIS N
COLLAMAR, NENIA O
COMPENDIO, LYNDON S.
COPE, CARINA P
CORTEJOS, VAHNNE KYLE S
CRAVE, JUDILYN B.
CRETESIO, MARIAH VERA J.
CRISOLOGO, BENGT LLOYD C.
CRUCERO, LOR J MARGARETT O
CRUZ, KENNY N
CUBELO, MARICEL S.
CULMINAS, DAISY JANE S.
DAGSAAN, KATHLEEN JOY F
DAMAYO, MARCHE G
DAPAR, MAE JOY B
DE LEON, DANIELLE ELAINE T
DEJAÑO, SAMUEL P.
DEL MAYOR, ALDEN GAILE B
DELA CRUZ, JORAM A
DELA ROSA, KEEMPEE M.
DELANTAR, DIANE
DELANTAR, GEAL B.
DOMINGO, JAHPRIL MAYE B.
DONOR, NICK ANDREW N
DUALLO, DAVIE KRISTIA M
DUCOY, MARIAN FATIMA I
DUMAYAC, MIGUELA JULIANA I
ECOT, RODULFO G
EDAÑO, RIKKI NICOLE M
ELICANO, MA. LEEA L.
EMPING, RYAN
ENCABO, STEPHEN O.
ENDICO, VEEVIENE EIZELE F.
ESQUIBEL, SNOCKY B
FE, GERARD NIÑO N
FORRO, JAMES ROI P
FUENTES, MARY APRIL C
GALABAY, MARIEL MAE D.
GAMAY, RHEA ABEGAIL J.
GAMBOA, ERWIN C.
GAMUTAN, JHONAVIE U.
GARCIA, GEN GODFREY U
GARCIA, KRISHA C
GARCIA, LEAH MAE Y
GARSOLA, JOSHUA V.
GEMORANION, ANA MA. GRACELA S
GERALE, CRIS JOHN D
GERAPAT, GLAZIEL ANNE L
GESULGA, DAVE C
GESULGA, FLORA MAE G.
GIGANTO, MICHELLE N.
GILBUENA, NIKKA P
GILOS, KARL VINCENT D
GLUDO, DORWEN KAYE E
GOLLODO, MARNE O
GRADO, IRISH G
GUACA, REGINA LUZ L.
GULLES, GERARD JAY M
GULTIANO, STEPHEN EARL
HERRERO, VILMAR B
HINANDOY, RHEYHIN S.
INDAC, JAPETH A
INGUITO, JEVY R
INOCENTE, PIOLO HENNESY L
INONG, NIÑA MARIE T.
ISALES, MARY MINETTE B
ITOM, FLETCHER JOHN G.
JABAT, DHARLENE E
JACOBE, RACHEL B.
JECINO, ALEJANDRO F
JERVOSO, VINCE JOSHUA V
JIMENEZ, CARL C
JORGE, MARK JOEL A.
JUNDIS, MARIA ELENA G.
KAINDOY, JECELLE M.
LAAG, JUDITH M
LABADA, ARDEL BERENICE C.
LABISTO, HERFORD S.
LABISTO, HERFORD S.
LABUAN, FRANCIS JOEY
LACAMBRA, CARL BENEDICT M.
LAGRAMADA, KAREN J
LAGUDAS, GABRIELLE FRANCES G.
LANGOY, WARREN S
LANSADERAS, RALPH F
LAPASA, GRYLLE MARLON V
LARAWAN, MICHELLE A.
LAXAMANA, DAISY C
LELIS, ALBERT S
LIBA, EVONY B
LINA, KIM BRIAN M
LIPIAN, MARIANTONIETTA L
LOLONG, EDMER JOSEPH C
LOMBOG, MITCHIE
LOQUILLANO, RODINE JOHN
LORETO, JANNYKA ANN
LUISER, MAYLYN GIAN A.
LUMAAD, ANA MARIE B.
LUMBRE, MARIA JHENY B.
MABALATAN, FAITH MARIE B.
MADRAZO, JOANNA CELINA Y
MADRID, BHEE- ANN DESIREE Q.
MAGBANUA, ALEXIS C
MAGNIFICA, KAILY MAE A
MAKABENTA, JEFFRY O.
MALINAO, LOURDES G
MALLONGA, TRACIE ROSE S.
MALLORCA, JURALIZA B.
MANLAMBUS, OLIVE CLAIRE T.
MANLIMOS, KYLA L
MANZA, JOHN HECTOR O.
MARIKIT, LOU JANE E
MARINO, JOHANNA RECCA C.
MEDIANO, PATRICK JAMES J
MELECIO, JENILYN RHIZ V.
MELGAZO, MAISSIE D.
MENDIOLA, KRIS ANN MAE V
MENDOZA, EDUARDO E
MERCOLITA, RHEA JANE A
MESIONA, KIMBERLY ANE M
MONSANTO, RHEY CHRISTIAN O.
MONTIGO, KISS MAE M.
MORGIA, MARY ALVE O.
MOSQUESO, SHIELA MAE
NAPOLES, JOSEPH
NAVARROZA, MARK JOHN C
NAYA, VANESA M.
NAYRA, MICAH ANGELICA D
NORONIO, GIO T.
NOYA, VAL GABRIEL D
NUÑEZ, RHESTY P
OCAÑA, ANGELIE C.
OCARES, MECCA JANE S.
OCARES, MICO REY JOY C.
OCEÑA, JOHNNY GIE C.
OCLARIT, ROY JOSHUA S
OLAYVAR, DENNIS A.
OLFATO, CARLITO JR M
OMEGA, MARIA FE P
OMOS, JOAN MAE T.
ONGUE, KATHY MAE P
ORAÑO, FERIOLA ANN M.
ORAÑO, JO-ANN M
ORAÑO, RACHEL O
ORCULLO, AL JHON L
OTADOY, PHOEBE S.
PACIENCIA, PRECY ANN E.
PADON, JERMIN P
PAGALAN, MARK GIL G.
PALACIO, JOHN PAUL C
PALMERO, RHIO R
PANAL, MARIEL R
PANDIIN, NORMILLAH P.
PAPEL, SHERLYN T
PARANAS, SOPHIA MAE ASTRID D.
PARRILLA, KRISTEN M
PEREZ, JENNIE LYNN T
PEREZ, JOYLA C
PERJES, KIANA L
PIA, DIONEL J
PIAMONTE, MELKA A
PICARDAL, MISSY ANDREA A.
PICSON, ALESON SALVADOR A
PICZON, FRED ARNNOLF B.
PITOGO, HEZELLE MAE C
PIZON, KATHLEEN F
POLE, ROSELYN M
PONFERRADA, RONELL A.
PROSAS, JOLAN REY M
QUINTO, EUVA SHAIRA T
QUIRONG, TRISHIA RIE Z
RADORES, LESLEY ANGEL C
REDITA, JESSA MAE D.
REMULLO , FRANCISCO JR. L
RENOMERON, ANJANETTE L
REPIZO, RHOCEL I
RESPUESTO, MAIDY L
RETUYA, IAN REV A
RODRIGO, MARIAN D.
RODRIGUEZ, ANNALYN A
ROSALES, JEFFREY J.
ROSENDE, MARIA ELENA V
ROSINAS, JEA S
SAAVEDRA JR. , NEIL R
SABALDAN, CHESKA JANELLE D
SALADAGA, JESSA M.
SALINAS, SHIELLA MAE B
SALUDAGA, CRISTY FAITH C.
SAMORIN, GILLAN MAE A
SANCHEZ, JENNY MAE N
SANCHEZ, JULIE ANNE BONITA B.
SANICO, ROSE ANN G
SANIJON, ROSE ANN ANGEL R
SANTIAGO, REGGEVIEN L.
SARAOSOS, BRANDY B
SECO, CRIS CYNTHIA P.
SELARIO, IRISH C
SEMENIANO, ELLYZAH JANE C
SEMENO, JHON ANDREW
SENDIONG, IRENE LEE G
SERATO, ANTHEA JAIRA C
SESIO, MA. LEIRA B.
SEVILLANO, ROSENDA H
SILVA, KRISTYL MARIE P
SIOC, BIA BRETNY B
SOBRIO, GRETCHEL S
SOLIS, MYCEL A.
SONGALIA, HANNAH MARIE P.
SOSING, SHARNILA S
SUDARIO, LENCE KAREN C
SY, JELLY D
TADEA, CAMILLI MARIE G
TALACAY, RAZZMAZANDRA ALEXIS T
TALAMO, ALISA MAE D
TALAÑA, BHERN MHAR F
TALOSIG, MARISOL JOY P
TAMAYO, DAREN G.
TAN, SILVER JUDE B
TANO, NIZA MAE E
TEROL, CATHERINE B
TOMBOC, JERALD R
TORCELINO, CAMILLE M.
TRINIDAD, JOHN LHESTER M.
TRONGCOSO, ROGER G
TROYO, CHRISTIAN R
TROYO, MA. LOURDES L
URBINO, GERRY MAY M
VALENZONA, LOREN C.
VELARDE, JOSEPH
VILLACORTA , DANICA B
VILLARO, CHERRY MAE C
VILLASIS, ROLLY A.
WENCESLAO, RONELYN E.
YAP, ANDREA KAYE G
YBAÑEZ, BLANCHE IRISH B
YEBAN, LADY LIZA V
YU, NASH LEIGH S.
ZAMORA, HANNIELYN S
ZURITA, NIEL MARIE I