VSU welcomes second batch of Thai university scholars
Details

Written by Isabelle Amora

Published: 23 January 2018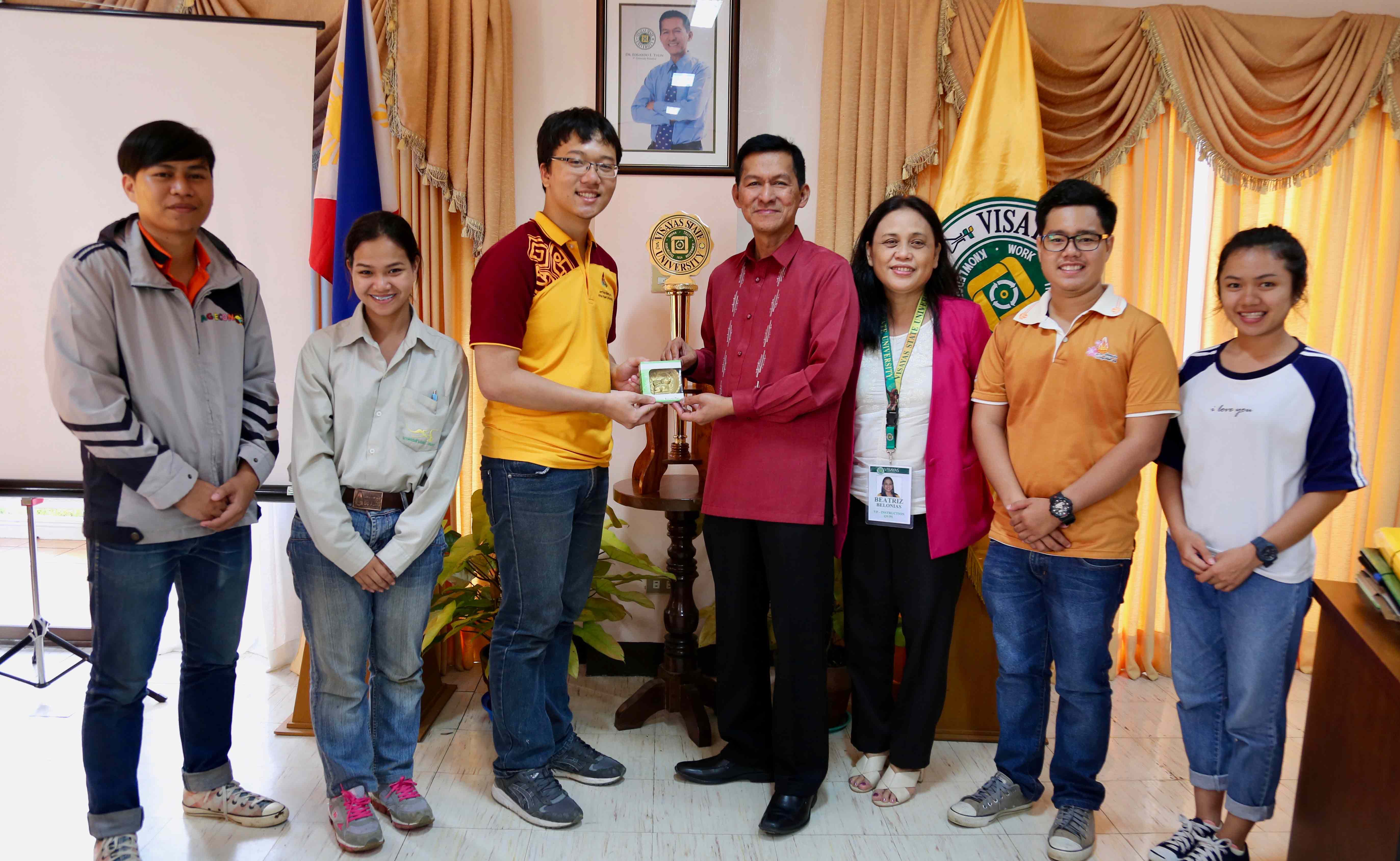 Five students from the Khon Kaen University (KKU) of Thailand arrived in VSU for a four-month exchange program on January 15, Monday.
The group is composed of undergraduate students under KKU's Faculty of Agriculture: two from the Department of Agricultural Economics, two from the Department of Horticulture, and one from the Department of Soil Science.
The exchange program is part of the Memorandum of Agreement (MOA) forged by KKU and VSU to develop academic exchange and cooperative education and research between the two universities, signed on April 20, 2017.
This is the second batch of Thai exchange scholars who have come to VSU to conduct research studies. In 2017, two exchange scholars had worked with Dr. Maria Juliet Ceniza, Director of the National Coconut Research Center (NCRC) on coconut entomology.
In the group's campus tour on January 16, Suangto, Horticulture major, praised NCRC and PhilRootcrops laboratories, saying he hasn't seen anything close to these laboratories before. He also complimented VSU for its beautiful, natural environment.
"I think VSU's charm is its beautiful people and nature, and the easy-going way of life," said Suangto.
Noichumphae and Hawong, Agricultural Economics majors, told that they feel excited to gain new experience in research and at the same time anxious to work with some of VSU's prominent researchers.

Loesrattanachaiphong said she expects to develop her English skills, make many friends and experience Philippine food, lifestyle, and culture after the program.
A welcome dinner was also organized for the group on January 16. This was attended by VSU key officials and prospective advisers of the KKU students including CAFS Dean Dr. Victor B. Asio, Prof. Ernesto Bulayog, Dr. Salome Bulayog, Dr. Rosario Salas, VP for Instruction Beatriz S. Belonias, and International Affairs Office (IAO) Head, Dr. Rotacio S. Gravoso.
VSU President Edgardo E. Tulin, along with Dr. Belonias, personally welcomed them to the university hoping to enjoy their stay in the campus and in the Philippines. The group gave a token of appreciation to the President at the end of the meeting.
The KKU scholars are set to finish the exchange program and fly back to Thailand in early May.