VSU caps off PTC-ACBET accreditation
Details

Written by Isabelle Amora

Published: 24 January 2018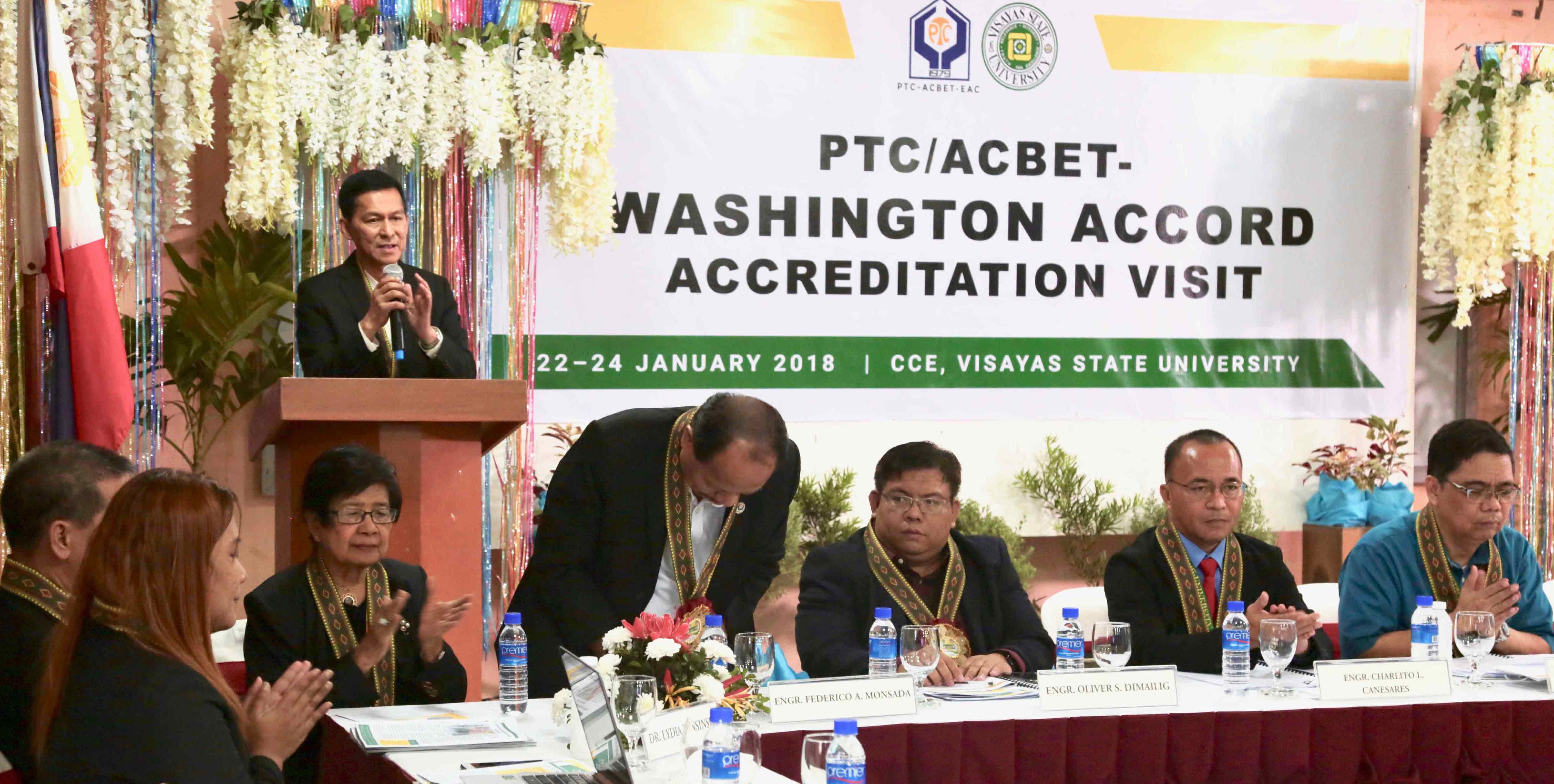 The three-day accreditation of VSU Civil and Agricultural Engineering programs under the Philippine Technological Council-Accreditation and Certification Board of Engineering and Technology (PTC-ACBET) winds up today, January 24.
The rigorous evaluation involved several interviews with VSU key officials, external stakeholders, program chair, faculty and students, class observation, visits to engineering facilities including laboratories and workshops.
The team of four accreditors lead by Dr. Virgilio E. Abellana will have the initial statements about the visit during the Exit Conference at 11am today. Official results is expected to come out six months after the conference.
VSU's College of Engineering (COE) Dean Dr. Roberto C. Guarte, is hopeful for positive results despite the lack of experience of the college on being subjected to international accreditation such as the Washington Accord.
"We have tried our best and based on the criteria given to us, we have complied. There might be some missing links from every criterion, but I'm still hopeful that we can pass it," says Dean Guarte.

The Dean further shared that despite the time constraints and other challenges, he pushed through with the accreditation because he saw it as a chance for VSU's COE to be recognized internationally, true to VSU's new vision of being globally competitive.

"The only way to do that [for VSU to be internationally recognized], is to be accredited by an international accrediting body. For engineering, there is only one accrediting body, the Washington Accord. And in the Philippines, the PTC is the sole organization accredited by CHED and the Washington Accord, so we are taking our chances on this," he quipped.

This is the first time that VSU's College of Engineering is subjected to international accreditation. The university's Department of Agricultural Engineering is also the first agricultural engineering unit in the country to go through such an accreditation.

The College will undergo International Organization for Standardization (ISO) certification in June to July and the ASEAN University Network Quality Assurance (AUNQA) accreditation in October to November this year.