Big news from President Tulin as VSU raises flags of global partners
Details

Written by Ulderico B. Alviola

Published: 13 June 2022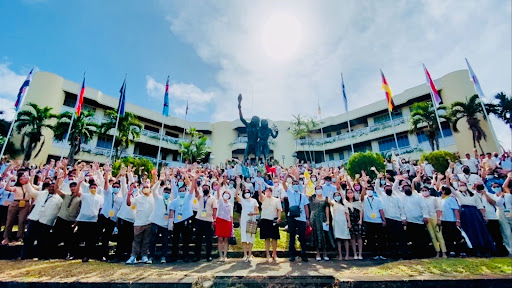 Earlier today, VSU President Edgardo E. Tulin led the ceremonial flag raising event of the international partners of the Visayas State University.
On this occasion, he also made huge announcements that included opening the campus to full face-to-face classes starting the Midyear of Academic Year (A.Y.) 2021-2022. MPO SLOT
This means that all students who will be taking their midyear classes will now be welcomed to the university mainly because of the improving COVID-19 situation all over the Philippines. slot deposit dana 10000
On top of that, the VSU President also assured everyone that VSU is also ready for the resumption of full face-to-face classes come September 12 this year.
"I would like to announce that because of the significant reduction in COVID-19 cases, VSU will also be opening our gates to all our students in the first semester of the new school year. With this, we will once again be filling our empty spaces with students who will make our university more vibrant and alive," Dr. Tulin declared.
The VSU President also continued with his big announcements by revealing the dates of the upcoming graduation exercises that will be held in August 2022.
"All our Commencement Exercises across our five campuses will also be done face-to-face and our team from the University Integrated Media Center (UIMC) is already preparing many things for these big physical events that we will soon be holding inside our campuses," Dr. Tulin continued.
The schedule for the Commencement Exercises has already been revealed last week in an online post of the VSU President. According to this post, the flagship campus in Baybay City will be holding the graduation at the VSU Upper Oval Grounds on August 12–a date that coincides with the former institutional anniversary celebration of the then Visayas State College of Agriculture (ViSCA).
Meanwhile, the component campuses will be holding their graduations ahead of the Main Campus with VSU Villaba slated on August 4, VSU Isabel on August 5, VSU Alangalang on 8 and VSU Tolosa on August 9. SGMWIN
The Presidents' Tribute to 2022 Honor Graduates will be a separate event in the morning of August 10 at the RDE Hall.
But for those who graduated virtually in 2020 and 2021, the VSU President also announced that there will be a separate tribute ceremony that will be held to honor our previous graduates, to allow them to experience a physical graduation that they missed to have because of the pandemic.
"True to our battle cry that no Viscan shall be left behind during the pandemic, I'm also announcing that we are now preparing a simple ceremony to pay tribute to the VSU Classes of 2020 and 2021 to allow them to experience a physical event in lieu of their respective virtual graduations that we did for the past two years. We will also permit them to march with their parents and experience receiving their diploma on stage at a separate ceremony to be held on August 11," Dr. Tulin said.
Related to this announcement, the Office of the Vice President for Student Affairs and Services (OVPSAS) will soon be releasing a survey to identify and pre-book interested alumni who will participate in the special tribute ceremony mainly dedicated for the graduating classes of 2020 and 2021.
More details on the upcoming graduation ceremonies will be made available to the public very soon. GBOPLAY138 SLOT GACOR
Flags of international partners raised
While the big announcements of the VSU President became the centerpoint of today's flag raising ceremony, this same event is special because this is the first time that the flags of VSU international partners have been raised and hoisted in front of the Administration Building.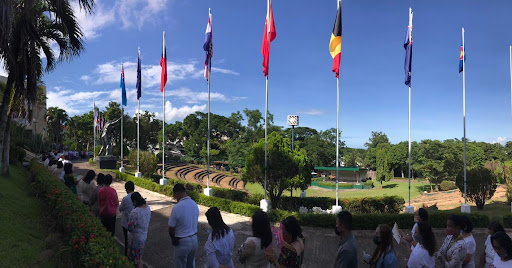 According to President Tulin, this is a symbolic ceremony to honor the many international partners of the university who have become important in the growth and development of VSU as a world class institution of higher learning.
A total of 16 flags were raised that includes the flag of international regional blocks like the Association of Southeast Asian Nations (ASEAN) and the European Union (EU).
Majority of the flags that were raised came from EU member countries like Belgium, Croatia. Czech Republic, Germany and the Netherlands.
There are also 5 flags from the Asian continent hoisted in front of the VSU Administration Building that includes China, Japan, Indonesia, Malaysia and Thailand while two are from the Oceanian continent composed of Australia and Fiji.
The flag of the United States of America is the lone partner country of VSU in both North and South American continents.
Dr. Ana Marquiza M. Quilicot, the Head of the International Affairs Office (IAO), revealed that additional flags will be raised and hoisted in front of the VSU Administration Building to include new international partners that are being worked on by the university.
"We will soon have more flags added because we will have new partnerships with universities from other countries very soon. We will also include flags of countries to where our foreign students are coming from as a symbol of our commitment to fully internationalize our degree programs here in the university," Dr. Quilicot said.
Since March this year, VSU has already welcomed foreign professors and students from Europe to hold face-to-face engagements as part of the exchange mobility program of the Erasmus Mundus.
An Indian professor is also slated to arrive in VSU this June to hold a physical seminar on virtual reality.