Undergraduate Degree Programs
BS Bio• Bachelor of Science in Biology
---
At a glance
| | |
| --- | --- |
| Program | Bachelor of Science in Biology |
| Duration | 4 Years |
| College | College of Arts and Sciences |
| Department | Department of Biological Sciences |
| Campus | VSU Main Campus, Baybay City, Leyte |
| Majors | Botany, Ecology, Zoology |
| Compliance | Certificate of Program Compliance (COPC) to the BS Bio (COPC No. 21) program on May 6, 2020 |
---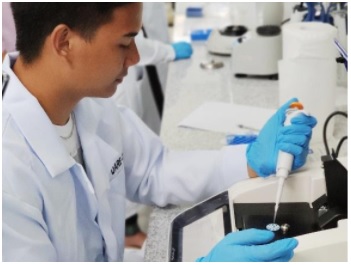 About the Program
The BS Biology program was first offered in the year 2000 per BOR Res. No. 28 s 2000. It was offered with two major fields only (Ecology and Marine Biology) under the then Department of Plant Protection (now Department of Pest Management). In 2002, the Department of Biological Sciences was created, and the third major field (Botany) was added. In 2010, the BS Bio program was subjected to evaluation for the first time by the Accrediting Agency of Chartered Colleges and Universities in the Philippines ( AACCUP ), Inc. The accreditation was done to ensure the quality of our program offering. This has led to the revision of the curriculum in 2011 per BOR Res. No. 12 s. 2011, to be compliant with the requirements of CHED. The program was further subjected to accreditations in 2013 and 2016 until AACCUP awarded it Level III-Reaccredited in 2018. This coming 2022, the program will be further subjected to Level IV accreditation, the highest level of accreditation by AACCUP.
With the implementation of K-12, the BS Biology program was revised in compliance with the CHED Memorandum Order (CMO) No. 49 s. 2017. One of the highlights of the revision is the addition of Zoology as a major field in BS Bio. Furthermore, as per instruction of CHED, Marine Biology was not anymore offered as a major field in Biology, but a separate degree program since CMO No. 46 s 2017 was already released specifying the policies, standards, and guidelines for BS Marine Biology. Hence, starting 2018, DBS offered BS Marine Biology as a separate degree program. In 2018, CHED Regional Quality Assurance Team (RQAT) evaluated the newly revised BS Biology and BS Marine Biology programs. CHED awarded the Certificate of Program Compliance (COPC) to the BS Bio (COPC No. 21) and BS Marine Bio (COPC No. 22) programs on May 6, 2020.
Program highlights
The revised BS Biology degree program is offered in three major fields per BOR Res. No. 64 s 2018:

Zoology (new!)
Botany
Ecology

Program Goals of BS Biology: The BS Biology program is structures to meet the needs of professional biologists who:

Can be employed in government/private institutions and other agencies where scientists with biological expertise are needed
Can engage entrepreneurial activities
Conduct research in various areas of biology
Undertake postgraduate education in Biology and allied fields
Pursue a career in teaching

The BS Biology curriculum requires the following (per CMO No. 49 s 2017):

GE courses – 36 units
Biology Tool Courses (Chemistry, Biophysics, and Biostatistics) – 18 units
Fundamental Courses – 54 units
Specialization Courses (differ among major fields) – 25 units
Electives (differ among major fields) – 6 units
Thesis (individual) – 6 units
Practicum (150 hrs) – 3 units
NSTP – 6 units
Physical Education – 8 units
TOTAL = 162 units

BS Marine Biology is offered as a separate degree program per BOR Res. No. 62 s 2018.
Program Goals of BS Marine Biology:

The program aims to develop graduates that will have a clear recognition and uderstanding of the dynamics of the marine life and its ecosystem through actual field/hands-on experience which will provide the foundations for future careers in marine biology, conservation, oceanography, biomedicine, molecular biology, university teachng, fisheries, etc.

BS Biology and BS Marine Biology are among the identified priority programs of CHED and DOST hence qualified students can avail of scholarships from these agencies.
The students enrolled in the BS Biology and BS Marine Biology programs are encouraged to join the Organization of Biology Students (OBioS), a student organization of DBS that has been a recipient of the Related Organization of the Year Award for two consecutive years (2018-2019).
Career Opportunities
Graduates of BS Biology program can be:
Researcher in various government and private agencies in the country and abroad
Biological laboratory analysts/technician in government agencies, museums, zoos, and private organizations
Researcher and faculty member in academic institutions
Researcher in biology-based industries
Technical sales representative
Research worker in industries involving product development, management, or inspection, particularly in agriculture, biotechnology, food and nutrition, pharmaceutical, and other healthcare-related industries.
Development worker in national and international agencies
Field technician in government agencies
An intrepreneur
Pursuing graduate studies through scholarships in the country and abroad could also offer various employment opportunities after graduation.
A physician by pursuing Medicine.
Notable Alumni
The following Viscans who graduated in this program have made a name in their field:
Contact
Department of Biological Sciences
College of Arts and Sciences
Visayas State University
Visca, Baybay City, Leyte
Philippines 6521
Phone: +6353 565 0600 local 1019
Email:
This email address is being protected from spambots. You need JavaScript enabled to view it.
,
This email address is being protected from spambots. You need JavaScript enabled to view it.
Facebook:
fb.com/dmpvsu2020