VSU's HR is like no other, thanks to this woman.
Details

Written by Aura Shaznay P. Tumulak

Published: 13 April 2021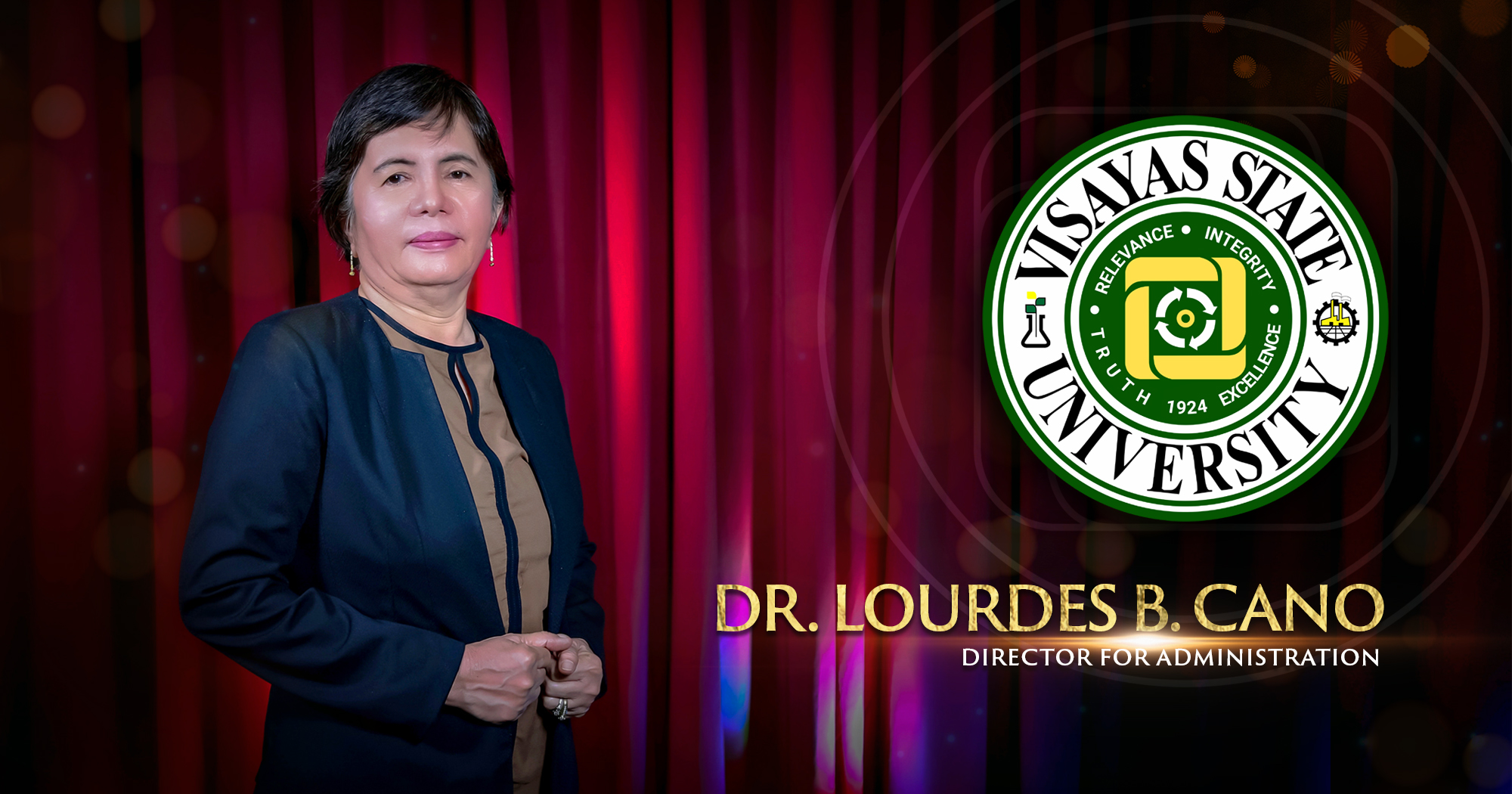 "A woman is the full circle.
Within her is the power to create, nurture and transform."
― Diane Mariechild
Visayas State University is a large institution with more than a thousand employees spread across seven places within the country. To run it, to make sure it delivers, requires that it manages its people well.
Behind its churning cogs and gears is a woman who rose from the ranks to make a name for herself and for VSU. This is a story of one woman's journey that revolutionized the entire system of human resource management in Philippine state universities.
Her name is Dr. Lourdes B. Cano, former director for administration and human resources management of VSU, a single parent, and a self-made woman.
A rough start
Ma'am Ondette, as she is fondly called at VSU, did not have it easy on the get-go. Doors did not open automatically for her, so she pushed them open and made things happen—one step at a time, one door at a time.
Her story started in 1976 when she first toured at the then Visayas State College of Agriculture (ViSCA). Coincidentally, there was an entrance examination for the hiring of administrative employees. Although she was still studying, she took the exam just for the heck of it.
She ranked 3rd that day. And it was the start of a long journey of hurdling the university after her graduation to where it is right now, a national figure in terms of human resource management, especially among SUCs.
It is often difficult to maneuver around a challenge. However, Dr. Cano not only did that, but she also managed to make an impossibly difficult hill to climb into a mountain of success where she would come out on top of.
Dr. Cano was first hired as a casual personnel aide at ViSCA, where she would eventually become a supervising clerk. Then she had a chance to work closely with VSU's first President, Dr. Fernando A. Bernardo, for three months as a substitute for his private secretary on maternity leave.
This opportunity allowed her as an employee to show off that she can do beyond what was expected of her. Noticing her skills, President Bernardo trained her further to improve her proficiency in writing, organizing communications, and everything in between.
Bernardo's trust led the way for her to also become one of the immediate staff of Dr. Samuel Go, ViSCA Vice President for several years. She provided effective staff support especially when he became College President.
As Administrative Officer, she was successful in regularizing a lot of casual employees at that time, which made VSU one of the few, if not the only SUC, with a sufficient number of administrative staff with plantilla positions.
With her efforts, a lot of ViSCA professors also got their tenure, back when it was a lot harder because of existing school policies.
Admin staff in universities are equally important
Two decades into her career at ViSCA, she decided to pursue a doctorate degree at the University of San Jose Recoletos in Cebu.
"Getting my Ph.D. was challenging because I had to do it on my own. There was no staff development program for a doctorate degree (for administrative staff)," Dr. Cano shared.
After she graduated, her personal hardship pushed her to propose, no longer for her own, a doctorate program for support staff in an academic community that prioritizes faculty development.
At that time, only a few people supported her efforts, with some even strongly opposing it.
"Some academic staff commented we were too ambitious, but ambitions drive you towards success, it gives you direction," she said.
If the faculty expects excellent support in the university, she argued, the university should invest in upgrading the competencies of its administrative staff. She believes a university's administrative units should provide the same level of service excellence to that of the academic units.
HR systems that work: her legacy in the making
Although her efforts began within VSU, her commendable work would later on be adapted into the HR systems of other state universities and colleges. She is credited as the woman who pioneered many of the practiced systems in human resource management in SUCs across the country.
One of the many she developed was the VSU Strategic Performance Management System (SPMS), designed to change the productivity management of the VSU faculty and staff and formalize their research and extension endeavors into university undertakings.
"Back in the day, there were many faculty members that accepted research projects through bidding, and these were never reflected in their accomplishment reports. The SPMS then became VSU's planning tool for organizational effectiveness," she said.
VSU's effective implementation of the system caught the attention of the Civil Service Commission (CSC). In 2014, CSC invited her to provide inputs for the Philippine government's efforts to institutionalize a Performance Governance System (PGS).
Said one CSC official, because VSU was the first to adopt the SPMS among government agencies, it validated CSC's impacts, earning them a very important award. Dr. Cano's testimonies and that of President Edgardo E. Tulin were even shown by CSC in international conferences on governance.
Because of Dr. Cano's overall commendable work on VSU's SPMS, CSC dubbed it as a "model SPMS for SUCs", featured on their website.
A staffing standard for state universities
In the larger community of SUCs, she is known for being the brains behind the original draft of the Revised Organizational Structure and Staffing Standard for SUCs (ROSSSS), one that will replace an old staffing standard on which new positions in SUCs can be based for funding and approval.
The ROSSSS (playfully pronounced with a prolonged hissing sound) was born as an idea when she encountered problems in asking to create or upgrade administrative positions at VSU.
"Every time we requested for new positions or to upgrade an existing administrative position at the Department of Budget and Management (DBM), the request would automatically be denied for not being in accordance with the existing organizational staffing standards for SUCs," Dr. Cano recalled.
Because such a limitation affected other SUCs too, the late PASUC President Ricardo Rotoras in 2015, requested then VSU President, Jose L. Bacusmo to enlist Dr. Cano's help on the revision.
CHED, for its part, held a Consultative Meeting and Workshop about the ROSSSS among SUCs in 2016 at Quezon City, with Dr. Cano as the lone resource person.
In every step, Dr. Cano was heavily involved, until CHED finally endorsed the draft to DBM in 2018.
SUCs have been waiting with bated breath for the ROSSSS's approval—the long-awaited legal basis to create and upgrade administrative positions. The ball is now with DBM.
ROSSSS is no ordinary feat: the draft she wrote in 2015 got the Philippine government the next year to allocate a whopping 5 billion pesos for SUCs to hire 15,000 staff and VSU even enjoyed its share with 110 new faculty positions.
Once implemented, it will completely revolutionize the staffing system of state universities in the Philippines. And for that, PASUC owes a debt of gratitude to Dr. Cano.
The PRIME-HRM journey
The CSC likewise introduced its program to institute meritocracy and excellence in human resource management (PRIME-HRM) at the same time that SPMS was introduced.
In 2013, VSU committed to trailblaze in such a program. As then Director for Administration and Human Resource Development, Dr. Cano led in innovating HR systems and practices to comply with the program. Despite challenges, VSU eventually passed the assessment and clinched the Bronze Award under PRIME-HRM in 2019.
The tough journey to get the Bronze award, moreover, made Dr. Cano's efforts known to other agencies, which made them benchmark on VSU's HR systems and practices.
Aside from PRIME-HRM, Dr. Cano became a sought-for resource person on competency-based HR, something CSC wanted to grow in government agencies and state universities.
Dr. Cano's innovative efforts in human resource management have been recognized by CSC, proof being these three regional awards she got through the years: the Dangal ng Bayan Award in 2016, the Presidential Lingkod Bayan Award in 2017, and the Pag-asa Awards in 2020.
All these feats cemented VSU's name as a trailblazer in human resource management, standing out among the rest of other SUCs. And behind all these was one brave soul, who believed that, despite government bureaucracy, things can and will be better.
Her name is Dr. Lourdes Bandalan Cano. And this is her legacy.
Ms. Isabelle Mae J. Amora contributed to this story.