VSU social science prof shares "three useful apps" to guide DLSU students in life
Details

Written by Aura Shaznay P. Tumulak

Published: 24 June 2021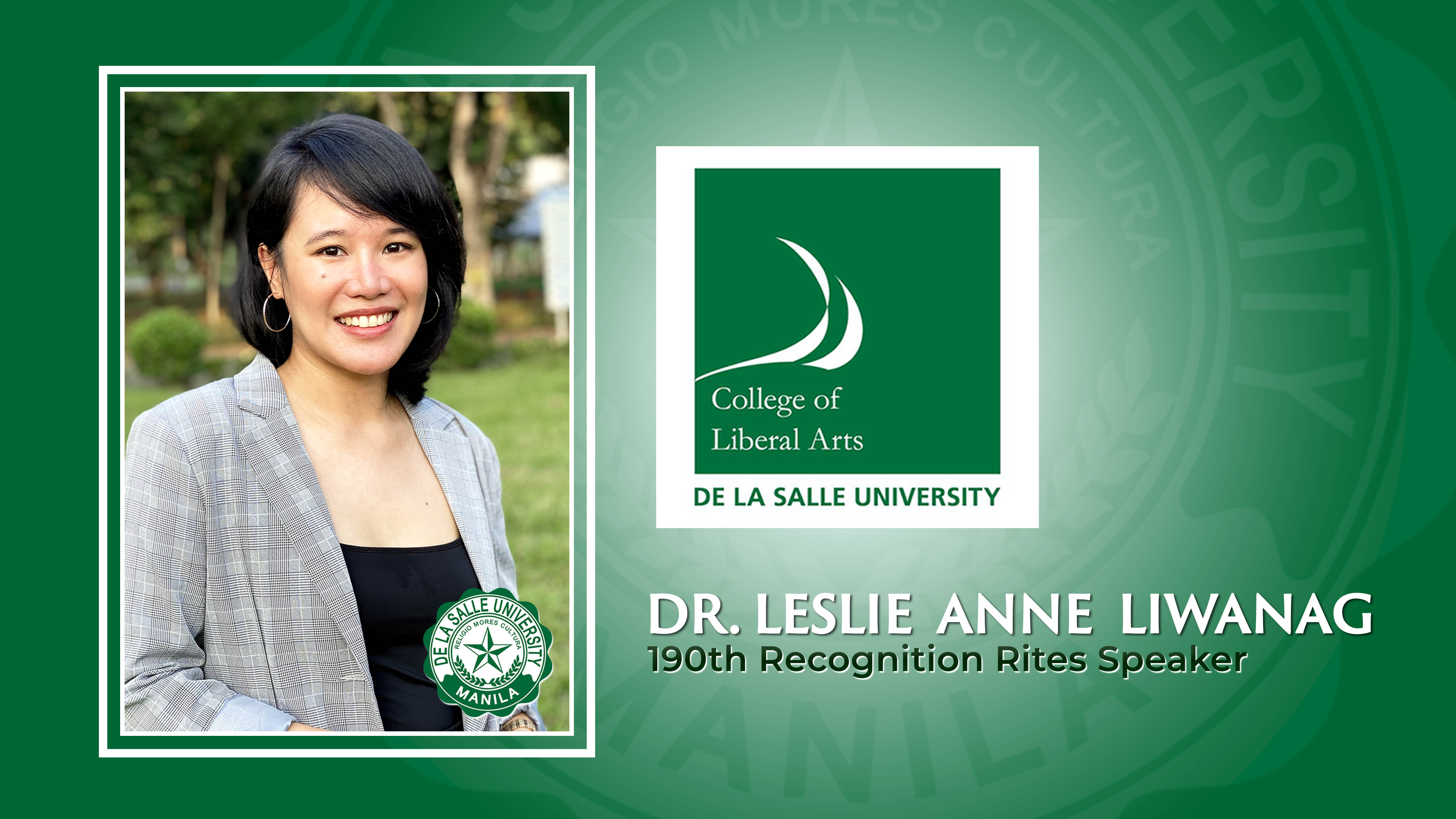 "Look for your Pinterest, focus while playing your favorite Spotfiy music, eventually you will find your own Waze to reach your destination."
Dr. Leslie Anne Liwanag appealed to the liberal arts graduates of De La Salle University (DLSU) as guest speaker to their College of Liberal Arts pre-graduation rites where she shared a witty speech on the three life applications that would help students navigate their way through the complicated interface of adulthood.
Dr. Liwanag graduated magna cum laude with the degree of Bachelor of Arts in Philippine Studies and majored in Filipino in Mass Media at DLSU.
She is now an assistant professor at the VSU Department of Liberal Arts and Behavioral Sciences (DLABS).
But just like any other student, "Doc Lianne" had her fair share of getting the shorter end of the stick in her pursuit of excellence and in the process of picking herself up again and again and again, she learned three important lessons in life.
"Do a virtual search of how you imagine your life to be in the years to come."
The first app is Pinterest, it is a visual discovery engine designed to spark inspiration by showing users different "pins" for their interests like music, cooking, fashion, and so much more. They can browse from a wide array of categories and choose which to pin on their virtual board.
For Doc Lianne, it was clear who she wanted to be, she wanted to be known, to become a superstar.
She shared that she got a kickstart at life by simply imagining her goals and exploring ideas that would allow them to happen. She had photos, gifs, and short videos that she pinned in her mind to remind her of who she was capable of becoming.
But more than the inspiration, the pins were an impression of what she was willing to go through in order to achieve her goals.
"Life has several playlists, listen to your music and keep yourself focused."
The next app is Spotify, one of the world's largest audio streaming and media services providers.
Dr. Liwanag reveals that while there are many songs that are reminiscent of several people she has had the honor of meeting in DLSU, Michael Bolton's Go The Distance is the track of her life.
"And I won't look back, I can go the distance. And I'll stay on track, no I won't accept defeat."
It was music that helped the DLABS professor stay focused. The message of these lines resonated with her especially when she was writing her PhD dissertation.
And as she was almost at the end of the line with her doctorate degree, it was serendipitous when she was offered a faculty position in Visayas State University, the place she now calls home.
"There will always be accidents."
Lastly, Waze. Waze is a GPS navigation software app designed to help drivers avoid traffic and provide the best routes to destinations.
Dr. Liwanag believes that every person needs a "waze" in their life, whether you are someone who is lost or someone who knows their destination because there are always unforeseen circumstances that happen and you need a compass to guide you to where your path should lead.
There are traffic jams and dead ends; roads that slow your pace down and delay you to your destination.
There are also beautiful accidents, accidents that lead you to an unexpected journey, and plain accidents that hurt you and while teaching a lesson or two.
VSU was Dr. Liwanag's beautiful accident; an entirely unplanned adventure of meeting new people, learning from them, and collaborating with them. Now, she is at the frontlines of cultivating a research culture for the social sciences in this agricultural university.
The DLABS prof believes that purpose is the guiding compass that always brought her back to the path leading to her destination.
No matter how slowly, quickly, or bumpy the ride to her destination was, Dr. Liwanag found comfort in knowing that she always knew why she chose the road in the first place.