DLABS community pantry reignites Viscan bayanihan spirit
Details

Written by Mary Grace Perez-Enaya and Aura Shaznay Tumulak

Published: 05 May 2021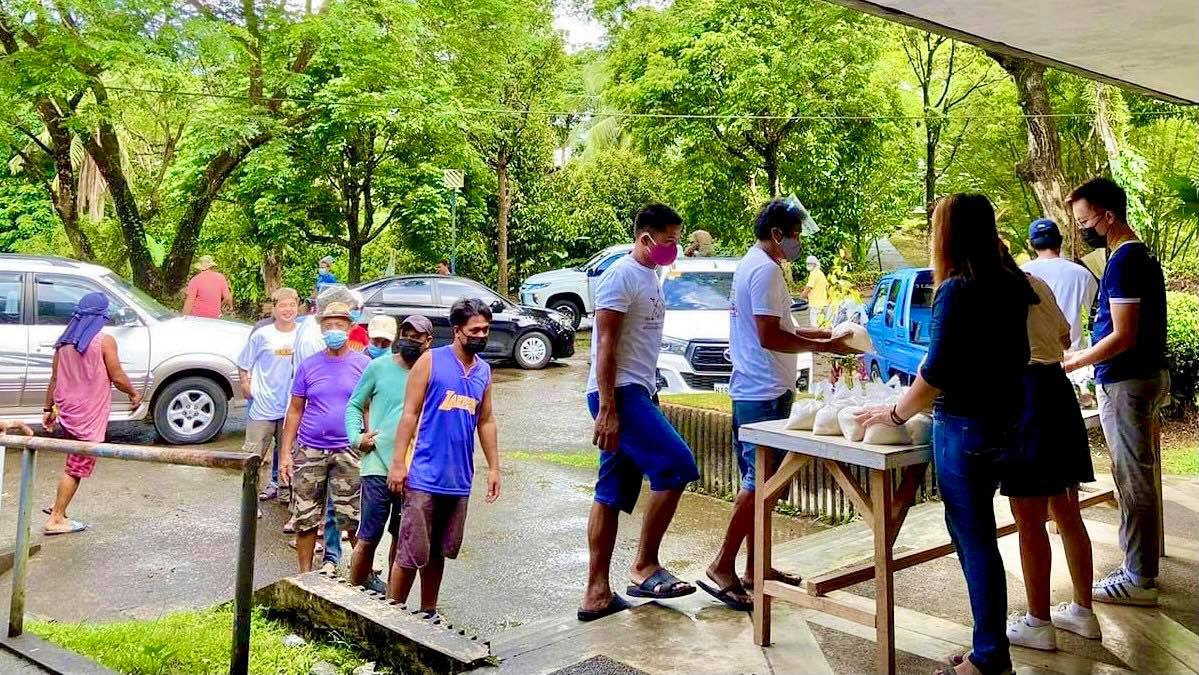 Job order employees of VSU and other community people lined up at the entrance of DLABS Building to receive some relief items coming from a pool of donations raised from various sources. Photo by Ms. Jean Malanguis.
It's a movement that started in Maginhawa, Quezon City. In a few days, it inspired many other groups to replicate the success of this movement in different parts of the country.
And now, this movement reaches our very own community, reigniting the strong Bayanihan spirit that thrives here in VSU.
This is now the second week of the community pantry spearheaded by the faculty members of the Department of Liberal Arts and Behavioral Sciences (DLABS).
While Viscans were celebrating the 97th founding year of VSU, DLABS faculty members were also busy coming up with a timely activity of their own to inspire kindness and compassion in the time of a global crisis.
On April 26, DLABS successfully launched VSU's first version of a community pantry, a volunteer-oriented movement not mainly anchored on charity and dole-outs but an example of mutual aid.
To put it simply, a community pantry is a powerful concept wherein people get to help other people in a time of great need.
"Maghatag kung unsa'y makaya, magkuha kung unsa ang kinahanglan," a sign posted in the DLABS community pantry which is a vernacular translation of the golden rule 'from each according to his ability, to each according to his needs.'
This catchphrase sums up the very goal of what a community pantry should be.
Dr. Jett C. Quebec, current DLABS head, explained in detail the objective of the community pantry they established here in VSU.
"The DLABS community pantry signifies that the Filipino Bayanihan spirit is very much alive in VSU. The pantry showcases communal unity in voluntarily pooling resources to help our fellowmen without expecting anything in return—a plain, absolute, and unadulterated urge to ease the burden of others especially in these trying times," Dr. Quebec revealed.
What began last week as a small single-table setup of food now becomes an established community pantry of not only consumable goods but also hygiene products with basic health and wellness kits needed in this pandemic.
After seeing the success of VSU's first community pantry, more help is coming its way from other departments and units of VSU that are supporting this noble cause.
One DLABS faculty member who requested to be anonymous shared what she hopes to happen for the community pantry they collectively organized.
"We can have a mobile community pantry where one department serves as the host every week. In this manner, other employees may donate and avail of the goods without going to DLABS. This is just a matter of planning and reaching out to the other units. We will support in any way we can every pantry wherever it goes," she said.
Other charitable causes started by DLABS include the 'adopt a part-timer or job order employee' where one regular faculty member donates goods or cash for a particular part-timer or job order employee of their department.
In 2015, Dr. Seregena Ruth L. Martinez also started community literacy drives with gift-giving provisions to entice elementary pupils to participate in the said activity.
The DLABS community pantry is just but one of the many COVID-19 responses of the VSU community since the start of the community lockdown on March 13, 2020.
From alumni donations that raked in more than a million pesos to support stranded Viscans from March until June 2020, to sending stranded students to their respective homes, providing free vegetables and other healthy goodies to frontliners and community people, to raising more than sixty thousand pesos for five Viscans in need, these actions are a great reflection of the bayanihan spirit that thrives here in VSU.
Meanwhile, the DLABS community pantry shows no signs of stopping soon as more local donations are poured into organized food banks to help people in need.
DLABS will continue to receive donations any day of the week. The community pantry shall then operate every Wednesday open from 8:00AM to 5:00PM.