President's Notes: Graduate education can propel PH's global competitiveness
Details

Written by Edgardo E. Tulin

Published: 24 August 2021
This speech was delivered during the VSU Graduate School Onboarding Program held virtually on August 24, 2021.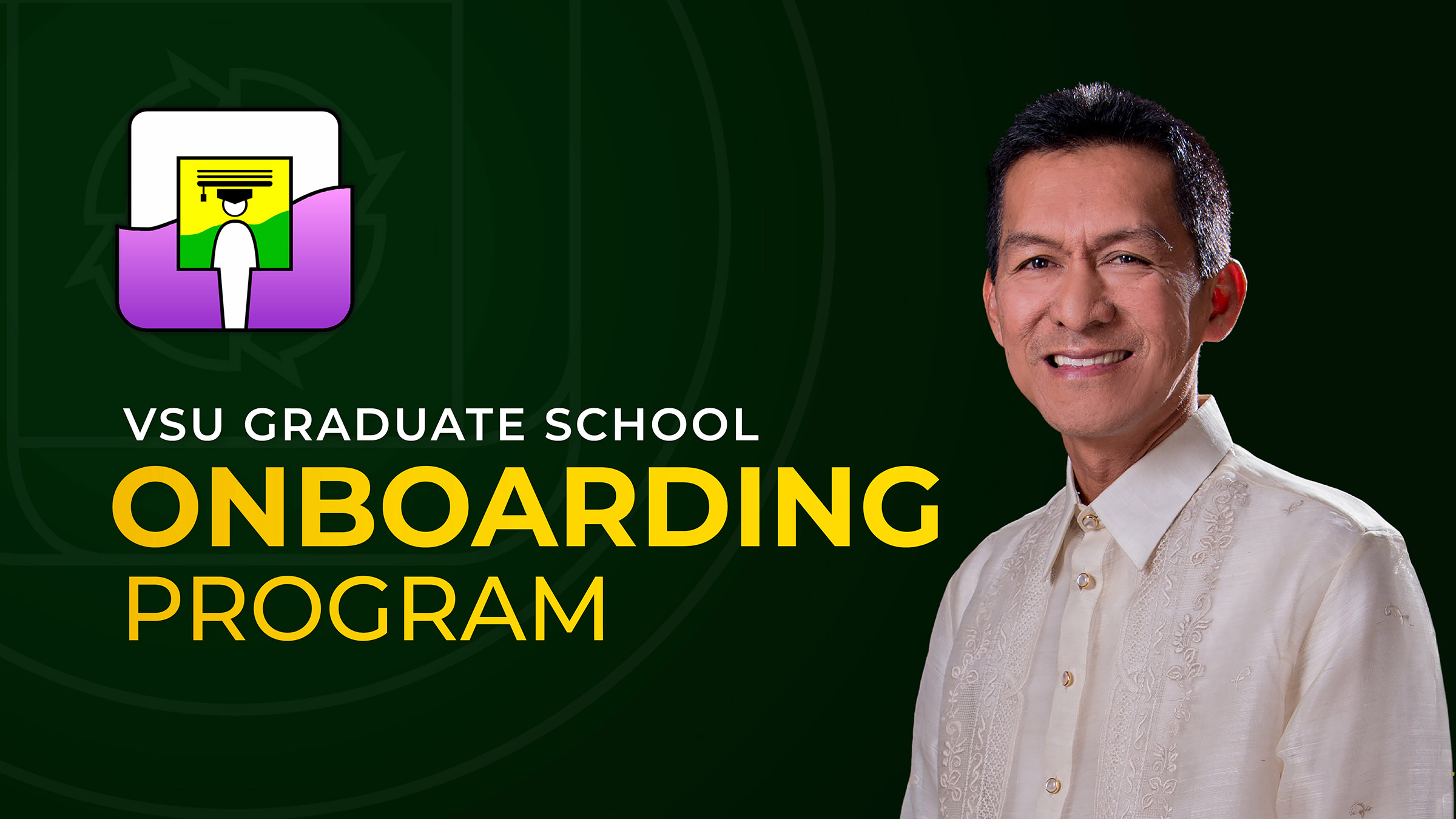 Our dear graduate students, a pleasant afternoon to all of you!
It is my pleasure to welcome 439 graduate students of the Visayas State University. First of all, congratulations to all of you as you have been admitted to one of the best graduate universities in the Philippines. I'm personally happy to report that our enrollment rate in the Graduate School has been steadily growing despite the pandemic.
The discontinuation of face-to-face classes pushed all learning institutions (may it be from basic, undergraduate and graduate education) to adopt flexible learning. I'm very sure that two years into this learning modality, a lot of our students are completely overwhelmed and are still navigating to this kind of educational setup. Even our own professors are still adjusting to the many changes that we had to do just to continue learning in the time of COVID-19.
But interestingly, the adoption of flexible learning has opened an opportunity for many of our young professionals to pursue graduate education now that they can stay at their respective hometowns and workplaces even if they are doing their advanced studies. You see, even if we are having many problems because of the pandemic, opportunities like this become open and possible. This is what they call the silver lining—a hopeful prospect brought about by challenging times.
With this, I believe that today is the best time to pursue graduate education. Although I'm sure that some of your professors will argue that there are many things that you may have been missing under this educational setup especially in terms of hands-on technical research, but I think that this is still the most appropriate time for you to invest in your future by pursuing professional development.
This pandemic, as I said a while ago, will have a long lasting impact to mankind in the next few years and I think that being able to produce more graduate students will allow us to produce more professionals who will be armed with in-depth understanding in a set of specialized disciplines who may later provide practical solutions to the many problems that we currently face today because of COVID-19.
My dear graduate students, one thing that you should know is that there is a strong link between graduate education, the production of knowledge, and the economic and social prosperity of a country. If we are going to look at the leading countries around the world, you will see a correlation between the number of PhD degree holders of a country and its economic status.
The World Economic Forum in 2017 rated the United States with the most number of PhD holders with 71,000 followed by Germany and the United Kingdom with around 28,000 doctoral graduates. Globally, less than 2% of the world population holds a doctorate degree.
I cannot provide you the exact figures in the Philippines as of now but I'm sure ours is very dismal that's why the National Academy of Science and Technology (NAST) has been recommending to offer more opportunities for graduate education for Filipinos whether here or in abroad because we all know that having more Filipino PhD and MS degree holders especially in the areas of technical sciences will significantly propel the global competitiveness ranking of the Philippines.
But here's the catch, we can't solve our current problems in our country by simply distributing graduate degrees like candies. Borrowing the words from Gundula Bosch, we need to train our PhD students to be thinkers and not just specialists. There's a reason why it's called a Doctor of Philosophy because when you obtain this advanced degree, you need to contribute to the body of knowledge that will hopefully answer some of the pressing problems of your discipline, and of society in general.
In summary, graduate education should not be pursued only for your professional promotions. Treat this opportunity to contribute to greater good by being an essential part of our knowledge economy.
For the past years, the VSU administration sent in a huge number of our faculty, staff and researchers to pursue graduate education in reputable universities here and abroad. Some of them have already returned and will be your professors in some of your classes. On top of that, we have also opened opportunities for our graduates with honors to avail of a local scholarship that can compete with the stipend offered by national government agencies. In fact last year was the first batch of them being admitted to the different graduate programs of VSU.
Also, an important part of our internationalization efforts is to offer scholarship opportunities for foreign students here in ASEAN and we have been strengthening our promotions in this area so that we can attract more graduate students from different parts of the world.
We are doing all these because we believe that being one of the few science and research universities in the country, VSU should be able to produce more graduate students who will make a difference in their respective disciplines in the near future.
I'm hoping that this will serve as a challenge for all our graduate students to excel in your respective MS and PhD programs because we expect no less from all of you. May you soon become the experts who will build the knowledge economy of our country to ensure greater prosperity for all Filipinos.
Thank you very much and God bless all of you!