President's Notes: A reflection on the 50th year of VSU Tolosa
Details

Written by Edgardo E. Tulin

Published: 10 September 2021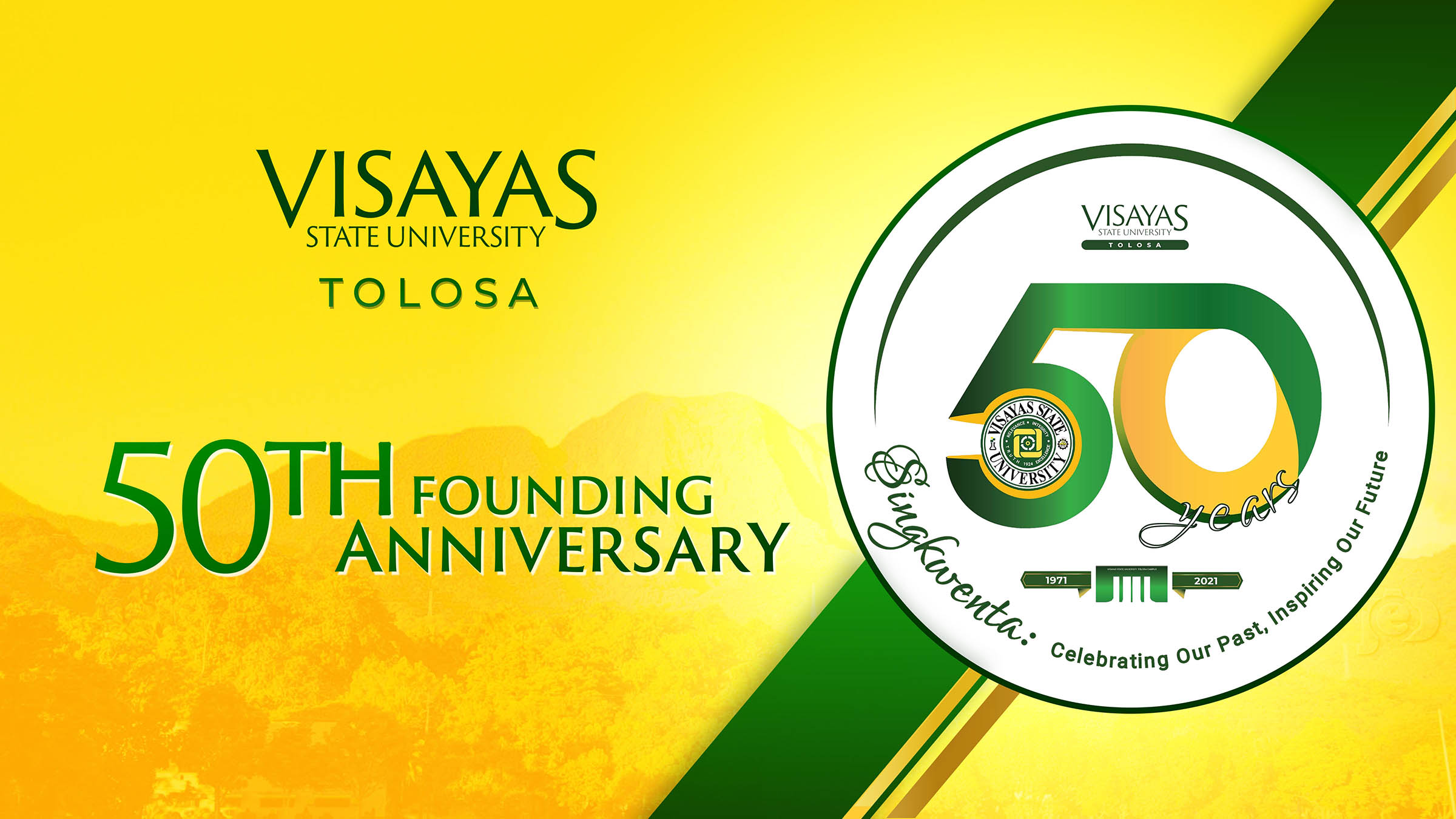 This speech was delivered during the 50th Golden Anniversary Celebration of VSU Alangalang held on September 3, 2021.
My respect to your dynamic Chancellor, Dr. Queenstein D. Lauzon, together with her ever active faculty, staff, students, alumni and other benefactors of VSU Tolosa, a pleasant day to all of you.
First, congratulations to all of us on VSU Tolosa's 50th anniversary celebration!
Needless to say, today is such a momentous occasion for the entire VSU Tolosa family. While we are celebrating this event virtually, I know that all of us here see the importance of looking back at the significant achievements that this component campus has accomplished for the past five decades.
Last week, another component campus of VSU turned 50 and that is VSU Alangalang. Coincidentally, both of your campuses are located in the northeastern section of the Leyte island. But one thing to note is that while VSU Tolosa and VSU Alangalang are of the same institutional age, both of your campuses have varying mandates with you being in the fisheries sector while VSU Alangalang is in agriculture and environmental management.
Now you may ask, why am I telling you this? Because any anniversary celebration opens a great opportunity to reflect on why our institution exists in the first place, and how far have we done in fulfilling our very own mandate.
You see, we are to be evaluated based on the fulfillment of our mandate. And in the case of VSU Tolosa, we all know that this component campus was established mainly as a fisheries school. And thankfully, VSU Tolosa has been selected in 2009 as a National University/College of Fisheries under NAFES program of the Commission on Higher Education or CHED. This recognition establishes our reputation as a regional leader in fisheries and aquatic resources education here in Eastern Visayas.
Now let's go to some of the hard pills to swallow as part of our exercise in reflecting on our very mandate. While VSU Tolosa's enrollment is increasing, this increase cannot be attributed directly to student enrollment particularly in our banner program on the Bachelor of Science in Fisheries. This means that we need to come up with unique marketing strategies that will help us attract the best and the brightest students to enroll in our BS Fisheries program here in VSU Tolosa.
Let's also talk about the performance of our graduates in the BS Fisheries program in the national licensure examination. Interestingly, our most recent institutional passing percentage in 2019 was quite improving as compared to the previous years. But unfortunately, we are still below the national passing percentage in the board exam for fisheries technologist.
As I've said, these are such hard pills to swallow—the very realities that challenge us to continue improving on ourselves. I'm personally happy that your current Chancellor just obtained her PhD degree in Fisheries from the University of the Philippines Visayas, the country's foremost leader in fisheries science and oceanography. I hope that because you are being led by an academician coming from your banner program, VSU Tolosa will soon be steered into better board exam performance plus greater productivity in terms of fisheries research and development.
The VSU administration will soon pour in millions of pesos for the improvement of your marine and freshwater hatcheries that we are exploring to establish in a recently donated lot located in your neighboring town of Tanauan, Leyte. Aside from this, we have also procured modern laboratory equipment worth 10 million pesos for your fisheries and marine laboratory facilities to allow both of your faculty and students to engage in practical and innovative research areas that will hopefully improve our fisheries and aquatic resources ecosystem here in our region.
I'm also hoping that our young faculty members in the BS Fisheries program will be enticed to grab local and national scholarship opportunities that will entitle them to acquire advanced degrees in reputable universities in fisheries and aquatic sciences. I'm confident that Chancellor Lauzon will be able to effectively implement these marching orders to improve our overall standing as the regional leader in fisheries technology here in Eastern Visayas.
As for the other programs that we are offering here in VSU Tolosa, I also expect no less from you. We need to continue producing quality students in the field of teacher education and I think we are already on track with that. And for our new but among the most in-demand programs here in your component campus, the Bachelor of Science in Criminology, please continue to improve on your board exam performance as well. We are happy that despite the relatively young age of your program, we have already started to be among the best criminology schools in Region 8.
Now, I really don't want to sound like I'm tampering with our golden anniversary celebration by mainly anchoring my message on the many challenges that we have to face in the next few years. This time, I'd like to talk about the many opportunities that we have on our hands to ensure the sustained growth and development of VSU Tolosa in the future.
VSU Tolosa is very lucky to receive state-of-the-art buildings equipped with modern facilities that are the envy of other universities and colleges here in the region. In fact, I'm sure that our students and faculty members are equally astounded with your new classrooms and offices provided by the Korean International Cooperation Agency or KOICA. On top of that, you have a modern campus dormitory that will surely be attractive to the best students who would like to enroll in your respective undergraduate programs.
All of these new buildings and amenities were established right after this campus was flattened by super typhoon Yolanda in 2013. When I personally saw the devastation here in your campus back in those days, I felt like it was impossible to open this campus once again. But that fateful day made way for new infrastructure to rise in your campus only within 5 years. Since we inaugurated your new buildings, anyone who passes by in the national highway cannot stop but notice the towering buildings that you currently have—a symbol of hope and resilience for the typhoon Yolanda victims while it is a symbol of longstanding friendship and international cooperation with one of our Asian neighbors, the Republic of Korea.
Paulo Coelho, a well known lyricist and novelist once said that, "the only thing tragedy gives us is the opportunity to rebuild our life".
The new buildings from KOICA will always be a reminder of super typhoon Yolanda for all of us—that in a time of extraordinary despair, one friend will be there to lift us up to allow us to move forward in our lives.
With that, I continue to extend my heartfelt thanks to the government of South Korea for choosing to help VSU Tolosa in our most difficult moment. What you provided us will forever be a symbol of the longstanding friendship of the Filipino people and the people of South Korea. Both of our countries are hopeful of a brighter tomorrow because of the shared bond that our two countries have for each other.
I would also like to extend my sincere thanks to all the people who have been part of the 50 colorful years of VSU Tolosa. I would like to say thank you to our former Campus Deans, Dr. Lauzon, Dr. Cano, Gov Petilla, Dom and Icot, Alcantara
After this anniversary celebration, we will be together in shaping a better and amazing future for this component campus in the next 5 decades.
Hopefully when this institution reaches its centennial year, VSU Tolosa will now become a CHED Center of Excellence in Fisheries Technology and will be a reputable national leader in both teacher education and in the field of criminology.
We also hope to expand our programs to new undergraduate offerings that have direct connection to fisheries science and oceanography. The VSU administration will be here as your guiding compass in bringing this institution to greater heights.
Mabuhay ang VSU Tolosa! Mabuhay ang VSU system! Mabuhay ang Pilipinas!
Damo nga salamat sa inyo nga tanan!