VSU opens its gate to 1,700 graduating Viscans for limited face-to-face classes
Details

Written by Neil Bryan B. Fulache

Published: 17 March 2022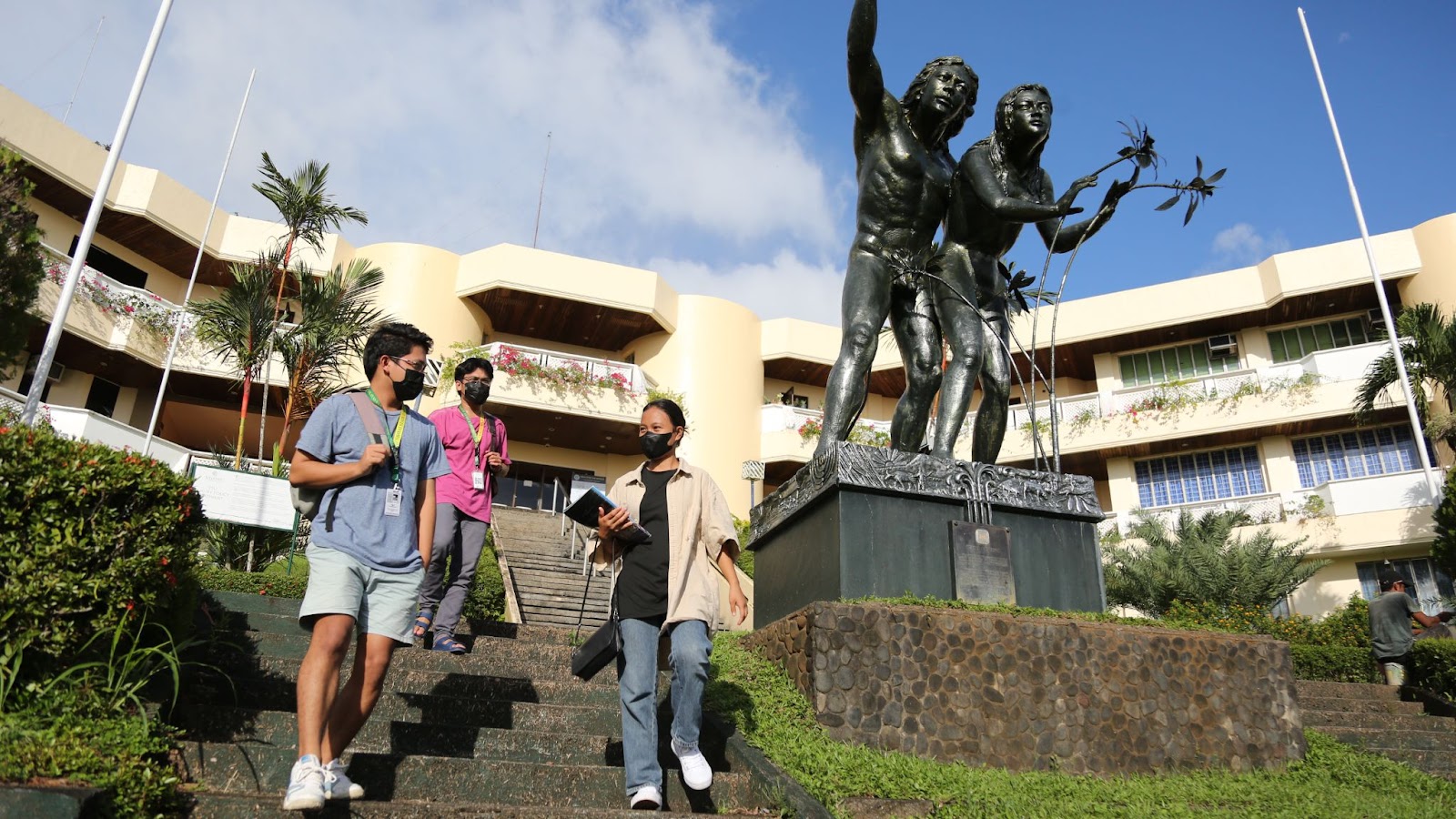 An estimated 1,700 graduating Viscans will soon be welcomed back inside the VSU main campus in the initial conduct of the limited face-to-face classes for the remainder of the second semester in the academic year (AY) 2021-2022.
The pioneer batch of returning students will be allowed entry in the university starting next week, March 21, 2022, two years after the suspension announcement by the University Administrative Council (UAdCo) that was implemented at the start of the global pandemic.
After many failed attempts to reopen due to unexpected case surge of two COVID-19 variants plus the devastation brought by Typhoon Odette in Eastern Visayas, the VSU administration is officially resuming face-to-face classes but will only be exclusive for now to seniors and graduating students.
According to Dr. Ma. Rachel Kim L. Aure, Director for Instruction and Evaluation, it is really important that these 4th year students will be provided access to VSU's laboratories and equipment as they are expected to conduct their respective theses that includes major laboratory works, plus the on-the-job training (OJT) that also requires hands-on and physical experiences.
This is a risky yet a calculated move to ensure that quality education and support services to students will be delivered especially to graduating Viscans.
Lecture classes, on the other hand, will remain in a flexible learning setup and will be administered via the VSU E-Learning Environment (VSUEE) both in asynchronous and synchronous mode of instruction.
VSU completed the requirements in accordance with the basic guidelines set by the Commission on Higher Education (CHED) and was validated by its regional office following a successful site inspection visit held in December last year.
In line with this, these graduating students must be fully vaccinated, have obtained basic medical insurance, and submit an affidavit of undertaking to allow entry to the VSU Main Campus.
A mandatory medical examination to be administered exclusively by the VSU Infirmary will also be implemented upon arrival of these qualified students.
Fully equipped and ready
As part of VSU's initiatives to ensure that basic health and safety measures are met, a series of workshops were held to orient both faculty members, staff and students to observe protocols that will lessen interaction and crowding within indoor and outdoor facilities of the university.
The university also invested in equipment that would guarantee convenience and accessibility of hand sanitation facilities for faculty, staff, and returning students.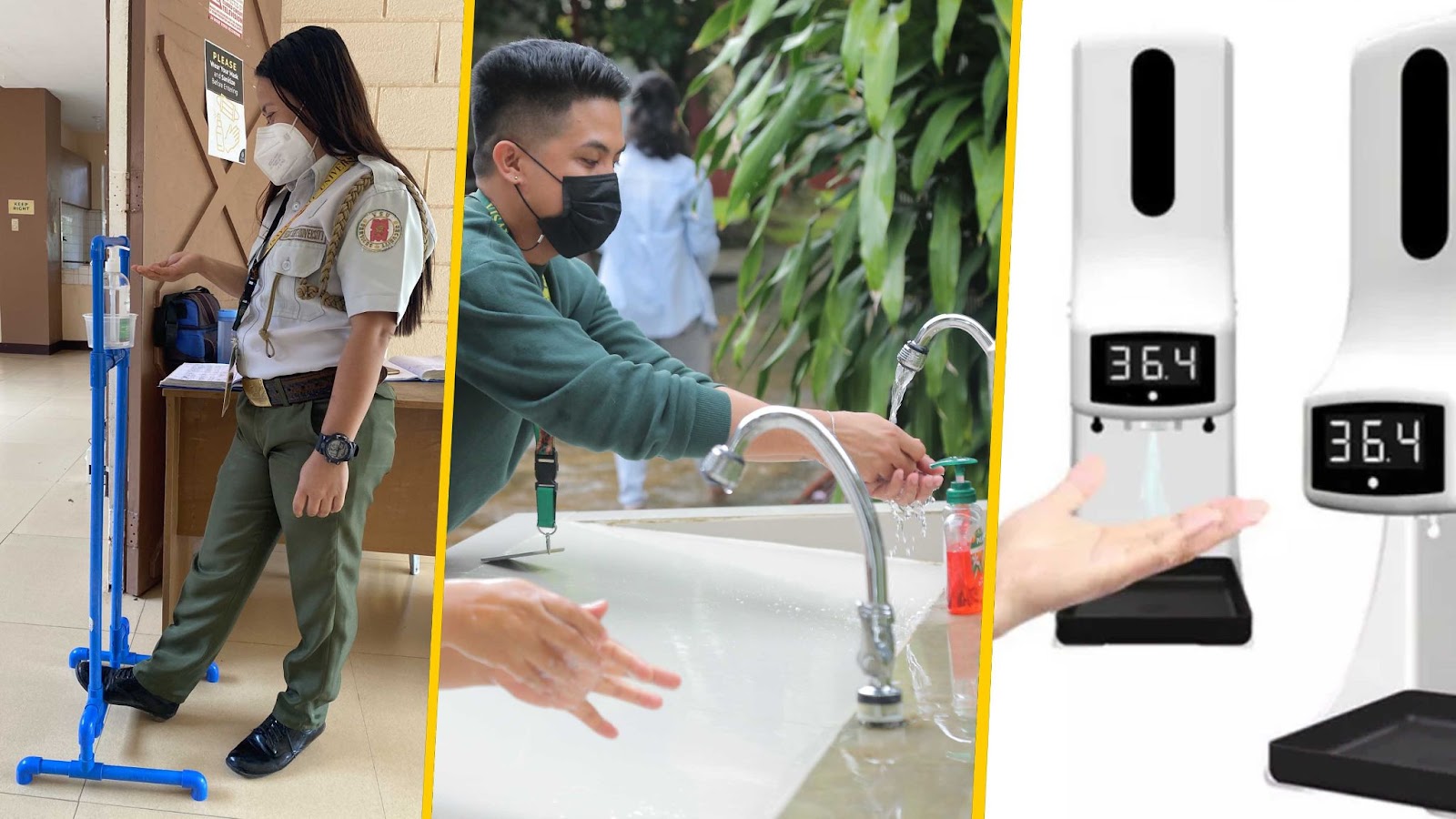 Foot-controlled alcohol dispenser (left), hand washing station (center), and thermal scanner with automated alcohol dispenser (right) were already put in place in all buildings and major premises of the VSU Main Campus.
Hand washing stations have long been constructed in the facade of all major buildings. These were complemented with the distribution of 200 pieces of foot-controlled mechanical alcohol dispensers, and 150 units of thermal scanners with automated alcohol dispensers that were already placed in conspicuous areas of the university.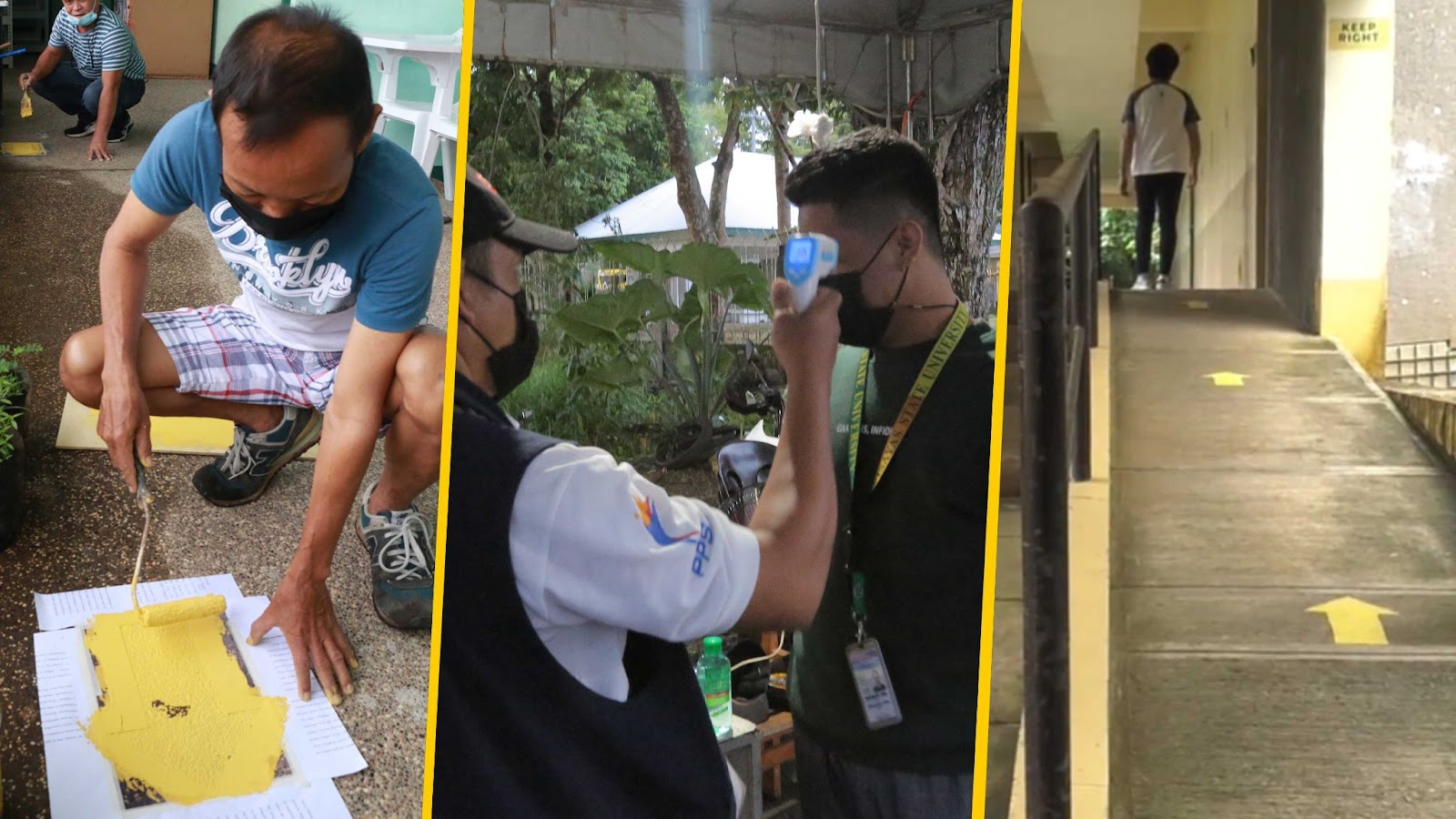 Temperature will first be checked at the university entrances. Floor signages have also been placed to regulate foot traffic in corridors and hallways of the university.
Aside from regular hand washing, wearing of masks will also be strictly observed inside the premises of the Main Campus while public gatherings will strictly be regulated to alleviate the risk of getting infected.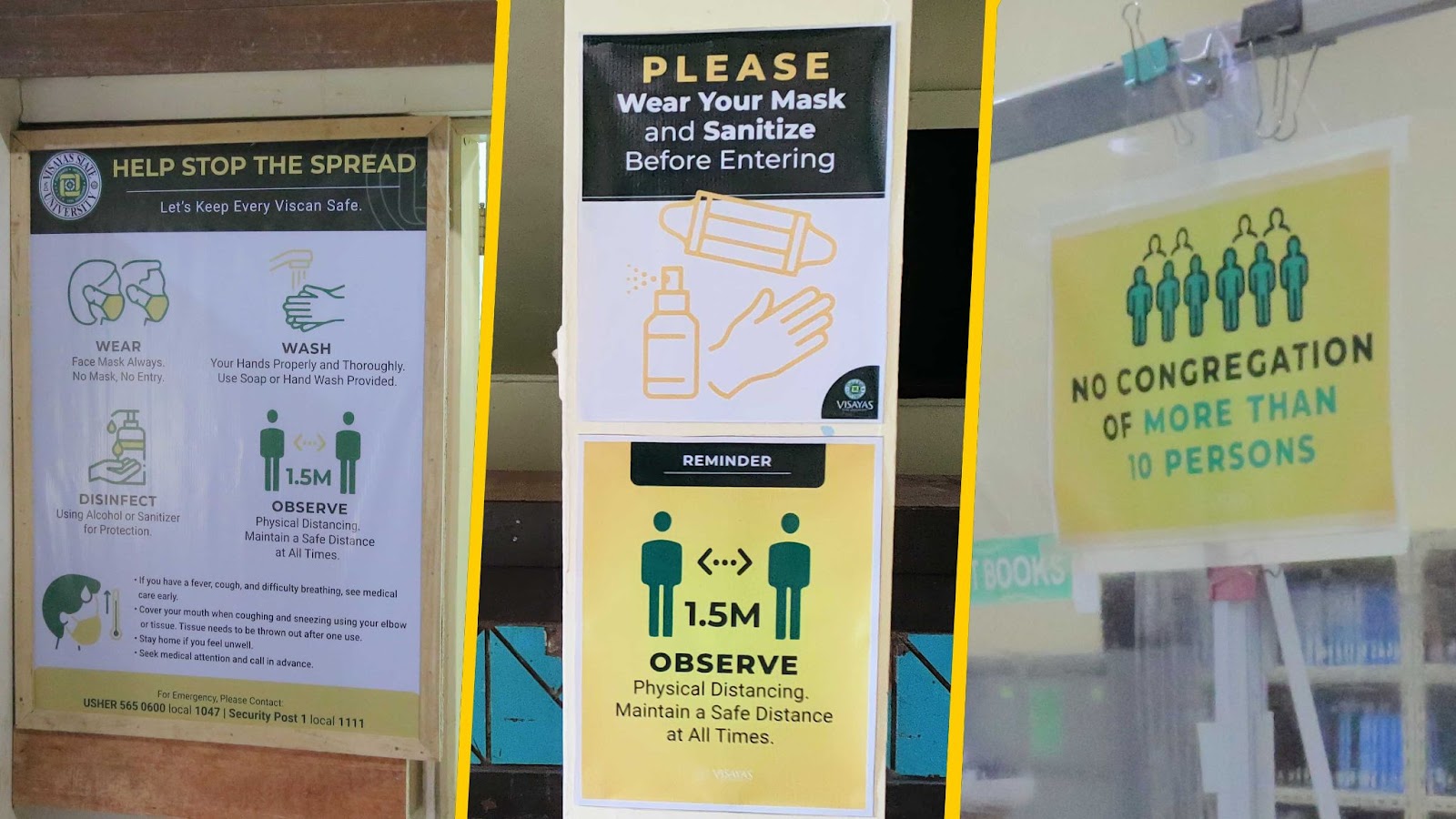 Posters and signages have also been installed in all on-campus dormitories following the guidelines set by CHED.
All facilities can only be utilized at 50% capacity and that includes student accommodation in dormitories and cottages. Boarding houses have also been allowed to operate in nearby barangays and are being monitored by the Office of the Dean of Students (ODS).
A special student onboarding was also held yesterday to tackle policies and guidelines regarding the implementation of the limited face-to-face classes. Concerned students can replay this broadcast here.
For students who wish to reside in on-campus dormitories and cottages, application and submission instructions have already been announced in the official Facebook page of the university.
The Director for Instruction and Evaluation hopes that students will adhere to the protocols set by the university for a safe resumption of limited face-to-face classes. She also revealed that next week will serve as a pilot test for the gradual reopening of the campus to other year levels.
"It's within sight that we will also do the same for the other year levels very soon. There's even a huge possibility that we ask everyone to return by next school year considering that CHED is already allowing this and that things have been improving the past few days. But of course, we have to implement this carefully depending on the circumstances on the ground. But we are hopeful that next week will be the start of a bigger possibility for everyone," Dr. Aure explained.
Aside from CHED, the implementation of limited face-to-face classes has been properly coordinated with the City Government of Baybay through the local Interagency Task Force (IATF) against COVID-19.
The Department of Health (DOH) Eastern Visayas was also consulted in the safe reopening of face-to-face classes across the five campuses of the VSU system.