Viridescent, a #ProudViscan short film wins grand prize in Klima Film Festival
Details

Written by Neil Bryan B. Fulache

Published: 20 March 2022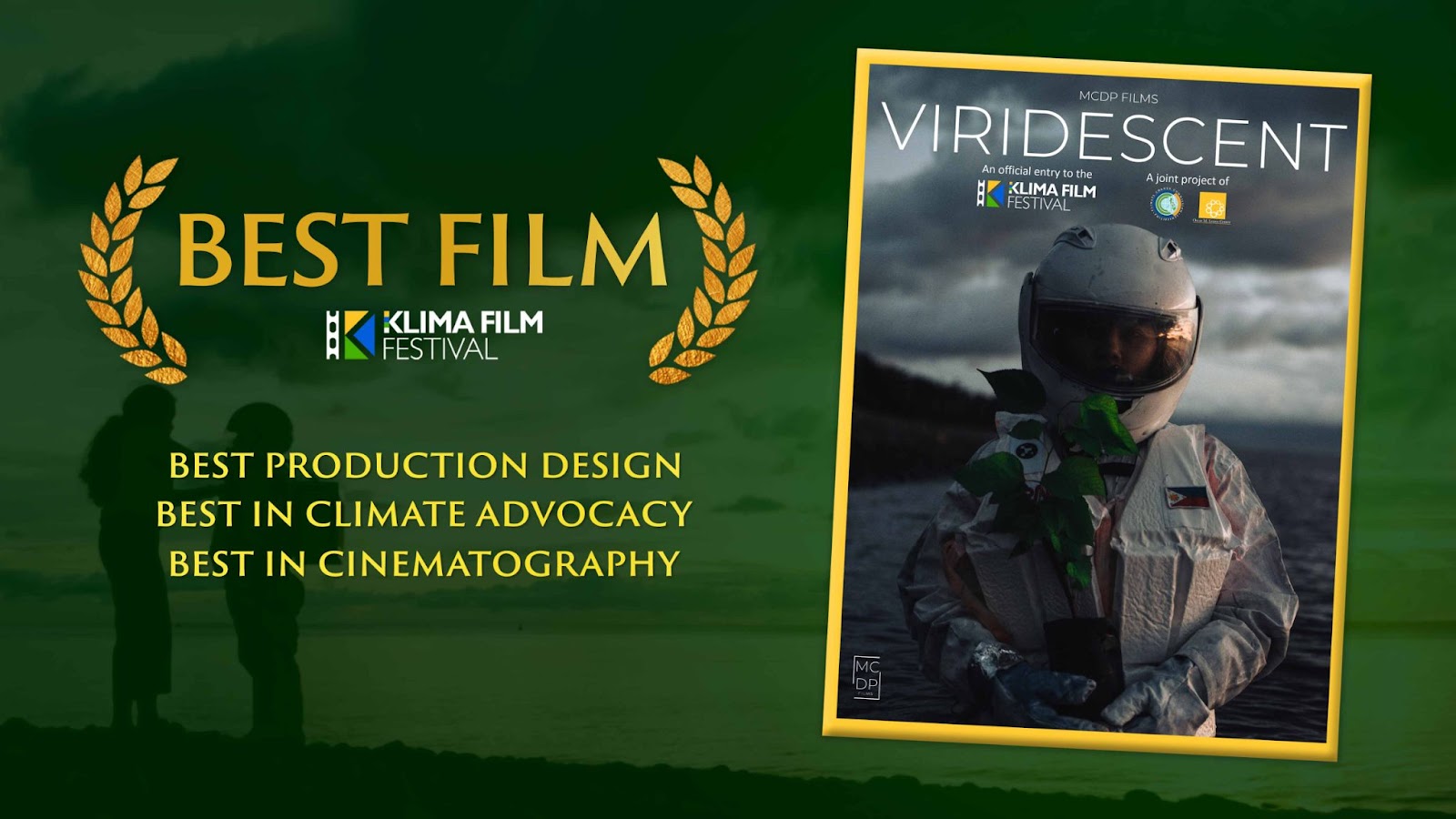 From being first runner up last year to winning the grand prize this year—this is the story of 3 #ProudViscans aspiring filmmakers who continued their passion by competing again in the Klima Film Festival.
MCDP Films with their entry entitled "Viridescent" wins big in the second edition of the Klima Film Festival (KFF) organized by the Climate Change Commission (CCC) and the Oscar M. Lopez Center (OLM Center).
In an awarding ceremony held on March 11 via Facebook live, Viridescent won the biggest awards in the said competition including Best Film, Best in Climate Advocacy, Best Production Design, and Best in Cinematography that came with an accumulated prize of Php115,000.00 cash.
On top of this was a number of nominations the film received in many other categories including Best Performance for Leila Amore Galvez as Dr. Leila Montesclaros, Best Director, Best Screenplay, and the Gender Responsive Award.
Viridescent is a story of a visionary woman and renowned scientist, Leila Montesclaros, along with a defeatist man Noah Bolfango, who is a captain and software engineer of the genesis in Mars. Each subjected to their own convictions, they work towards a unified mission: to retrieve crucial biological data to save humanity from the verge of extinction. And in this strife arose a one-man mission survived by a woman.
Two years ago, this very same team comprised of VSUIHS alumni Mr. Mikone Joshua Calungsod, Mr. Darwin Palermo and Ms. Leila Amore Galvez competed under the banner of "Ang Maharlika Productions" for their first film entry entitled "Verdant."
Mr. Calungsod who directed, edited, and portrayed the protagonist role along with their writer Ms. Galvez, led the creative storytelling of this winning short film, with cinematography from Mr. Palermo. And to complete their winning team was Ms. Camille Flores who served as their production designer.
A sequel to Verdant
In an interview, the aspiring Director explained the connection between their first and second films, Verdant and Viridescent.
"This story was actually intended for Verdant, but because of the tight restrictions before, shooting it was never possible. And looking back in our first entry, we reflected on things where we should improve so we took input from a lot of people and developed Viridescent from there," Calungsod said.
Viridescent is a word that means becoming one with the color of nature, which is a complementing sequel to Verdant that means a bright green color of lush vegetation.
Passion for filmmaking and environmental conservation
Mr. Calungsod, currently a 2nd year BS Environmental Science student in VSU expressed his appreciation to the university for its continued support as most of the scenes in the film were shot in the vicinity of the VSU Main Campus.
Son of Prof. Phoebe Lynn Calungsod, a VSU College of Nursing (CON) faculty member, the young filmmaker hailed from Maitom, Baybay City is currently residing inside the campus.
He also revealed that in spite of his great love for VSU and his advocacy for environmental conservation, he is currently working on shifting to a film-related degree program in Mapua University so that he can pursue what he loves to do.
With his undeniable talent and potential in filmmaking, he hopes that this film will serve its intended purpose of sending a message of preserving the natural environment which he believes to be a timely reminder for everyone considering that we just experienced being hit by Super Typhoon Odette.
He also added that despite the lack of costly equipment being their main challenge in producing their two films, he hopes that their unique experience will also inspire others to focus on their artistic capabilities in pursuing any art form.
"Continue on what you're doing. Despite not having good equipment, if you have the means to record then there's no stopping you to tell a story, to send a message. No matter the lack of materials, don't be discouraged. And to all those people who doubt your ability, turn those doubts as your fuel for inspiration, for your drive to succeed. Move forward but never forget to always look back."
Mr. Calungsod also expressed his thanks and appreciation to VSU's Institute of Tropical Ecology and Environment Management (ITEEM), especially to Dr. Marlito Jose Bande and Ms. Adelina Carreno of the Research and Extension office for their overwhelming support to the completion of their film project.
In this second edition of the Klima Film Festival, the governing body of the competition shortlisted 10 finalists that were subjected to post-production review in selected film laboratories to ensure scientific accuracy and production quality.
The top 4 entries were then submitted for final review in the Movies and Television Review and Classification Board (MTRCB) to prepare it for public showing. The 10 shortlisted films are now available for viewing at iWantTFC, the official media streaming partner of the Klima Film Festival.