Basilan gov't to work with PhilRootcrops for a rural development project
Details

Written by Ulderico B. Alviola

Published: 12 July 2022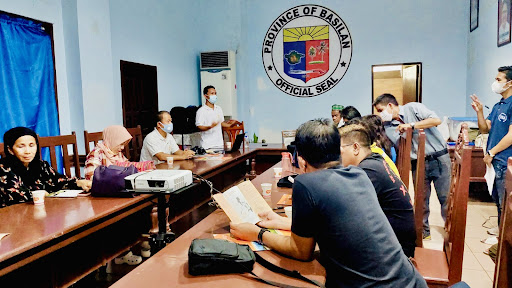 PhilRootcrops Deputy Director Marlon M. Tambis orients the officials of Basilan province for the establishment of new root crop production areas in southern Philippines.
A unique livelihood program anchored on root crop production is set to take shape in the western part of Basilan province.
Called Modeling Inter-LGU Alliance in Basilan (MILAB), this project is an initiative of the Institute for Autonomy and Governance (IAG) which is a regional think tank and local policy center specializing on governance and human security in the Bangsamoro region.
In this project, IAG partnered with the provincial government of Basilan and the Philippine Root Crop Research and Training Center (PhilRootcrops) to support and strengthen the cassava industry in southern Philippines by effectively managing the value chain involved in local root crop production.
Dr. Noor Saada, MILAB Project Manager, was the one who reached out to PhilRootcrops to tap the center's expertise in producing quality planting materials that can be turned into an array of food products with great market potential.
Presently, cassava is an important local commodity in the province that already has an existing value chain. But this value chain needs so much improvement that if done right, it can potentially make cassava a regular staple food just like how rice is valued in other parts of the country.
However, local root crop growers are currently constrained by the short shelf life of 'panggi', an intermediate by-product from cassava which is a semi-dried grates. Because it is not fully dried, it can ferment easily and can last only for a week.
This 'panggi' is further processed into 'pyuto', which is a local delicacy in Basilan that has become a staple food for some rural families.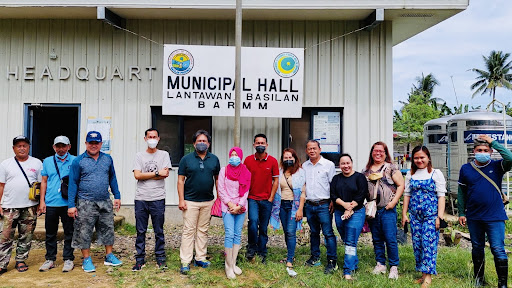 MILAB and PhilRootcrops staff visited the Municipality of Lantawan, Basilan on May 30, 2022 for an ocular inspection of possible demo sites for root crop production.
"Gusto na po naming mag-graduate sa panggi," says one of the local farmers who have been stuck with the local cassava variety for many years.
With this, PhilRootcrops recognized the need to improve the existing local value chain and expand it further so that locals can access quality cassava planting materials that are vital for food product innovation.
According to Prof. Marlon M. Tambis, PhilRootcrops Deputy Director and the concurrent Head of the Center's Extension Division, their approach will include providing the needed technical assistance that will hopefully enhance the food value chain of cassava in Basilan.
"We would like to extend the shelf life of the primary and intermediate products such as grates so that we can make them storable and more tradable just like dried grates and flour. We plan to do this by providing technologies and machines that will convert cassava into high-value processed products," Prof. Tambis said.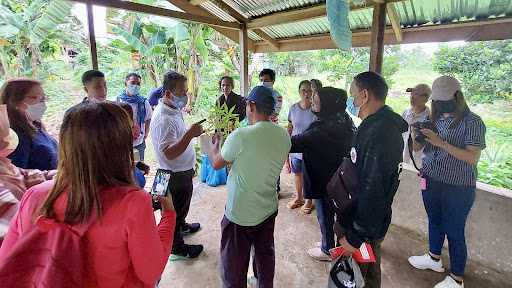 PhilRootcrops staff Mr. Dioscorro M. Balotete (the man pointing to the cassava plant) explains to the MILAB staff and some locals in Basilan how the varieties produced in PhilRootcrops are superior in terms of shelf life and overall quality.
At the onset of this project, PhilRootcrops committed to pilot test root crop production areas that will serve as demo farms and viable sources of quality planting materials.
The center will also take care of training the key chain players of cassava production by introducing to them modern production and processing techniques that will help innovate the root crop industry in the province.
In line with the MILAB project, a local alliance of towns was also formed called the Western Basilan Alliance (WBA) that will serve as the initial target recipients of the root crop livelihood project.
The four local government units (LGUs) included in the WBA are the municipalities of Lantawan, Maluso, Sumisip and Tabuan Lasa in which collaboration is not only exclusive to the opening of local livelihood opportunities but will also involve other initiatives such as resources protection, peace promotion, and improved communication, among others.
One exciting future plans in the MILAB project is the establishment of a permanent extension headquarters of PhilRootcrops in the Bangsamoro Autonomous Region in Muslim Mindanao (BARRM) that will help propel the root crop industry in southern Philippines.