#ProudViscan: VSU Student Regent to represent PH at international youth confab
Details

Written by Clent C. Yanola

Published: 13 July 2022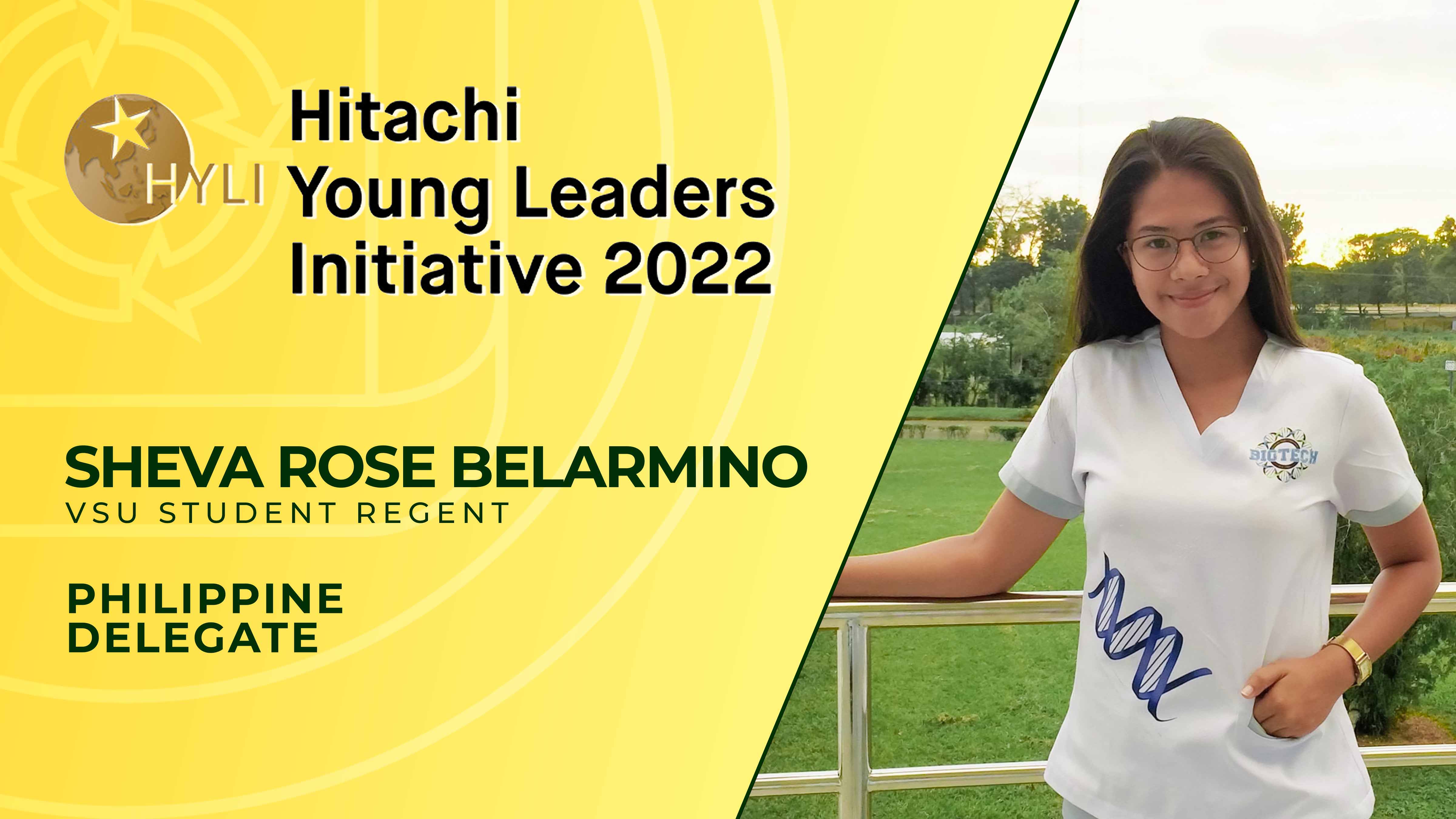 Another #ProudViscan is set to represent VSU and the Philippines in the highly-coveted Hitachi Young Learner's Initiative (HYLI) 2022 in Singapore on July 18-21, 2022.
Sheva Rose Belarmino, a fourth-year biotechnology student, was chosen to represent the country together with three other student delegates in the 16th edition of HYLI, one of the largest youth leader gatherings in Asia.
HYLI, a regional thought leadership and social responsibility program launched by Hitachi in 1996, aims to help Asia identify its future leaders by providing brilliant university students a platform for their advocacies.
"I still find it surreal at this point. Being chosen as one of the four student delegates representing our country at this international youth event is such an honor. I am very proud to represent VSU," Belarmino said.
Out of the 280 student applicants, Belarmino was selected along with three other student representatives from the University of the Philippines Diliman (UPD) to join the international conference.
"[I think] I was chosen as one of the delegates for our country because of my track record, my passion for community service and for being a responsible role model to the youth," she said.
During the initiative, four of the best and brightest university students from each participating country will meet to discuss current regional and global issues. The students will attend a series of plenary sessions, workshops, discussions and activities culminating with group presentations on their proposed initiatives for a sustainable future. They will also exchange views with well-known speakers who are the Asian leaders of today, from the fields of governments, business and academia.
"The advocacy [is] close to my heart, which I believe I can bring forward to the HYLI event, is the advocacy for clean water and sanitation. As someone who grew up in an area with a poor drainage system and terrible garbage management, families affected by severe floods have no access to clean water, hence they are forced to consume whatever water is available around them. Their lives are endangered because some of them consume unsafe and polluted drinking water. Luckily, this advocacy is relevant to one of the sub-themes of the event." the incumbent Student Regent added.
This year's theme is anchored on 'Social Innovation in the New Normal', subdivided into four subthemes including: (a) good health and well-being; (b) clean water and sanitation; (c) affordable and clean energy; and (d) sustainable cities and communities.
HYLI 2022 targets to help student representatives in understanding the emerging or exacerbating social and environmental issues in a post-pandemic world, as well as propose solutions in addressing these current issues.
Sheva will share about her proposals for clean water and sanitation derived from her real-life experiences.
"The chance to hear viewpoints from the best and brightest students from all participating nations is what excites me. I can gain knowledge about their successful initiatives in particular that might be applicable to my community. Connecting with others who share your passion is integral to the process. I am excited and very much ready," Sheva expressed.
As a biotechnology student, Sheva acknowledges her relevance given that her field of career interest can be used to attain the goals of the event. In addition, biotech places a strong emphasis on innovation, development, and sustainability to address persistent global challenges in healthcare, food, and the environment.
Sheva also recognizes the values that the VSU instilled in her, including the need to serve the nation in creating a sustainable environment and communities.
Sheva Rose Belarmino is the incumbent University Supreme Student Council Federation (USSCF) President and is expected to graduate this year along with 1,491 candidates for graduation for VSU's 69th Commencement Exercises.
A total of 32 students from countries like Indonesia, Malaysia, Myanmar, Singapore, Thailand, Vietnam, Japan and the Philippines are expected to attend the HYLI 2022 event.