Viscans dominate in Asia's premier conference for agricultural universities
Details

Written by Clent Yanola

Published: 26 July 2022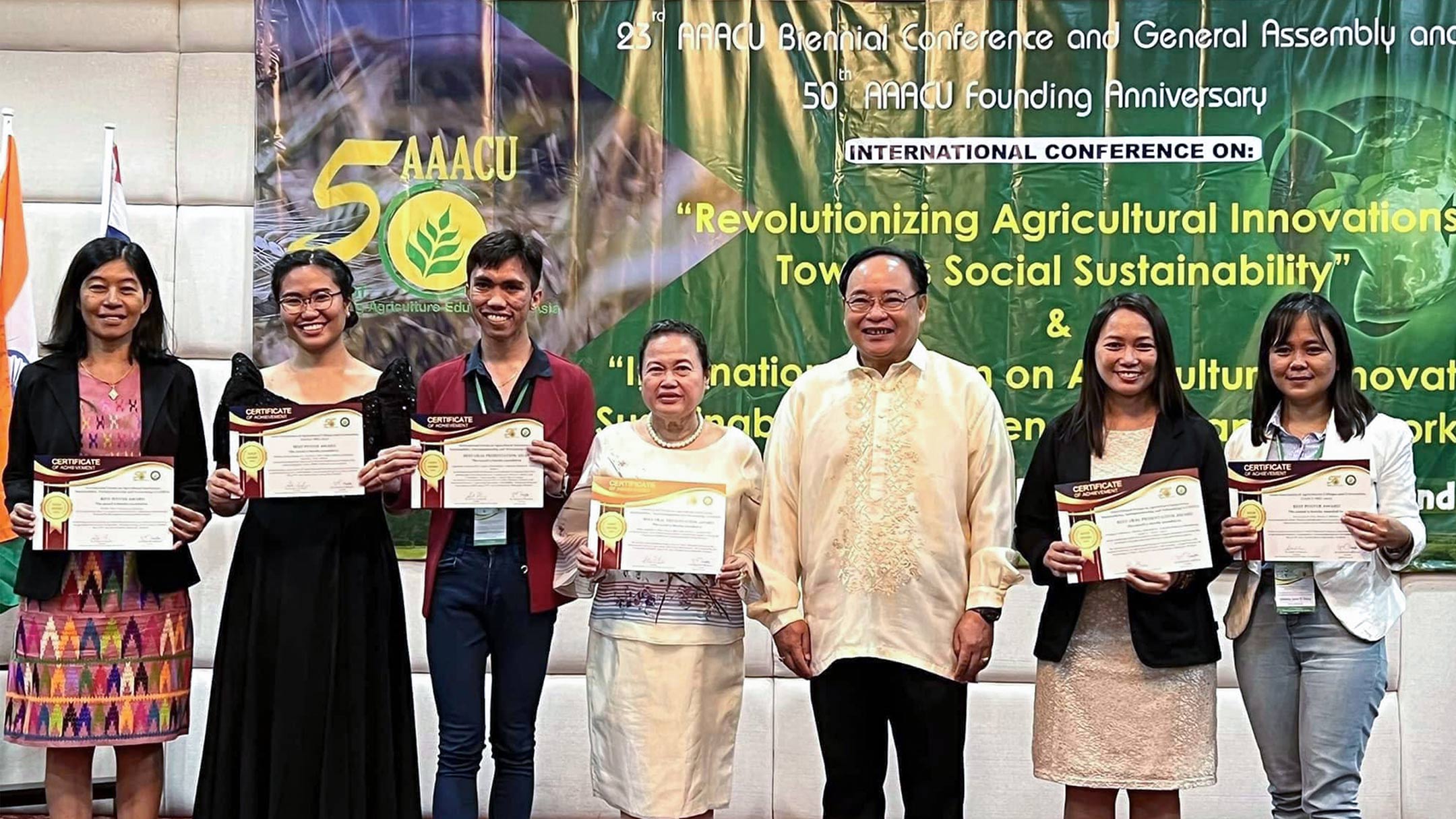 It's almost a sweep for VSU in a scientific conference held in Thailand.
#ProudViscans bagged 5 out of 6 awards in the recently concluded 23rd Biennial Conference and General Assembly of the Asian Association of Agricultural Colleges and Universities (AAACU) held in Maejo University in Chiang Mai, Thailand from July 4 to 8, 2022.
Since its founding in 1972, the AAACU has worked to advance agricultural projects with the goal of enhancing human welfare in the Asia Pacific region. The association seeks to enhance the agricultural instruction, research and extension of member institutions, and to foster close relationships between them for effective sharing of information, skills, and useful resources.
The five-day conference was anchored on the theme, 'Revitalizing Agricultural Innovation Towards Social Sustainability' that tackled a series of research paper presentations covering diverse topics in agriculture and development.
Dr. Justine Bennette Millado, a faculty of the Department of Pest Management, clinched the Best Poster Award for her presentation, which was a part of her doctoral dissertation at Nagoya University entitled 'Functional analysis of Bombyx mori homologs of P53 negative regulators, Bonus, Mdm2, Rad6, Sce, and Synoviolin'.
Meanwhile, Ms. Sweety Jane B. Ocoy, an alumna of VSU from the Western Philippines University (WPU) based in Palawan, together with her adviser Dr. Beatriz S. Belonias was also accorded with the Best Poster Award for their paper entitled 'Nitrogen and Phosphorous Resorption Efficiencies of Selected Dipterocarp Tree Species in two Forestation Sites in Leyte'. Dr. Belonias is the current VSU Vice President for Academic Affairs.
Their study aimed to compare the nitrogen and phosphorus resorption efficiency of four dipterocarp species including hagakhak (Dipterocarpus validus), white lauan (Shorea contorta), bagtikan (Parashorea malaanonan), and yakal-saplungan (Hopea plagata) while also determine which nutrient is limiting based on such parameters.
Mr. Anastacio T. Caagabhion III, another alumnus of VSU from WPU, won the Best Oral Presentation for his paper on 'Development and Evaluation of Composite Flour from Palawan Gabi (Colocasia esculenta L.), Purple Yam (Dioscorea alata L.) and "Lumabeng [Vigna umbellate (Thunb.) Ohwi & Ohashi]'.
His paper sought to replace wheat flours by utilizing composite flours that will hopefully reduce dependency on the importation of wheat flours and encourage the use of locally grown crops.
Dr. Catherine Arradaza was also accorded the Best oral presentation for her paper 'Development of Tissue Culture Techniques for Sustainable Production of Quality Planting Materials on Selected Bamboo Species'.
The Dean of VSU graduate School Dr. Anabella B. Tulin also earned the Best Oral Presenter Award for her study on 'Enhancing the Growth, Yield and Tuber Quality of Two Purple Sweetpotato through Macro and Micronutrient Biofortification'.
Her paper aimed to determine the effect of soil biofortification on the growth, yield and crop quality of purple sweetpotato under field experiment. The purpose of her study is to identify possibilities for agricultural innovations that could be used to achieve food security.
Dr. Tulin's research yielded encouraging findings, where it was found that soil biofortification did not only improve the growth, yield and crop quality of the two purple sweetpotato but also enhanced the chemical properties of the soil.
New VSU partners in Thailand
In this same event, VSU also signed up a new international linkage with Maejo University including some industry partners in Thailand.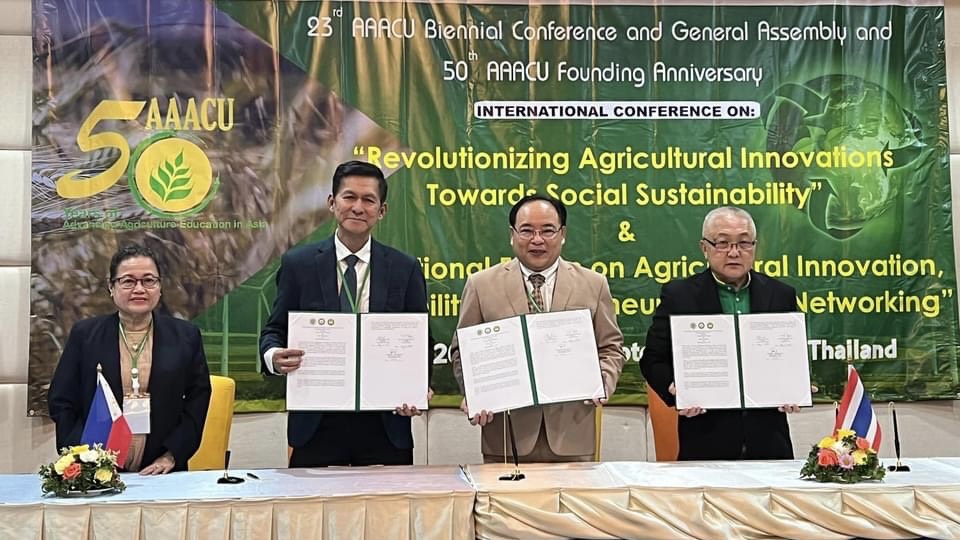 ''I see our partnership with AAACU as one of our important milestones in our efforts towards internationalization. We want to nourish and strengthen our collaborations with Asian universities and colleges and our active involvement in AAACU is a step towards that goal now. Now, we have signed up with Maejo University and some of their key industry partners and we're very excited about the amazing opportunities that this linkage will put forward for us here in VSU,'' VSU President Edgardo E. Tulin said.
In relation to this, the university's chief steward was also elected as Board Member of AAACU.
"I'm humbled to be reelected to a third term as member of the Governing Board of AAACU. I'm glad to be part of the growing family of AAACU and I'm also excited for the many opportunities that this organization will open for our dear university," Dr. Tulin expressed.
President Tulin served this international organization as President in 2017-2019 and was the Immediate Past President in 2019-2022. During his presidency in the AAACU, he brought the organization to VSU and hosted the 22nd edition of its international scientific conference.
This international organization of Asia's leading agricultural universities is also celebrating its 50th Founding Anniversary this year.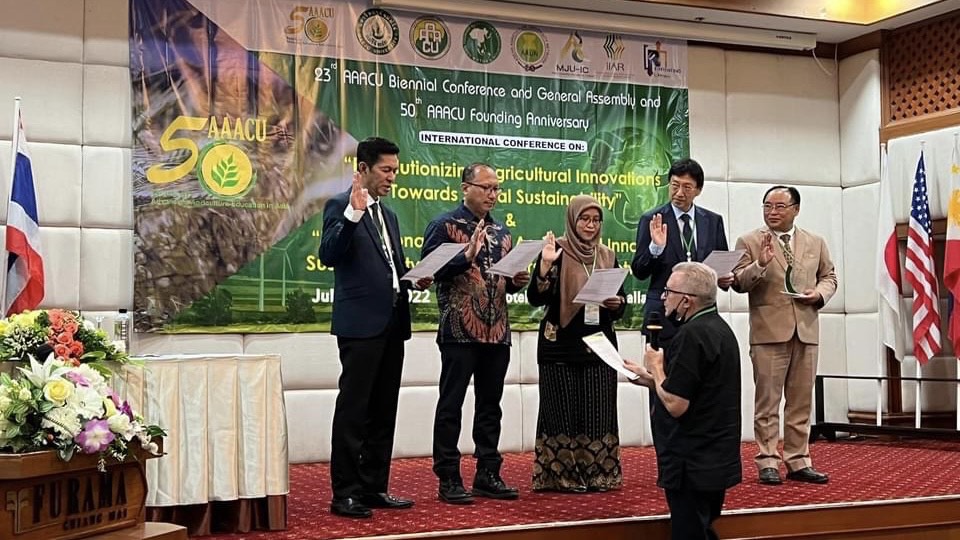 Participants of its 23rd scientific conference came from several agricultural colleges and universities in Taiwan, Thailand, Japan, South Korea, Indonesia, Malaysia, and the Philippines.
The Philippine delegation to AAACU this year included the University of the Philippines Los Baños (UPLB), the University of Eastern Philippines (UEP), Southern Leyte State University (SLSU), and WPU.