Padayon sa Paglambo, VSU: State of the University Address 2022
Details

Written by Dr. Edgardo E. Tulin

Published: 22 November 2022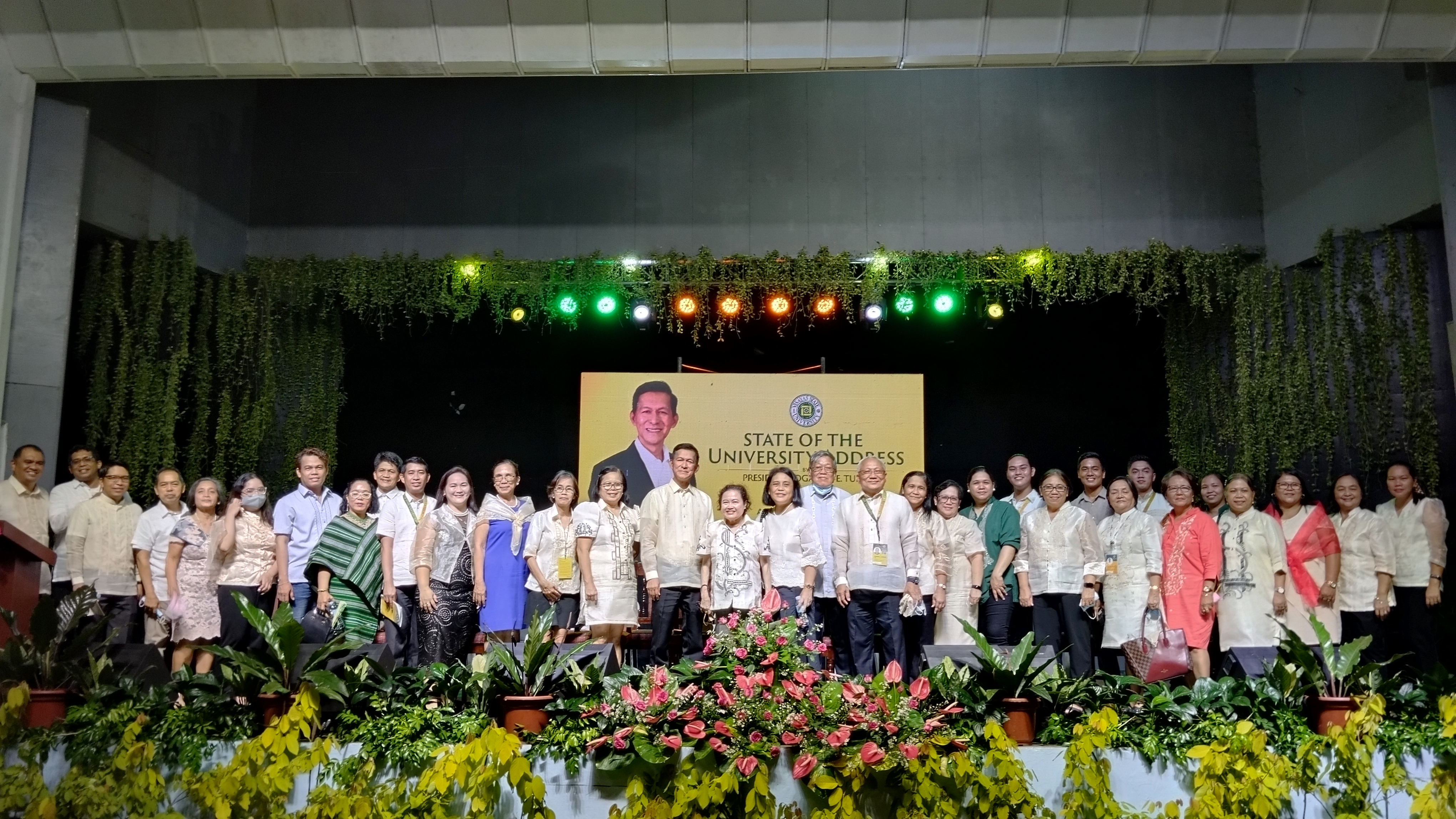 To our dearest Vice Presidents of the VSU system, the Directors of our ever-growing research units, our dynamic department heads, other members of the University Administrative and Academic Council, the Chancellors of our component campuses in Alangalang, Isabel, Tolosa, and Villaba, and the Deans of the Graduate School and Students, to our alumni who are here and watching us via our live stream, our administrative support staff, beloved students, guests, ladies and gentlemen, a pleasant afternoon to all of you.
First, allow me to express my gratitude to everyone for the successful return of our face-to-face classes in all five campuses of the VSU system. We have been one of the first institutions in the country to implement limited face-to-face classes that started as early as March this year and we're also one of the first to open our gates for a full return of our students that began in our Midyear classes this June.
I'm personally delighted to see us gather again on important occasions like this one wherein I present to you the humble accomplishments that we collectively achieved over the past years despite the ongoing challenges brought by the pandemic and the other disruptions brought by natural calamities.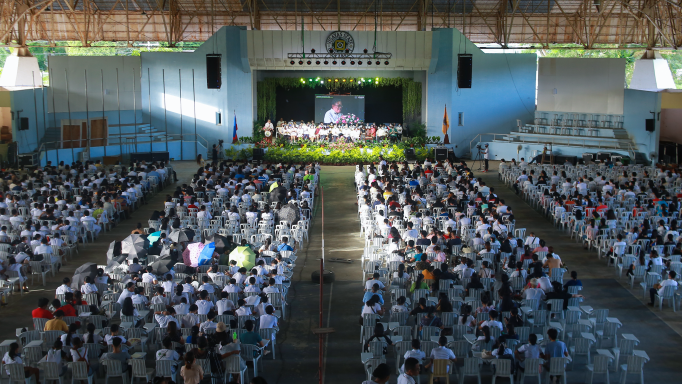 Needless to say, it's a different energy that we feel when our campuses are filled with eager and dedicated students whose aspiration is to succeed in life and contribute to the greater good of our community and our country.
Since we've never had this opportunity of doing the annual Academic Convocation for the past two years, my report to all of you will cover all of these which includes the full year of 2021 and the first three quarters of 2022.
I titled this address "Padayon Paglambo" as it rightly describes and captures our aims and aspirations for the university. All of us are part of this journey of our beloved VSU.
I know that some of you will react that this may be such a long presentation but please bear with me on this as what we're going to tackle are the present and future directions that we will all be taking in the next few years to maintain our leadership as one of the leading universities for science, technology and environmental conservation here in the Philippines.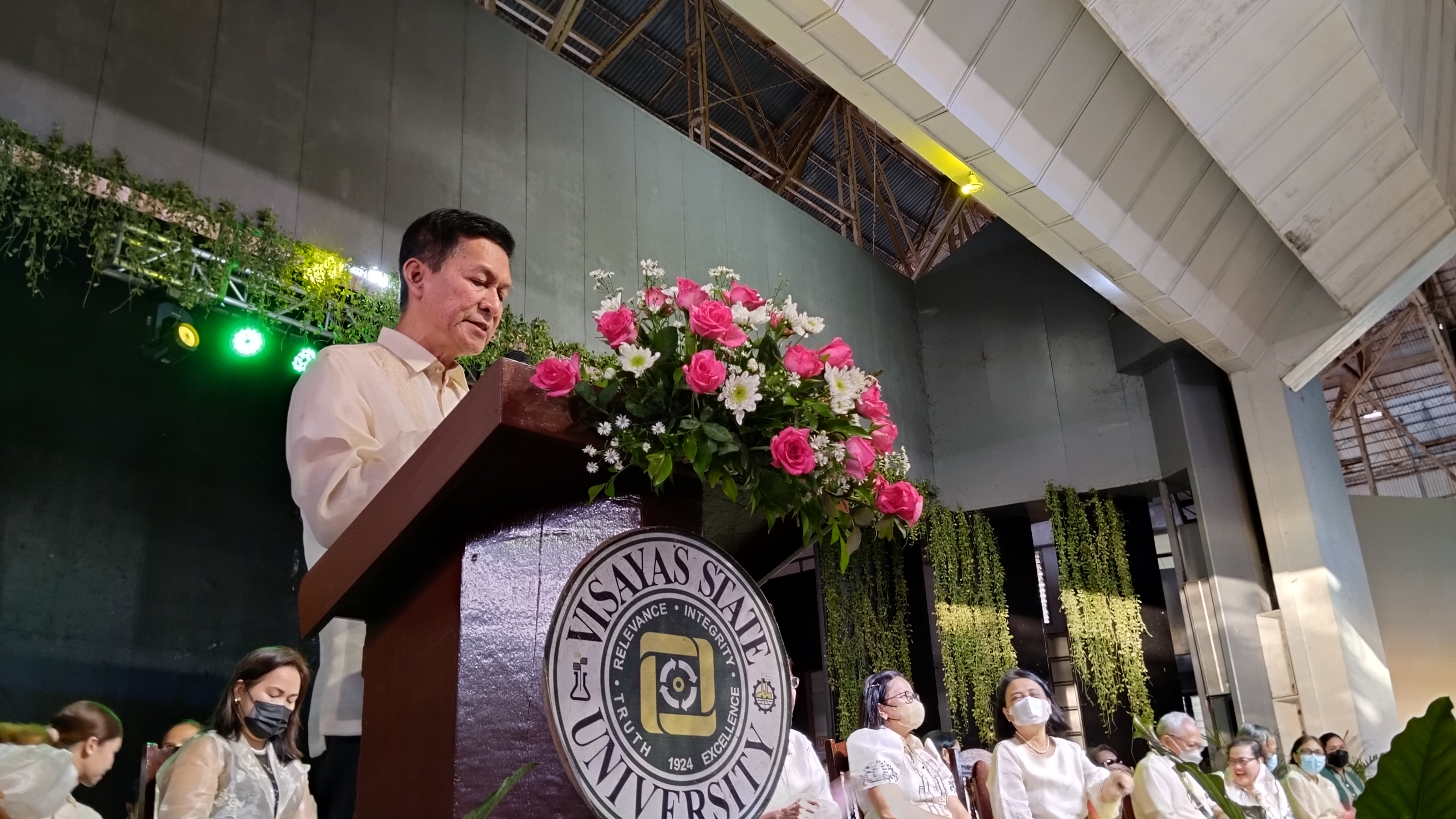 Our accomplishments in the year 2021 cover the areas of (1) governance and management; (2) teaching, learning, and evaluation; (3) personnel management; (4) research and innovation; (5) extension and linkages; (6) support to students; (7) improvement of our library services; (8) infrastructure development; and (9) quality assurance mechanisms.
All of these areas that we will cover for 2021 were the strong foundations that allowed us to build and bolster our systems to prepare us for the resumption of face-to-face classes in 2022.
First, in the area of governance and management, we've fully implemented our new organizational structure and created the Office of the Vice President for Student Affairs and Services or the OVPSAS—a new designation that mainstreams student empowerment to meet the psychosocial, emotional, financial and academic needs of our students. At the core of the mandate of OVPSAS is to facilitate services that will make way for a conducive environment to encourage student academic growth and personality development.
On top of this, we've also conducted a clear consultation process for the appointment and designation of the different heads of offices within our system. We've even cascaded to them a reframed version of our Strategic Plan as part of the annual management review and the year-end performance assessment of our institution.
Because of the ongoing threat of COVID-19, memoranda and advisories were regularly released to proactively update the university policies depending on the prevailing ground situation while also implementing free shuttle service for our employees to safely ferry them to the office and back to their respective homes.
We've rolled out a clear vaccination monitoring program that encourages our faculty members and administrative staff to get inoculated in all five campuses in the VSU system.
In the same year, we've also harnessed the use of information and communication technologies and applied them for the improvement of our human resource management system.
Despite the pandemic, we've also hosted activities in a limited capacity including the conduct of the CHED Regional Gawad Parangal and Regional Padyak Caravan to celebrate the victories in Philippine Higher Education.
In the area of teaching, learning, and evaluation, we've introduced a new normal education roadmap called the University Learning Continuity Plan that sets the direction for planning and curriculum development, learning delivery, and a clear process of evaluation as our feedback mechanism for the experiences of our students.
We've passed the assessment visits of CHED with a high score for the implementation of limited face-to-face classes and we've also installed signages for effective monitoring of foot traffic within our classrooms.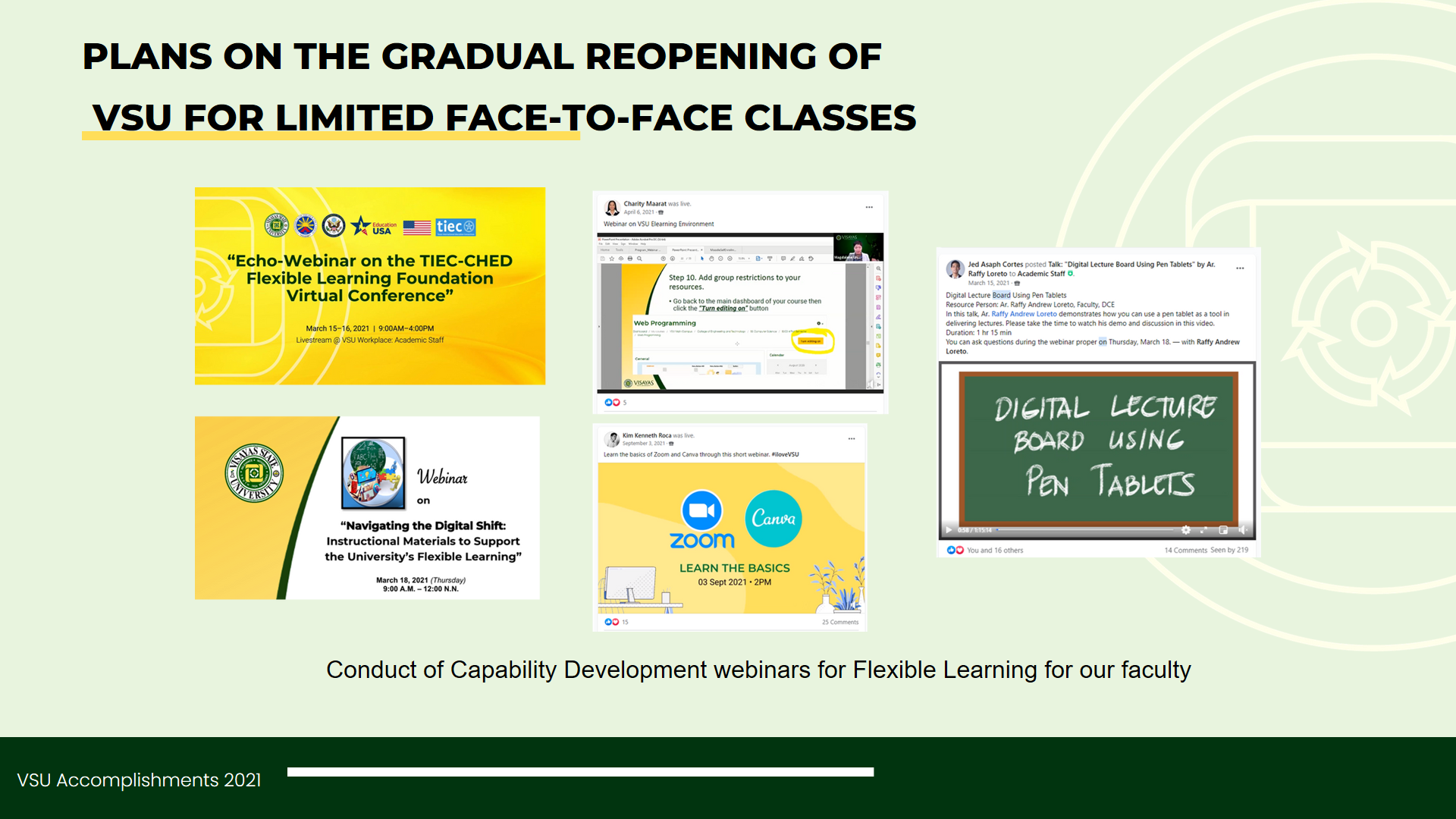 An overwhelming number of our students expressed their preference for limited face-to-face in the surveys that we've conducted to evaluate our overall readiness for a blended learning environment. We've also distributed pen tablets to all our departments and spearheaded workshops on how to effectively integrate this device into our online classes.
We've continued with our onboarding programs for both our faculty and students to inform all our stakeholders about the changes as regards academic policies during a pandemic.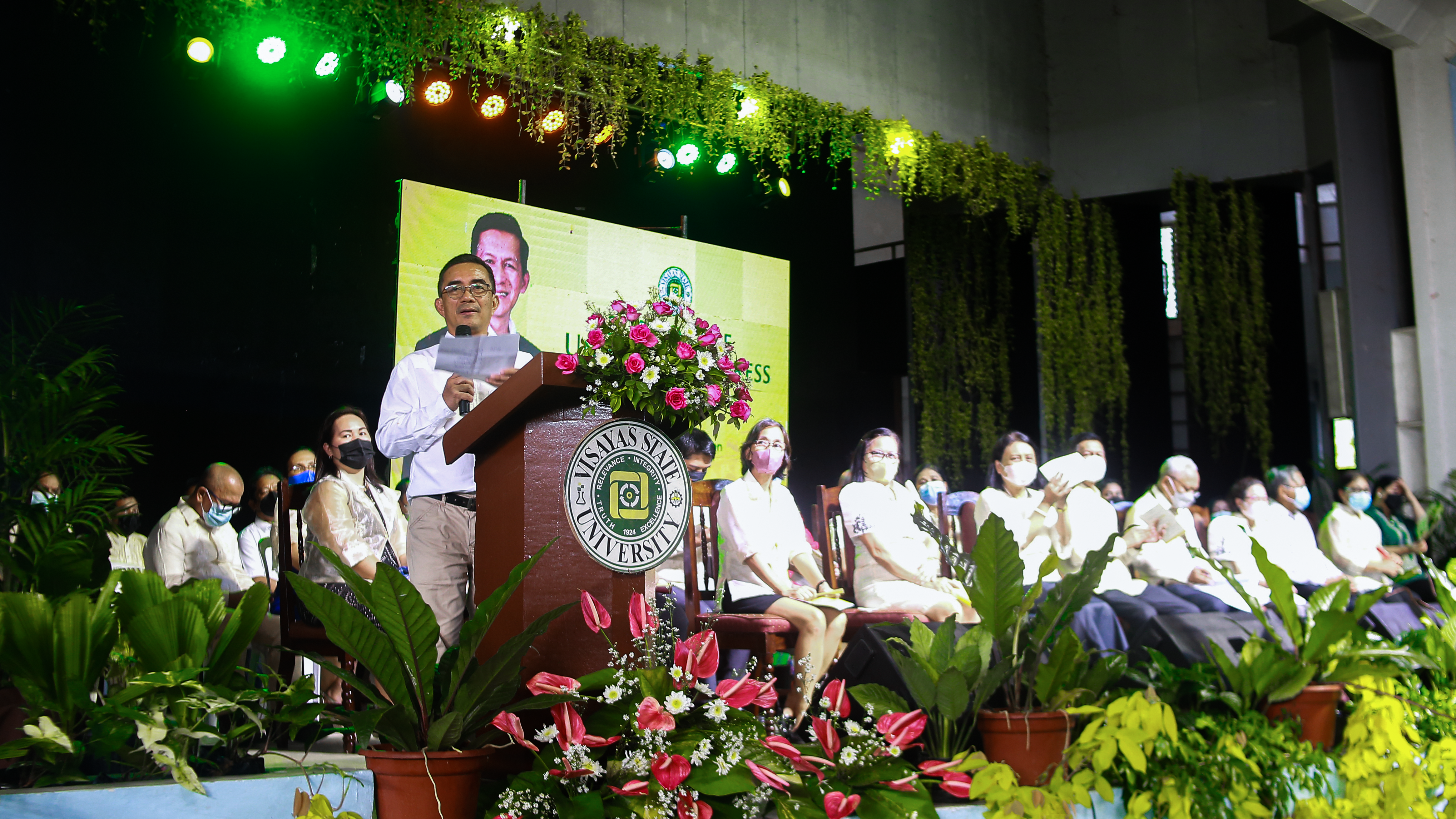 In terms of personnel management, our recruitment, selection, and placement have been fully automated by posting available positions online which also makes way for the online filing of applications and interviews. We've developed manuals for our management information system covering updated policies on electronic attendance and document tracking systems.
Our faculty and staff development continue with 8 returning scholars reinstated composed of 3 new doctoral degree holders and 5 master of science degree holders. For 2021 alone, we've sent a total of 26 scholars for study leave composed of 13 doctoral students and another 13 masters of science students. We've also reinstated 12 faculty members on sabbatical leave and approved 13 new applications for sabbatical leave in 2021.
Our administration also facilitated 35 in-house training sessions for our faculty and staff that includes webinars for mental health and physical wellness including virtual awarding ceremonies to recognize the commitment to public service of our faculty and staff.
In the area of research and innovation, we've spearheaded a total of 177 ongoing research projects that generated almost 100 million worth of funds for the university that covered almost 32,000 trained beneficiaries from all parts of the country.
We've also received almost 11 million pesos worth of funds for our projects on technology commercialization that covers agri-aqua technology business incubation, food value chain improvement of vegetables and tilapia in Eastern Visayas, and the further strengthening of TBI support services.
We've registered 24 patents and accomplished 16 new IP filings with 17 pending IPR applications and 10 commercialized technologies for 2021. We accounted for a total of 89 publications last year with the citation score of our published works continuously increasing year by year.
In terms of extension and linkages, our administration conducted major extension projects that showcased profitable and sustainable coconut-based technologies, further strengthening the sweet potato value chain, the establishment of climate-smart agroforestry demonstration farms with online programs broadcasted as part of our local extension initiatives for various stakeholders of the university.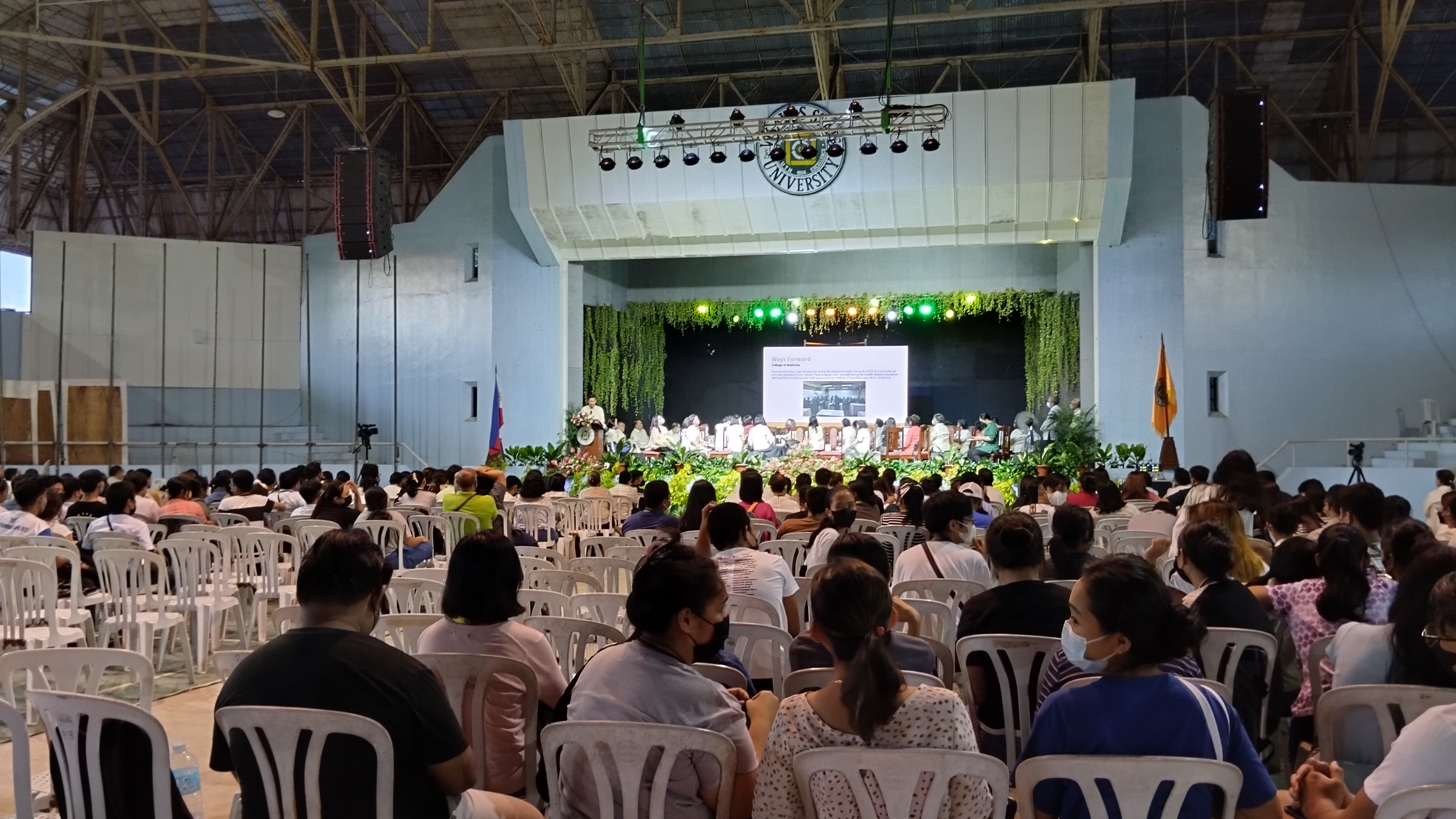 Despite the threat of the COVID-19 pandemic, we've successfully forged 71 agreements and linkages, 42 of which are local agreements, 24 are national partnerships, and 5 are international engagements. For our internationalization efforts, we spearheaded collaborations with universities and research institutes in Japan, Germany, the Czech Republic, Cambodia, Belgium, Samoa, and the Fiji islands.
I've also been invited to a national forum spearheaded by the Ateneo De Manila University to discuss the concept of what a good university should be. In this event, we were able to showcase some of our community development initiatives that have spurred local and inclusive development in the countryside.
We're currently laying the important groundwork for the operationalization of our Futures Thinking Initiative that aspires to make us a green metropolis national university of the Visayas anchored on our sustained efforts in sweet potato and jackfruit research and innovation activities. This is one of our groundbreaking initiatives that would potentially put VSU in the national spotlight for research and extension as both sweet potato and jackfruit offers so much potential in bringing in inclusive and sustainable productivity for our people here in Eastern Visayas and beyond.
Our support to students has always been strong starting with the online conduct of our annual VSU College Admission Test. We're part of the few universities in the country to successfully roll out an online admission test that has been benchmarked by other schools here in the country.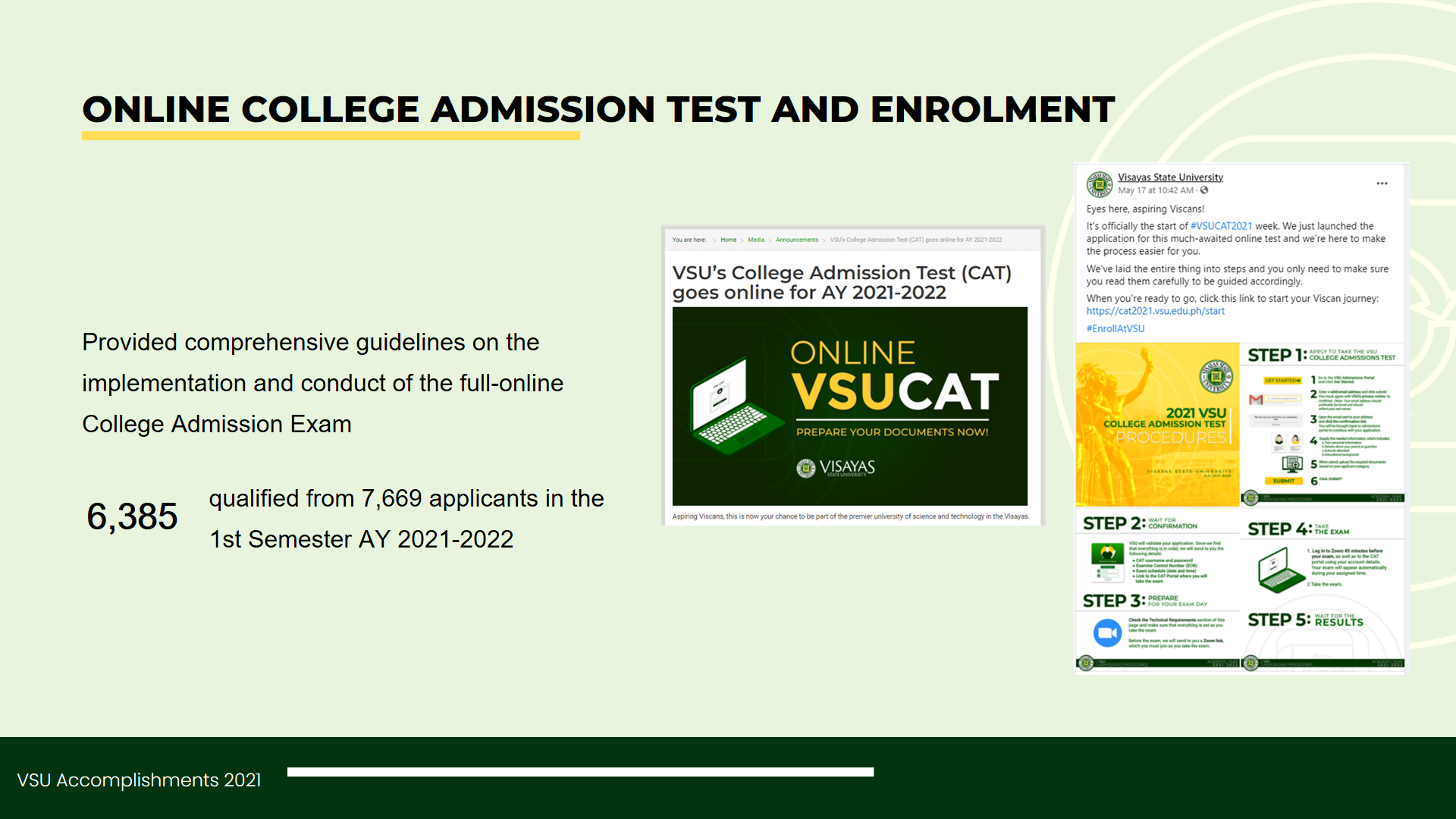 In line with automation, we've also facilitated the improvement of our online enrollment system allowed us to increase our enrollment count across all our campuses in the VSU system even during a pandemic. While other schools resorted to hybrid enrollment systems, our Main Campus and VSU Tolosa have done this successfully for two years now and we're hoping that this can be replicated by our component campuses in Alangalang, Isabel, and Villaba.
We continued with our grand virtual commencement exercises that produced more than 500 graduates in the Second Semester of the Academic Year 2020 to 2021. This is one of our biggest online productions by far that became an inclusive ceremony to include all five campuses of the VSU system.
On top of that, we beefed up our efforts on psychosocial support services for our students through regular student dialogues and consultations including the conduct of webinars for mental health and physical wellness.
In cooperation with the local government of Baybay City, we vaccinated a total of 746 students here inside the VSU campus to prepare them for the limited opening of classes last year.
We've been granted by CHED of 746 beneficiaries of the Tertiary Education Subsidy (TES) for 2021, 92 scholars from the Department of Science and Technology (DOST), and 21 locally funded graduate scholarships and fellowships open for both Filipino and foreign students. We are even the first state university in the country outside of the University of the Philippines to offer a competitive scholarship program for foreign students in Southeast Asia and other developing countries.
Our library continues to be the region's best by acquiring new physical books and online subscriptions, automating its services for e-book lending, remote access, and other logistic services. Our elevators in the VSU Main Library are now fully operational and we hope to bring in more development in our existing library infrastructure and reading resources for the coming years.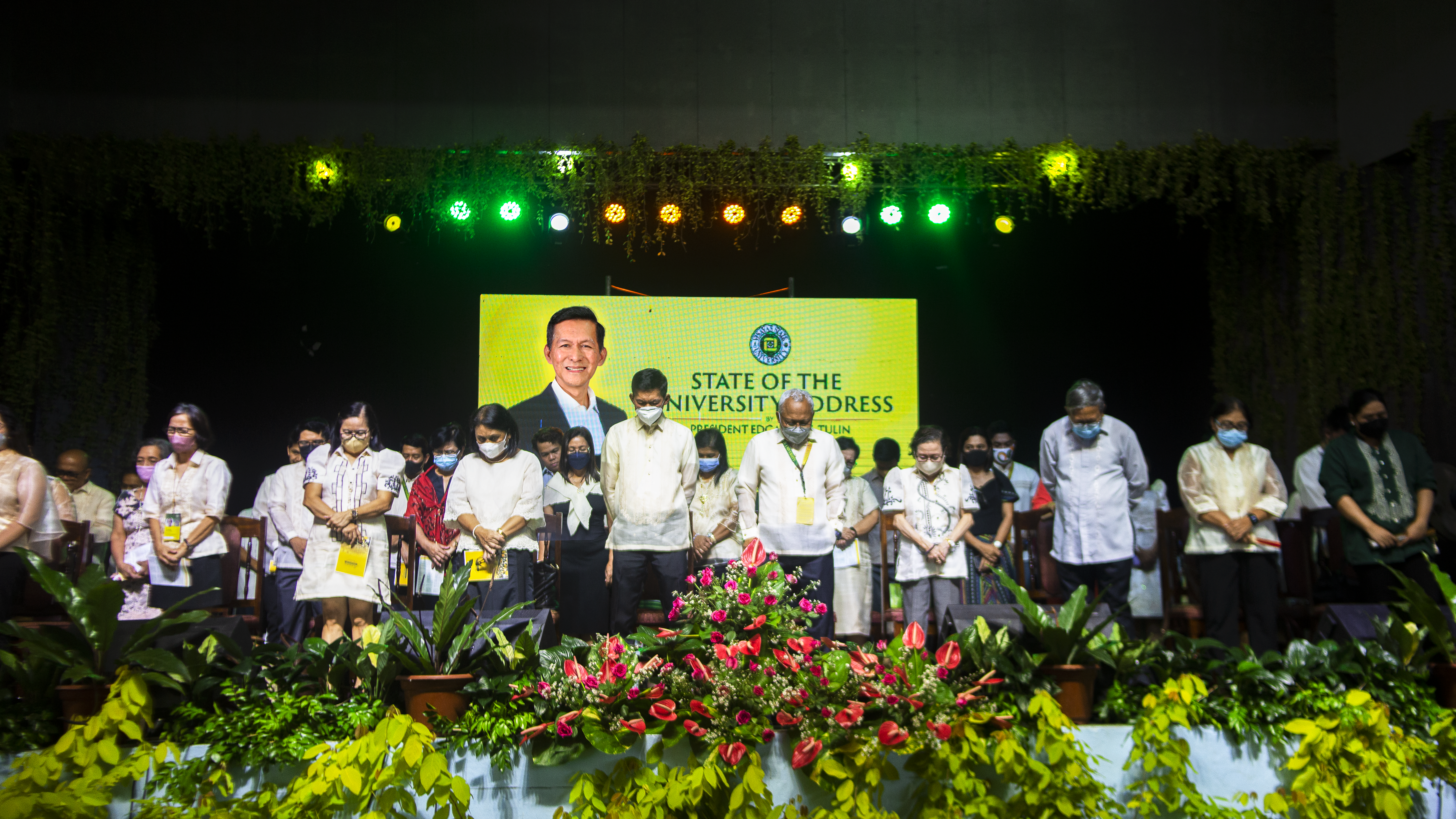 For infrastructure development, we've constructed handwashing sinks in all our five campuses, completed the Advanced Research and Innovation Center which is now the regional research hub for cutting-edge science and technology initiatives, finished the animal health laboratory building of VSU Villaba, installed access roads and other safety facilities for the VSU Main Library, expanded the tissue culture laboratory of the National Abaca Research Center (NARC), completed the renovation of the new offices for student services, started the construction of the Centennial Gate that we will be officially inaugurating, later on, installed fire safety systems for our dormitories, rehabilitated the VSU Tolosa Library, constructed bleachers and expansion of multipurpose gymnasiums for all our branch campuses, and started the works for the new VSU Alangalang Administration Building which has just been completed and inaugurated recently.
We're also close to completing our Land Use Development Plan which will be our policy guide in the effective utilization of our existing land resources that can potentially generate future income for the university.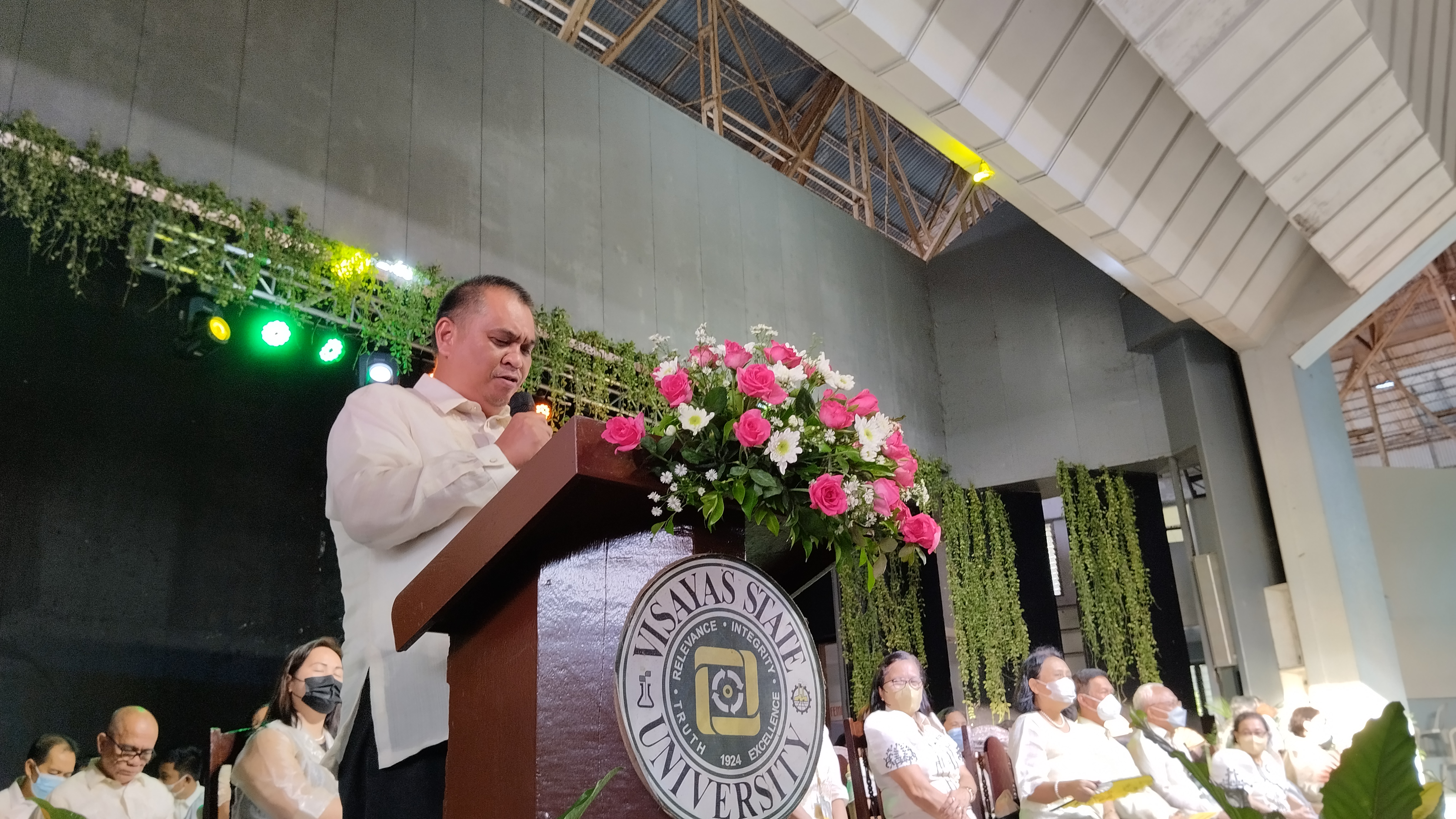 And finally, for quality assurance, we conducted a 100% remote audit last year which is the first of its kind in Eastern Visayas. We continue to improve our internal audit processes as part of our commitment to improving our systems and procedures here at the university.
CHED awarded us with 18 out of 24 certificates of program compliance for our undergraduate programs in 2021 with the six remaining awarded this year.
And since we've converted all our systems online, we've also ramped up our efforts for data privacy in compliance with Republic Act 10173.
Because of the many achievements we've done in 2021, we've been raking in institutional awards including individual recognitions for our faculty and students. We've received our first 4-star research-oriented university evaluation from the University Performance Metrics, an ASEAN-based regional metric system for universities and colleges.
ViCARP, our regional research and extension consortium that we lead as a big brother institution has been adjudged as 1st Runner Up in the 2020 Ugnay Award being the country's second best-managed research consortium in the entire Philippines and this year 2nd Runner up.
We made it to the finalists of Gawad Edukampyon for our research and development initiatives that our university implemented during the COVID-19 pandemic.
We've also been doing well in many independent ranking systems here in the country, proving that VSU is now one of the emerging universities in the Philippines and Southeast Asia. Furthermore, AACCUP rated us as the top-performing state university in 2021 for having the highest number of Level IV accredited programs.
And as you are all aware, the year 2021 also brought in many individual awards for our faculty, staff, and students including research recognitions, international commendations, many board topnotchers including reclaiming of the top spot in the professional agriculturist board, and one record breaker in mechanical engineering licensure examination who set the bar so high bringing honor to VSU in the field of engineering and technology.
Aside from academic awards and licensure examination performance, our students also performed very well in other extra-curricular activities because of their leadership and creative abilities.
And that's just for 2021. We now move to the accomplishments we've done for this year and we will divide this report according to our collective achievements in terms of:
(1) administration; (2) academic and student affairs; (3) research, extension, and innovation; (4) planning and resource generation; and (5) the current accomplishments of our component campuses.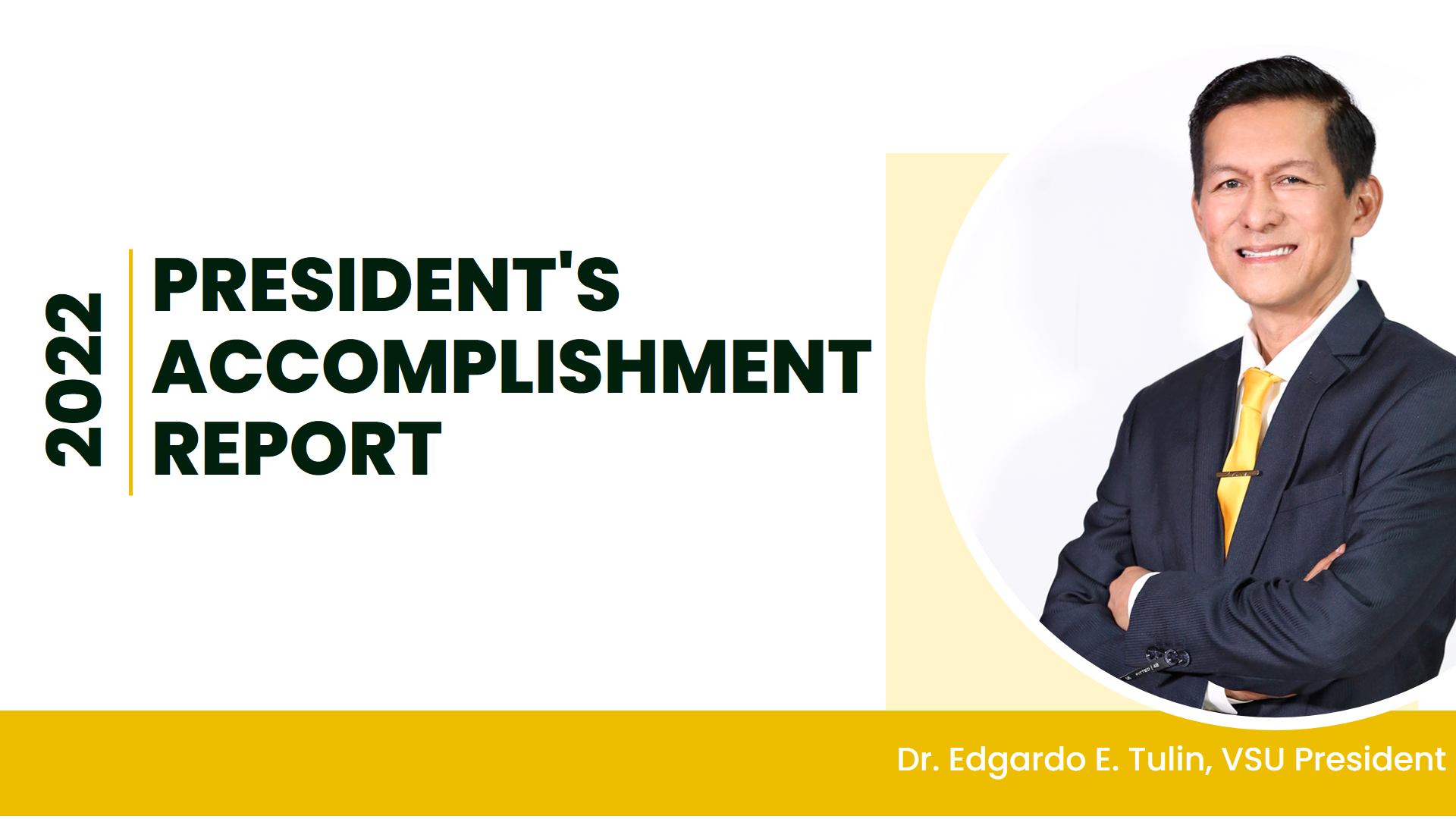 In the area of administration for this year, we've already secured 51 agreements for partnerships composed of 32 local linkages, 12 national agreements, and 7 international partnerships. We've already opened our gates to foreign exchange faculty members as early as March this year with the arrival of Dr. Michael Struk of Masaryk University.
This was followed by additional visiting professors from the Bern University of Applied Sciences based in Switzerland and a team of faculty researchers in veterinary medicine from the University of Zagreb in Croatia.
We continue to strengthen our relationship with the European Union in line with our directions for massive internationalization of our curricular programs. In line with this, I represented the Philippines in the newly established regional block for higher education accreditation called the ASEAN Quality Assurance Network.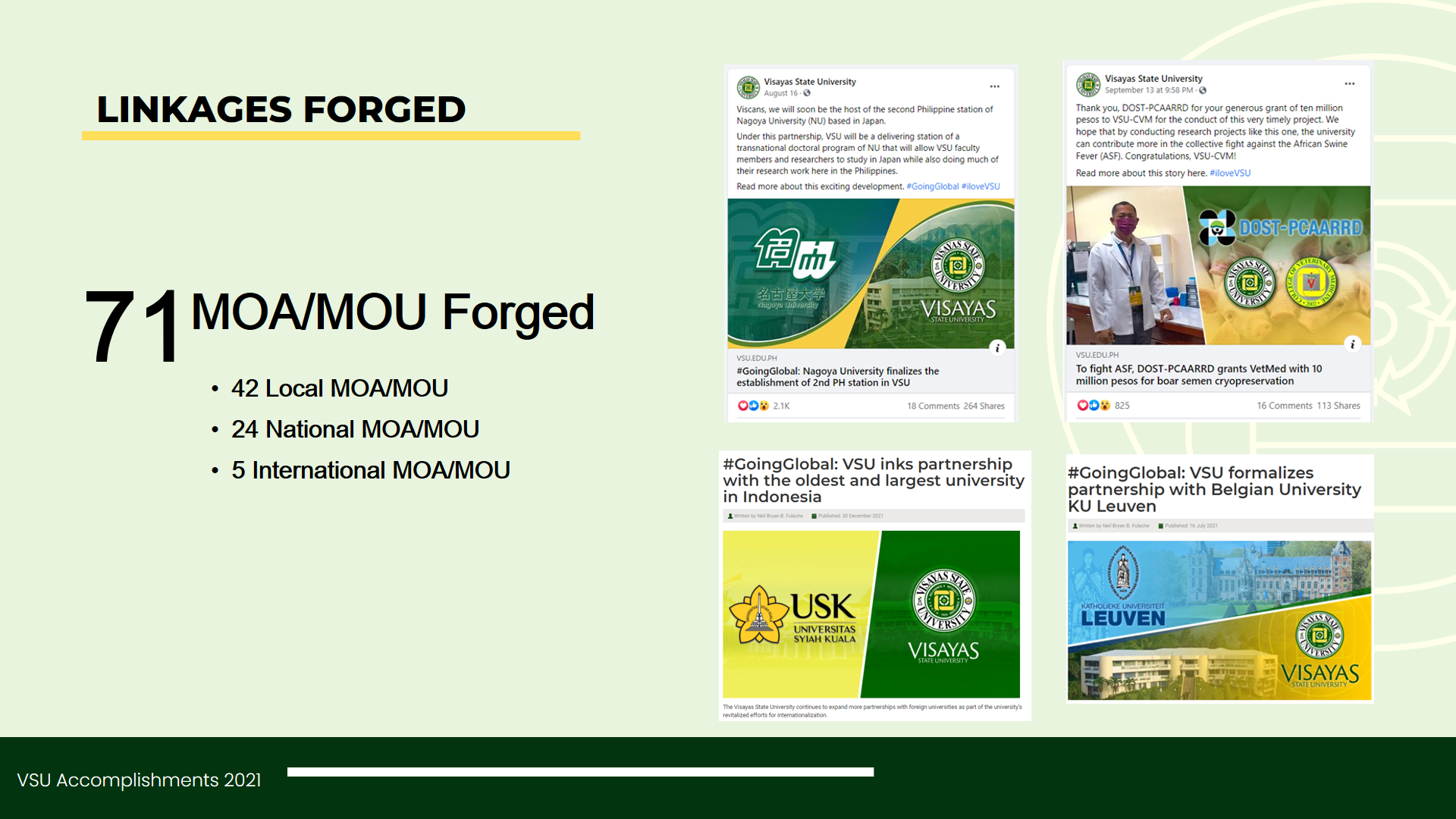 We continue to make our presence felt in the Asian Association of Agricultural Colleges and Universities (AAACU) in which our faculty members brought in top recognitions for their research papers and academic posters held in Chiang Mai, Thailand.
Our generated technologies here in the university have been included in the National SUC Fair of CHED together with the other 10 state universities and colleges here in our region. Joining exhibits like this is not just a showcase of our products but more about opening opportunities for networking that will allow us to transfer our mature technologies to the private sector.
We sealed a partnership with the University of Jember in May this year and we have welcomed two of their faculty members here on our campus for a two-week visiting professor exchange program with the College of Agriculture and Food Science.
In the same manner, we've signed agreements with Japan's Tottori University, the third Japanese institution to seal a partnership agreement with VSU. With this, I'm hoping that we can explore collaborative research activities and engage both our faculty and students in academic exchange programs in Japan.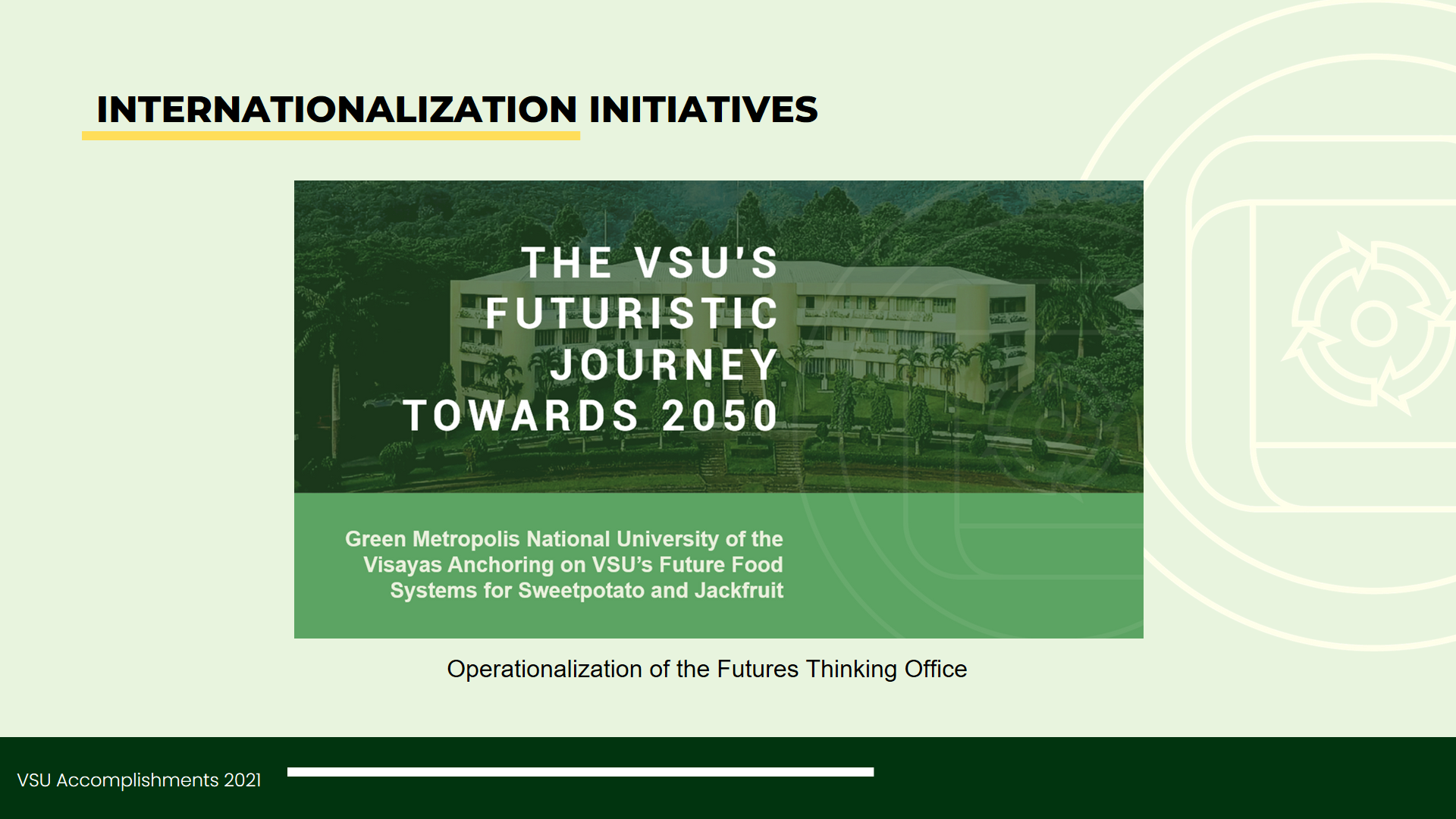 We've successfully hurdled our second surveillance audit for our ISO certification and as we talk, we are already preparing the groundwork to maintain this important status for our upcoming re-certification initiatives.
We've celebrated important milestones in our respective academic and research units while austerely celebrating our annual institutional anniversary. Another important academic event we co-spearheaded is the ICP South Workshop wherein we brought in researchers and experts from the University of Hasselt in Belgium with a particular focus on modern statistical methods appropriate for research on disease mapping and microbiome data.
With mobility restrictions easily being lifted, our workforce went back to the university and we've gathered them that signal the slow opening of VSU to our students and our other constituents for face-to-face engagements and other important transactions.
Our implementation of the flexible learning modality has been well praised by our regional CHED Office and we scored perfectly in their remote monitoring evaluation with a fully developed status as regards the new normal education setup that we conducted for the university.
We made history by holding special tribute ceremonies for the graduates of 2020 and 2021 while also holding our face-to-face honors program and the 69th Commencement Exercises of VSU. On this occasion, we opened our gates to a large crowd gathering attended by more or less 5,000 spectators including the graduating class and their proud family members and friends.
We've brought in the full force of our VSU officials to important learning visits to the top universities of the country for benchmarking and the continuous improvement of both our services and future investment plans for infrastructure development. On this trip, 50 of our top officials had the chance to get exposed to some of the country's best practices in higher education management.
We took a small break to honor our dear teachers on October 5 with a special event conducted by the Office of the Vice President for Academic Affairs. A few weeks later, our students also took their break for the three-day university intramural games that brought back action and color to our university life.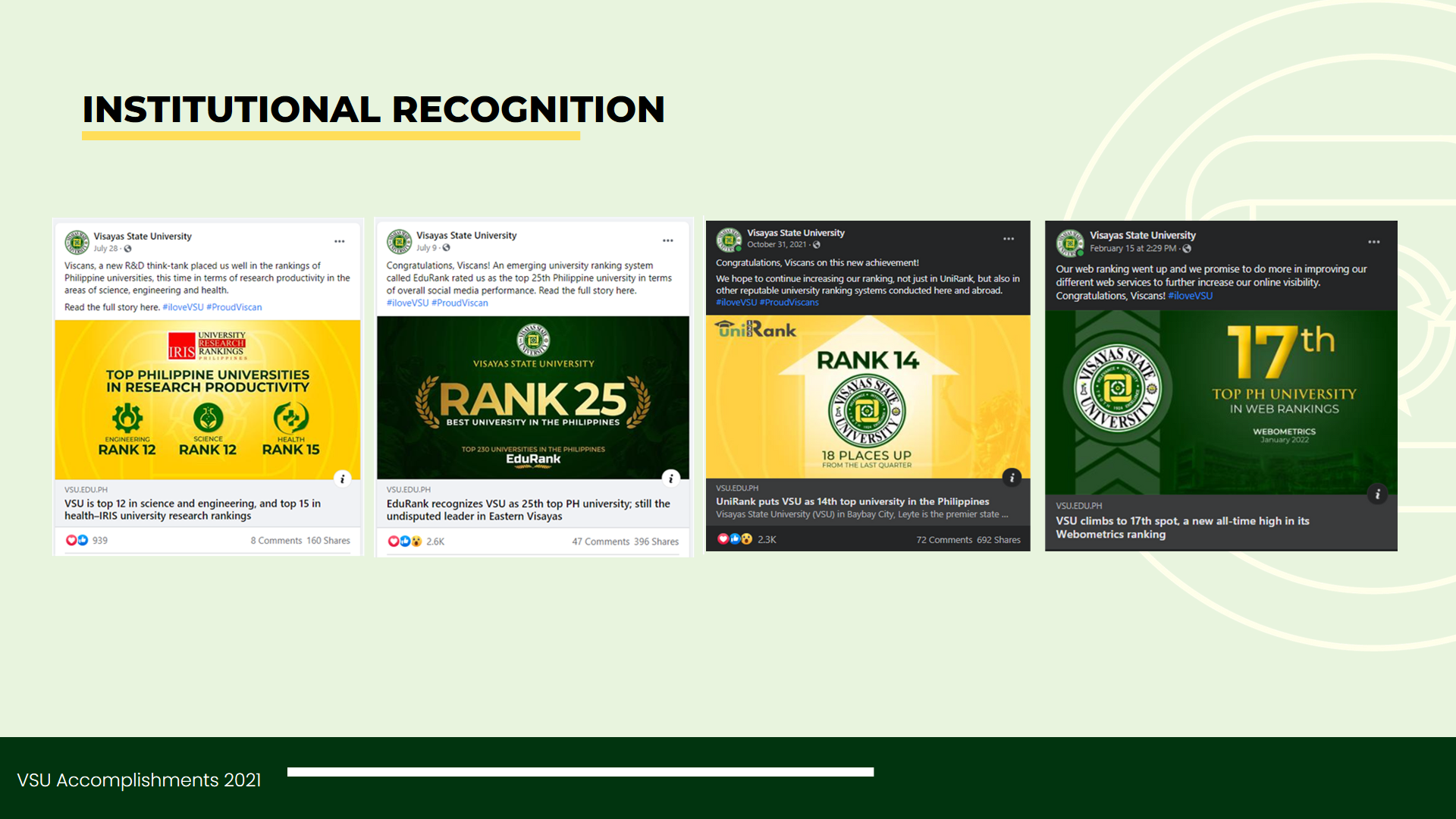 We're also honored to be the first Level IV AACCUP accredited institution in Visayas and Mindanao scoring very well in the 9 areas evaluated for this assessment. Because of this, many SUCs are expected to come here and benchmark all our management operations which is a testament to our national reputation as one of the country's best higher education institutions.
CHED Central Office recognized us for our 3-star QS rating and our inclusion in the Times Higher Education Impact Rankings that evaluated our accomplishments in the area of fulfilling the target of the Sustainable Development Goals.
For the first time, we broke into the Magic 10 circle of the Webometrics Ranking of World Universities placing 8th among the 366 public and private institutions in the country that was rated in their July 2022 edition.
We also retained our 4-star research-oriented status with the University Performance Metrics and we're the lone Philippine school to be evaluated in this emerging ASEAN regional ranking and rating system.
VSU made it this year to one of the world's most prestigious lists of best universities called the 2023 World University Rankings of Times Higher Education (THE). Our university, along with 5 other Philippine universities got a "Reporter" status, which means that we have been an active participant in this rankings process, even though we have not been officially ranked this year. We are therefore on the radar of global prestige because of this inclusion.
I'm also humbled to be selected as President of AACCUP, the Philippines' largest accreditation agency mainly because of our commitment to the quality assurance mechanism that has become an inspiration to many universities and colleges here in our country.
Now for academic and student affairs, for the second semester of School Year 2021 to 2022, we were allowed to hold limited face-to-face classes and we're the pioneering school in Region 8 to be allowed to hold such engagement. This pushed us to prepare our classrooms and other facilities for the resumption of full and blended classes in the First Semester of the School Year 2022 to 2023.
We've also obtained a total of 36 COPCs from CHED, the highest record in an Eastern Visayas school. We've continued aggressively in terms of program accreditation for both our Main and component campuses and we are now on track to having more Level IV accredited graduate and undergraduate programs in the future, thanks to the amazing work being done by our Office of the Director for Quality Assurance.
We will soon offer AB Philosophy, the first non-sectarian educational institution in Eastern Visayas to offer this social science program. Other curricular offerings in the pipeline are a Ph.D. in Food Science and Technology, a Master of Science in Plant Breeding, and a Master of Science in Applied Economics.
VSU is also the first and only delivering institution in Region 8 to qualify for the upcoming professional board examination for food technologists that will be first implemented in 2023. This is after an inspection and monitoring visit to the VSU Department of Food Science Technology conducted by the Professional Regulation Commission.
For 2022, we've added three faculty scholars for advanced degrees, one for Master of Science and 2 for Doctoral degrees which makes our current count of 28 ongoing and continuing scholars for Master Science and 57 for those completing their PhDs.
Our academic departments also hosted numerous webinars in their respective fields to update both faculty and students about the latest developments in their disciplines featuring nationally and internationally acclaimed speakers.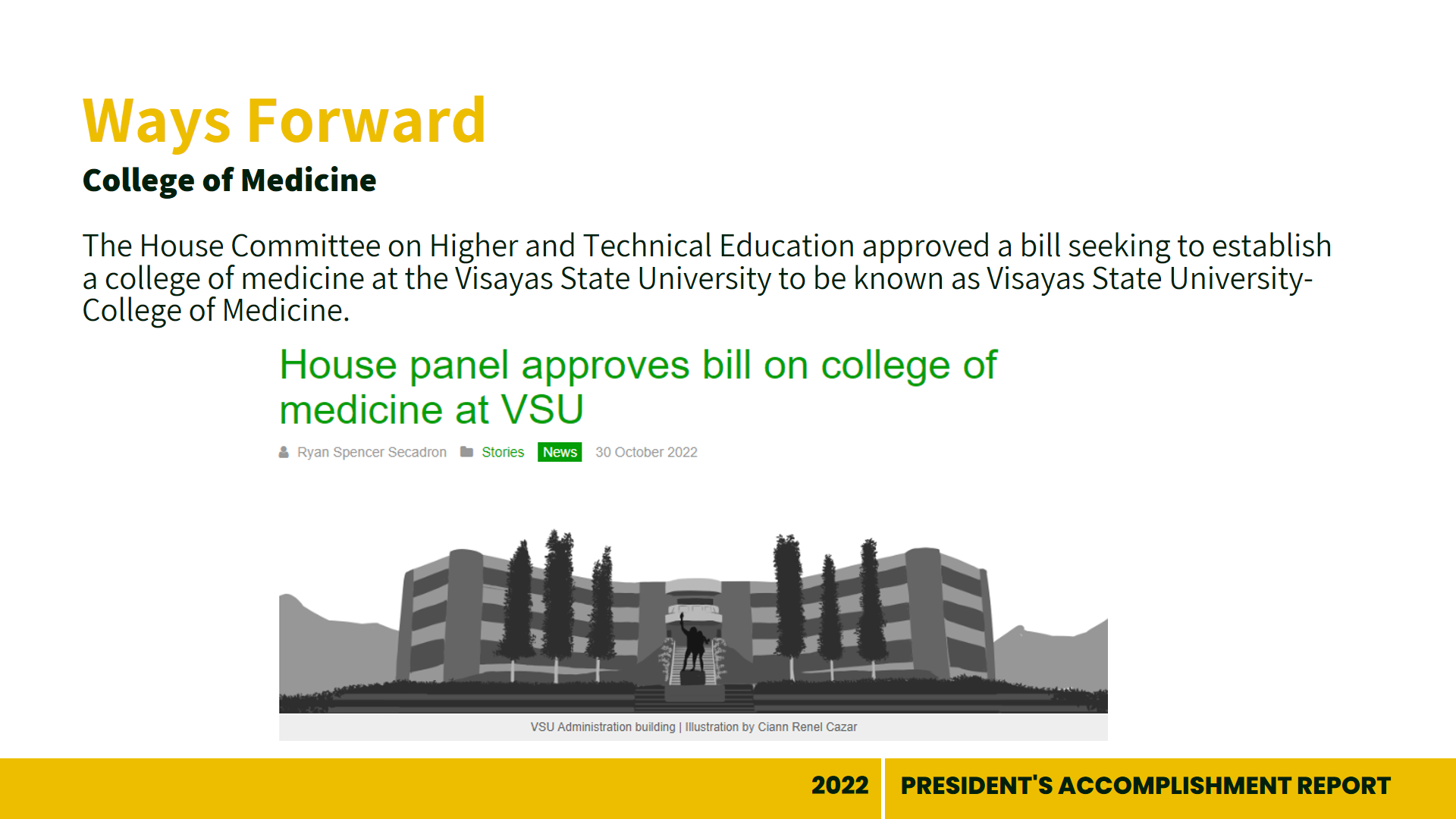 The VSU College of Veterinary Medicine also spearheaded extension and community work in both Baybay City and Limasawa island to provide free veterinary services and information education campaigns to selected local government units.
Our enrollment rate continues to surge in the Main Campus with our student population now at 9,245 inclusive of both undergraduate and graduate students for the First Semester of the Academic Year 2022 to 2023.
Specific to the area of student affairs, various state universities and colleges all over the country came to our aid when we were devastated by Typhoon Agaton. All the proceeds were directly distributed to different local government units where our students were residing. In Baybay City alone, 92 barangays and 23 zones were covered by this outreach project where food packs were distributed to affected students and their family members.
We now have a premium subscription to Google Workspace for Education that can be enjoyed by both faculty members and students allowing them to access online educational tools that can be useful for instruction in both online and in-person classes. Presently, we are the only SUC in the country to offer this free institutional subscription to all our 9,245 enrolled students for this semester.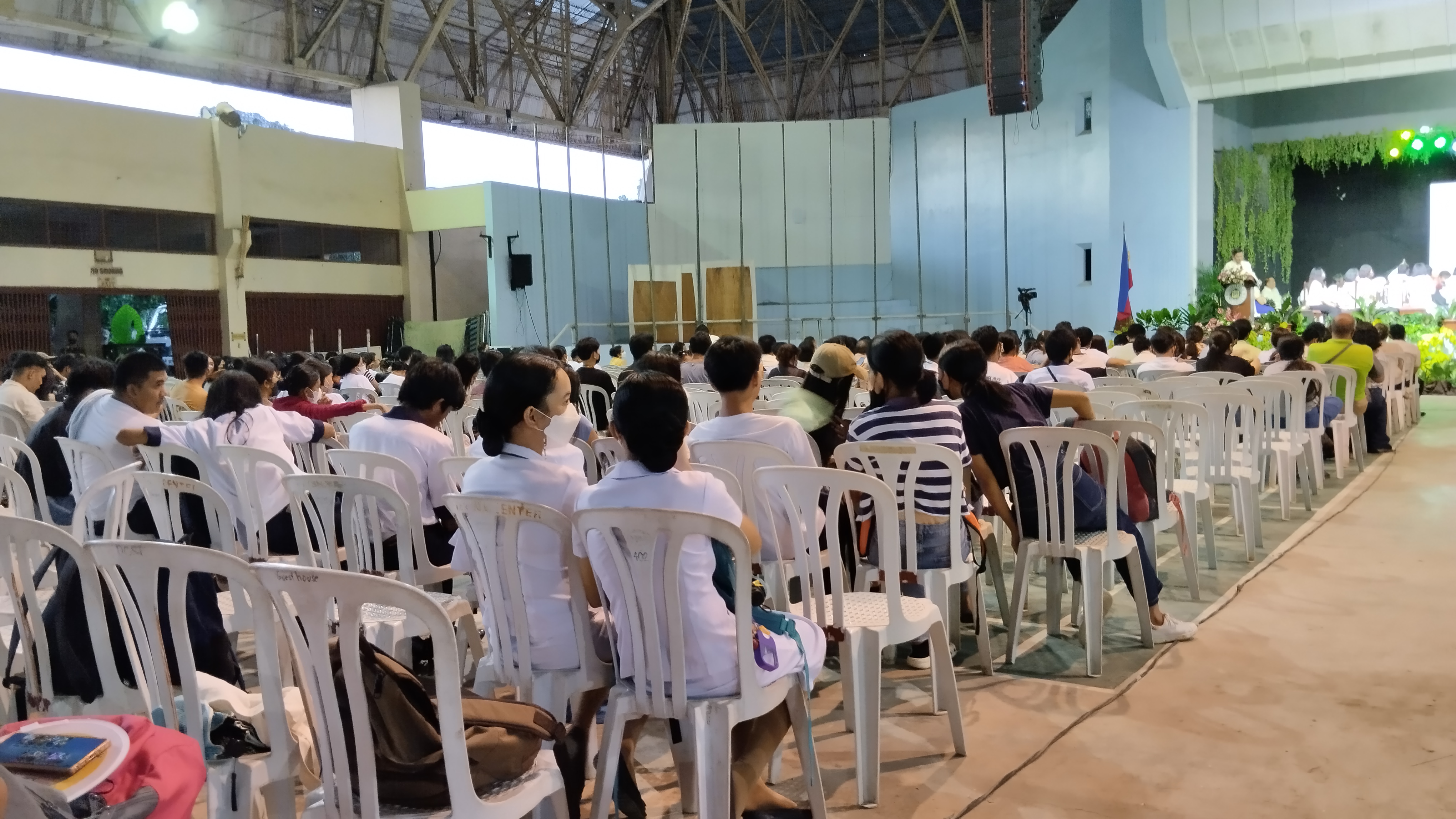 Now that our students are back on our campus, we've also rolled out our free WIFI services in strategic locations of both Upper and Lower Campuses where students can access the internet for free. We are soon going to further increase our institutional subscription to leased line providers to be able to provide faster and more stable internet connectivity for everyone as part of the Smart Campus project of the university.
We also recognize the many risks involved in having our students back on campus. That's why we have been aggressive in our efforts to prepare them for different types of hazards and natural calamities by conducting disaster risk reduction training in partnership with the VSU Crisis Management Committee and the Bureau of Fire Protection.
Still part of a more extensive student service is the conduct of a student organization fair to introduce to our constituents the different academic, co-curricular, and interest groups inside the campus that can become active partners in promoting leadership and civic consciousness among our students.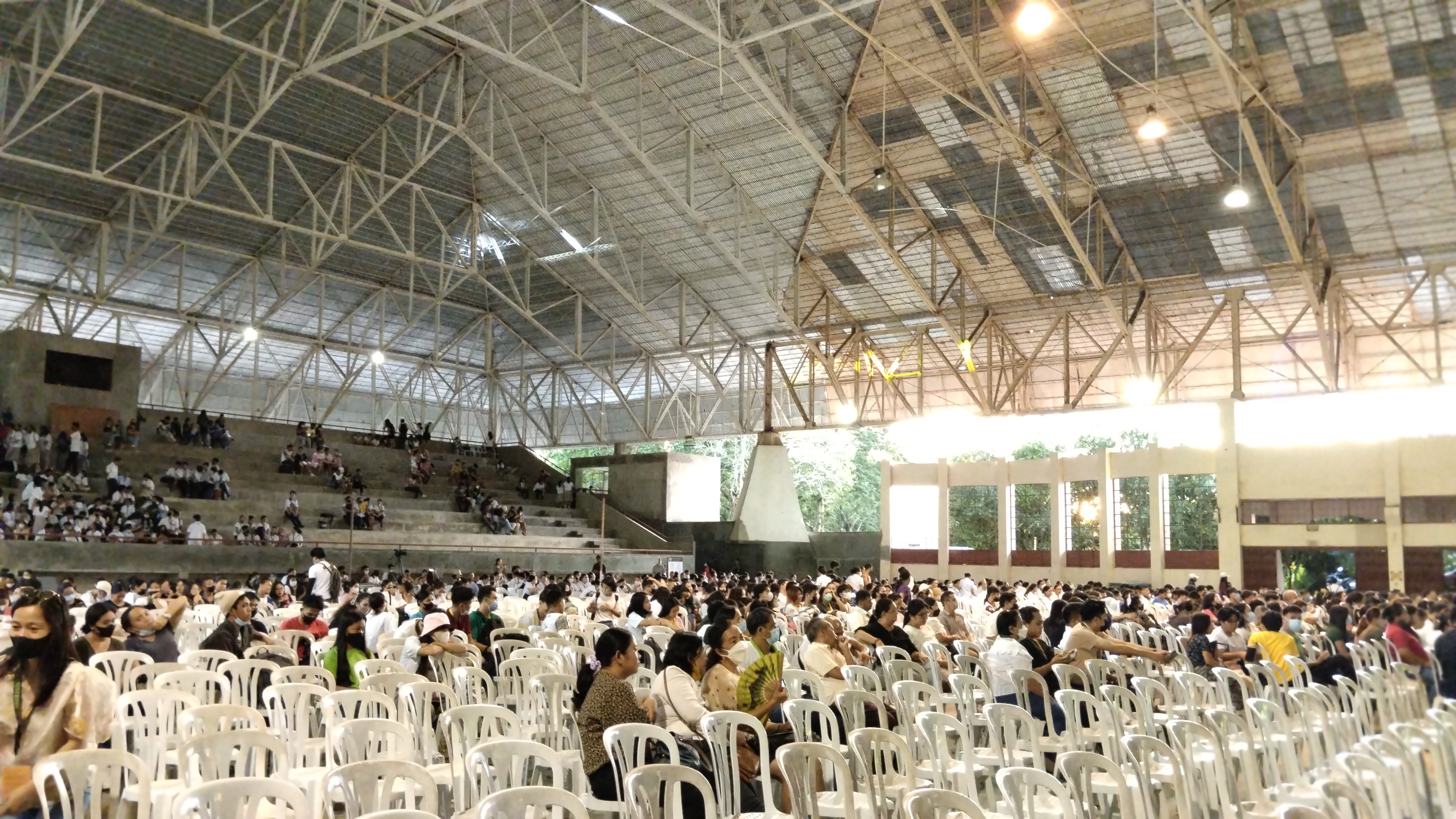 During the first few weeks of opening our full in-person classes at the Main Campus, we've utilized our Tuyok vehicles to ferry our students for free so that they can become easily familiar with the different academic buildings of our university.
We've also conducted student placement initiatives by holding job-seeking webinars including labor education and employment coaching in partnership with the Department of Labor and Employment (DOLE), the Philippine Overseas Employment Administration (POEA), and a Japanese company called Yoshinoya that offers work opportunities abroad for VSU graduates.
Graduate scholarship grants were opened for our exceptional graduates who obtained Latin Honors. As of this time, we have 10 new graduate students who became recipients of this special scholarship grant together with two foreign fellowships and one foreign graduate teaching assistantship.
For library services, the University Library just implemented the circulation module that allows online borrowing of books and resources using a platform called Destiny Library Management system.
Our students continue to bring honor in 2022 by topping the licensure examination with our former Student Regent placing 6th in the March 2022 board exam for veterinarians while a graduate of VSU Tolosa also landed 4th place in the licensure examination for Fisheries professionals.
Our nursing faculty and students have also been recognized for their impressive research paper presentations at a national conference dedicated to nursing educators.
Midway through and we now proceed with our collective accomplishments in research, extension, and innovation.
As one of the country's research universities, the year 2022 brought in 45 completed research and 91 ongoing research projects this year. Seventeen of these research accomplishments are major studies conducted by our very own research centers from solar-based solutions to agriculture, application of technology for rural development, varietal improvement studies, to advanced research biotechnology, and molecular characterization studies.
In extension work, we've approved a total of 49 extension project proposals for the first quarter of 2022 with 38 continuing projects and 11 news projects spread across the five campuses of the university.
We continued paying tribute to our local heroes in sustainable agricultural practices and environmental conservation by awarding 9 individuals and two community organizations that contributed to rural development in the countryside.
Our efforts for inclusive development have not been confined to our home region but have also expanded to far-flung communities including Basilan island where we established a root crops-based livelihood program in partnership with a civil society group and the Provincial Government of Basilan.
We also worked with Food for the Hungry Philippines in the establishment of a Farmers and Fisherfolk Center in Marabut, Samar that will become the techno and training hub for local farmers and entrepreneurs in that part of the country.
In our efforts to commercialize some of our mature technologies, we partnered with the DOST Food Innovation Center in Western Visayas and a local fabricator company to explore the fabrication of our portable vacuum dryer that can soon be made available to local food processors and entrepreneurs.
We've continued the distribution of recommended and quality sweet potato planting materials to multiplier farm nurseries in Southern Leyte as part of recovery efforts after the onslaught of Typhoon Odette last year.
We've also linked with the Armed Forces of the Philippines to bring livelihood opportunities and provide second chances to rebel returnees who would like to restart their lives by engaging in peace efforts through greater agricultural productivity in rebel-infested communities here in our region.
ABS-CBN Foundation worked with VSU and the Office of the Presidential Assistance for Reconstruction and Recovery for the establishment of a sweet potato processing center in Marabut, Samar.
Plan International also collaborated with us in equipping local farmers with valuable ideas and knowledge on cassava and sweet potato production including other tried and tested scientific strategies that can be employed in rural communities.
The Department of Trade and Industry (DTI) provided us with our third Shared Service Facility inside the VSU main Campus to serve micro, small and medium enterprises that would like to venture into coconut and macapuno production.
Our drive to be inclusive has always been at the core of what we do by also providing extension services to differently-abled individuals. One project of our National Coconut Research Center (NCRC) collaborated with an organization called These Abled Persons Tierra Esperanza Farmers' Association in Santa Fe, Leyte.
The National Abaca Research Center (NARC) also spearheaded training on abaca production and integrated pest management approaches where participants in three barangays of Baybay City received free abaca planting materials in partnership with the local government unit of Baybay City.
NARC also continued with the production and commercialization of abaca handicrafts to feature local ingenious designs that can potentially attract foreign markets.
In the area of innovation, we've successfully developed an optimized vacuum fryer that was improved and refined for a mechanized zero-waste processing system, as well as new products such as the SP-35 orange variant vacuum fried sweet potato, and wine, grates, flour, and powder made from sweet potato trimmings and tubers.
Through our Technology Business Incubator project with PCAARRD, we've commercialized six products including a food extruder machine, fryer machine, yuca puff snack, cassava chippy snack, fresh vegetables, and tilapia fish, and fried takudo chips snack.
Now in the area of planning and resource generation, we've conducted continuing professional development training for foresters and offered free review classes for graduates of the agricultural and biosystems engineering program in preparation for the upcoming licensure examination.
For infrastructure development, we've restored the Warner Apartment and will hopefully turn this housing facility to qualified faculty and staff starting next month. For flood water control and irrigation management, we've fabricated and installed RC culverts to improve our drainage system at the Upper Campus.
Following the back-to-back devastation of Typhoons Odette and Agaton, we've repaired the roofing of our VSU Integrated High School buildings including the roofing of the Institute of Human Kinetics. We've also done major repairs for the ceiling of the new VSU Library Building, selected student dormitories and cottages, and the plant breeding laboratory.
To reduce the cost of increasing power rates, our administration just completed the installation of 200 solar-powered lamp posts in both the Upper and Lower Campuses of the VSU Main Campus. This is also important in ensuring the safety and security of on-campus residents now that in-person classes are currently implemented.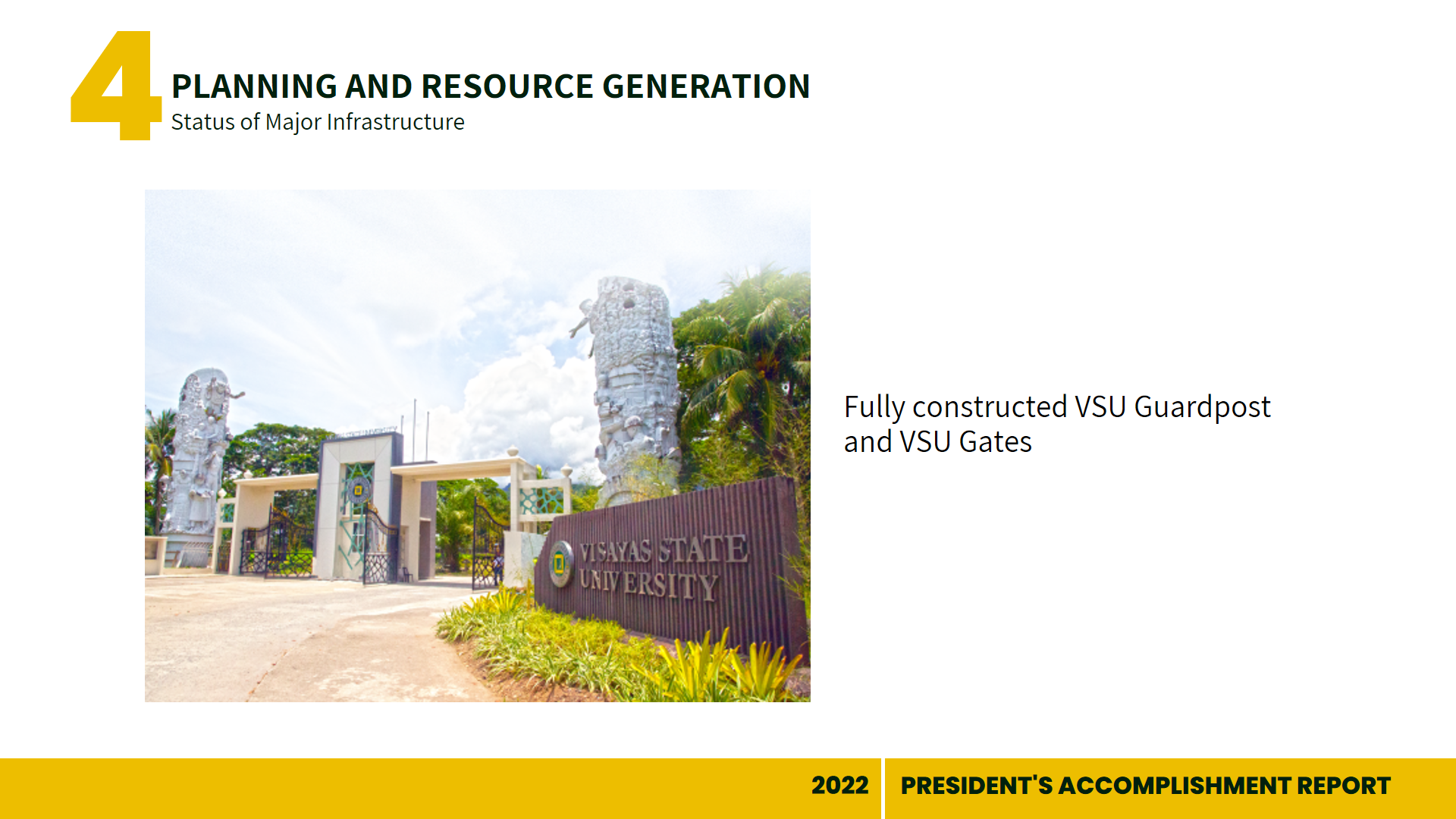 And as you all know, we will be inaugurating our new and improved Guardpost which we will be calling our Centennial Gates which is part of the 15 million pesos fencing project to secure the perimeters of the VSU Main Campus. Both Upper and Lower Centennial Gates will become fully operational starting next week and will be illuminated by our Christmas decorations for the celebration of the Yuletide season.
With our ever-growing student population, we understand that we need to build more classrooms to keep up with the demand of our increasing enrollment rate year by year. Informed of this, we are now bidding on a new classroom complex beside the Old Library Building that can cater to general elective courses that will hopefully reduce our problem with the lack of classrooms.
Still, for planning and resource generation, we've also developed a Disaster Risk and Climate Change Adaptation Structure in support of the proposed land use allocation and tentative location of our campus development expansion areas in the VSU Main Campus here in Baybay City. This project included an overlay of hazard maps to improve our institutional capability in handling various types of natural disasters.
And finally, allow me also to present to all of you our major accomplishments in our component campuses.
In VSU Alangalang, we've just completed a brand new Administration Building that has been officially inaugurated in September this year. This two-story building is now the most iconic infrastructure on that campus and will soon be refurbished with basic amenities that will hopefully improve general services and operations in VSU Alangalang.
For VSU Isabel, our mechanical engineering program continues to deliver impressive board exam performance with its most recent rating of 75% institutional passing percentage. A new building courtesy of Tingog Party List is currently on the rise on this campus to increase the classroom capacity of VSU Isabel now that they have an increased enrollment rate.
Now for VSU Tolosa, we're on track in completing the New Library Building of this component campus that will also house some important administrative offices. New program offerings are being proposed in this component campus including the offering of the Bachelor of Science in Marine Biology program, Bachelor of Culture and Arts Education, and the Bachelor of Physical Education. They have also launched their new website and are currently on track in improving their management information system services for both faculty and staff. Free access points for internet connectivity were also installed in strategic locations and their student dormitory building. Soon, VSU Tolosa will also be welcoming a World Friends KOIKA volunteer who will help with the educational support services of this component campus.
And finally, VSU Villaba, just inaugurated a newly completed Administration Annex Building, Crop Science Laboratory including the completion of their new Multipurpose Gymnasium. They also have a brand new service vehicle that they can use for official travels and other office functions. And works are on the way for the future establishment of an herbs and spices and small ruminants research center that aims to make VSU Villaba a provincial center for agricultural research and development initiatives.
All these are the collective work that we did for the past two years. While we acknowledge our small victories today, we also understand that there are many more other things to pursue to continuously develop our beloved university into a globally competitive university of science, technology, and environmental conservation.
So, what's in store for us in the coming years? Allow me to reveal to you some of our grand plans that are currently in the pipeline as part of our commitment to make VSU a world-class university.
I believe that you've already noticed that for the past months, a lot of foreign professors have been welcomed into our university for study missions and faculty exchange programs. In just a month, we opened our gates to professors from Jember University, Czech University of Life Sciences, Mendel University, and Nagoya University.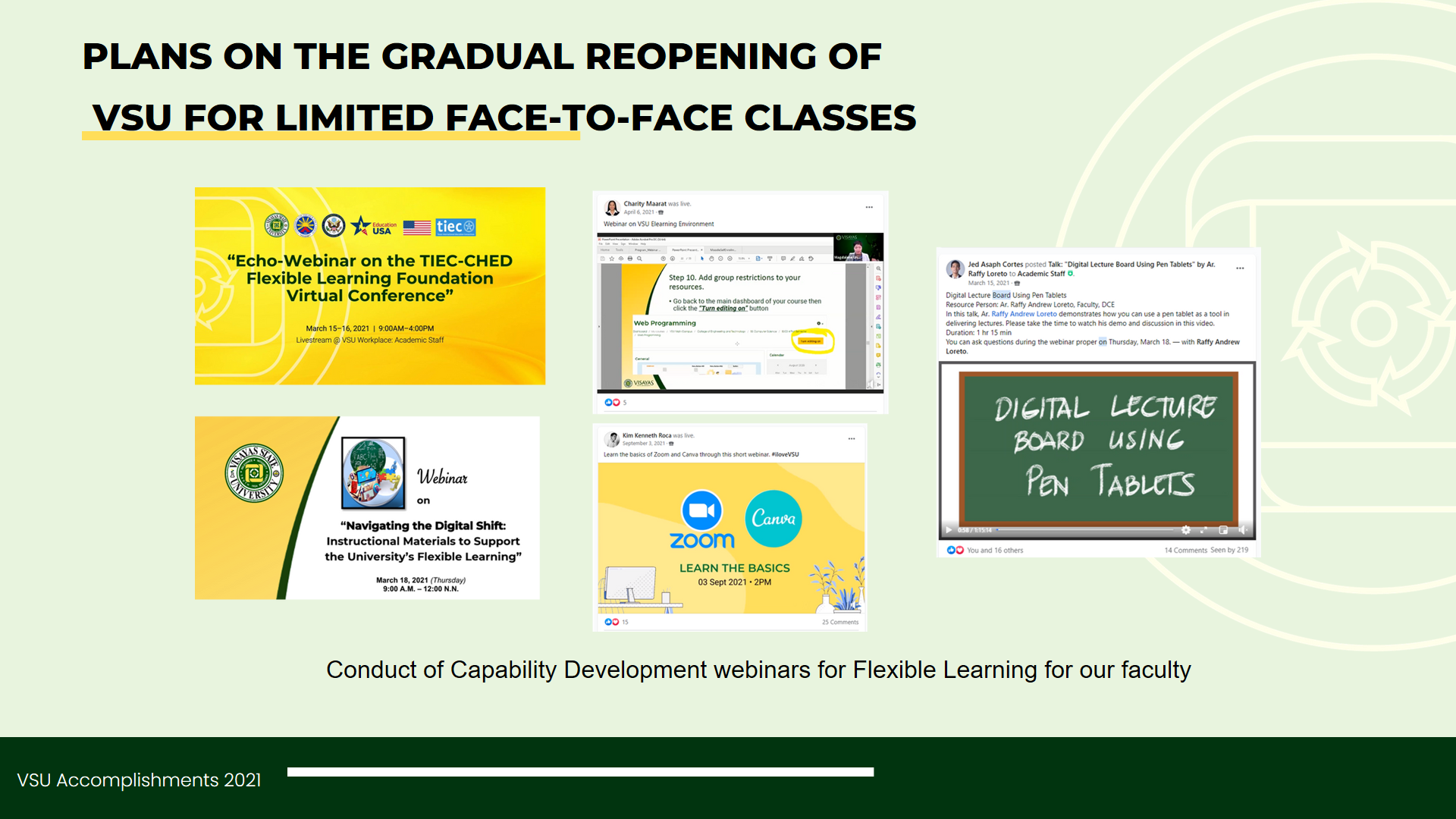 Meanwhile, some of our faculty members and key officials have visited Singapore, Indonesia, and Malaysia including Europe and Japan to also do benchmarking tours as part of our massive internationalization program. More are expected to come very soon and greater travel opportunities await our faculty members, staff, and students for overseas visits that will hopefully result in greater global competitiveness by facilitating an efficient flow of knowledge, ideas, information, economy, and even culture between VSU and our international partners.
Consistent with this is our drive to be included in the global rankings of both Times Higher Education (THE) and the Quacquarelli Symonds (QS). We have been given a Reporter Status by THE for this year and we hope to improve this next year guided by the suggestions given to us by our independent evaluators. As for QS, our application for global rankings is now in place and we're hoping to be part of this elite circle as early as next year.
Another big-ticket project that we will soon embark on is the Futures Thinking Project funded by the Philippine government which will make VSU as the lead national institution in mainstreaming sweet potato and jackfruit research, production, and commercialization in the entire country. This project will provide us with a new national mandate that will potentially result in an improved local domestic economy by reducing poverty, raising incomes, and improving food security in our home region of Eastern Visayas.
Part of this Futures Thinking Project is the pushing of VSU into becoming a National Green University in charge of sustainable and inclusive agricultural practices that carry green innovation strategies that will protect the planet and build resilient communities that are ready for the many challenges of the 21st century.
Of course, achieving all these will also require the cooperation of our four component campuses and for us to prepare them for a better future, we need to also align the systems and procedures of VSU Alangalang, Isabel, Tolosa, and Villaba to international standards by subjecting themselves to ISO accreditation. We've done this on the Main Campus and we have people here who can help our component campuses achieve this in the days to come.
Lastly, consistent with the push of our local government officials especially Leyte 5th District Representative Carl Nicholas C. Cari and Baybay City Mayor Jose Carlos L. Cari to improve our local health system here in our area, we are now readying the blueprint for the establishment of the first College of Medicine located in a state university here in Region 8. The Congressional Panel for Health has recently approved our proposal which will soon lead to budget appropriations that will help us build a building and recruit faculty manpower who will run our very own medical course here at VSU.
This move will hopefully address the manpower needs of our local medical sector now that Baybay City is aggressive in its drive to improve health services not just for its constituents but also for the residents of nearby municipalities in Western Leyte.
I'm confident that with your enabling help and support to the VSU administration plus the unwavering assistance of our national and local officials, we will be able to accomplish more to make VSU relevant to the many challenges of our times. Allow me to thank each one of you for making VSU one of the best universities in the country today.
We will not sit and become complacent about our current stature but will rather work extra hard to make our dear university grow and become a bastion of knowledge exchange and scientific breakthroughs in Southeast Asia and beyond.
Daghang salamat kanatong tanan at Mabuhay ang Visayas State University. Padayon Paglambo, VSU!
[Photos courtesy of Paul Vincent L. Fornis and Marianne C. Bayron]