President's Notes: Our Centennial Gates are our newest icons in VSU
Details

Written by Dr. Edgardo E. Tulin

Published: 29 November 2022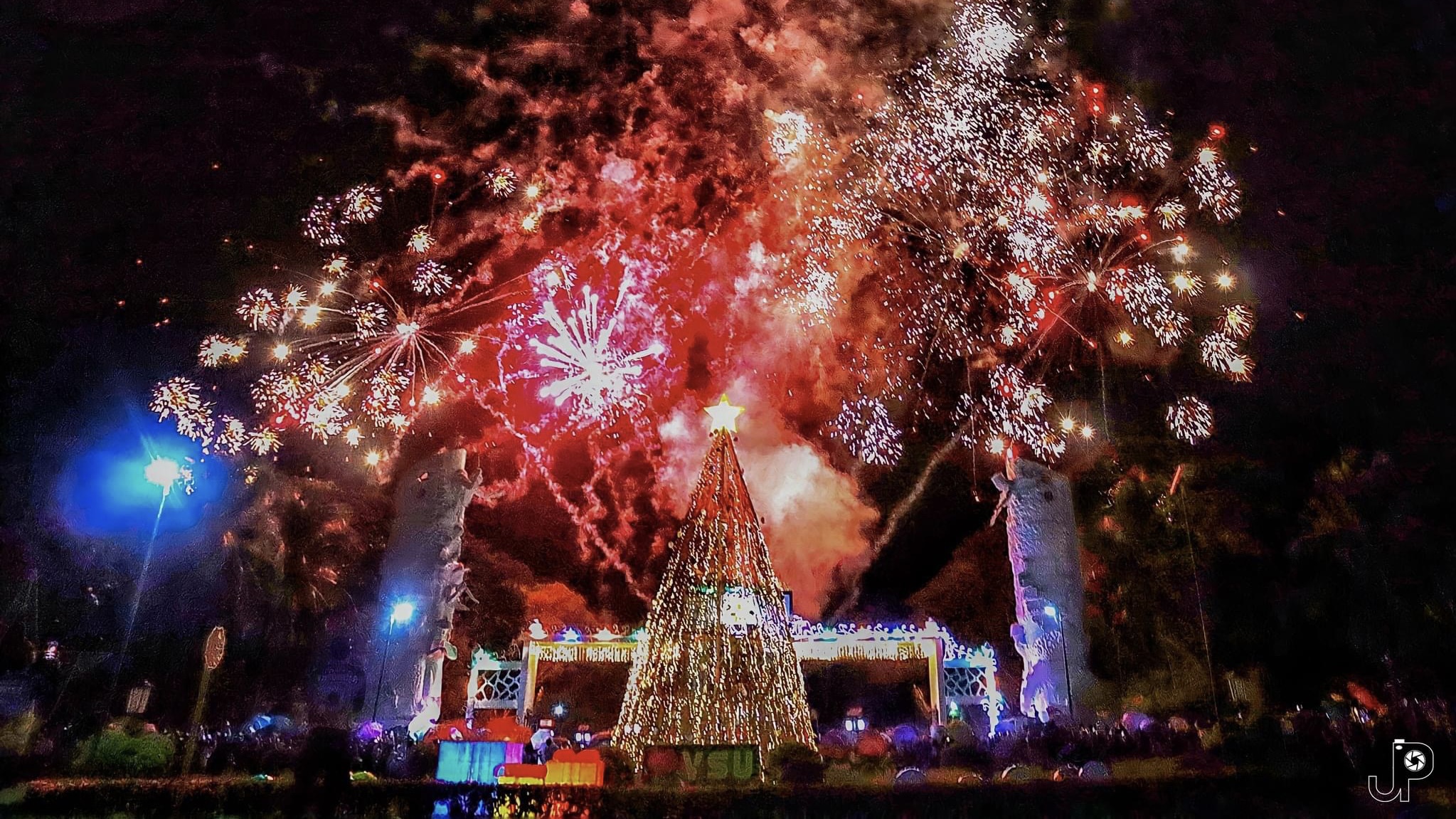 [This speech was delivered by VSU President Edgardo E. Tulin on the occasion of the annual Christmas Lighting Ceremony held on November 28, 2022. This event was also the official public opening of the two Centennial Gates at the VSU Main Campus.]
To the ever-supportive local officials of our beloved home of Baybay City headed by Mayor Jose Carlos L. Cari together with the whole City Council, our equally dynamic Vice Presidents of the VSU system, College Deans, Unit Heads, faculty members, and staff, our dearest students, visitors including our alumni who are watching us online, maayong gabie ug malipayong Pasko kanatong tanan!
First, I would like to thank our City officials for gracing this very important occasion. One of the many reasons why VSU is strong is because of the unwavering support of our local government in the many programs and projects of the Visayas State University. Aside from the Centennial Gate that we are officially inaugurating today, the local government hub located at the VSU Market including the modern public restrooms and mini-transport terminal will soon be operational to ensure greater public safety for all VSU constituents.
We thank Congressman Carl Nicolas C. Cari, Mayor Jose Carlos L. Cari, and the whole City Council for bringing these important facilities inside our university. Our growth as an institution has been monumental because we've got the strong backing of our local officials who see VSU as Baybay's biggest partner for continued growth and progress.
I've already mentioned in my last week's State of the University Address that because of the overwhelming support of our local officials, we will soon be offering the first College of Medicine located in a state university here in Eastern Visayas. This is consistent with the grand plan of our local government to strengthen health services in Baybay City and the whole Western Leyte area to make us more resilient and future-ready for disruptions like the pandemic and even challenges related to disaster response.
Baybay City LGU has long seen how vital VSU is in providing quality manpower for our beloved city. And because of our growing reputation as one of the best universities of science and technology here in the Philippines, our local government is confident that we can also soon provide world-class and home-grown doctors who will take care of the health needs of Baybay City and the whole 5th District of Leyte.
With this, all of us Viscans are grateful to our current local leadership for thinking ahead and for including VSU in this worthwhile endeavor of becoming a regional powerhouse in healthcare services here in Eastern Visayas. Exciting days are coming for all Baybayanons as massive infrastructure developments are now on the pipeline that will make government services efficient and more productive.
Now, let's talk about how important these Centennial Gates are for our university. Instead of being treated as merely decorative, I'd like you to treat this new structure with great respect as this will be our symbol that will carry our desires and aspirations for a better future.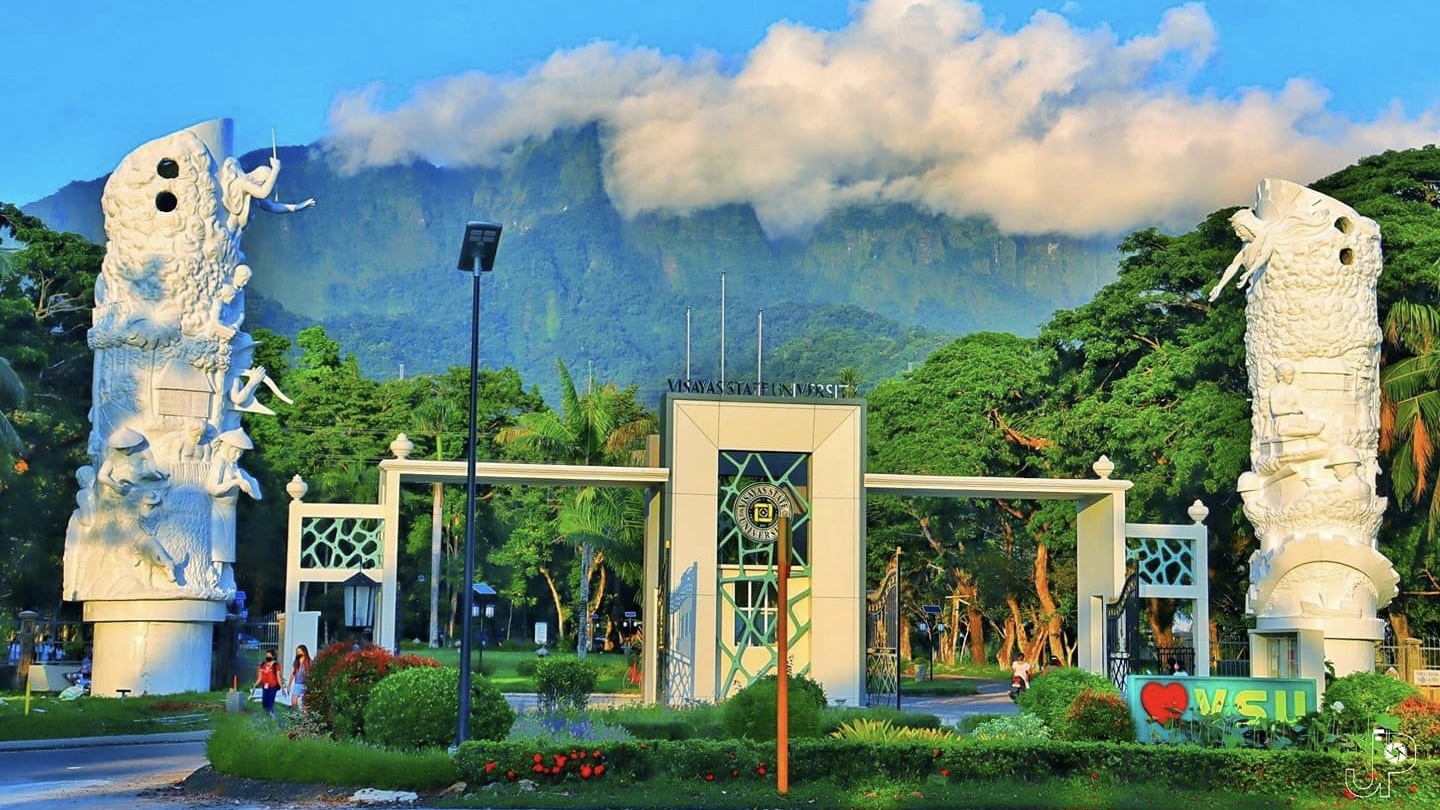 As we turn 100 years old in less than 2 years, we see this edifice as the newest icon that will shape the future narrative of our beloved university. The design of the Centennial Gates was meant to be grand just like how entrances of other world-class universities are designed. This is consistent with our goal of elevating VSU to global status as one of the best universities in Southeast Asia.

Establishing unique institutional icons as we face a new century is important because it presents to the world our evolving identity and our collective pursuit for greater relevance and global prominence. Our Centennial Gates mainly features a sturdy bulky structure which to us symbolizes the resilience of our constituents in pushing for a bigger and bolder VSU despite the many disruptions brought about by climate change and the occurrence of natural disasters.
The central element that you can see where our seal is emblazoned mimics that of cellulose which signifies our drive to pursue advanced sciences including biotechnology, nanotechnology, human health, and even material science, especially in our future research and development initiatives.
Our Centennial Gates will therefore represent who we are now and who would we like to become in the next century. While I know that some are concerned about the Obelisk being a bit overshadowed by this new gate, that is not our desire for this project. We even see the new Centennial Gates as a reinforcement of our twin Obelisk—a meeting point of our glorious past and the amazing future that we are trying to build for a bigger and better VSU.
Coincidentally, we are inaugurating our Centennial Gates in time for our annual Christmas lighting ceremony which has been one of the many traditions that we have here in our university life. I'm sure that everyone in attendance here is much more excited about the lighting of our Christmas ornaments and the fireworks display that we have prepared for tonight.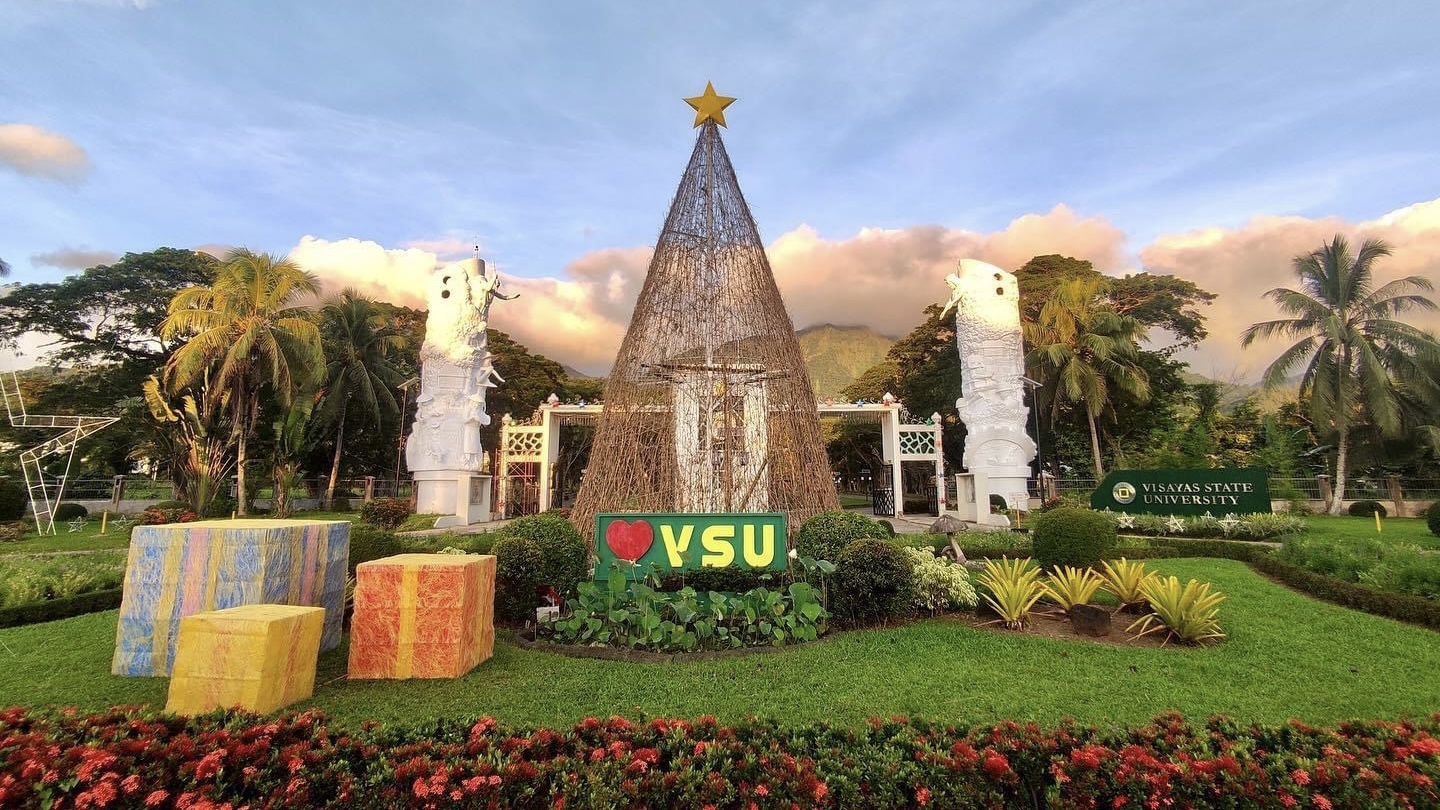 The timing of the inauguration of our Centennial Gates and the Christmas lighting is very much aligned as Christmas mainly symbolizes hope via the birth of our savior the Lord Jesus Christ. We celebrate Christmas because of the story of hope that it carries that despite of our unworthiness, the Lord gave away His only begotten Son for the salvation of our sins. I hope that our Centennial Gate will also carry that story of hope that despite the challenges of COVID-19 and the many natural disasters we've endured for the past two years, we're still here standing and making a difference for the lives of the students that we touch and the community that we all willingly serve.
As we officially inaugurate the Centennial Gates, let us always be reminded that this is a unique symbol of hope for all Viscans just as Jesus is the symbol of hope for all humanity.
Merry Christmas everyone and Mabuhay ang Visayas State University!
[Thumbnail and the second photos are courtesy of JERtography Facebook page. The last photo is taken by the Amaranth - the official student media organization of the Visayas State University.]