VSU biotech faculty is the first #ProudViscan to go to Harvard
Details

Written by Ulderico B. Alviola

Published: 08 March 2023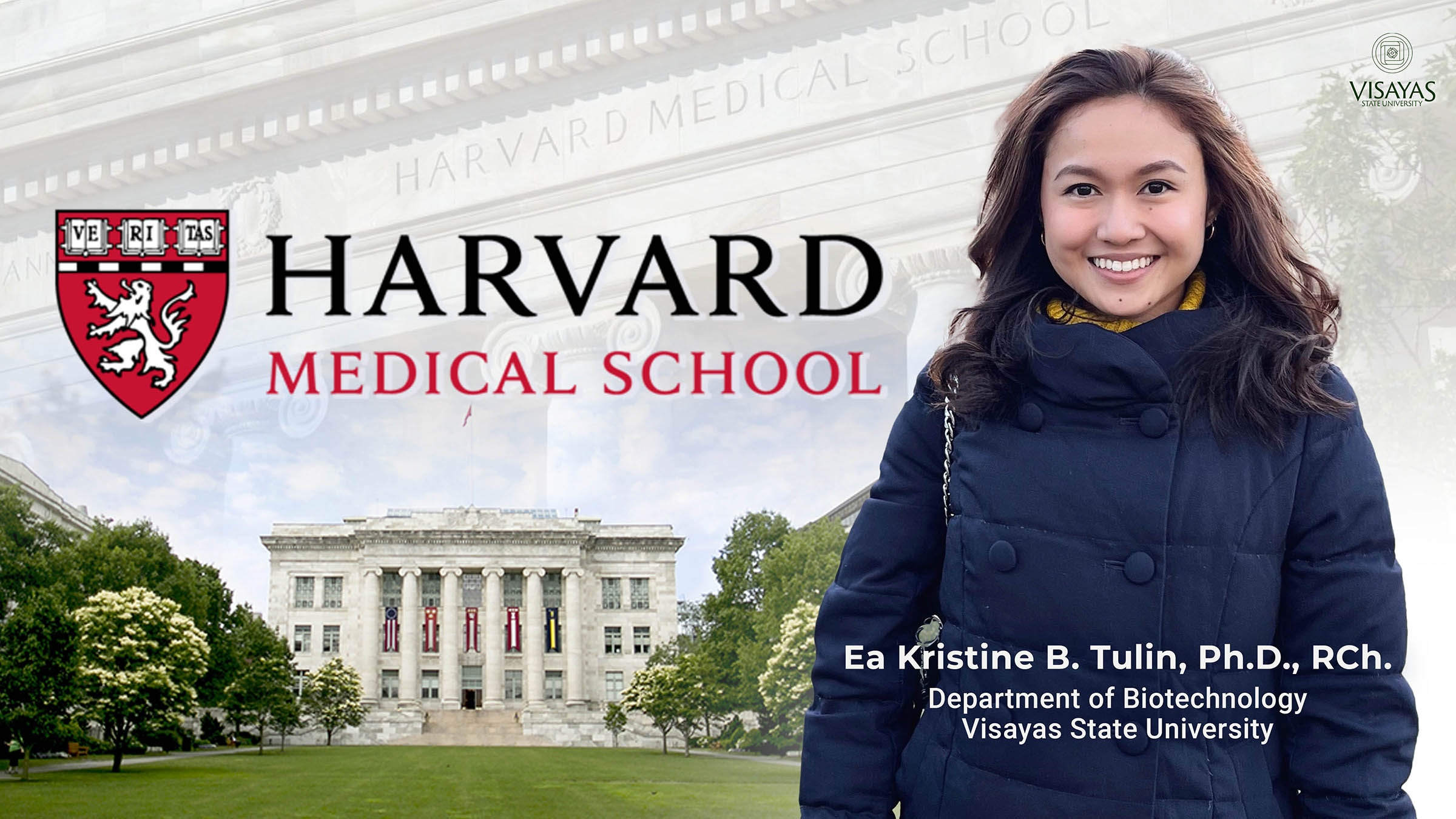 This is a story of how an alumna and a faculty member of the Visayas State University (VSU) made a record-breaking journey to be the first #ProudViscan to ever set foot in the world's number one university as a postdoctoral fellow at the prestigious Harvard Medical School.
Meet Dr. Ea Kristine Clarisse B. Tulin—a young Pinay scientist and a budding artist, a woman actively engaged in the promotions of Science, Technology, Engineering, and Mathematics (STEM), a registered chemist, and an active youth leader who brought help to victims of Typhoon Odette (Rai) here in Eastern Visayas.
At 27 years old, she already completed her combined master's and doctorate degrees at the Tokyo University of Agriculture and Technology (TUAT) in Japan from 2017 to 2022 with a particular focus on Applied Biological Chemistry.
In just a few months after her reinstatement to VSU, Ea is proud to reach new heights in her professional career after qualifying for a highly competitive postdoctoral scholarship at Beth Israel Deaconess Medical Center, one of the major research and teaching affiliates of the Harvard Medical School.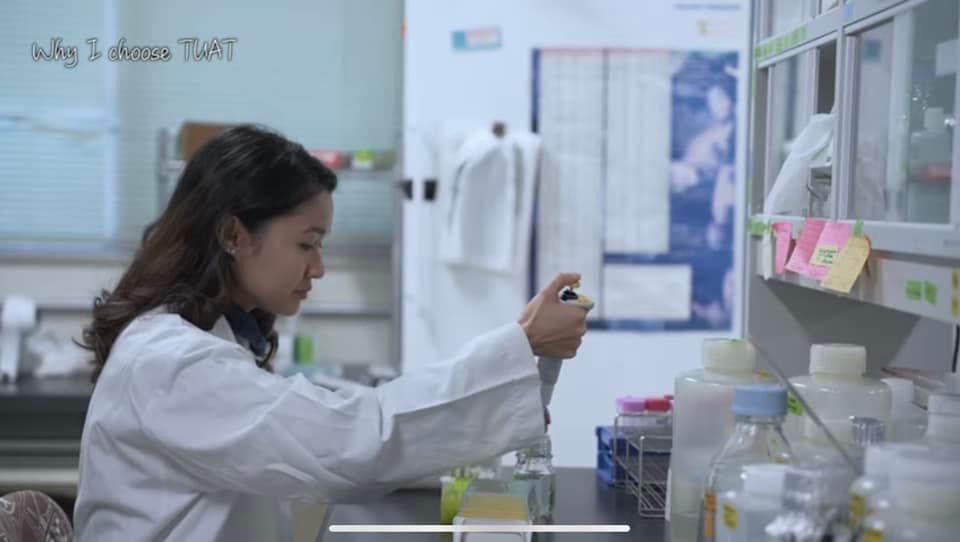 From just being obsessed with reading books on Essentials of Glycobiology by Dr. Richard Cumming, she will now be working directly with him in his laboratory to help in many research projects specifically on glycobiology—the study of carbohydrates (glycans).
"Basically, my research is on biochemistry, particularly in glycobiology. My [host] professor established the National Center for Functional Glycomics at the Harvard Medical School, which aims to study the structure and function of carbohydrates (glycans) attached to proteins and lipids in human biology and disease. I will be contributing to this project by creating reagents or antibodies that we can use to study glycans. This has many possible applications in disease diagnosis, treatment, and cancer immunotherapy," Ea recalled.
With the research work that she will pursue at Harvard, Ea will be among the first VSU graduates to pursue research on neuroscience with potential applications for disease diagnosis and treatment.
A dream that began on Twitter
Just like many Filipino millennials, Ea is very active on social media where she uses these platforms to promote science and technology including her passion for the arts. She then converted her personal Twitter account into an academic page where she can promote her work in glycobiology.
"I only followed scientists, I only retweeted tweets from scientists because it was also my way to get to know research–current topics, current papers," she revealed.
While being torn between pursuing postdoctoral studies in Japan or going back to work in the Philippines, Ea revealed that going to Harvard was truly an aspiration that she did not foresee in the immediate future.
"It's a very funny story. I actually came across the call via Twitter. I wasn't recommended. We have no connection to this lab. My professor knows him because he is a very famous glycobiologist and I've read his books. They're like our bible in glycobiology," the young Pinay scientist continued.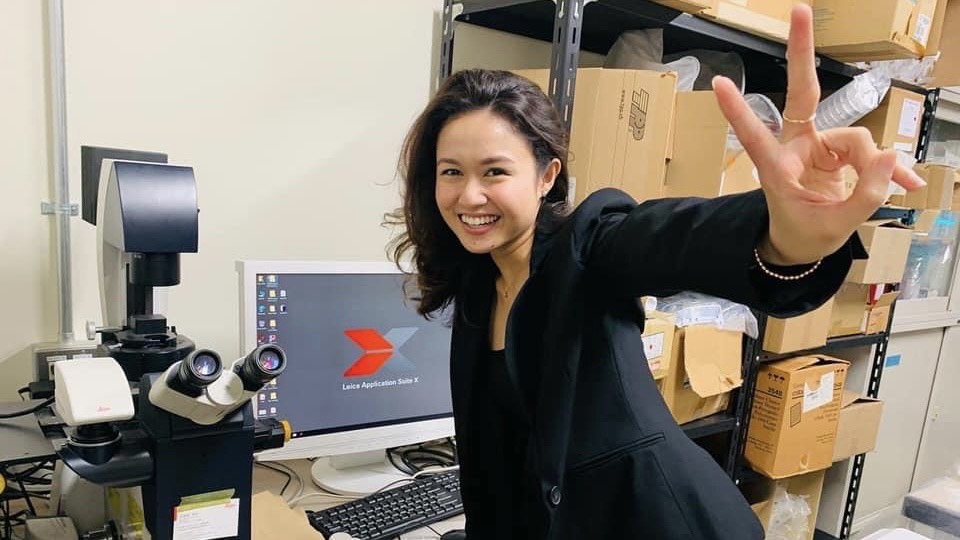 One time, she came across a tweet from the National Institute for Functional Glycomics about an open call for a postdoctoral fellowship. At first, she did not mind much about it because she was still weighing her options. Until the call was retweeted again and she thought maybe it was a sign for her to apply.
"I did not tell anybody about my application. As somebody who always plans, I always have my CV updated. I always have my documents and motivational letters ready. When I saw the retweeted post, that's when I thought I'm just gonna send them my documents. I think the timing was quite serendipitous. Perhaps I was one of the only few people to respond to them? Who knows! They replied to me in like two days and then scheduled an interview," the #ProudViscan said.
But after her interview in March 2022, she did not hear anything from them. Until around April of the same year, they asked her for recommendation letters for Harvard and eventually offered her an all-expense paid postdoctoral fellowship.
Her dream of going to the world's best university is slowly becoming a reality until another sudden turn of events happens.
"I found out that when I got accepted to Harvard, my older brother got lost. I didn't feel anything. I was very very worried about my parents. I was very worried about leaving home. When I applied, of course, I thought when I got accepted, I'd be super happy. But when it actually happened, life had other plans for me. I was just concerned about leaving my parents again," Ea disclosed.
Ea then had to forgo for the meantime her Harvard dream and return to the Philippines to reinstate at her home university and be with her family.
But for her, temporarily letting go of her dream will only be detrimental to her continued professional growth and her plans to build greater global connections for the university. So in late February this year with the approval of the VSU Board of Regents, Ea finally flew to Boston in the United States to take her #ProudViscan dream and take it to a higher level.
A mission to build a global network for VSU
Ea officially started working last March 6 as a postdoctoral research fellow at Harvard Medical School. She will be working with experiments daily at the National Center for Functional Glycomics under the surgery department.
With this opportunity, Ea is delighted to work with Harvard and learn the best from them and establish connections that we do not yet have in the university.
"Well, we need to learn from the best. This is a giant benchmarking opportunity. Trying to see how Harvard Medical School works. And trying to adopt that to VSU. You can learn people management, resource management, and business management. Trying to see from my experiences here if there is a way to apply their strategies to VSU," the biochemist noted.
Ea's research work in Harvard can be a pivotal point for VSU as the university is now gearing up for the opening of a College of Medicine, the first to be offered in a state university here in Eastern Visayas.
Also, her experiences in the United States will surely be valuable in advancing biotechnology research which is one of the core areas being pursued by the newly established VSU Advanced Research and Innovation Center (ARIC).
After her postdoctoral studies, Ea is expected to return to VSU and continue her work as a faculty member at the Department of Biotechnology. She hopes to inspire aspiring biotechnology students about her journey at Harvard and she's also looking forward to strengthening partnerships with private companies which is essential in the effective technology transfer of any university.
Meanwhile, Ea expressed her deep gratitude to VSU for instilling in her all the needed technical knowledge and the enabling values that made her succeed as a young biochemist.
"Our university is undoubtedly a very good educational institution that is so conducive to learning. VSU is very capable of developing anyone into becoming the best version of themselves. I carried my #ProudViscan values to Japan and I'm gonna use the same thing in my journey to the US. I have always been studious, and I think that's because of VSU. Also, it is in our university that I learned how to deal with different kinds of people, which is an important 21st-century skill for continued networking," she highlighted.
Ea shares this advice to aspiring young scientists from VSU to always take the first step to reach their dreams.
"You just gotta take the first step! The world is so big. There are so many opportunities that you don't know. Don't be scared to explore many opportunities abroad. If you think people are smarter than you because you came from the province, from a state university, or a public school, that isn't true. You are just as good as everybody else out there. Your education at VSU has prepared you with so many technical skills and knowledge so I'm sure you'll soon be able to figure it all out. So don't be afraid to spread your wings and show the world what a proud Viscan is capable of doing," Ea concluded.
While waiting for the official start of her postdoctoral fellowship, Ea went to see two other Leyteños: Marc Mapalo, a doctoral candidate at Harvard University who proudly hails from Tacloban City, and Hillary Diane Andales, an undergraduate student at the Massachusetts Institute of Technology (MIT) from Abuyog, Leyte.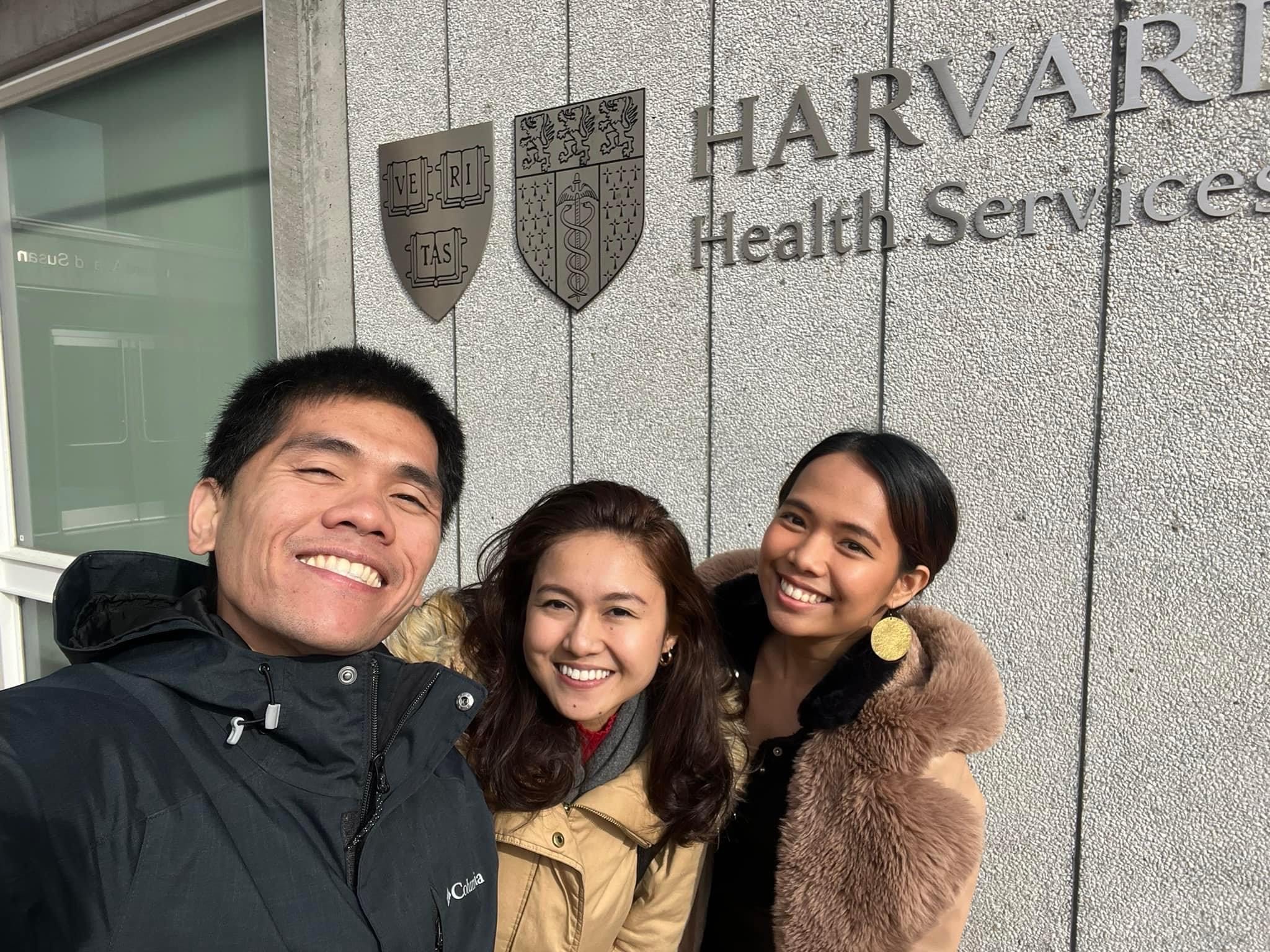 Just like what she did in Japan, Ea also hopes to establish ties with the Filipino community in Boston so that she can also partake in other extracurricular projects like pursuing her passion for the arts.
She hopes to continue her 'Experiments in Art' (EA) project where she documents and presents to the world the amazing world of glycobiology by exhibiting it at art fairs and local trade shows.
In this way, she can also popularize science and technology and make it an attractive career path for young Filipinos who are interested in pursuing science and technology.
Ea is the second child of VSU President Dr. Edgardo E. Tulin and Graduate School Dean Dr. Anabella B. Tulin.