AD Scientific Index puts VSU as Top 11 research institution in the Philippines
Details

Written by Marianne C. Bayron and Ulderico B. Alviola

Published: 13 March 2023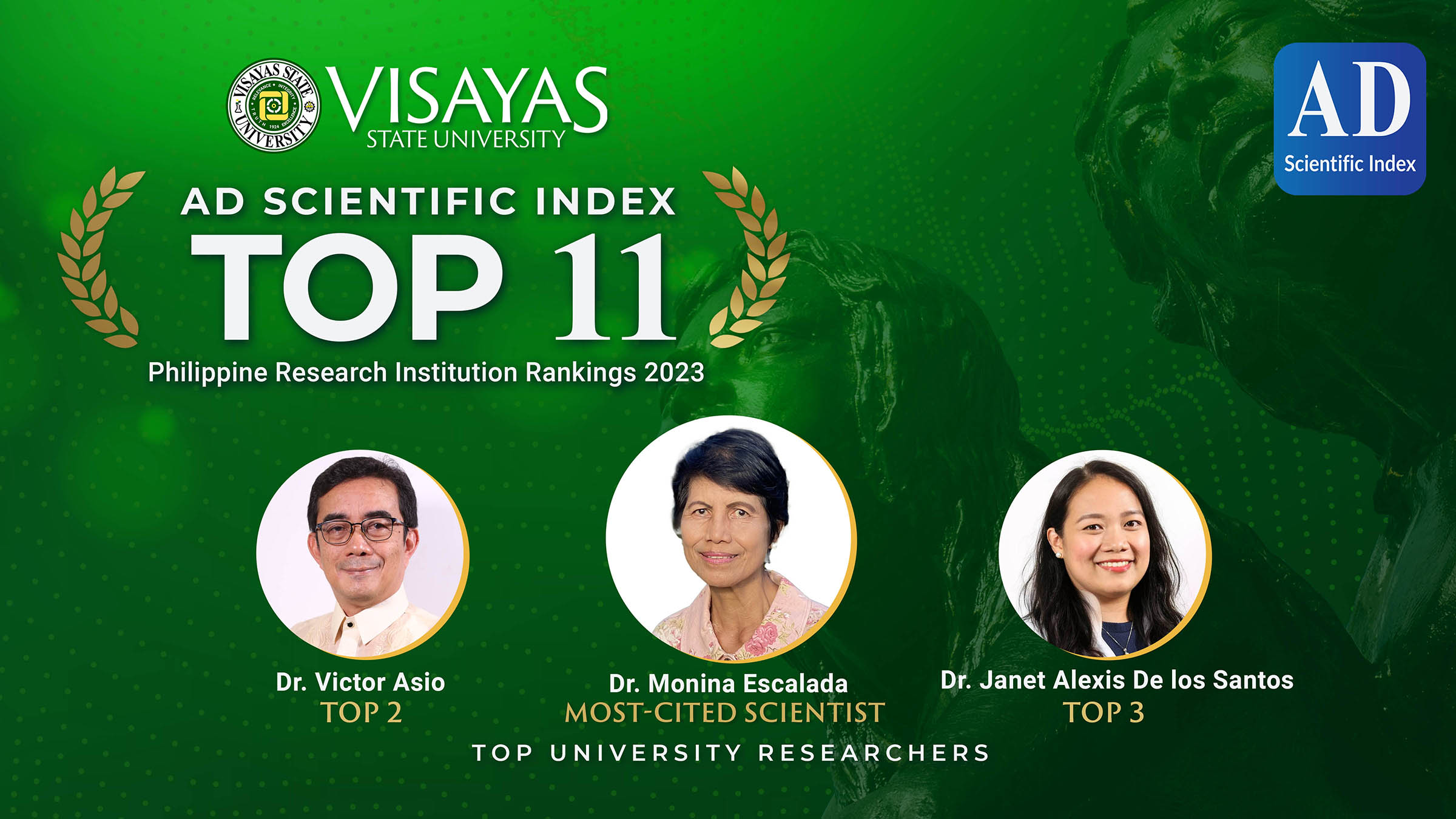 Visayas State University (VSU) will not become a renowned research institution without its exemplary scientists and researchers who continue to contribute to the field of scholarly works and academic studies.
In the updated rankings by Alper-Dodger (AD) Scientific Index this March 2023, VSU climbed 9 places higher from being rated at the 20th spot in their January 2023 edition with a total of 53 recognized scientists showing high citation impact and productivity in terms of publishing in peer-reviewed academic journals.
Among universities in the Philippines, VSU is well within the Top 10 higher education institutions (HEIs) as the current number 1, which is the International Rice Research Institute (IRRI), is not a university that offers full degree programs.
The same ranking system also indicates that among publicly-funded universities in the country, VSU ranks fifth to three constituent campuses of the University of the Philippines (UP) and the Mindanao State University - Iligan Institute of Technology (MSU-IIT), which was inappropriately not included in the public university category. It is also interesting to note that Mapua University, which is not a state-funded institution, was also wrongfully placed in the public university category.
The AD Scientific Index is still an emerging international ranking system that continues to improve its assessment by updating its results from time to time. The main basis for this ranking system is the total productivity coefficients of scientists in the last 6 years based on their collated scores in the Hirsch index (h-index), i10-index, and the total number of citations in Google Scholar.
The h-index is a metric system for evaluating the cumulative impact of an author's scholarly output and performance while the i10-index is the number of articles published by an author that have received at least 10 citations.
For this edition, a total of 270 countries from more than twenty thousand universities and institutions were evaluated and around 1.3 million scientists across the world were analyzed by the AD Scientific Index. In the Philippines, around 274 research institutions were included and a total of 5,870 scientists and researchers were ranked in this assessment.
In VSU, the consistent top three cited scientists are Monina Escalada, Victor Asio, and Janet Alexis De Los Santos, who are also multi-awarded scientists in their respective fields.
Professor Emeritus Monina Escalada, Ph.D., from the Department of Development Communication (DDC), remains to have the highest total number of citations with her most popular journal on the use of communication media in changing rice farmers' pest management in the Mekong Delta, Vietnam. Her other most cited articles can be found here.
Ranking second is Professor Victor B. Asio, Ph.D. who is also the longest-serving Dean of the College of Agriculture and Food Science (CAFS). He is also the current editor-in-chief of the Annals of Tropical Research (ATR), which is VSU's international peer-reviewed publication.
Prof. Asio is the country's top soil scientist in terms of research productivity and was also recently cited by many international media organizations for his published explainer on the cause of the deadly landslide in Baybay City. His top 5 popular research articles can be accessed at this link.
Third in rank is Associate Professor Janet Alexis De Los Santos, Ph.D. who is a faculty member of the VSU College of Nursing and was recently awarded as one of the Distinguished Health Researchers in the Eastern Visayas region.
Her cross-sectional study on the reality shock experienced by nurses employed in clinical settings also won an award at a nursing conference last year. Her most cited study can be found here.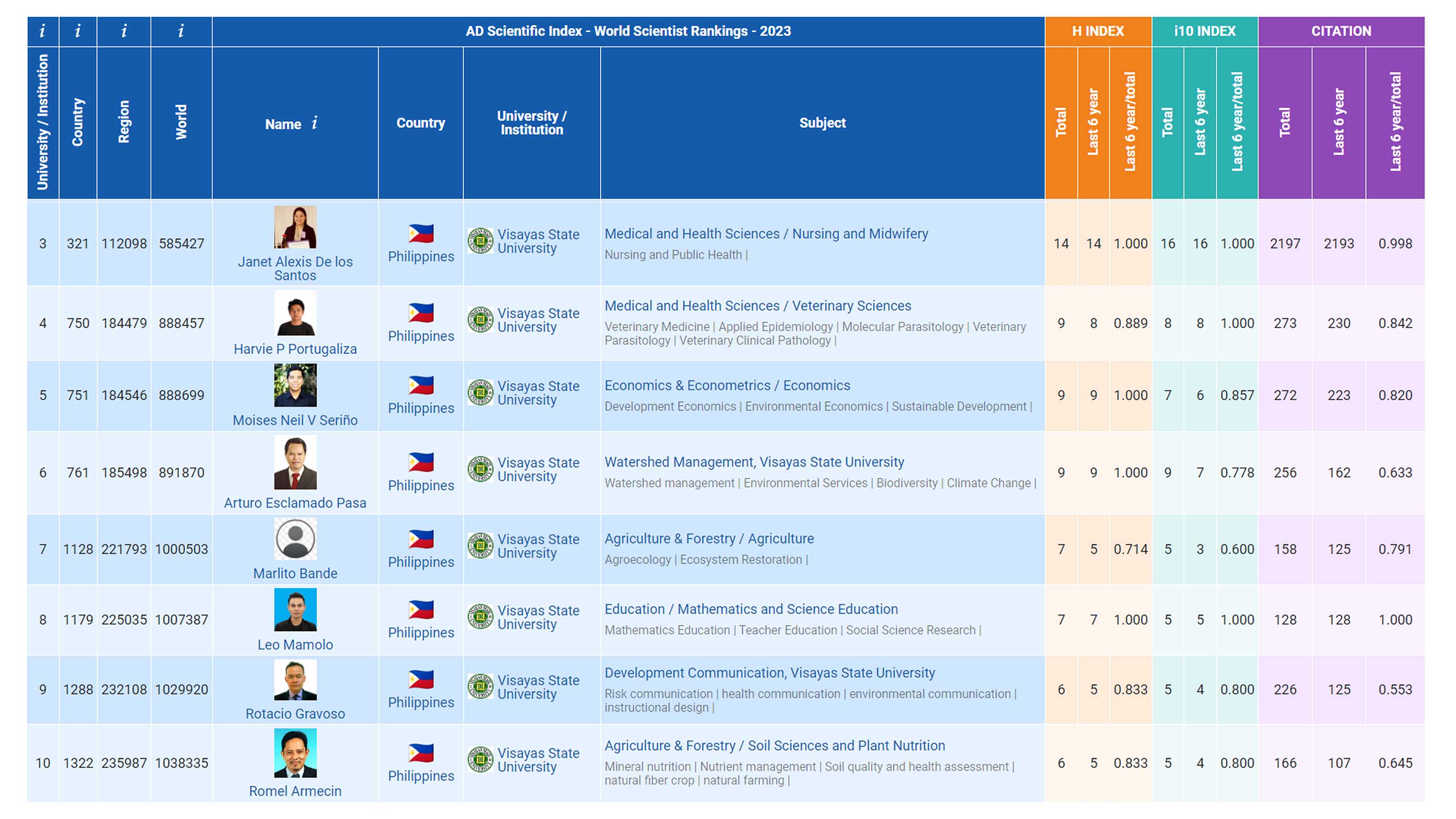 The 50 other recognized scientists are listed as follows:
Monina Escalada
Victor B. Asio
Janet Alexis De los Santos
Harvie Portugaliza
Moises Neil V. Seriño
Arturo Esclamado Pasa
Marlito Bande
Leo Mamalo
Rotacio Gravoso
Romel Armecin
Anabella Tulin
Lucia Borines
Joel Rey Acob
Ed Allan Alcober
Emily Casinillo
Fe Gabunada
Zenaida Gonzaga
Humberto Montes
Jayzon Bitacura
Marilou Benitez
Lotis Balala
Rosario Salas
Editha Cagasan
Louie Gula
Suzette Lina
Guiraldo Fernandez Jr.
Dennis Peque
Ladie Anne Palermo-Conde
Angelica Baldos
Syrus Cesar Decena
Julissah Evangelio
Ma Rachel Kim Aure
Shalom grace Sugano
Lijuera Cuadra
Ulysses Cagasan
Christopher Llones
Berta Ratilla
Elvira Entero Ongy
Ana Marquiza Quilicot
Ruth Escasinas
Rodulfo Aunzo, Jr.
Lourd Franz Gabunada
Rafael Junnar Dumalan
Ronald Arlet Villaber
Renezita Sales-Come
Jannet Bencure
Eunice Kenee Seriño
Maria Hazel Bellezas
Delfin Cabardo Jr.
Jeffrey Lloyd Cagande
Pauline Caintic
Paulo Batidor
May Ann Palen
In the country, the IRRI, Philippines is ranked first in the AD Scientific Index followed by the UP, MSU-IIT, De La Salle University, and UP Diliman.
Aside from VSU, only three other universities in Region 8 were included in the Top 100 rankings of the AD Scientific Index for this particular assessment. These include Eastern Visayas State University at rank 64, Southern Leyte State University at number 69, and Samar State University placed 93, respectively.
This commendable performance of VSU in terms of research productivity is one of the many proofs of research excellence that the university has been known for.