DPM faculty wins best pitch on SEARCA and CHED's joint research training
Details

Written by Marianne C. Bayron

Published: 14 March 2023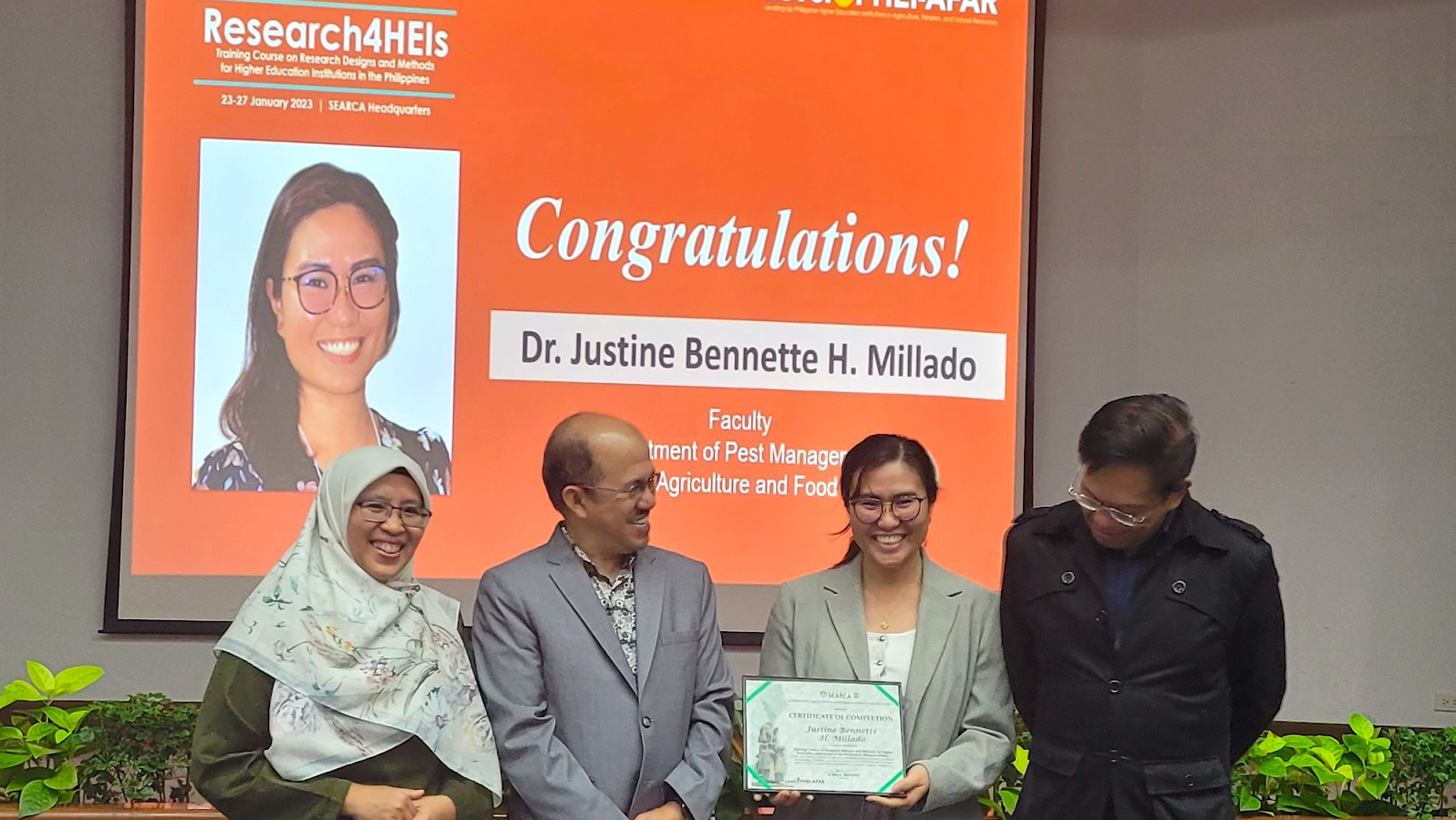 Justine Bennette H. Millado, Ph.D. an entomologist and faculty member of the VSU Department of Pest Management (DPM) brought home the Best Research Proposal presentation after pitching the insect protein-enriched feed project during a research training course.
This research training is organized by the Southeast Asian Regional Center for Graduate Study and Research in Agriculture (SEARCA) that was participated by 21 representatives from the 17 higher education institutions that are members of the State Universities and Colleges – Association of Colleges of Agriculture (SUC ACAP) in the Philippines.
The winning research pitch is a project headed by the Department Head of Animal Science (DAS), Dr. Manuel D. Gacutan, which is a collaboration between VSU and the University of Putra Malaysia (UPM).
"The one I presented was our proposal with the [VSU] Animal Science team. There was a call for internationalization proposals last January. I was one of the study leaders because the study was about the mass production of insects. We are screening three different insects for incorporating as a protein source," Millado shared.
To date, most of the protein source in animal feeds is fishmeal, which according to Millado is more expensive. This project will be a stepping stone to producing protein-enriched feed from insects that are low-cost and environmental-friendly.
"The space that you need to create the insectary [where insects are kept and studied] to mass produce insects is very low. You can feed them waste products. So we're planning to get waste products like vegetable peelings from Baybay market, and since we also have our very own waste materials here just like from the production of camote chips, we will try to use that also," she continued.
Millado revealed that the proposal is pushing for a circular economy. The protein that is found in insects is much higher compared to a protein that is found in other kinds of meat.
"Other countries like Thailand and Vietnam are already doing this kind of research. We're trying to replicate the technology and try to see which is more plausible. Since our proposal was for chicken, ruminants, and rabbits," Millado added.
The state of their research proposal now is in the evaluation stage but there is a big chance of it being approved according to Millado.
The pitching of research proposals happened after the in-person Training Course on Research Designs and Methods for Higher Education Institutions in the Philippines (Research4HEIs) held on January 23 to 27, 2023 at SEARCA Headquarters in Los Baños, Laguna, Philippines.
"During the training, we were introduced to different research designs and we also had a workshop where we tried to review our proposals if the designs that we have initially made were correct," the Viscan entomologist said.
Along with Dr. Millado under the experimental research category, Mr. Angelbert Cortes from the Department of Biological Sciences, Cavite State University-Don Severino Delas Alas Campus also bagged the best research pitch title.
Meanwhile, in the non-experimental research category, Dr. Rosanilio Yagos from JH Cerilles State College, Zamboanga del Sur secured the winning title.
In the same event, Dr. Millado got the opportunity to discuss the proposed collaboration with SEARCA's New Deputy Director for Programs, Assoc. Prof. Ts. Dr. Nur Azura Binti Adam, Dean of UPM's Faculty of Agriculture and fellow entomologist.
"She was very excited about this internationalization project because one of their faculty members also did a similar study. She's very open to collaboration with their UPM's College of Agriculture and also Veterinary Medicine," she concluded.
This training program is a project of SEARCA that is funded by the Philippine Commission on Higher Education (CHED). The purpose of the training is to build a better foundation of research to help address different issues in the field of agriculture, fisheries, and natural resources (AFNR).
This is one of the training courses under the project named Leveling-Up Higher Education Institutions in Agriculture, Fisheries, and Natural Resources (LevelUPHEI AFAR).
SEARCA is a non-profit organization established by the Southeast Asian Ministers of Education Organization (SEAMEO) in 1966. It is hosted by the Philippine government on the campus of the University of the Philippine Los Baños, Laguna, Philippines.
Part of SEARCA's goal is to mentor and nurture their SUC ACAP members and help them improve their standings in the world rankings.