CHED designates VSU Devcom Summa Cum Laude as BiPSU OIC-President
Details

Written by Ulderico B. Alviola

Published: 16 March 2023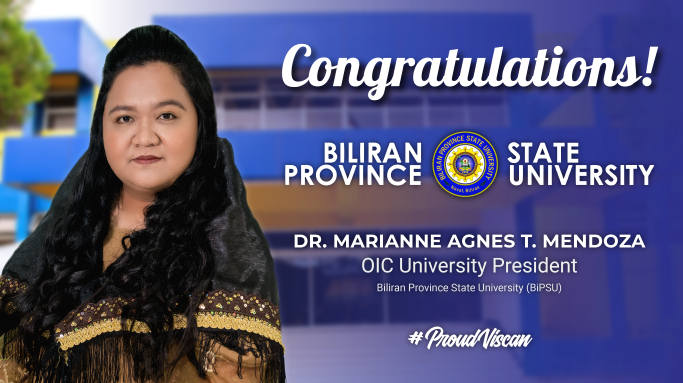 Dr. Marianne Agnes T. Mendoza, an alumna of the then Leyte State University (now VSU) will serve as the caretaker and chief steward of the only premier state university in the province of Biliran.
At the young age of 38 years old, she is expected to serve the Biliran Province State University (BiPSU) for 2 months until a new University President is elected and appointed by the BiPSU Board of Regents.
Dr. Mendoza completed her Bachelor of Science in Development Communication (BSDC) degree with a major in Development Journalism in 2005 graduating with the highest academic distinction as Summa Cum Laude. As of now, only 11 VSU graduates have received this distinction with the most recent one, Ms. Lois Mauri Anne L. Liwanag, graduating last school year.
She is a true-blooded #ProudViscan who was nurtured academically inside VSU's flagship campus in Baybay City from her basic education until she finished her graduate degrees.
From social sciences, Dr. Mendoza shifted to another discipline with her completing both her Master of Science (MS) and Doctor of Philosophy (Ph.D.) degrees in Animal Science in 2013 and 2016, respectively.
At BiPSU, Dr. Mendoza is also the concurrent Vice President for Research, Innovation and Extension while also holding other administrative positions like being the Director for Research and Innovation.
From her recruitment to BiPSU in 2016, Dr. Mendoza served various research functions including being the Focal Person for the Food Research and Development Center jointly funded by the Department of Science and Technology (DOST) and the Department of Trade and Industry (DTI), the Head of the Research and Development Unit, Chairperson for Performance Management, Manuals Revision and Amendments including the Technical Working Group (TWG) of the Land Use Development and Infrastructure Plan (LUDIP).
She is also the designated University Patent Agent where she served as co-inventor of 18 utility models while also pushing for the copyright development of service manuals for Research, Development and Extension (RDE) services including the development of 4 board-approved policies to strengthen RDE operations in BiPSU.
With her 7 years of dedicated service to BiPSU, OIC-President Mendoza has brought in a total of 5 externally funded research projects that got the university some research funding of close to 50 million pesos.
With her contributions in the field of strengthening BiPSU's RDE services, Dr. Mendoza has extended to Biliran the research excellence that VSU has been embodying for many years now.
In a chance interview, the newly designated caretaker of BiPSU shared how overwhelmed she was when she received the news of her appointment.
"I never aspired to be President of any university and you know that. I just work and be true to the excellence that we embody at VSU. That I should serve with utmost dedication so that I can make a difference in the institution that I work for. While this is overwhelming for me knowing how difficult it is to manage a university, I shall continue with this new task so that even with a temporary vacuum in our current leadership, BiPSU can continue with its operations and move forward toward the fulfillment of our basic mandate," Dr. Mendoza expressed.
The BiPSU OIC-President also highlighted how her VSU education prepared her to face challenges and embrace opportunities in the workplace.
"As a #ProudViscan, VSU has instilled in me the readiness to face challenges and embrace opportunities, especially in difficult situations. Fulfilling this higher leadership role is more like extending my thanks to BiPSU, especially to CHED Commissioner Aldrin A. Darilag for their trust and confidence that I can fill in the void as we await excitedly for the installation of our new President and I'm sure that everything's going to be back to its rightful place very soon," she continued.
Dr. Mendoza is the eldest daughter of one of our faculty members in the College of Veterinary Medicine, Professor Dr. Agnes M. Taveros.