Golden rice gets promoted to local farmers in regional crop biotech forum
Details

Written by Marianne C. Bayron and Ulderico B. Alviola

Published: 25 March 2023
A new rice variety that may become the key to addressing the lack of vitamin A in the body was officially introduced to the local farmers of Eastern Visayas through a symposium mainly organized by the newly created Department of Agriculture - Crop Biotechnology Center (DA-CBC).
A series of insightful lectures were held at the Visayas State University (VSU) on March 16, 2023, to promote the development of modern crop biotechnology and its products including the Golden Rice, now dubbed as 'Malusog' Rice to reflect the nutritional value of this new rice variety.
Golden Rice is a type of rice enriched with beta carotene to help fight against Vitamin A Deficiency (VAD) that is more prominent in younger children as well as pregnant and lactating women in our country.
Because of current advances in agri-biotech, this emerging rice variety is being touted to address challenges of Vitamin A deficiency among Filipinos, especially that a United Nations' Food and Agriculture Organization (FAO) report in 2018 pointed out that the Philippines has a severe subclinical deficiency in this essential micronutrient with 8.2% of children age from six months to five years including 7.1% of pregnant women are suffering from VAD.
But because this new rice variety is a genetically modified organism (GMO), many skeptics have criticized it for safety and health concerns.
While this is the case, Dr. Ronan G. Zagado, the Golden Rice Program Leader from the Philippine Rice Research Institute (PhilRice), shed some light on the many health benefits of eating Golden Rice including its overall food safety.
"First, it is safe. It has gone through rigorous biosafety regulatory reviews. It is already registered with the NSIC [National Seed Industry Council]," he highlighted.
Aside from the approval of the NSIC, Golden Rice also passed the evaluations from Food Standards Australia New Zealand, Health Canada, and the United States Food and Drug Administration, respectively.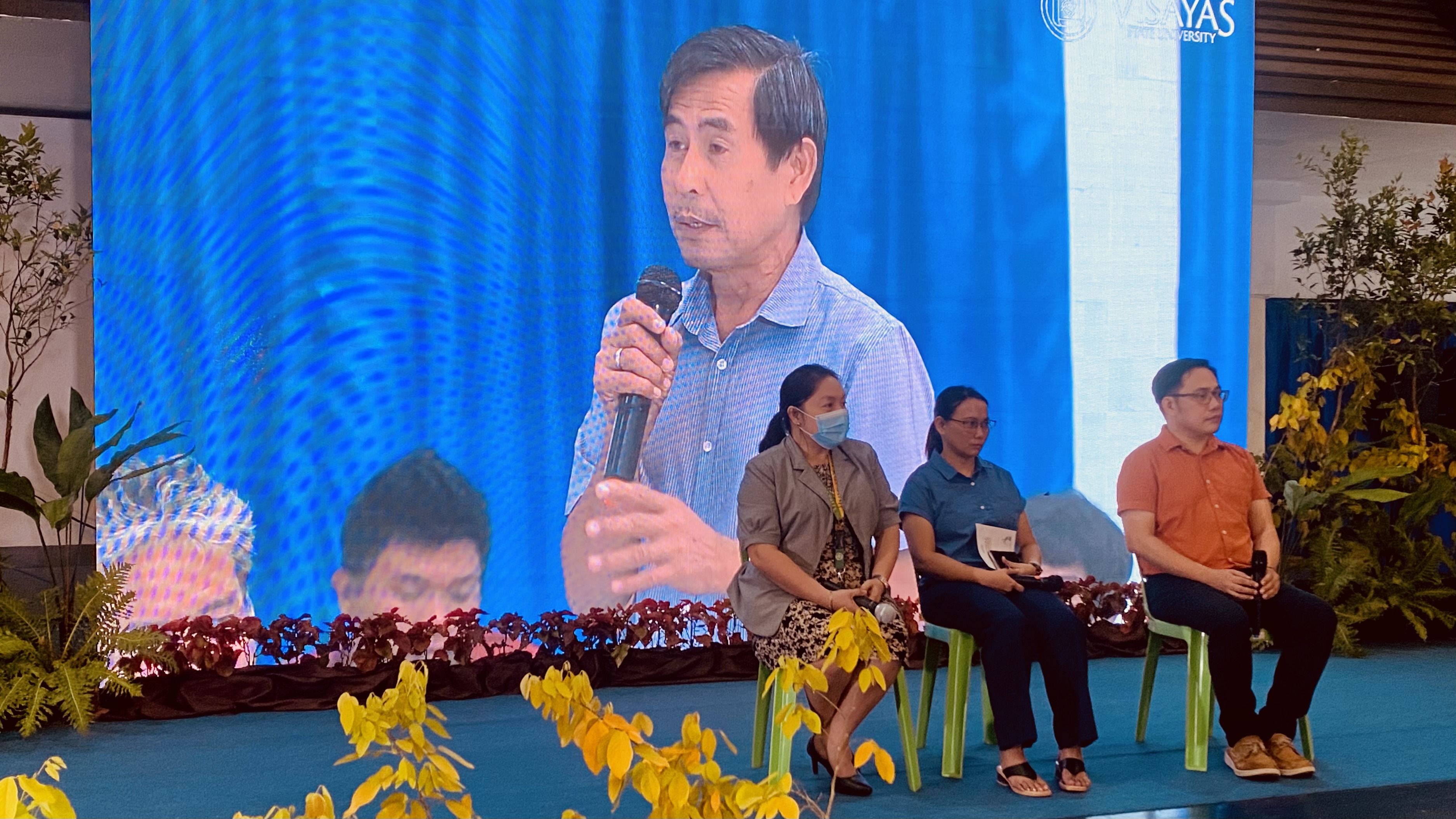 Developed through genetic engineering, Golden Rice is just the same as ordinary rice except for its golden color which indicates that it has beta carotene–a source of Vitamin A.
"The beta carotene that we added [to Golden Rice] does not affect the taste, aroma, and texture of the rice. It remains the same as the ordinary rice we commonly consume," he added.
The beta carotene of the Golden Rice is made possible by adding a gene from corn and a common soil microorganism that produces beta carotene, through genetic modification.
"We looked for a source of beta carotene, a gene that is responsible for producing beta carotene. That is already possible because of biotechnology. In genetic engineering, we just enhance the capacity of the [rice] plant to produce beta-carotene. That's why we came up with this program to really ensure that this Malusog Rice will really get into the range of the population who need this one–who are vulnerable to vitamin A deficiency," Dr. Zagado shared.
To help prepare people, most especially the local farmers, Dr. Zagado emphasized that crop management of Golden Rice is similar to that of the common rice varieties.
The team of Dr. Zagado is already doing a pilot study of planting Golden Rice in 10 regions in the Philippines. In Visayas, only Samar has the demo farm site for Golden Rice.
"We in the DA-PhilRice are still in the works of mass-producing Golden Rice seeds. Once there will be enough seeds that can be grown at the farmer's level, we will start the deployment," he remarked.
DA-PhilRice is still doing continuous research as they are planning to develop a rice variety that will contain not just beta carotene, but also other micronutrients like iron and zinc.
Meanwhile, the Center Chief of the DA-CBC who is also a #ProudViscan alumnus, Dr. Ruel R. Suralta, expressed his gratitude to the participants, especially the farmers who are their target audience of the campaign.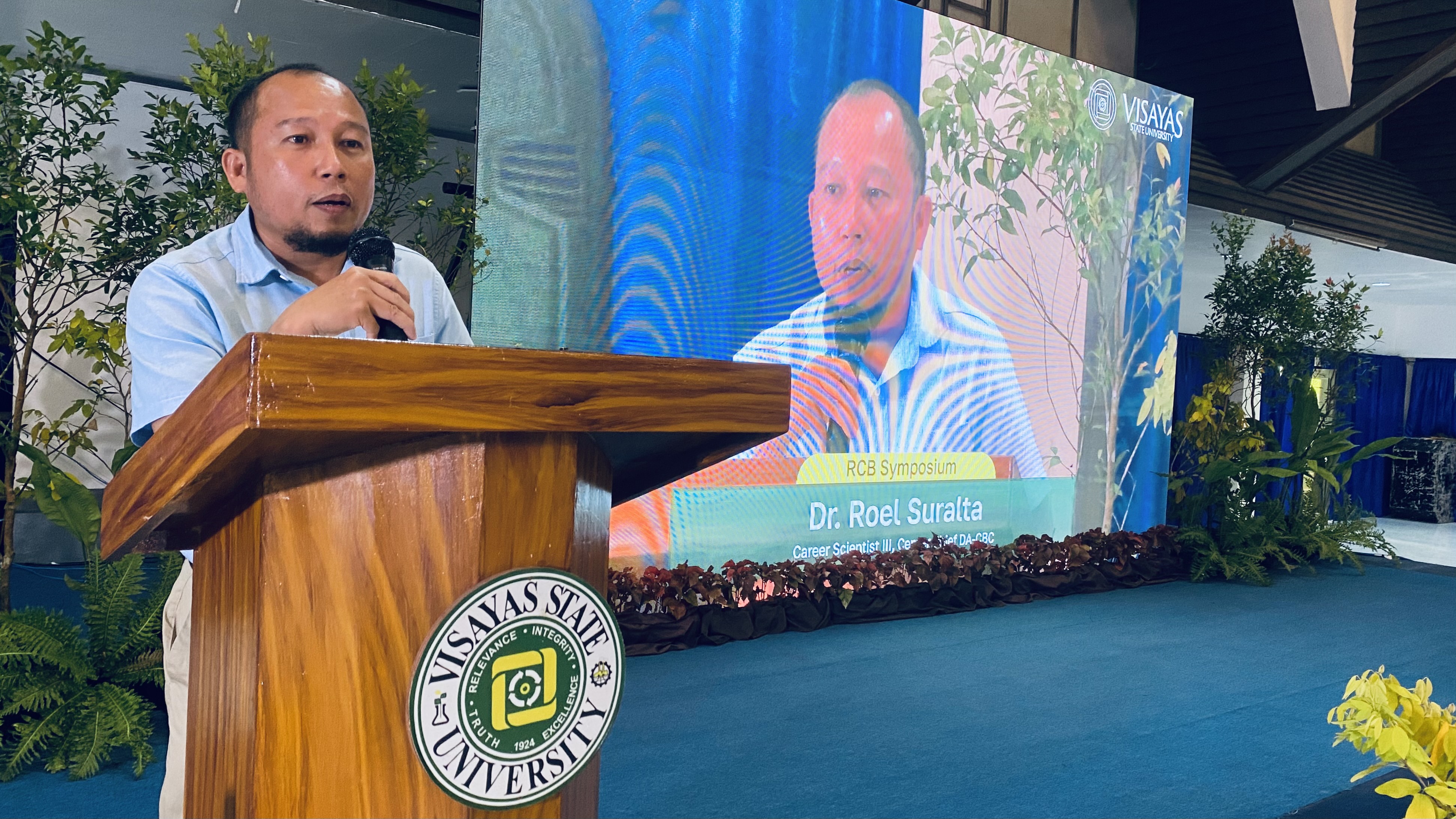 "All of these that we are doing in biotechnology research and development is because of you. There will be no meaning in our work without the farmers and the public in general. We are working very hard to produce technology to benefit everyone, directly or indirectly," he said.
Dr. Suralta also requested the farmers to partner with them in biotechnology, as they serve as their clientele in addressing the Vitamin A deficiency issue in the country.
The DA-CBC Chief also promised to return to VSU during the university's grand centennial celebration in April 2024 to help bring in other experts in biotechnology from crops, livestock, and fisheries to touch base with thousands of farmers being invited by VSU in the annual Farmers and Fisherfolks Day (FFD).
"We will be back in VSU and do massive promotions of biotechnology here so that more people will understand why this technology is one of the potent means to addressing food security concerns of our country," Dr. Suralta explained.
The #ProudViscan also hopes that a positive climate towards crop biotech cultivation will be made possible by the local government as they are also pushing to put up a demonstration farm of the Golden Rice inside VSU's flagship campus so that farmers can also see and compare as to how this new rice variety is planted and tended to.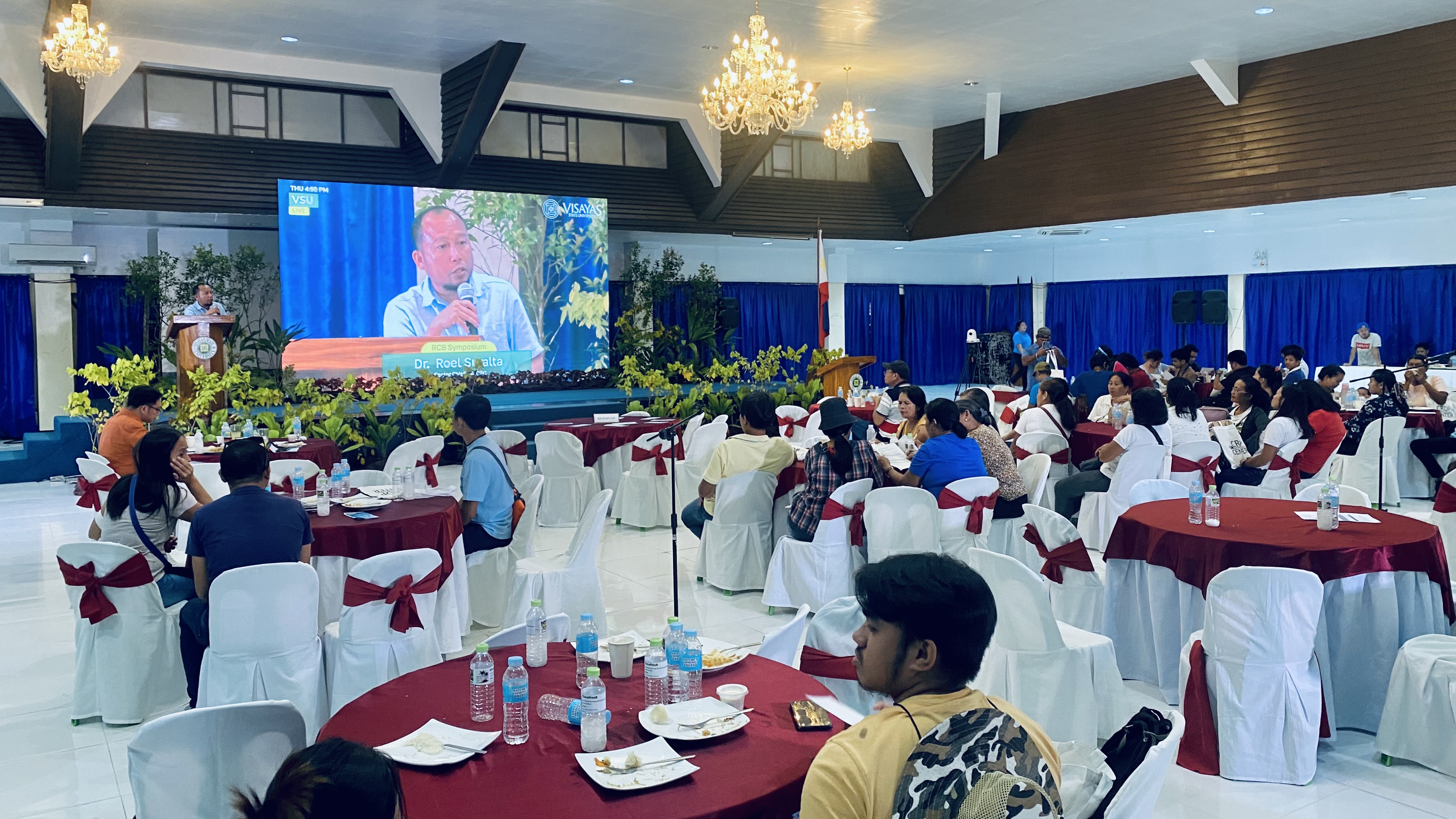 This Regional Crop Biotechnology Symposium at VSU is the second out of three symposia spearheaded by DA-CBC in partnership with the VSU Department of Biotechnology (VSU-Biotech) and the University Integrated Media Center (UIMC).
The regional biotech symposium at VSU featured local and national experts and researchers from the Department of Agriculture and the university to discuss and present to both students and farmers the many advancements in crop biotechnology not just in rice but also in other commodities like root crops, abaca, eggplant, and even bamboo.
Around 150 students and 80 farmers were in attendance for this symposium that ran for a full day at the VSU-RDE Hall.
Dr. Reynante L. Ordonio, one of the country's leading young rice scientists, was also present at this gathering where he presented new breeding techniques that are key to achieving greater agricultural productivity in the country.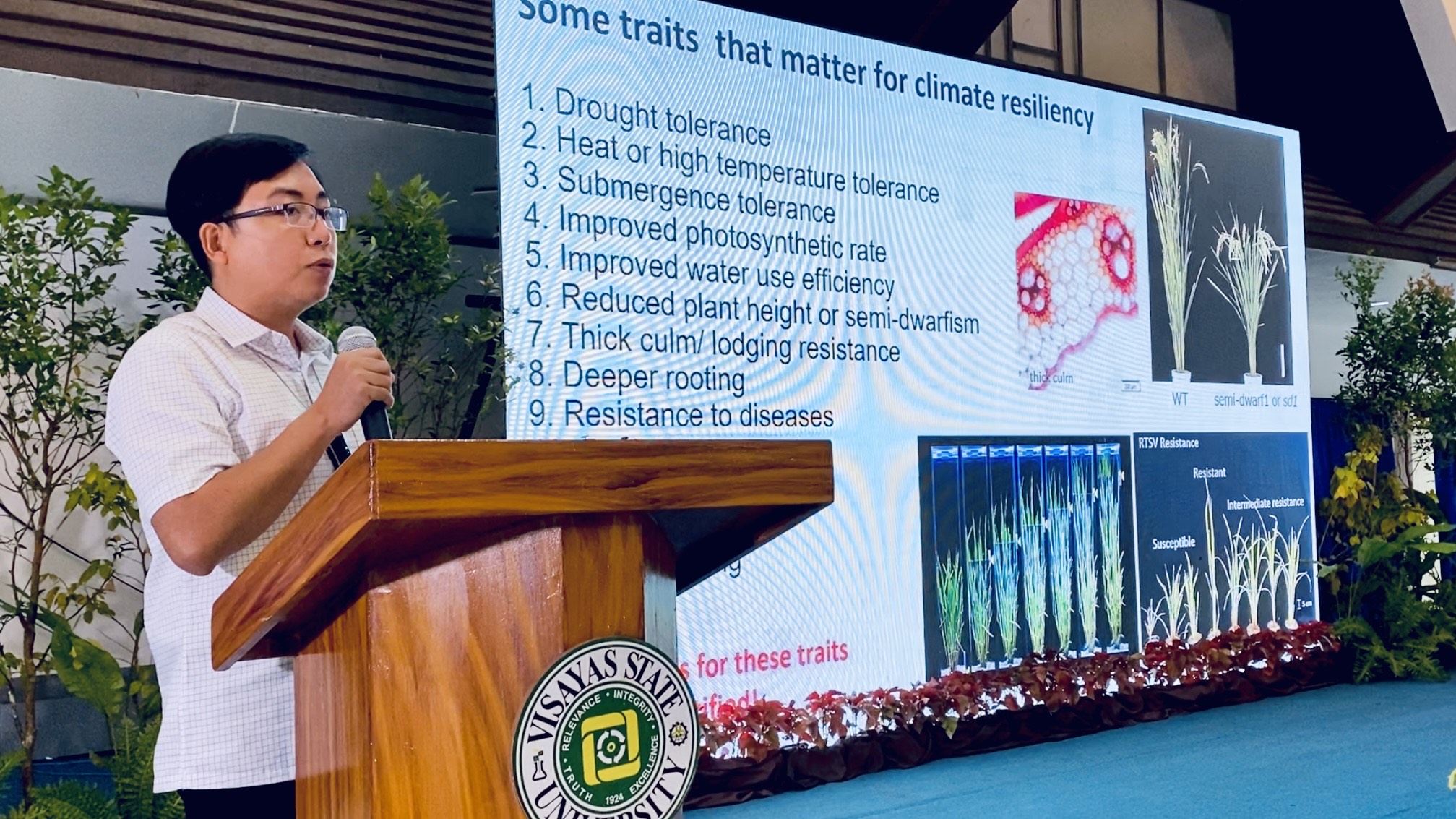 This is Dr. Ordonio's second time visiting VSU and he was very glad to meet with faculty researchers who are doing important biotech work for commodities like root crops, bamboo, and abaca.
The DA-CBC first began with their nationwide crop biotech roadshow on March 9, 2023, at the University of the Philippines Los Baños (UPLB) and will soon be doing a similar event in Mindanao region to be held at Caraga State University this April.