Graduate students join int'l forum on agriculture sustainability in Thailand
Details

Written by Marianne C. Bayron

Published: 21 June 2023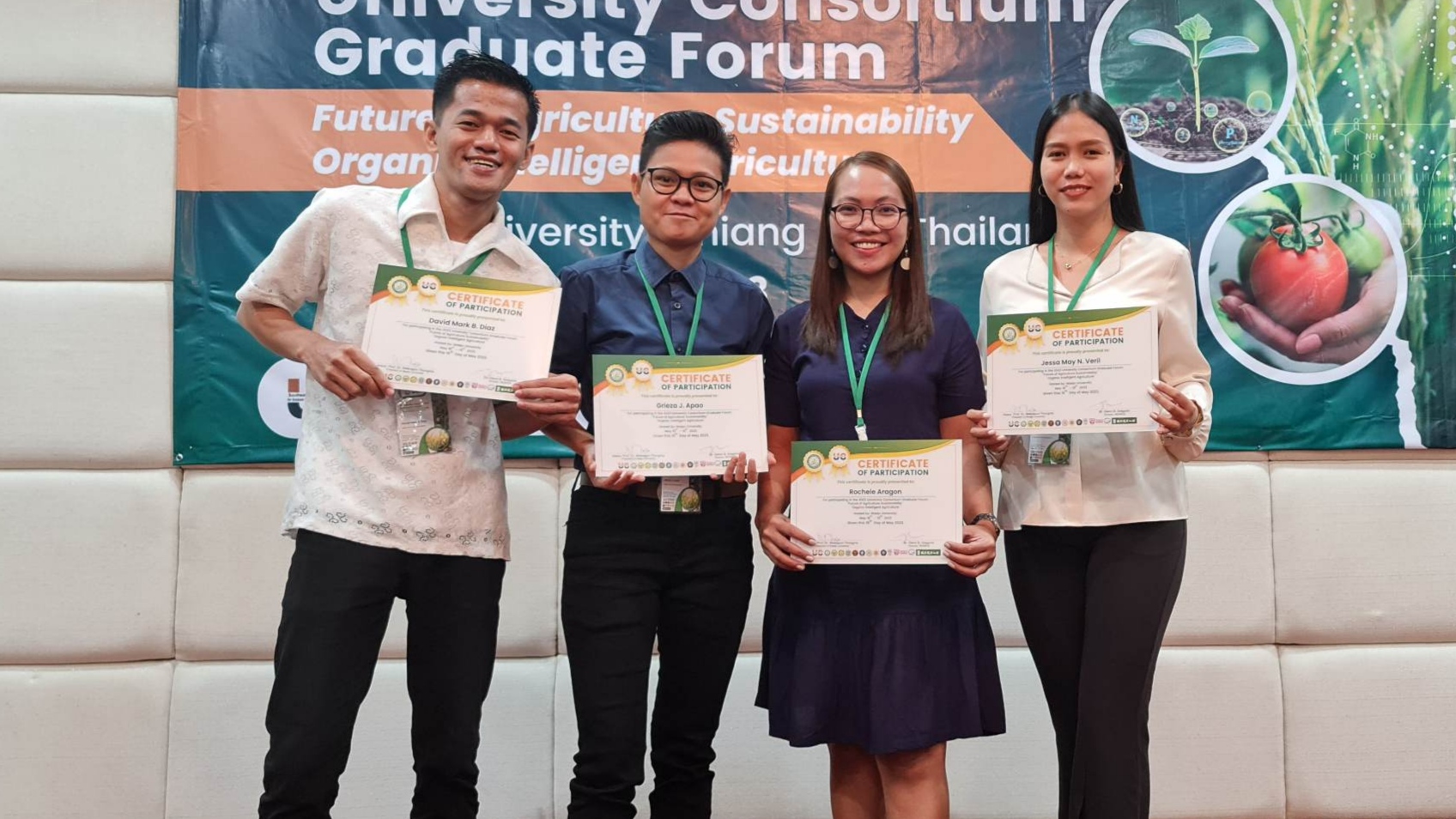 With the many challenges this generation faces, such as the impacts of climate change on agriculture and the environment, the Southeast Asian University Consortium (UC) for Graduate Education in Agriculture and Natural Resources in collaboration with Maejo University (MJU) organized the 8th UC Graduate Forum focusing on the future of agriculture sustainability.
VSU has been one of the affiliate members of UC since its inclusion in November 2020. With this prestigious opportunity, the VSU Office of the Graduate School (OGS) sent one doctoral student and three master students to Chiang Mai, Thailand, to participate in the two-day forum from May 18 to 19, 2023, with travel, food, and accommodation expenses covered by the university.
#ProudViscan graduate students Rochelle Aragon (Doctor of Philosophy in Animal Science), Jessa May N. Veril (Master of Science in Soil Science), Grieza J. Apao (Master of Science in Horticulture), and David Mark B. Diaz (Master of Science in Food Technology) joined the annual event and presented their research papers under the four sub-themes of smart agriculture technologies, sustainable agriculture management, organic intelligent agriculture, and digital agro-economy.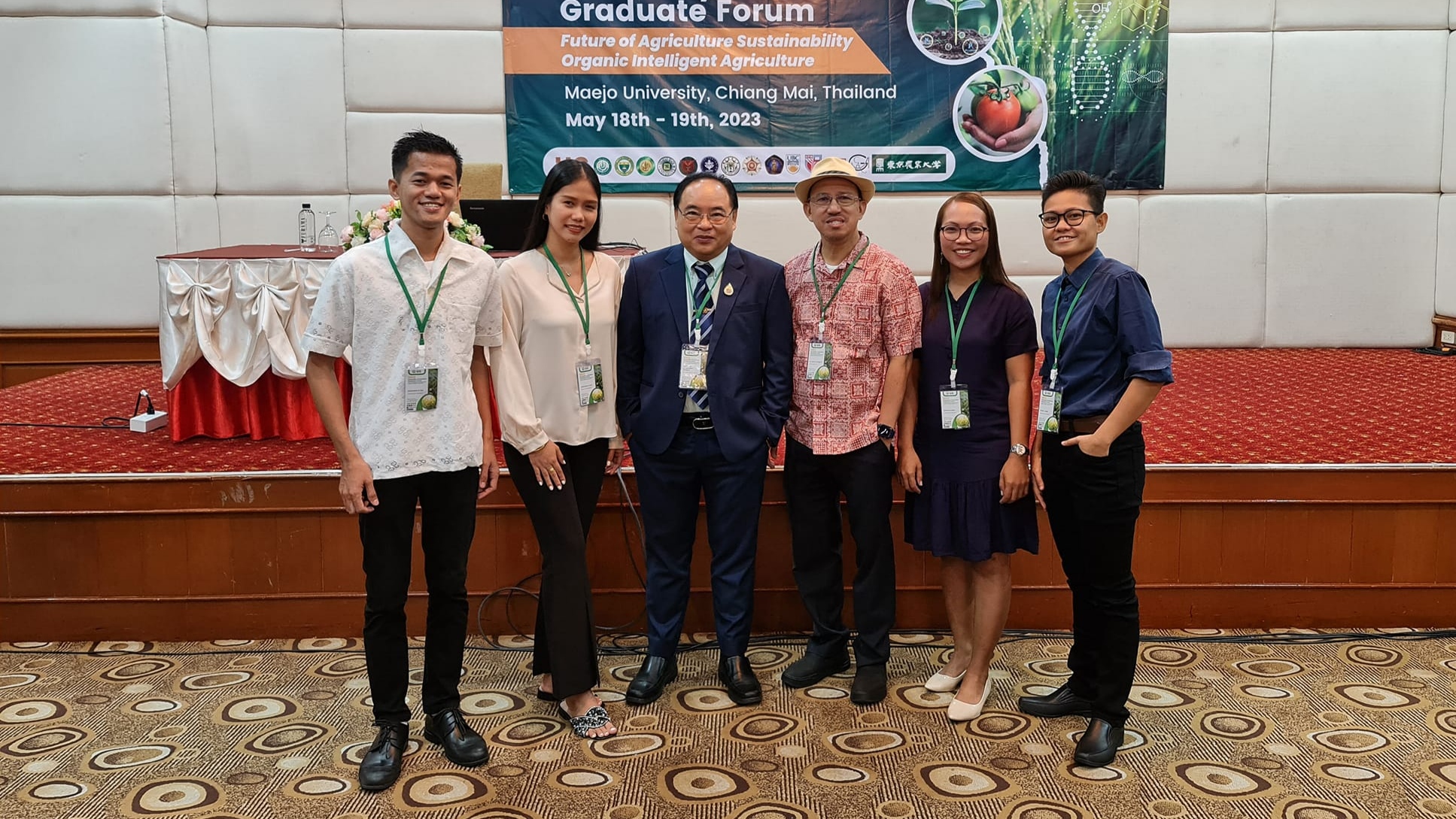 #ProudViscans with the President of MJU, Assoc. Prof. Pres. Dr. Weerapon Thongma and SEARCA Director Dr. Glenn Gregorio.
Aragon presented her paper on the "Carcass and Sensory Characteristics of Broilers Fed Different Levels of Macro Algae-Derived Prebiotics", while Veril shared her research on the "Characteristics and Carbon Stocks of Soils Under Brushland and Grassland Uses in the Marginal Upland in Inopacan, Leyte."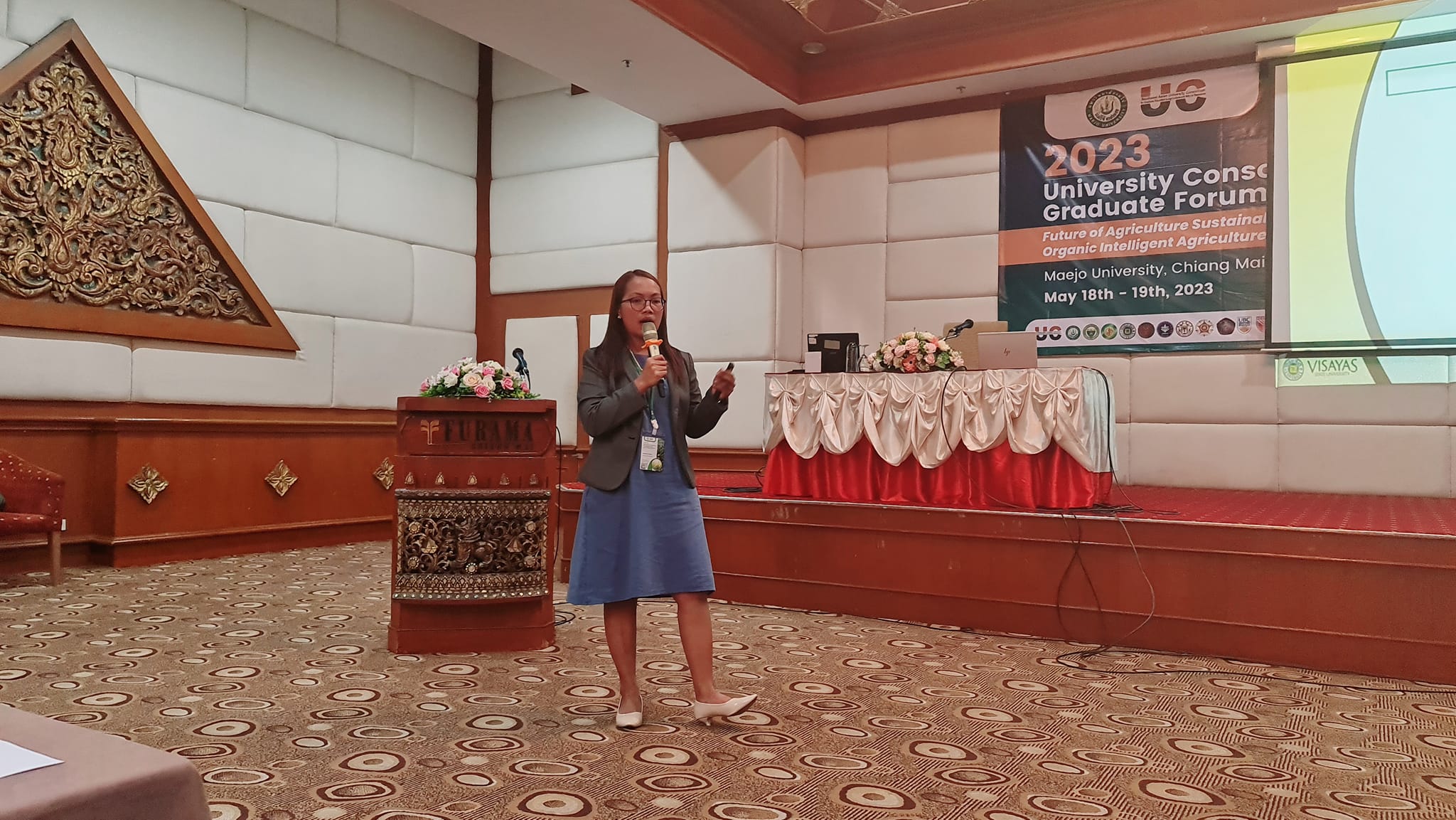 Aragon during her paper presentation at the Furama Chiang Mai Hotel, Thailand.
Meanwhile, Apao delivered her paper on the growth, yield, postharvest, and biochemical properties of lettuce grown in indoor vertical farming under two hydroponic systems and different photoperiods and Diaz talked about the functional properties evaluation of gamma-aminobutyric acid-enhanced brown rice germinated in turmeric extract as influenced by soaking and germination time.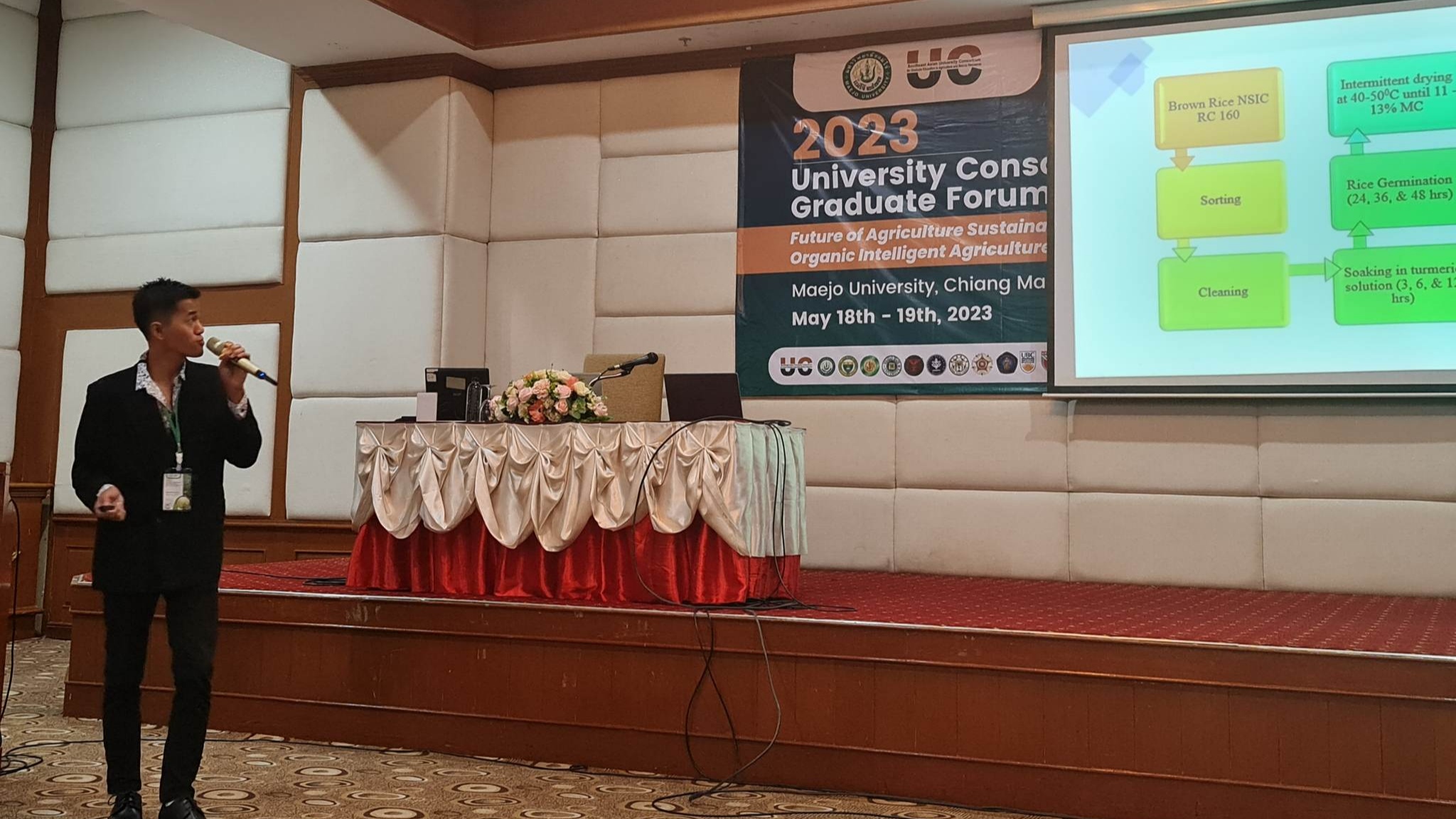 Diaz delivered his paper on gamma-aminobutyric acid-enhanced brown rice.
This UC Graduate Forum is initiated to provide a venue where graduate students from the member institutions like VSU share their latest research findings and build networks and partnerships for agricultural development and sustainability in developing countries such as the Philippines.
According to the organization, there were 51 paper presenters in the plenary and parallel sessions, and among them were the four graduate students from VSU.
On top of that, at least 70 researchers, experts, practitioners, policymakers, and students from Indonesia, Japan, Malaysia, the Philippines, Thailand, and Taiwan have participated in the UC Graduate Forum as reported by the host institution.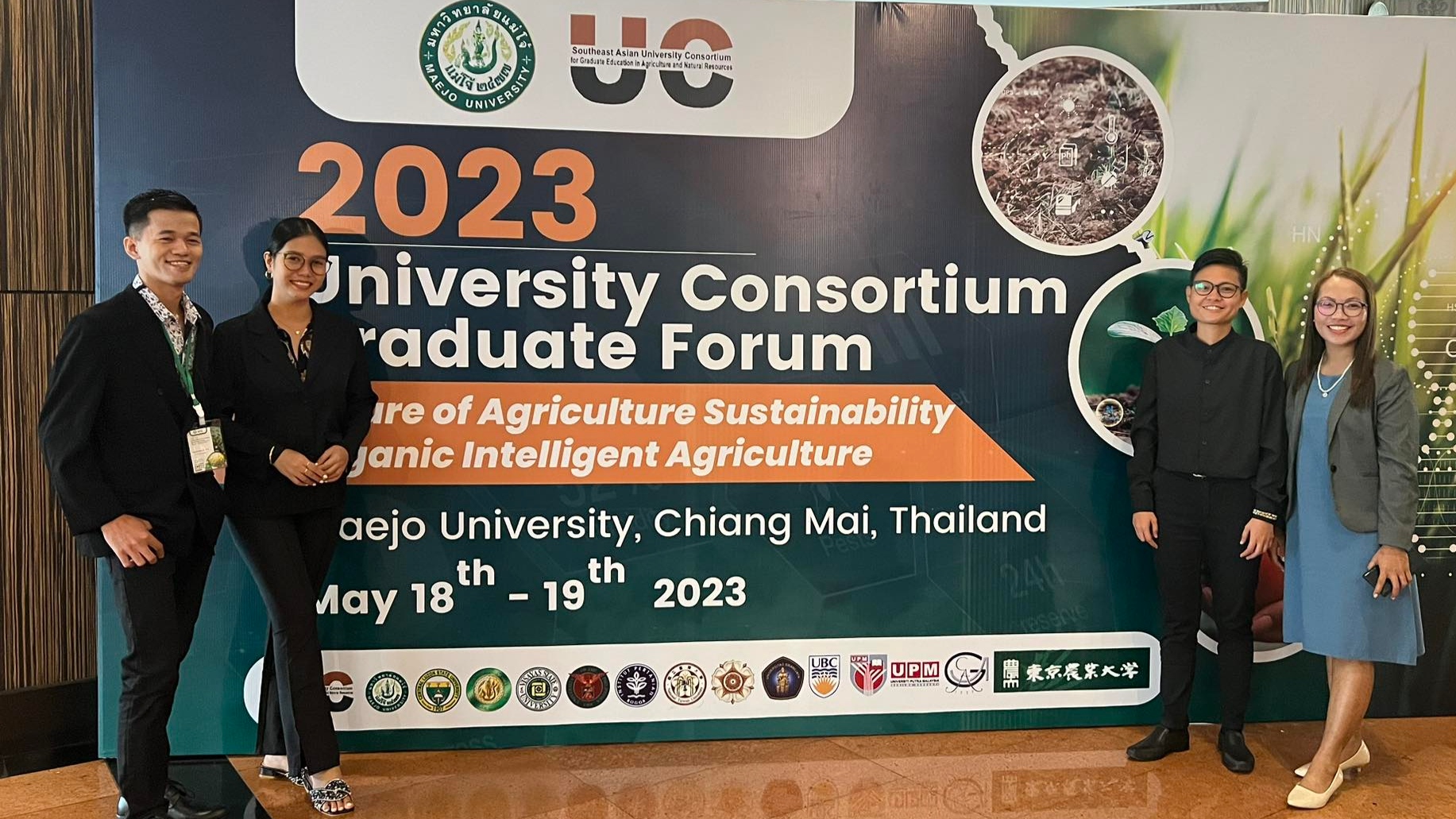 UC was initiated by the Southeast Asian Regional Center for Graduate Study and Research in Agriculture (SEARCA) in 1989. Its prime goal is to provide an avenue for the Southeast Asian regions in facilitating the free exchange of information, facilities, and expertise that will lead to the achievement of food security and sustainable and smart agriculture.
Aside from VSU, other affiliate members of UC include MJU, Central Luzon State University, University of British Columbia, and Georg-August University of Goettingen.
Meanwhile, the founding UC members are the Institut Pertanian Bogor, Universitas Gadjah Mada, Universiti Putra Malaysia, Kasetsart University, University of the Philippines Los Baños, University of Brawijaya, and SEARCA. While Tokyo University of Agriculture and National Taiwan University are its associate members.

Next month, VSU Graduate School will send another batch of graduate students to Thailand to attend the UC Summer School. This is one of the three major activities of UC that is designed to train students and professionals in the interdisciplinary approach of addressing food and nutrition security issues for sustainable development in Southeast Asia.