Nursing faculty is listed on World's Top 2% Scientists by Elsevier
Details

Written by Marianne C. Bayron

Published: 03 November 2023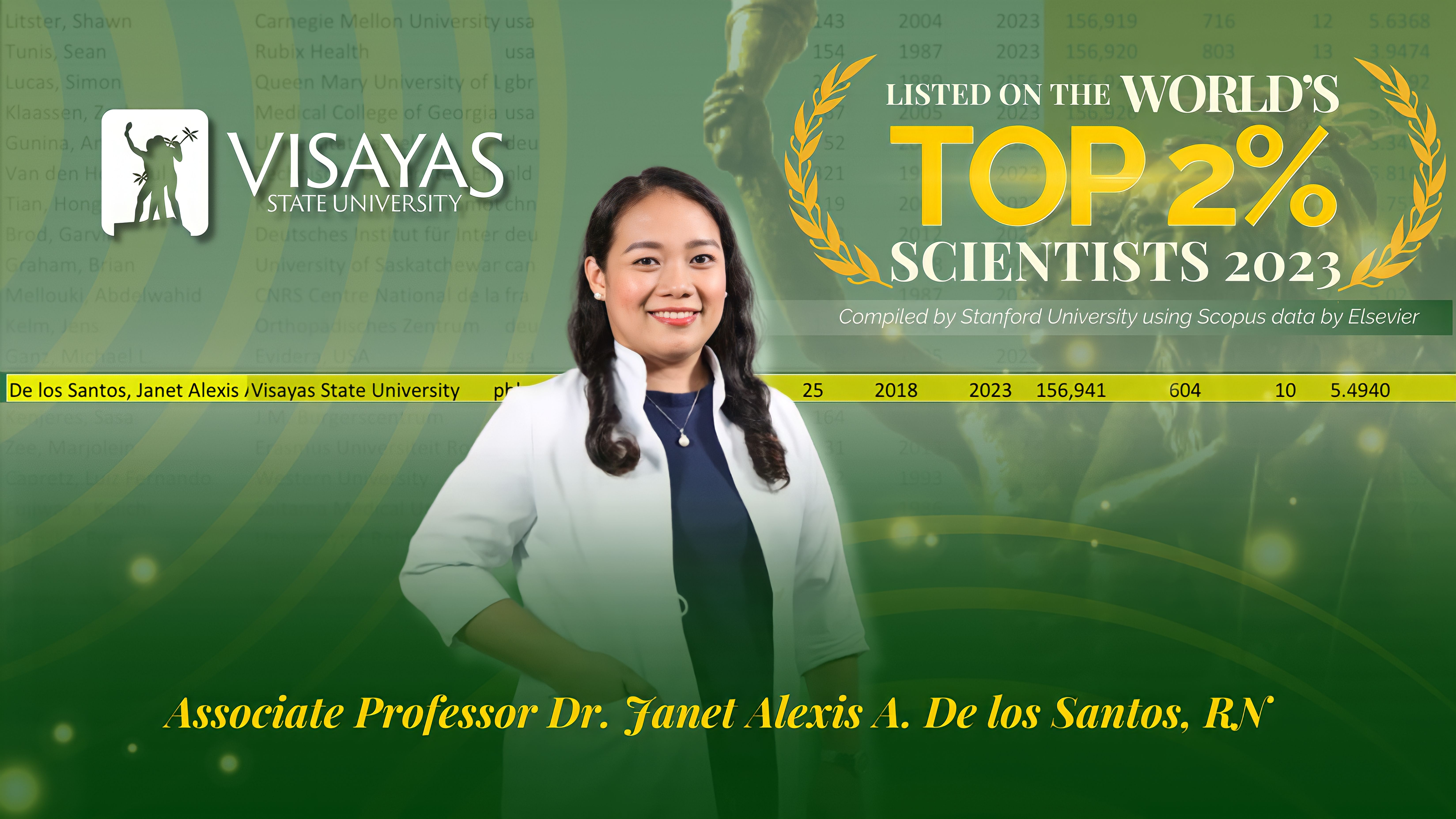 This is the first time that a faculty researcher at Visayas State University made it to the reputable ranking of the World's Top 2% Scientists published by Elsevier on October 4, 2023.
Associate Professor Dr. Janet Alexis A. De los Santos, RN, elevated her research publication impact by being one of the most cited scientists in the field of nursing and public health not only in the Philippines but across the globe.
The top-cited scientists list was compiled by the team of Professor John P. A. Ioannidis from Stanford University using Scopus data, the largest abstract, indexing, and citation database in the world, provided by Elsevier using the International Center for the Study of Research (ICSR) Lab.
The worldwide ranking was based on c-score which focuses on the impact of citations and not the number of publications per se. Elsevier published the publicly available database containing 100,000 (2%) world's top scientists providing information on citations, h-index, co-authorship adjusted hm-index, citations to papers in different authorship positions, and a composite indicator (c-score).
Aside from her recent enlistment at the world ranking, Assoc. Prof. Dr. De los Santos currently has 3,099 citations on Google Scholar. She brought pride to the university not only as an esteemed faculty member of the College of Nursing but also as a passionate multi-awarded researcher who was also named a Distinguished Health Researcher in Region 8 twice, respectively.
Despite her many research engagements and contributions to her field, Dr. De los Santos remains grounded on her values and humble experiences.
"I had my fair share of humble beginnings. It was a challenge back when it was my stint as the Dean of [the College of ] Nursing a decade ago when we were expected to have our own research agenda, to conduct and implement research and produce publications. It was tough considering that we have no one to mentor us given that we are a unique field in this university. The driver to get into research was both a challenge and motivation at that time because we have a lot to prove," she revealed.
According to the dynamic faculty researcher, it is important to have the right mindset and attitude to learn from her journey.
"It is good to learn from people who know the system in research and publication so that our hard work will not go in vain. Because the more naïve we are, the more we are prone to become prey to predatory, cloned, and fake journals."
"I also feel the delayed gratification was all worth it. Submitting in high-impact journals is most of the time tedious where one will easily get discouraged (review time is a long wait, the comments and required revisions are sometimes discouraging) especially if he is in a hurry to get published, they would dwell on the easier path," Dr. De los Santos added.
She shared that she is blessed to have met people who mentored her and have given their trust and confidence to collaborate with them.
As of this writing, Assoc. Prof. Dr. De los Santos published more than 30 articles, most of which were done in collaboration with other researchers. She emphasized that it is not about the quantity of the published articles, but the quality of the paper that counts.
"It is not the number of articles published that matter but rather the quality of the paper you have published in high impact journals. Getting published in high-impact and top-tier journals gives your work more visibility in trusted indexing bodies and more chances of getting cited by other researchers."
For her, she finds doing research exciting and fulfilling rather than additional labor for a faculty like her.
"Although it is not easy as it requires a lot of work and effort, I am also teaching undergraduate students. Good thing my niche in research led me to handle all Nursing Research courses, it makes the preparation time more manageable. It is fulfilling because I get the chance to influence and mentor young minds in developing and solving their research problems, also getting it published in peer-reviewed journals. Simply getting them to love research which is very rare in our profession (nursing). It is exciting because through research l was able to open a lot of doors for me to grow personally and professionally. To add, there are a lot of windows of opportunities waiting for me," she confided.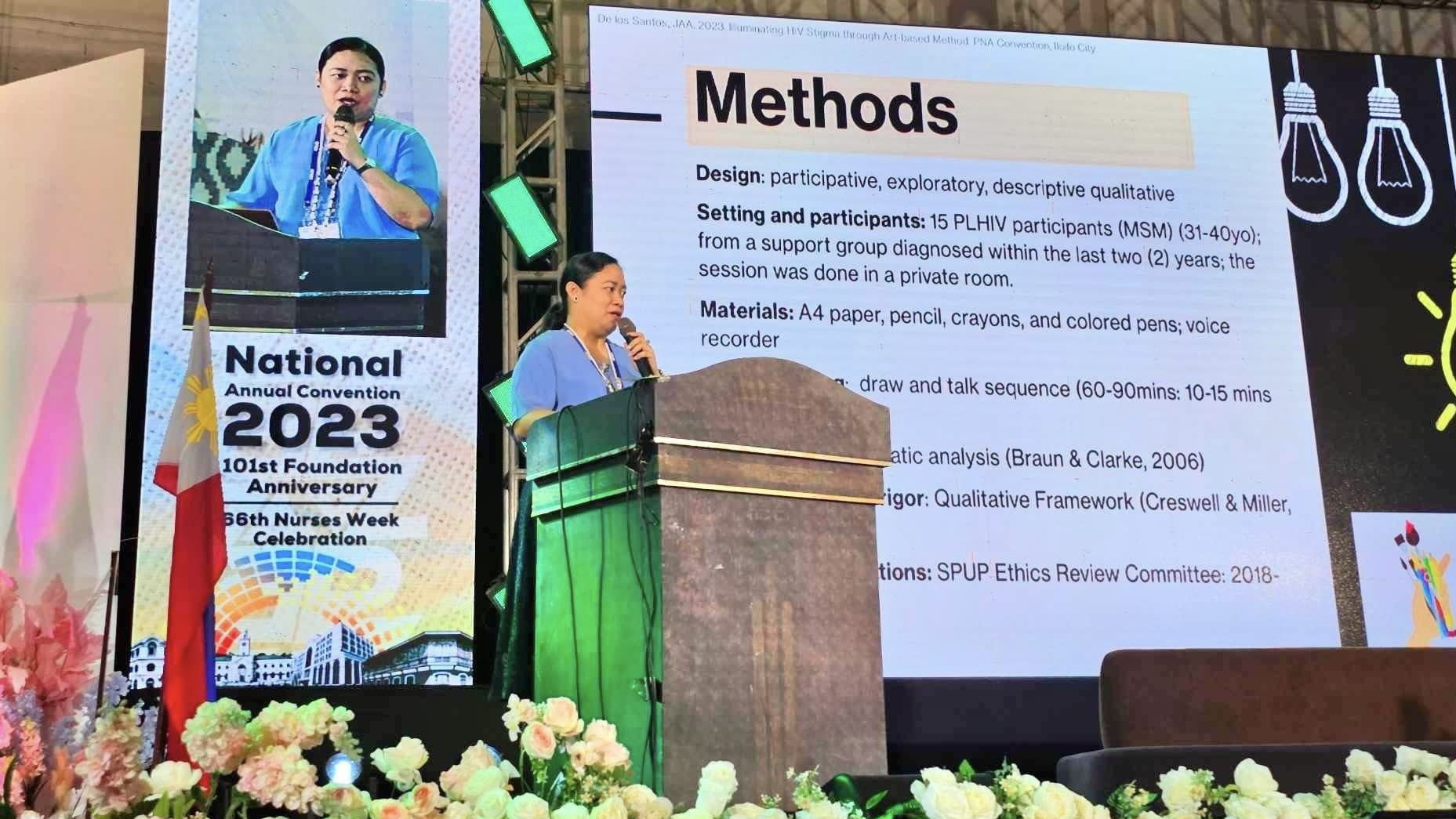 Furthermore, #ProudViscan De los Santos aspires to influence her students to give value and appreciate the importance of research in their field of study. Recently, she brought her students to research conferences and encouraged them to participate in research competitions. Last July 2023, her thesis advisees won at an international conference.
"Research is the least taken track among nurses and perhaps not the number one in the hearts of nursing students. In our profession which is 'service-oriented', knowledge development is most often neglected or a priority. In my own little ways I have started this already by exposing them to opportunities to attend research conferences where they get to present their work and meet other like-minded nursing students and nurse researchers (NEPRA conference in Zamboanga). I am glad that they value and appreciate what it's like to be involved in this field," she highlighted.
Dr. De los Santos' main contributions to research were her top-cited and top-downloaded works on COVID-19 and HIV/AIDS.
You can find the full list of the authors who are included in the ranking of the top 2% scientists worldwide here.