PCA reg'l chief shares success story to VSU honor students
Details

Written by Kim Roca

Published: 04 May 2017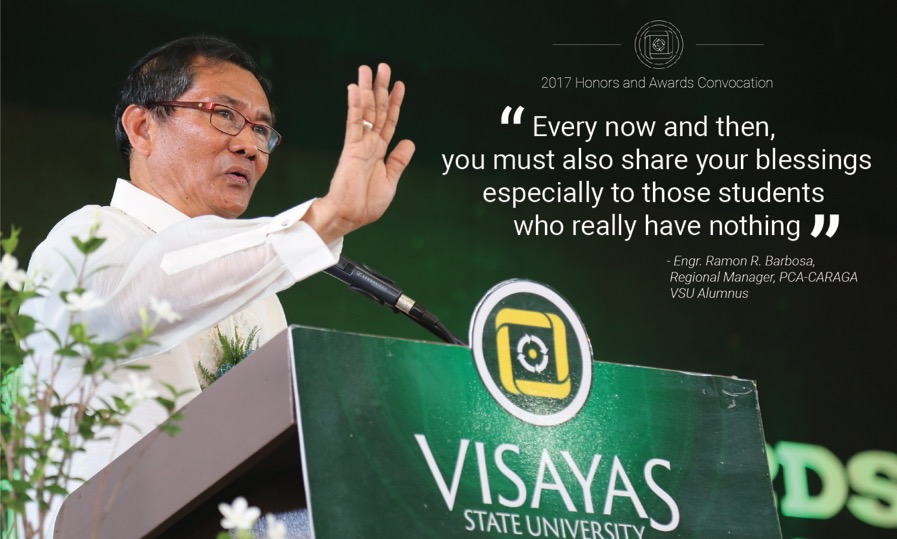 "While you study to land a job, I worked so I can study."

Dubbed as ViSCa's 'the working student', Ramon Barbosa is a name almost synonymous to poverty. Before earning the title he has today, the Regional Manager of the Philippine Coconut Authority in Caraga, Barbosa was a student who struggled to make ends meet.
Born and raised in Tandag, Surigao del Sur, Engr. Ramon Barbosa graduated in then Visayas State College of Agriculture (ViSCA), now VSU, with the degree Bachelor of Science in Agricultural Engineering in 1983.

"During my college days, I was not popular because I excelled in my academics…I was known as the campus' 'poorest of the poor', an icon of 'poverty'," recalled Barbosa.

Barbosa literally labored his way through college doing janitorial work at the Department of Plant Protection for five years to finance his study. He worked as a student assistant at the department since he was a freshman until his graduating year.

"Almost every student knows each other then. So almost everybody knew the kind of life that I had. If you are a student assistant, it is given that you are poor," he recollected, misty-eyed.

"I had to budget my allowance wisely. It was hard. Sometimes, I only get to eat rice once for a day," added Barbosa. As a working student, he only earned 100 pesos a month. With a meager budget, he barely ate meals, sometimes picking fruits on his way to the dormitory to fill his empty stomach.

But he believed that giving-up was never an option. His hardwork and dedication had paid him off.

When he graduated in1983, Barbosa was awarded the Endeavor Award: an award given to students who, despite financial struggles, have excelled academically.

After passing the board exam the same year, his success began to accelerate when he was hired as Field Engineer and Supervisor in various engineering firms from 1983 to 1987.

Climbing up the corporate ladder, Engr. Ramon Barbosa, at present, heads the Philippine Coconut Authority (PCA) – CARAGA Region XIII as the Regional Manager, where he was first posted as contractual agriculturist.

"Here I am today, sharing my experiences with you. Modesty aside, that poor janitor before has now lifted up a considerable number of people, providing them jobs and livelihood," the PCA regional chief said in a delighted manner.

Barbosa added that he wanted to encourage and inspire the students by sharing his experience. He said that no matter the circumstances are, always look on the brighter side of life.

"Looking back at my college days here in VSU 35 years ago, it never crossed my mind that this day would come. That I will be standing on the same stage for a very significant event that has brought me to where I am today," he told as he ended his address.

Engr. Ramon Barbosa graced the 2017 Honors and Awards Convocation as guest speaker to more than 300 student-honors and awardees at the VSU Gymnatorium on May 2.
Watch his speech here.