VSU student study gives insights to forest restoration approaches
Details

Written by ELTBestil

Published: 30 June 2017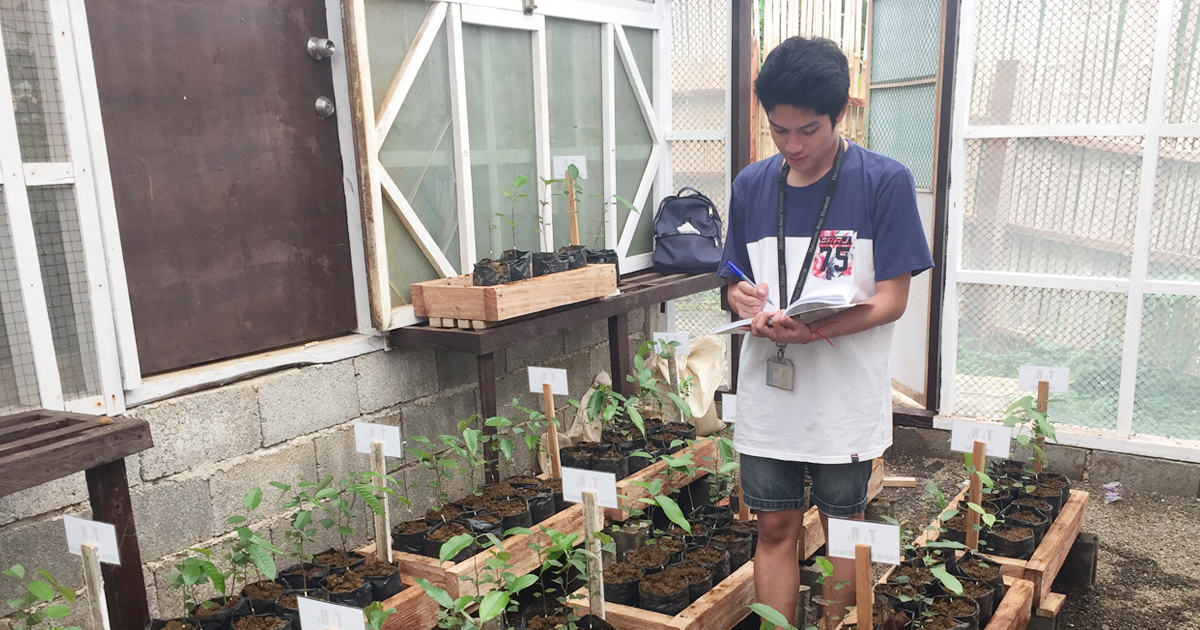 Research by an Environmental Management student now sheds light to an otherwise unexplored area in forest restoration.
In his undergraduate thesis, Johannes Reiner Asio tested whether adding nutrients would enhance the growth of a native tree species yakal yamban in ophiolitic and serpentinite soils.
Studied narrowly, ophiolite and serpentinite areas were found to be moderately acidic to neutral, has low organic matter, and major nutrients such as nitrogen (N), phosphorus (P), and potassium (K). These soil types were also found to contain high amounts of heavy metals which, to some extent, inhibit plant growth.
Yakal yamban, known scientifically as Shorea falciferoides Foxw., has been known to thrive in ophiolitic and serpentinite soils.
Identified as one of the critically endangered species, yakal yamban was chosen for Asio's research to determine the optimal combination of NPK fertilizers that can enhance its growth in an adverse soil condition.
Asio said the results of his research will provide grounding for nutrient addition as a strategy to rehabilitate ophiolite forest areas using yakal yamban.
"This is the first research done about yakal yamban in ophiolitic soils which might be useful in phytoremediation strategies or forest restoration in heavily degraded areas including mined-out areas," said Asio.
A magna cum laude graduate, Asio also got the Phi Delta Outstanding Thesis Award in the Applied Biological Sciences Category.
Optimum nutrient combination
Asio's research, Nutrient addition as a forest restoration management strategy for yakal yamban seedling establishment in ophiolitic soils, used three replications of five fertilization treatments: one group without fertilizer, another with NPK, and the rest were applied with combinations of these three major nutrients.
After a year of preparing and treating the set-up, Asio found that the application of urea and muriate of potash which supplied N and K to the ophiolitic soil enhanced the root-shoot ratio of yakal yamban.
Root-shoot ratio is the standard measure to help assess the overall health of the plants.
Despite the lack of phosphorus in the fertilizers, the yakal yamban seedlings are still of good quality.
"[Enhanced root-shoot ratio in the absence of P] implies that during establishment of the seedlings in an open area, they are most likely to survive due to its adaptive mechanism and the potential fungus-root association in the soil," reported Asio.
Yakal yamban, Asio observed, adapted to a P-deficient soil by enhancing its root growth.
Experiences in doing research
Asio's year-long study met a lot of difficulties especially in setting-up the experiment, collecting and transporting the ophiolitic soil from Hernani, Samar, among other activities.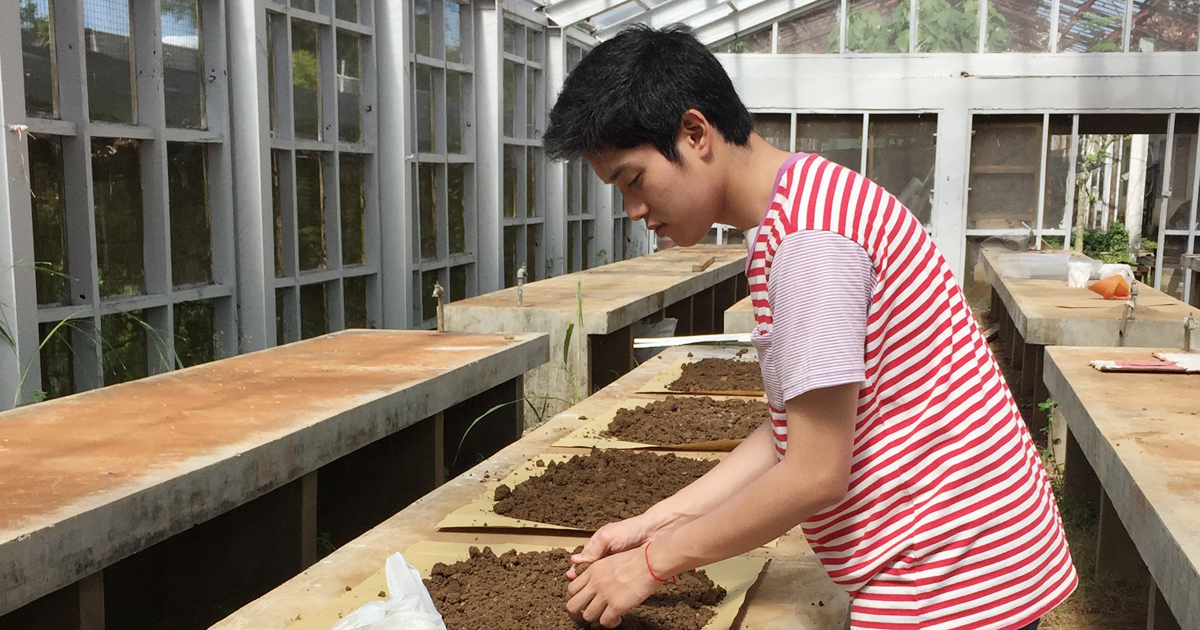 He said, however, that these difficulties seemed surmountable because he was passionate about the topic and the pursuit of scientific inquiry.
Investigating and finding the answers to a question, Asio said, is an energizing activity. He has an advice to undergraduate students who are yet to write their thesis proposals.
"Pursue a subject matter that is close to your heart, otherwise you will not enjoy it," said Asio in Cebuano. Ownership of his research made things seemingly easy for him, he said.
Through the help of his adviser Dr. Marlito Bande, Asio had since developed a love for research. He thinks science is still very necessary even in this so-called post-factual era.
"I can't believe that there are those who deny facts," stressed Asio as he recounted his frustration about people who do not believe in the veracity of the research in climate change among other worldwide environmental concerns.
Asio finished as the 2017 Class Salutatorian among 1,310 graduates from VSU.