#VSUAnniv | [FULL] President Edgardo E. Tulin's Convocation Message
Details

Written by Visayas State University

Published: 10 May 2019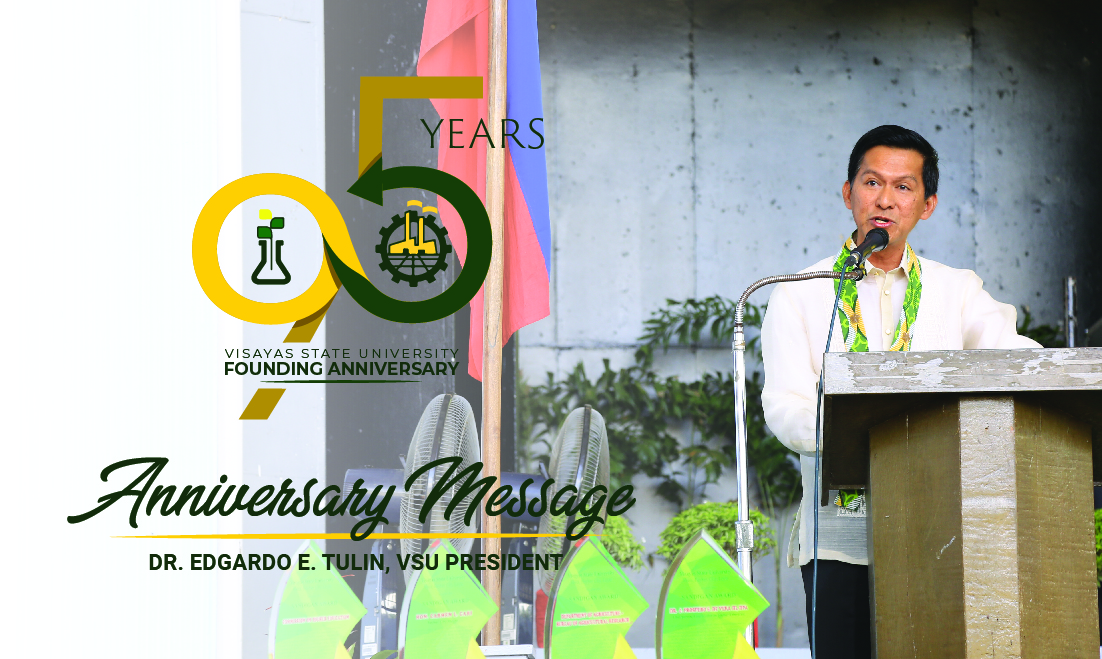 95th VSU Founding Anniversary Message
Hon. Governor Jose Carlos Cari, Hon. Mayor Carmen Cari, Rev. Fr. Gary Esguerra, Former Presidents Dr. Pacencia P. Milan and Dr. Jose L. Bacusmo, our four Vice-Presidents, Dr. Beatriz S. Belonias, Vice President for Instruction, Dr. Remberto A. Patindol, Vice President for Administration and Finance, Dr. Othello B. Capuno, Vice President for Research and Extension, Dr. Dilberto Ferraren, Vice President for Planning, Resource Generation and External Affairs, University Board Secretary Prof. Daniel M. Tudtud, Student Regent Hon. John Allan Gulles, VSU Faculty President Prof. Ernesto F. Bulayog/Denny Catindog, Alumni Regent Hon. Deogracias Pernitez, Deans of the main campus and satellite campuses, Directors, Members of the University Administrative Council and University Academic Council, Department Heads, and Heads of offices, Faculty and Staff, our dear students and guests ladies and gentlemen, Happy 95th Founding Anniversary!
I am humbled at the same time proud to celebrate with you another milestone of our beloved institution. Allow me first to congratulate and sincerely thank everyone for all the efforts, sacrifices and hard work poured for the glory of our dearest VSU. We will not come this far without all of your support. Five more years and will be celebrating our grand centennial anniversary. I cannot wait to celebrate that with you all.
Foundation Day gives us a sense of History. A school celebrates its Foundation Day to reminisce and honor its establishment. History goes beyond its chronological date. To have a sense of history, it is very important to know where we have come from. Hence, on this day, 95 years ago, this institution started as a very simple Farm School way back in 1924 and slowly metamorphosed over the years to become the Visayas State University, one of the premier state institutions of higher learning in the Philippines. Today, we reflect on the very early days of the institution and how far we have come.
Second, Foundation Day gives us a sense of mission and purpose as a university. We celebrate Foundation Day so that we do not forget the vision of the people who established it. There were many who have given so much to VSU over the years. Today is, therefore, about remembering all those who have served to make VSU what it is today. We owe Dr. Fernando Bernardo and the past presidents and administrators for what we are now.
Third, every foundation day challenges us to go beyond what and where we are now and to address the trends that the community, the country, and the whole world are facing. This year, we are challenged to build networks for technology innovation, adoption, and commercialization.
This year's theme falls in line with our 10-yr strategic plan where we envision to become a globally competitive university. It is also aligned with government programs on ASEAN integration and Internationalization. I am proud to tell you that we already are member of various international and national associations such as the Asian Association of Agricultural Colleges and Universities (AAACU), State Colleges and Universities – Association of Colleges of Agriculture (SUC-ACAP) and we have been partners with international, national and local agencies for the development of our programs and for the realization of our vision to become global. Through strengthening networks, we can gain allies with different perspectives and strategies to learn from. A strong network allows us to keep our knowledge on technology innovations and practices current and relevant not just to our local setting but of the rest of the world.
We are just waiting for the approval of the VSU Internationalization Plan which will serve as our platform on international engagements of the university. Along with the plan, we intend to promote, establish and maintain collaboration with foreign universities and research institutions in instruction, research, innovation, and extension in our core programs – agriculture, agricultural engineering, and environmental conservation. We also aimed to strengthen research and innovation in our root crops, abaca, natural products for international commercialization as well as breakthroughs in biotechnology, dairy and livestock, forestry and forest-restoration technologies, organic agriculture, and climate change. It is also our goal to forge partnerships in capacity building and in establishing joint degree programs with recognized institutions and experts in those fields mentioned earlier. We also press importance on foreign researchers, students and visiting scientists to collaborate and work with us. Further and most importantly, it has been my campaign to encourage VSU faculty and researchers to present their scholarly works to conferences, seminars and symposia abroad for peer evaluation and recognition and knowledge sharing. The university set funds for this venture. I encourage especially our sprouting young researchers to do so. It is not enough that we keep on receiving and collecting knowledge from others, we should likewise share our breakthroughs to the world.
Lastly, banking on the status of VSU as a leading university in Eastern Visayas, its strong reputation as a research university in agriculture, forestry and allied sciences, and a strong engagement with international partners, it is our dream that VSU will position itself in the next years as a National University of the Visayas. As a national university of the Visayas, the school's leverage for network building and internationalization to become a globally competitive university will become stronger thus help fulfill our vision and mission.
On our 95th year, we rejoice on what has been achieved in the past and we look forward to what is yet to come. We celebrate this day to uphold the thrusts of the university and keeping our University's vision and mission as guiding stars that shall lead us to where we are going.
Amidst the bomb scare, earthquakes and other crisis we have gone through, let us thank the Almighty for His solid protection and constant guidance.
Cheers to strong and resilient 95 years!
Happy Anniversary Viscans! Mabuhay ang VSU!