#GoingGlobal: VSU formalizes partnership with Belgian University KU Leuven
Details

Written by By Neil Bryan B. Fulache

Published: 16 July 2021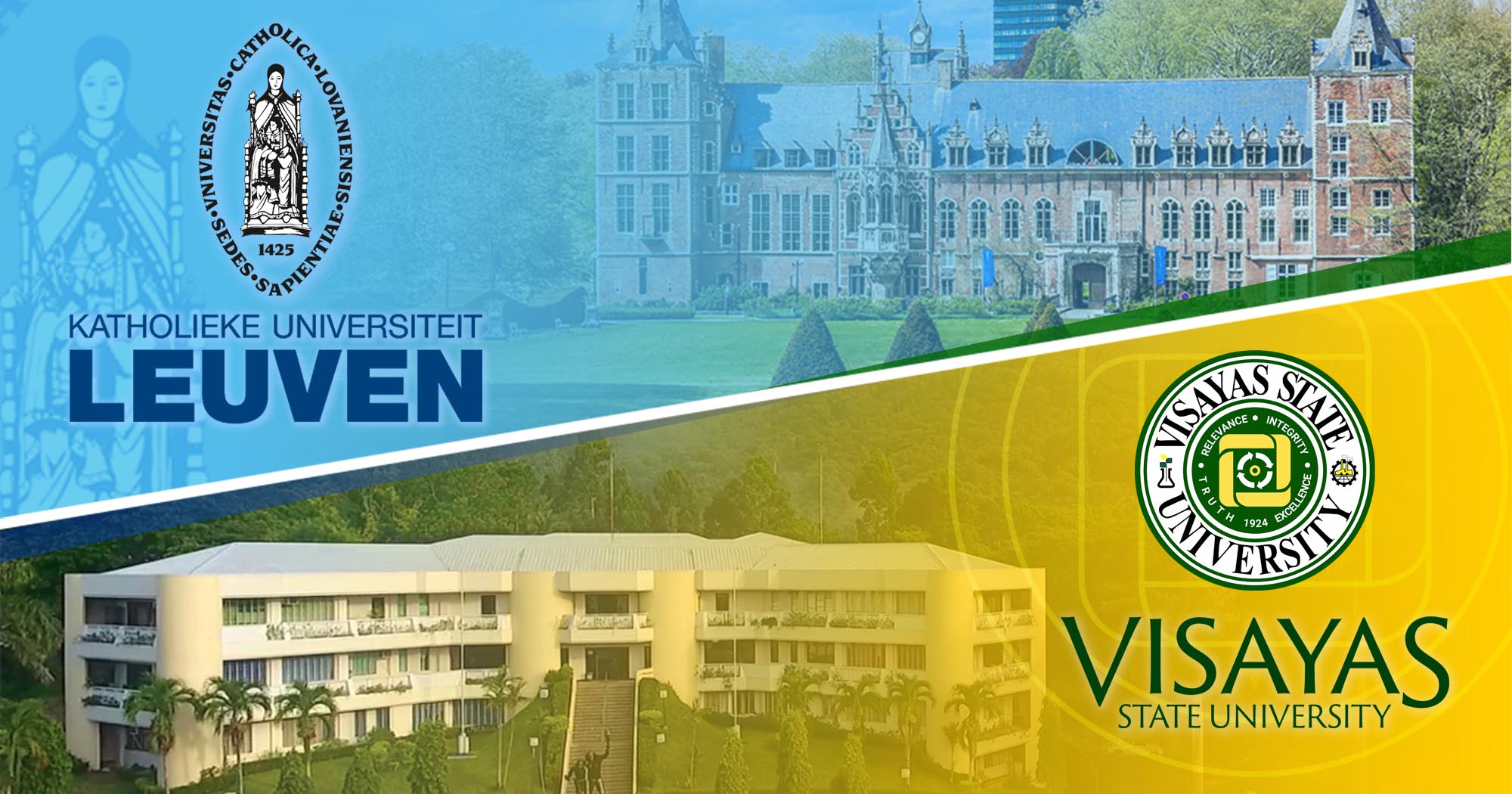 The Katholieke Universiteit Leuven (translated as the Catholic University of Leuven) or KU Leuven for short, has long been engaged with the Visayas State University (VSU) since 2013.
In the aftermath of Super Typhoon Haiyan (Yolanda), KU Leuven was one of the first overseas institutions to provide financial donations to VSU that amounted to 2.2 million pesos. On top of that, several VSU faculty members have also obtained their graduate degrees in KU Leuven.
While both universities have been working together for the past years, no formal partnership was sealed between VSU and KU Leuven not until last week when a memorandum of understanding (MOU) was signed on July 9, 2021.
With this, VSU President Dr. Edgardo E. Tulin and KU Leuven Faculty of Science Dean Dr. Philippe Muchez finally put into paper an agreement that formalizes the longstanding relationship between the two universities.
This said agreement involves conducting joint collaborative research, benchmarking of curricular offerings, and the provision of graduate scholarships including short-term exchange programs open for both faculty and students of VSU and KU Leuven.
VSU will benefit from this partnership by further strengthening its international presence through overseas mobility of both VSU faculty and students.
VSU Graduate School Dean Dr. Anabella B. Tulin laid the initial groundwork for the MOU signing in 2019.
Her research project on the development of a smart and sustainable disaster risk management model for Eastern Visayas was in fact the takeoff point of the MOU where Dr. Muchez contributed to the formulation of the project framework.
"This notion of understanding is indeed a start for further operations within many more projects both regarding research but also education, which I think is really important. So thank you, I'm very much looking forward to it," Dr. Muchez explained.
Dr. Constanza Parra, KU Leuven Director of the Master of Science of Sustainable Development program, added ways in which the partnership can be harnessed in the future.
"We sincerely hope that from now onwards, we will be able to build together in education, in research, and in outreach. We are now passing the 2nd phase of our ICP Master program, ICP connect, and we want you to be our core partners, to accommodate mutual needs and expectations. For me it's a pleasure, and I hope that our collaboration will go beyond education. I would like that we work together on research about climate change adaptation, disaster resilience and sustainability," Dr. Parra said.
In response, VSU President Tulin assured the KU Leuven officials of mutual cooperation that will benefit the two institutions. He also highlighted how KU Leuven was there for VSU like a dependable friend that can be counted on especially in difficult times.
"I have no doubt that this will bear significant results for both VSU and KU Leuven in terms of instruction, research, extension and innovations. KU Leuven has always been a generous institutional partner for VSU even in our most difficult times when Typhoon Haiyan (Yolanda) struck our region. Our faculty who graduated from KU Leuven are also now contributing to VSU's overall development because of the training quality they obtained from their international graduate experience in Belgium," the VSU President shared.

Witnessing the virtual MOU signing on behalf of VSU were: Dr. Beatriz S. Belonia, Vice President for Academic Affairs; Dr. Juliet C. Ceniza, Vice President for Research, Extension and Innovation; and Dr. Ana Marquiza Quilicot, Head for International Affairs.
Joining the KU Leuven delegation for the MOU signing was Dr. Klara Claessens, Program Coordinator of the Master of Science in Sustainable Development.
Invited guests include KU Leuven alumni who are current faculty members of VSU namely, Dr. Rotacio S. Gravoso of the Department of Development Communication (DDC), Dr. Ivy Emnace of the Department of Food Science and Technology (DFST), Ms. Kyza Ramoneda of the Department of Biotechnology (DBt), and Ms. Gina Delima of the Institute for Strategic Research and Development Studies (ISRDS).