VSU is top 12 in science and engineering, and top 15 in health–IRIS university research rankings
Details

Written by By Ulderico B. Alviola

Published: 28 July 2021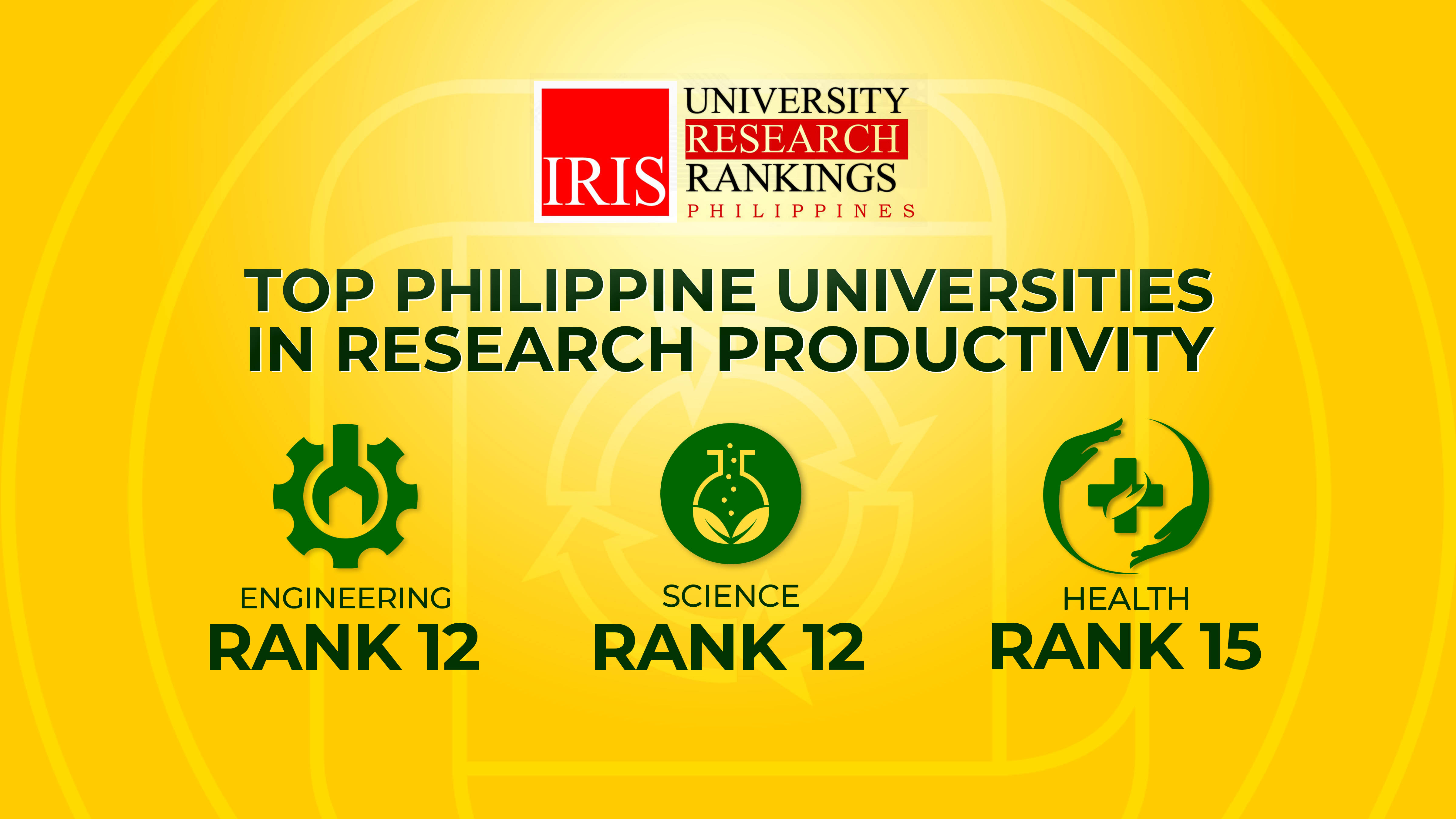 The Institutes for Research, Innovation and Scholarship (IRIS), an emerging research and innovation think-tank in the Philippines, places VSU within the top 20 best universities in the country in terms of research productivity.
VSU was named top 12 in both science and engineering, and top 15 in health. It is the only university in Eastern Visayas to make it to the top 50 list.
This beta version of the university research rankings were based on the cumulative publications and citations from both Elsevier's Scopus and Thomson Reuter's Web of Science, and the H-index.
According to the IRIS website, a total of 106 public and private universities were ranked in the fields of science (including natural sciences, mathematics, environmental science, agriculture, material science, microbiology and toxicology), engineering (which also covered computer science and energy), and health (including medicine, nursing, public health, neuroscience, veterinary, and dentistry).
Dr. Carlos Primo C. David, professor of geology in the University of the Philippines (UP) Diliman, presented to the public the initial results of the IRIS ranking on July 14, 2021.
In the said presentation, VSU was initially placed in the 13th spot in both science and engineering, and 15th overall in health.
Interestingly, the Leyte State University (LSU) was also included in the said list placing 29th in science, 61 in engineering, and 52 in health. LSU is the former name of VSU which was converted on April 27, 2007 by virtue of Republic Act (RA) 9437.
The University Integrated Media Center (UIMC) reported this minor oversight to the advisors of IRIS.
In a response email sent to VSU on July 23, Dr. David integrated the cumulative scores of both VSU and LSU resulting in a one-step improvement in the overall ranking of VSU in both science and engineering, while retaining the 15th spot in health.
Dr. Edgardo E. Tulin expressed his thanks to IRIS for immediately releasing an erratum to correct the minor oversight.
The VSU President also acknowledged that there are still many things to be done to solidify VSU's stature as a national research university.
"I'm equally happy and challenged to exert more efforts in improving our research productivity because of the IRIS rankings. We have many knowledge products here that were generated through our extensive work in research and development. It's time for our faculty members and researchers to ensure that their respective research outputs are not put into waste by publishing these to reputable and high index journals. Presently, we have an incentive system in place to encourage publication and we will initiate more enabling policies so that both our faculty and researchers will publish more in the years to come."
As a new research and innovation think-tank in the Philippines, IRIS aims to serve as the country's one-stop-shop for research and development talents and resources to further optimize collaboration and integration among Filipino scientists and researchers.