2 education students join European online summer school program on democracy
Details

Written by Neil Bryan B. Fulache

Published: 24 July 2021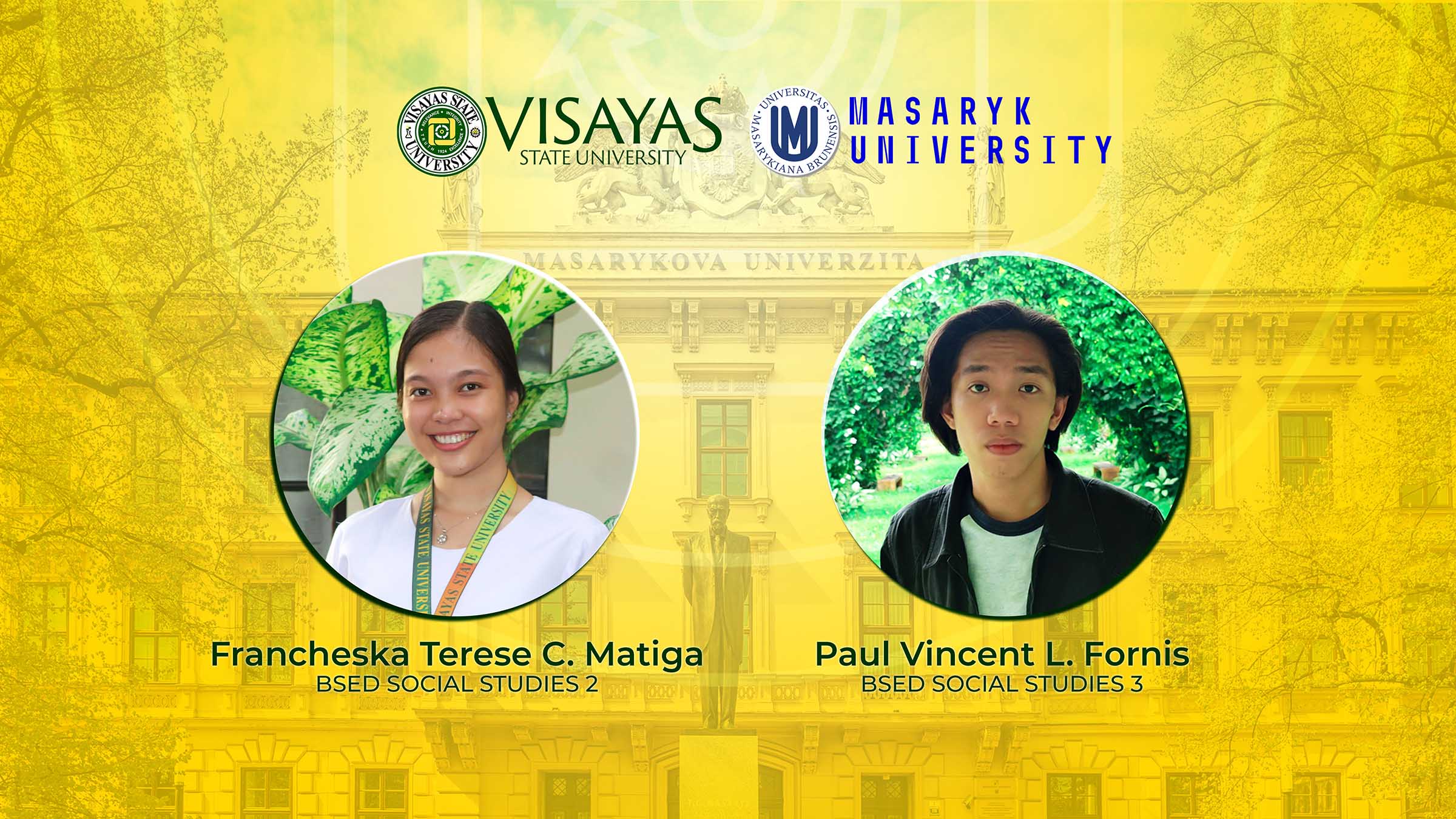 How did Central Europe transition from communism to democracy?
This was the main topic covered in a three-week online summer school program offered by the Masaryk University from June 28 to July 16, 2021.
Central Europe, a geographic crossroad between Russia and Germany, is a region of premier political and socio-economical importance after the fall of communism at the end of the second world war.
Two Viscans from the College of Education (CE) namely Ms. Francheska Terese C. Matiga and Mr. Paul Vincent L. Fornis represented VSU in this extensive online learning program.
Both of them are pursuing the Bachelor of Secondary Education (BSED) major in Social Studies. Ms. Matiga is a sophomore student while Mr. Fornis is currently in his junior year.
CE Dean Dr. Bayron S. Barredo saw the participation of VSU in this program as a way of exposing students to international learning opportunities.
"In their turn to become teachers, it would be great if they have a frame of reference from other countries, like how politics and economics work in Europe and how it is different from ours in the Philippines. So the enhancement in their knowledge is, I think, very useful and important as they can also relay what they've learned there to their Filipino classmates," the CE Dean said.
Moreover, Dean Barredo also explained that the two students went through a stringent selection process to ensure that the students who will represent the university will potentially excel and put VSU's best foot forward in the said short-term training program.
"I requested Mr. Jay Bansale, the curriculum implementer of our social studies section in the teacher education program, to select the most deserving students by assessing their overall academic standing. We hope that by choosing the cream of the crop, we can represent VSU well and that these chosen students shall also re-echo what they acquired in this international online summer program," Dr. Barredo added.
Meanwhile, Ms. Matiga shared how joining the said program benefited her especially in terms of networking with other foreign students.
"My online summer school program experience at Masaryk University opened doors for me to meet new people from different countries. It even connected me to an extensive network of foreign students who equally share my passion in our chosen career. Learning the complex process of how democracy was conceived from the perspective of another country helped me see social science in a completely new light. These things didn't only broaden my personal viewpoints but it also allowed me to understand the very vital role of social science in our society," Ms. Matiga explained.
Mr. Fornis, on the other hand, expounded on how political literacy and understanding the experience of other countries in terms of building their own version of democracy become important inputs in building our own nation.
"This training offered me a unique understanding on how historical transitions influence the overall political landscape in western countries. I can't help but reflect on the experience of Central Europe and somehow compare it to our own experience here in the Philippines. There are many parallels between their experiences there before when they transitioned from communism to democracy to the current realities that we have now here in our country. I think that learning these things allowed me to muse over some ways in which we can better improve and protect our democratic institutions," Mr. Fornis said.
Masaryk University has been partnering with VSU for several years since the inclusion of the university in the EXPERTS ASIA program, a European Union (EU) funded project that aims to enhance the capacity for international cooperation among its participating countries in South and Southeast Asia.
Since 2010, this program has enabled VSU faculty members, staff and students to study in Europe for the advancement of academic and cultural exchange. The same program brought in several batches of European exchange students who took specializations here in VSU.