12 speakers featured in VSU Biotech's first international webinar
Details

Written by Neil Bryan B. Fulache

Published: 30 July 2021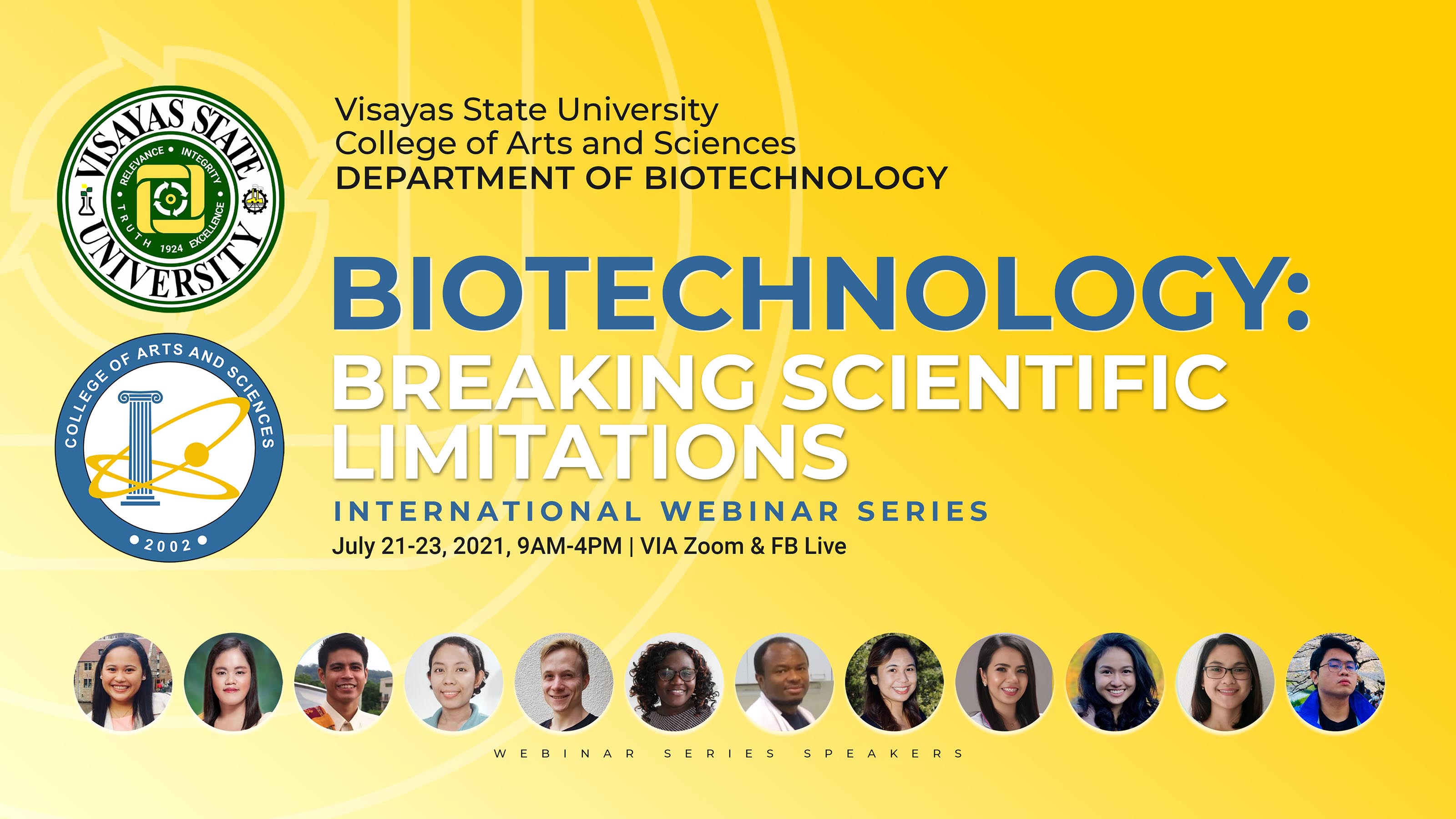 The roster of speakers for this webinar was a combination of successful alumni who are currently pursuing their advanced studies abroad, alongside some invited graduate students from VSU partner universities in Europe.
All the twelve talks were squeezed in a three-day event that ran from July 21-23, 2021 via Zoom with public broadcast live streamed through the official Facebook page of VSU.
According to Dr. Ma. Teresa P. Loreto, the newly installed Dean of the College of Arts and Sciences (CAS), the webinar mainly aimed to update biotechnology students including other students engaged in molecular biology on some important trends and research breakthroughs related to their field.
VSU President Edgardo E. Tulin saw this as an opportunity to promote this new program especially to the senior high school students who have strong interest in the field of applied science.
"I'm really glad that we organized this event as a way of mainstreaming the field of biotechnology to the public. I know that this event will surely excite our young researchers including our young faculty members. This is an opportune time for everyone to get oriented with the amazing research works being pursued by our own biotech graduates and also get acquainted with other works being done by other graduate students from reputable universities around the world," Dr. Tulin explained.
The current VSU president is credited for the establishment of the first standalone academic unit of biotechnology in Visayas and Mindanao.
He even established the Advance Research and Innovation Center (ARIC) located just across the biotech building to provide convenient access to both faculty and students who need cutting edge laboratory facilities for their respective research needs.
On the first day of the webinar, it covered topics related to biotechnology applications in plant breeding presented by Ms. Marissa B. Barbosa, the role of biotechnology in root crops production delivered by Ms. April Joy S. Vergara, a biotech student's reflection on their experiences in the new normal by Ms. Sheva Rose D. Belarmino, a biotech student's story towards becoming a physician by Dr. Kirstin Heinsel Badilla, and a Viscan's journey as a foreign biotech graduate student in Japan presented by Mr. Jameil D. Magomnang, Jr.
Day 2 of the webinar moved from a more experiential perspective to discussing specific research trends in biotechnology.
Ms. Ea Kristine Clarisse B. Tulin started the second day by explaining how engineered proteins from a toxin can be used to study the brain. Mr. Ebanja Joseph Ebwanga followed by discussing biopharming, an approach of using genetically modified plants to produce medicines and other industrial products. And Ms. Christine Njiru capped the second day by presenting genetic and molecular tools to study pesticides.
The last day of the webinar continued the discussion on research trends with Mr. Lourd Franz M. Gabunada on gene discovery and functional validation. Ms. Joji Marie Y. Teves proceeded about her personal interdisciplinary journey in the field of molecular biology. Lastly, Mr. Bart Thevelein discussed his ongoing research on spatially resolved multi-omics with expansion microscopy.
All these presentations can be accessed and replayed by visiting the official Facebook page of VSU Department of Biotechnology (DBt).
DBt is a relatively new unit. But this department is very crucial in solidifying VSU's current and future position as a globally competitive science and technology university.
VSU is one of the two universities in the Philippines that offer a full bachelor's degree program in biotechnology.