Food tech webinar highlights how eating eggs can positively impact your health
Details

Written by Neil Bryan B. Fulache

Published: 02 August 2021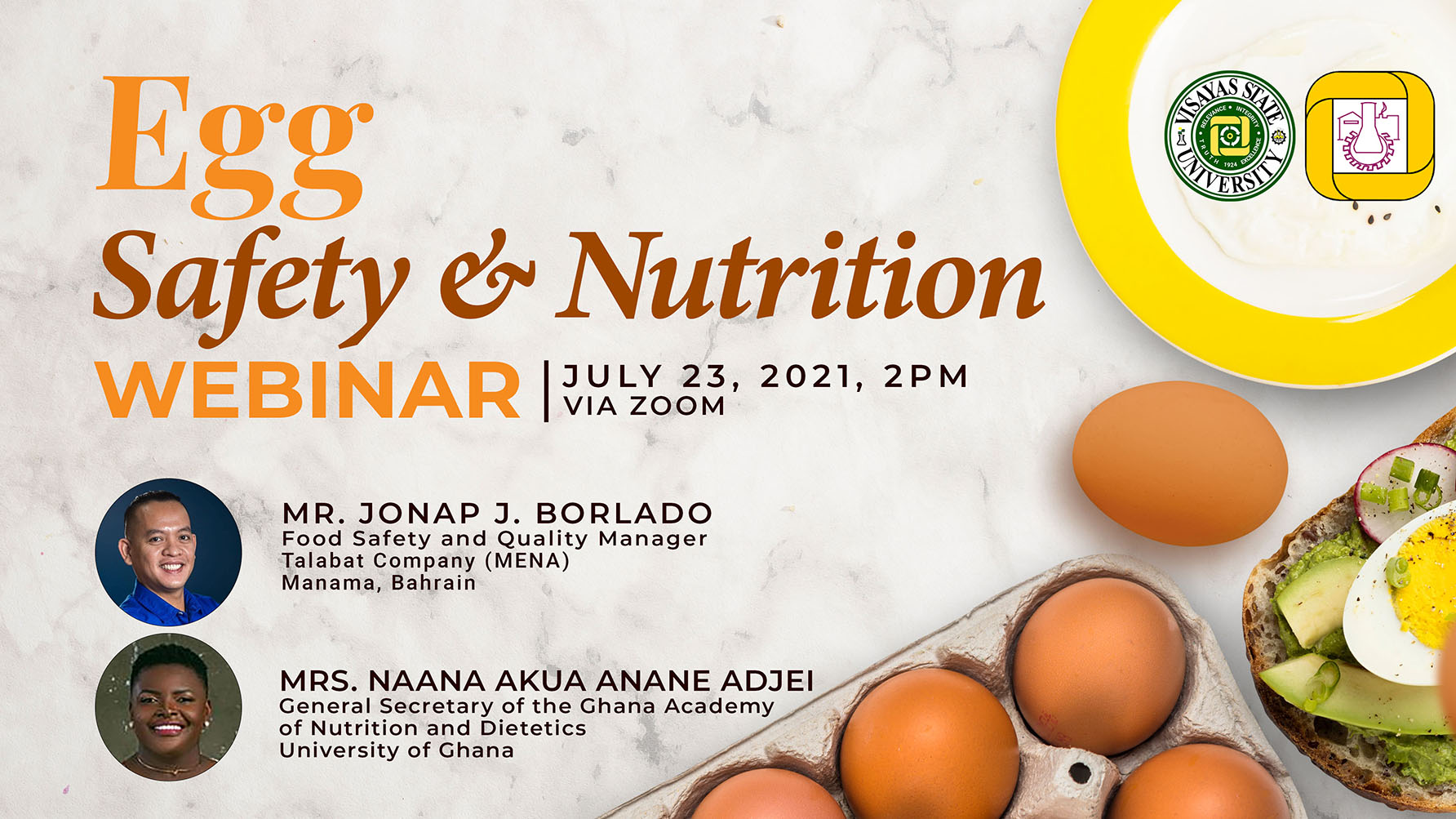 You probably didn't know that eggs are one of the healthiest foods on the planet.
In fact, food experts including nutritionists and dieticians agree that this calcium-hardened and nutrition-rich food is the most inexpensive natural multivitamin there is.
While this is the case, many of us do not fully take advantage of the amazing health benefits of this food product.
Informed of this gap, the Department of Food Science and Technology (DFST) organized a Zoom webinar that mainly aims to improve awareness on egg safety and nutrition on July 23, 2021.
This was also live-streamed on VSU's official Facebook page.
The webinar featured two speakers, the first one is an alumnus of VSU while the second speaker is a senior dietician in Ghana in West Africa.
Before the webinar proper, VSU Director for Extension Dr. Antonio P. Abamo explained why eggs are vital in the Filipino diet.
"Eggs are one of the things considered to be the great equalizer, because both the rich and the poor consume eggs. It is served on tables across the economic spectrum, making eggs a very important part of our Filipino diet. In fact, we need to be familiar in terms of nutrition, and how to prepare and consume eggs in the safest manner so that all of us can take advantage of the many benefits of this overlooked food product, " he said.
Mr. Jonap J. Borlado is a food technology graduate in VSU who now heads the food safety and quality management of a Bahrain-based company called Talabat.
Having an intensive experience abroad in terms of food safety and manufacturing, the first speaker expounded on how eggs get easily contaminated by salmonella—the primary culprit that causes foodborne illnesses.
According to Mr. Borlado, eggs are contaminated in two ways. First, when the hen's ovaries are tainted with salmonella, resulting in contamination even before the eggs are laid.
The second is contamination through contact with salmonella-inflicted matter such as chicken manure, as eggshells are discovered to have pores that serve as entrance for bacteria.
The first speaker also stressed that there is no appearance disparity between a salmonella-infected egg and a non-infected one, making the difference very hard to tell.
"An infected and non-infected egg have the same appearance, the same quality that it presents. So we have no way of knowing which egg is infected by just looking at it with our naked eye, unless it undergoes laboratory examination, then we can say," Mr. Borlado clarified.
Meanwhile, Mrs. Naana Akua Anane Adjei who served as second speaker, was an award-winning clinical dietician and public health professional from the University of Ghana.
Her presentation focused on egg nutrition and the numerous benefits that can be obtained from eating eggs regularly.
According to her, a large egg weighing 50 grams, primarily contains 75 calories which is only 3% of what our body usually needs. It also has 6 grams of protein that equates to 10% of our daily requirement along with a number of micronutrients that heavily benefit our body.
With eggs having relatively low cholesterol content, Mrs. Adjei debunked the popular misconception on egg safety after she clarified the major difference in dietary and blood cholesterol that has long stirred confusion among the public.
Mrs. Adlei ended her presentation by recommending regular intake of eggs as part of a person's healthy diet.
"To conclude, eggs are a superfood, superfood in the sense that one egg has a lot of different nutrients that most food cannot boast of, and they can be a great addition to a healthy diet. The emphasis is on a healthy diet," the second speaker shared.
The Department of Health (DOH) supports the initiative to promote the consumption of one egg daily as an important source of protein.
Recognizing its importance to human health, World Egg Day is celebrated every second Friday of October every year.