From feeling unwanted to making a mark: the humble success story of Regent Mark Michael Unlu-cay
Details

Written by Neil Bryan B. Fulache

Published: 04 August 2021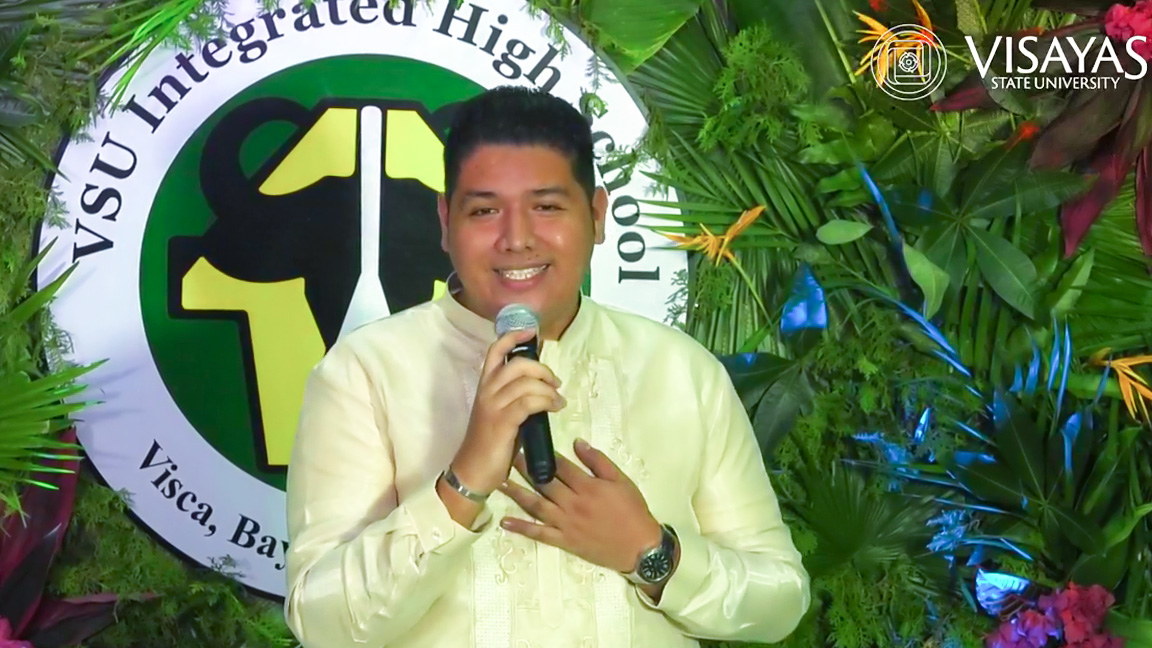 In the 6th Promotional Exercises of the Visayas State University Integrated High School (VSU-IHS), Hon. Mark Michael O. Unlu-cay imparted his heartfelt story of success to inspire 115 junior high school completers for School Year (SY) 2020 to 2021.
Mr. Unlu-cay currently sits as member of the VSU Board of Regents (BOR) representing the Philippine Senate. He is also the President of the Baybay City Sangguniang Kabataan (SK) Federation and an ex-officio member of the Sangguniang Panglungsod (SP).
The young regent and youth leader delivered his inspiring story in a virtual ceremony held on July 28, 2021 live-streamed in the official Facebook page of VSU.
In his speech, he reminisced about the challenges he experienced during his high school years. For Mr. Unlu-cay, this is his first taste of the harsh realities present in the outside world.
Being raised by his grandparents since he was three months old, his childhood upbringing was all about filling the huge void left by his biological parents.
Even without the blessings of his grandparents to pursue high school in another place, he persisted to enroll in VSU-IHS to experience some form of independence.
"With those things keeping me in place, I sought out for refuge, to be away from that cage that has kept me stranded, that has kept my life controlled and stagnant. The dormitory became my refuge."
In a twist of fate, what he thought was a safe haven quickly became a place where he experienced bullying that went on for four years of his high school journey. This bullying did not only stay in his school but it also extended online wherein a dedicated hate page was made for him called 'Anti-Unlucay'.
His traumatic experiences pushed him to a corner of depression, that he had to carry all by himself, being raised in a family that encourages emotional suppression. He wanted the warmth of the comforting words a parent could give. This prompted him to search for what he has been deprived of for many years.
Thankfully, he met people in VSU Balay Alumni who will later on fill in for his childhood longing of a caring and loving family. He met a young couple that he endearingly calls Ate Macel and Kuya Saldy.
For him, meeting this young couple is a great blessing from the Lord.
"It just happened that they saw something in me. They saw something that made them welcome me in their home in Pangasugan. And to me, they were like God's instruments. He intended for us to meet for they had no child of their own. They took me in as one of their kin, welcomed and introduced me to their families as if I was their own child."
This new-found family was what he needed as they never doubted his capability, inspired him to improve, encouraged him to be better, and most importantly, they continuously believed in him.
This experience nurtured his confidence to be a part of something bigger, to make a name of his own, and to show himself to the world.
"I wanted it to be the last time that I will hide myself, that it will be the time I show myself to the world. I wanted to show them that this is the new Mark, the new version, the better. It opened so many doors and opportunities, I tell you."
Having successfully built his name in a short span of time, he became a sought-after host for events inside and outside the university. He actively participated in numerous organizations that gave him the opportunity to widen his network and represent his school in national and international youth gatherings.
Unfortunately, when everything started to take shape for him, one tragedy came that will once again derail his growth as a young leader.
"It came to a point where I had to sacrifice my time with Ate Macel and Kuya Saldy because of the many preoccupations I had. It was the University Anniversary, and I had many things to do. As I had to cover the event at the Convention Center, I wasn't able to go home. Little did I know, that was the last day of Kuya Saldy. He died of cardiac arrest that night. And two years later, my Ate Macel followed."
While grieving, Mr. Unlu-cay thought of things that will honor the life of his Kuya Saldy and Ate Macel. Then he was reminded of the constant advice he got from them.
"Whatever happens, you should not hold a grudge or resentment because they're still your family," a reminder that was repeatedly told to him by his Kuya Saldy and Ate Macel.
While it took some time for him to follow this advice, his college graduation made a way for this because his entire family was there to witness the event.
"It was something that never happened in my entire life, after all the things they missed along the way, my accomplishments, and everything, having seen them attend my graduation, right there and then, I was able to forgive them."
This process of healing made him realize his full potential as a young leader and an advocate of many charitable causes. On this regard, he shared:
"My dear students, I want you to build your own puzzles, to find all the pieces that will fit best of what for you is the happiest version of your life. But keep in mind to allow yourself to be the center of it, because you are the center of a masterpiece. Allow yourself to be surrounded by pieces that will help you build the most beautiful picture the Lord will help you see."
The keynote speaker also extended his gratitude to the local leaders of Baybay City for opening an opportunity for him to apply and hone his youth leadership skills to serve Baybayanons.
"I was lucky that I have Former City Mayor Carmen L. Cari, Congressman Carl Nicolas C. Cari and Mayor Jose Carlos L. Cari including their entire family to be one of the many people who continuously believe in me. They've been a great blessing from the Lord because they continue to inspire me to be the best at what I do—to be of service to all Baybayanons here in our beloved City."
He concluded his speech by reminding the completers about the power of self doubt, that they should not succumb to it for them to succeed in life.
"My final advice is this, never listen when your own self doubt tells you that you can't make it. Because the moment you do, this doubt will cloud your judgement, will manifest in your actions and will soon have an impact on your destiny."
Mr. Mark Michael Unlu-cay is a VSU alumnus who earned his Bachelor of Science degree in Development Communication major in Community Broadcasting in 2017. He is also a proud member of the LGBTQ community to whom he dedicates most of his public service advocacies.