#GoingGlobal: CAFS welcomes first visiting student from Switzerland
Details

Written by Ulderico B. Alviola

Published: 07 June 2022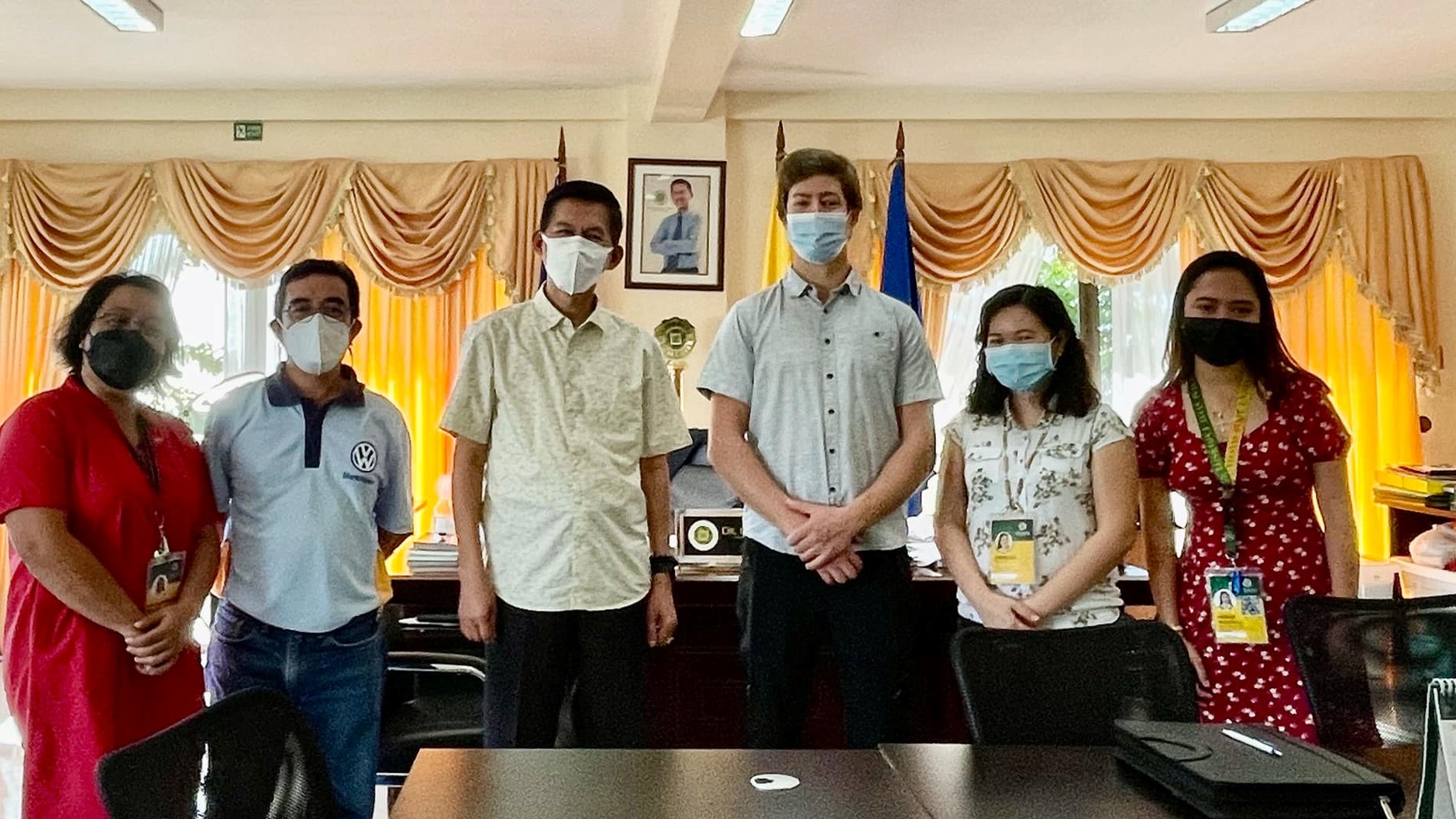 VSU President Edgardo E. Tulin welcomes the Swiss exchange student in a courtesy call held at the Administration Building together with CAFS Dean Dr. Victor B. Asio and International Affairs Head Dr. Ana Marquiza M. Quilicot.
After welcoming several faculty members from Europe, the College of Agriculture and Food Science (CAFS) became the first to host a visiting foreign student after travel restrictions were slowly lifted because of the improving COVID-19 situation all over the country.
Mr. Vincent Neveu arrived in the Philippines on March 31, 2022 and stayed at the VSU Main Campus in Baybay City for over a month to conduct his undergraduate thesis.
He is Bachelor of Forestry student at the Forestry Division of the Bern University of Applied Sciences under the School of Agricultural, Forest and Food Science (BFH-HAFL).
While he is a forestry student, it was CAFS that hosted him because the project in which his research is mainly anchored is currently being implemented by CAFS Dean Dr. Victor B. Asio.
Mr. Neveu's thesis entitled "Analysis of Falcataria moluccana and Acacia mangium according to their quantity, quality and distribution in terms of wood and tannin production potential on the island of Leyte" is part of the Swiss-Pinoy Tannin Project, of which VSU is implementing university here in the Philippines.
The Pinoy Tannin Project involves the development of a sustainable tannin extraction strategy in the country using scientific, technological and socio-economic knowledge as bases in setting up an environmentally-friendly extraction process that will contribute to the creation of new revenue possibilities for local communities.
According to the implementers of the Pinoy Tannin Project, tannins are polyphenolic compounds that can be hot-water extracted from many plant tissues. These are interesting raw materials mainly because they have been successfully used in the formulation of natural adhesives in wood-based products that might constitute an alternative to formaldehyde-based adhesives.
The project is a part of the R4d programme funded by the Swiss National Science Foundation (SNSF) and the Swiss Agency for Development and Cooperation (SDC).
CAFS Dean Asio is the present team leader of the VSU component of the Pinoy Tannin Project. He said that they are expecting to welcome more visiting Swiss students to come within the year.
"Mr. Neveu was supposed to come last year but due to the strict COVID-19 restrictions, it was postponed along with the other four Swiss forestry students. With today's easing situation in COVID-19 restrictions, we will be expecting more visiting students to come later this year," the CAFS Dean revealed.
Dr. Asio also explained how the Swiss-Pinoy Tannin Project contributed to the fulfillment of VSU's vision for internationalization and greater global comparability.
"The visit of Mr. Neveu contributes to our internationalization program, given that foreign students are coming in and are doing their research here in our university. With their presence, it allows our students here in VSU to be introduced to new research approaches in the field. Mr. Neveu in exchange learns some traditional Filipino ways of doing research like our conventional and manual methods of measuring trees that are done even without the use of sophisticated tools." Dr. Asio added.
VSU President Edgardo E. Tulin is happy that with local mobility restrictions being lifted, VSU is now able to accept both faculty and students who would like to conduct their foreign mobility programs here in the Philippines.
"This is a welcome development for us because we've lost lots of opportunities for international collaborations done through actual field exposures for more than two years of community quarantine. The International Affairs Office (IAO) is expected to bring in more foreign faculty members, students and researchers in the third quarter of 2022 and I'm hopeful that this will contribute in solidifying our efforts for internationalization," Dr. Tulin said.
With full face-to-face classes now on the pipeline, the lifting of restrictions will also allow local students to network with foreign students who will soon come to VSU to conduct their respective research projects.