VSU still within the Magic 10 circle in latest Webometrics Ranking
Details

Written by Neil Bryan B. Fulache

Published: 15 August 2023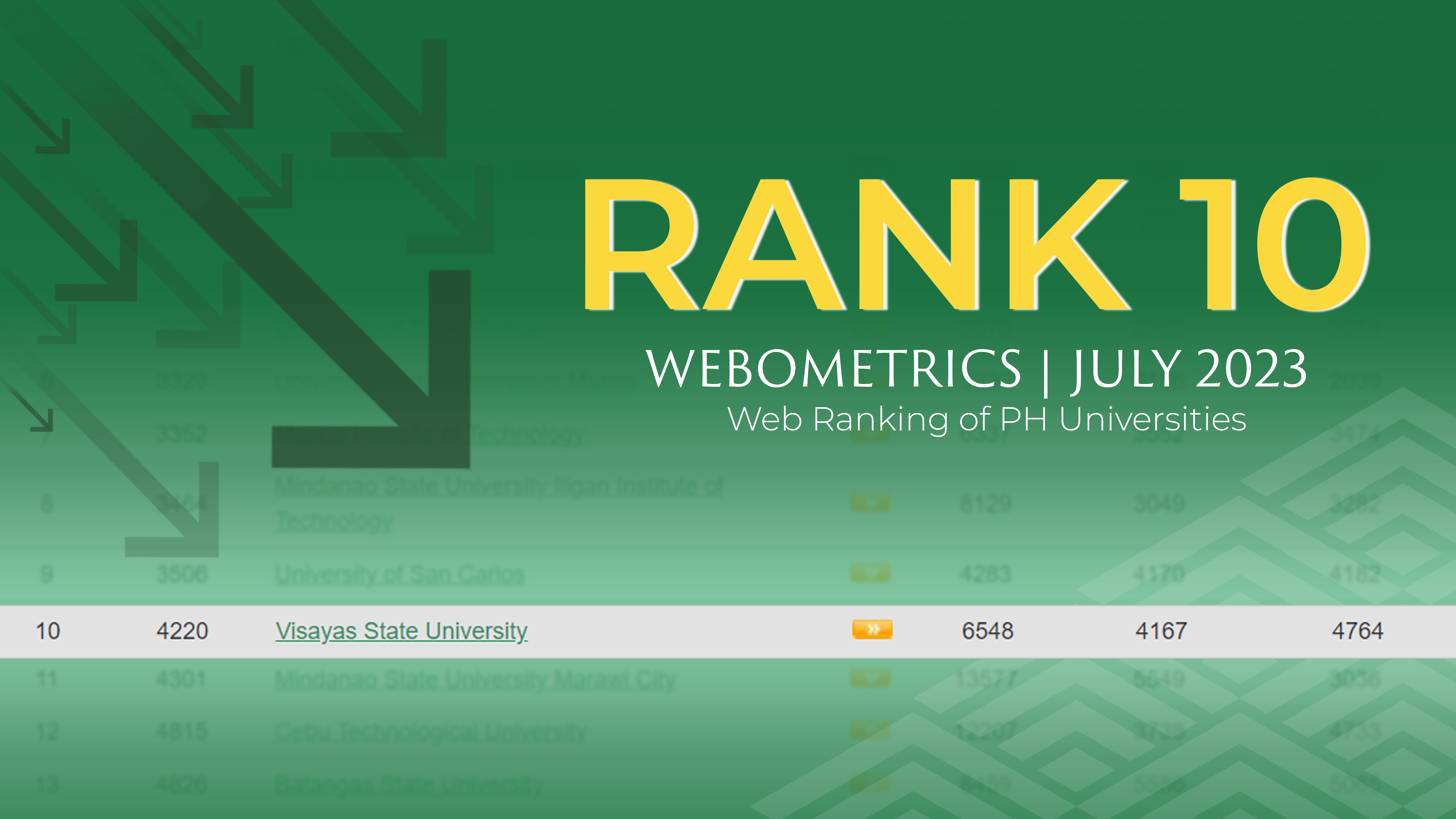 While keeping the Top 8 spot for two assessment periods in July 2022 and January 2023, the Visayas State University (VSU) saw its latest Webometrics standing drop by two spots with the entry of two constituent campuses of the University of the Philippines (UP) in the July 2023 edition of the Web Ranking of Philippine Universities.
Except for De La Salle University, this has also caused movement for other universities with Ateneo De Manila University (ADMU) sliding from 3rd to 4th place, University of Santo Tomas (UST) from 4th dropping to 5th spot, Mindanao State University - Iligan Institute of Technology (MSU-IIT) from 5th sliding to 8th place, and University of San Carlos (USC) from 6th spot last year to moving down to 9th place in July 2023.
It can also be noted that along with a two-step drop for VSU's national standing was a decrease in the university's global rank as it moved down a few notches from the July 2023 results with its previous worldwide rank at 4,113th place and now moving down to 4,225th spot.
To rank universities, Webometrics uses a unique set of three indicators namely: (1) Impact Rank, which constitutes 50% of the criteria and is about the visibility and content impacts of the university specifically measured by the number of external networks (subnets) linking to the institution's web pages collated through Ahrefs Majestic; (2) Openness Rank, which accounts for 10% of the criteria and is about the number of citations from Top 310 authors obtained through Google Scholar profiles; and (3) Excellence Rank, which constitutes the remaining 40% of the criteria obtained from Scimago that measures the number of papers amongst the top 10% most cited in each one of all 27 disciplines for a five-year period.
Despite the slight dip in the overall rankings, VSU still managed to significantly move up the ladder in the Excellence Rank indicator as it climbed up to the 4,764th global rank from its previous 4,785th standing in the world.
However, VSU suffered major slumps in the specific indicators on Impact Rank and Openness Rank. The latest release shows that the university moved down from the 5,811th spot to 6,543rd in the Impact Rank, while also sliding from the 4,091st rank in terms of the Openness Rank down to the 4,171st spot for this year.
Interestingly among Eastern Visayas universities and colleges, Samar State University (SSU) continues to improve their rankings from last year's 53rd place now up to the 50th spot. Meanwhile, Leyte Normal University (LNU) retains its 70th standing from last year while Eastern Visayas State University (EVSU) drops 20 places down from 74th last year to 94th this year.
VSU President Edgardo E. Tulin in a message congratulated everyone for keeping the Magic 10 spot this year with more and more universities and colleges being included in the Webometrics Ranking.
"Our current standing I believe is an indication that we need to continuously work hard to sustain our reputation in research and development including in the further improvement of our web visibility and providing more relevant content about our dearest VSU. I personally congratulate our hardworking team in the University Integrated Media Center (UIMC) led by Dr. Derek Alviola and Mr. Jed Asaph Cortes for providing the needed leadership so that we can perform well in the Webometrics Ranking," Dr. Tulin said.
This Webometrics Ranking system is developed by the Spanish Cybermetrics Lab, a research group which operates independently under the Consejo Superior de Investigaciones Científicas (CSIC) that evaluates more than 31,000 Higher Education Institutions (HEIs) across the globe. With this, the Webometrics Ranking is now considered the largest academic ranking of universities and colleges all over the world.