All VSU students and staff to get Microsoft & Google licenses
Details

Written by Marianne C. Bayron

Published: 22 August 2023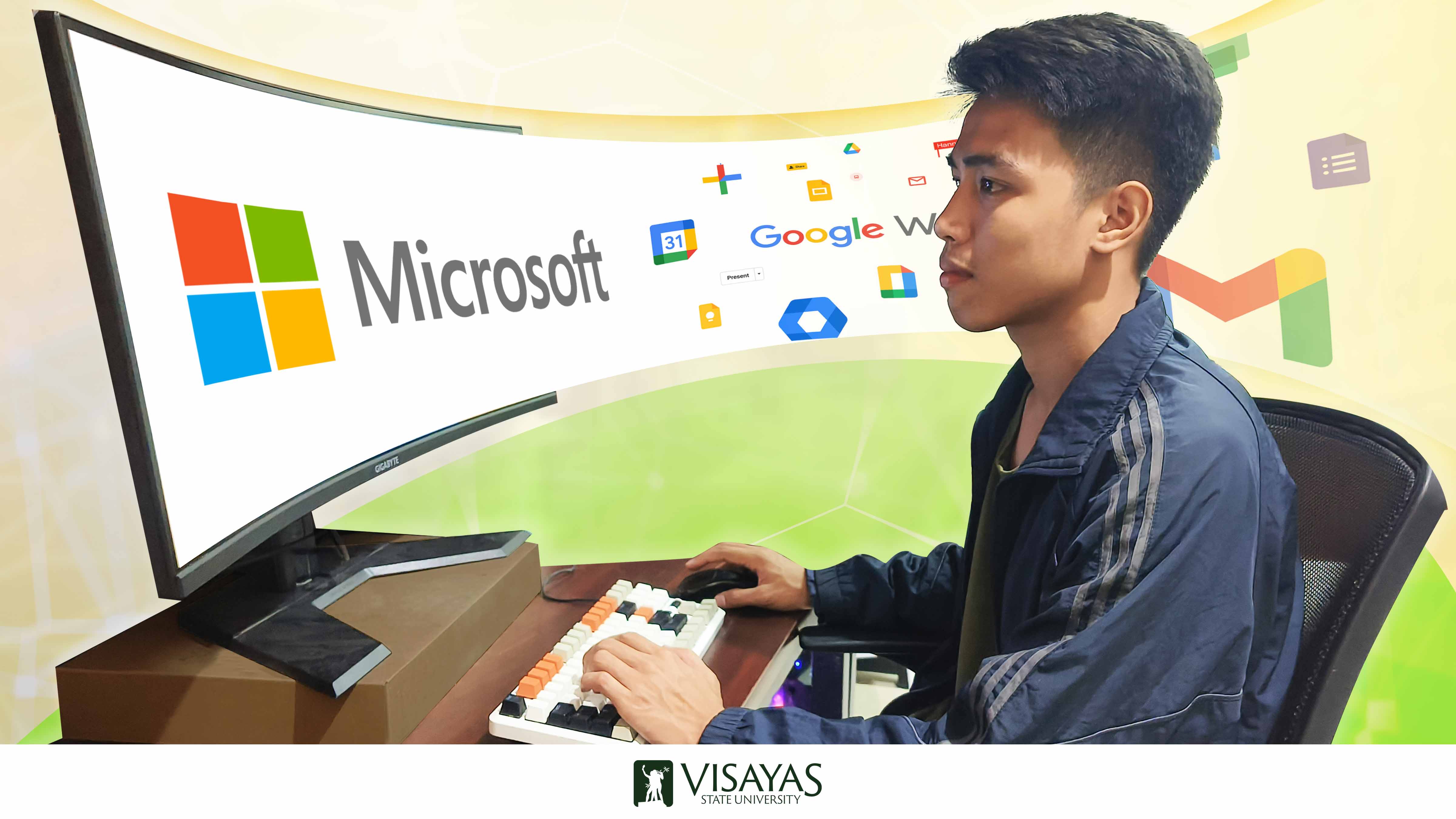 Visayas State University is set to roll out premium licenses for Google and Microsoft to all of its faculty, staff, and students across all five campuses and the Integrated High School.
Starting September 2023, VSU through its Web Team will provide Google Workspace for Education Plus, which is the top tier of the platform's Education plans, for faculty and students to enjoy Google apps like Gmail, Meet, and Drive with unlimited storage. Everyone will also get a Microsoft A3 subscription, which gives access to licensed Office apps and other Microsoft 365 services.
"VSU continues to invest in IT infrastructure because we believe that, when used wisely, these technologies make education and office work better," VSU President Edgardo E. Tulin said in a memorandum circular addressed to all heads of offices.
In the memo, Pres. Tulin instructed all units to submit their list of staff to the VSU Web Team for the processing of licenses. Meanwhile, VSU will provide student accounts after the late enrollment period.
"We are excited to distribute licenses to all Viscans across the system finally," said Mr. Jed Asaph Cortes, Head of the VSU Web Team. "Last year, we started only with the main campus with Google accounts for students. Now, we're adding Microsoft to the set. We have more than 16,000 licenses ready to provide by September 2023."
"We're grateful to President Tulin and his administration for the support, especially the budget to procure these services," he added.
This was made possible because of the efforts of the Director for Instruction and Evaluation Ma. Rachel Kim L. Aure for pushing the investment into reality.
Google Workspace
Viscans with @vsu.edu.ph accounts can access Google Workspace for Education Plus, including apps such as Gmail, Drive with unlimited storage, Docs, Sheets, and Slides, among other apps.
With the EDU account, students can also avail of free premium access or discounts on services such as Spotify, Adobe, and Canva, among others.
Microsoft 365
Meanwhile, every @vsu.edu.ph also comes with an equivalent @365.vsu.edu.ph account with the same username for the Microsoft A3 license. With the subscription, users can use 365 services such as Outlook, Sharepoint, and OneDrive. They can also install licensed versions of Microsoft Office such as Word, Excel, and Powerpoint, among others on multiple devices.
Activating and Using These Accounts
Existing faculty and staff already have their VSU accounts. They will be given instructions on how to activate their Microsoft accounts through an internal memo.
Most continuing students on the main campus already have access to their VSU accounts. After accounts are updated and created (for new students and VITA students), the VSU Web Team's accounts-in-charge will email students through their MyVSU Portal/Registrar-registered email account on how to activate both their Google and Microsoft accounts.
As a general rule, the student's account is named after their school ID number, for example, This email address is being protected from spambots. You need JavaScript enabled to view it. (main Google account) and This email address is being protected from spambots. You need JavaScript enabled to view it. (Microsoft account). However, students may request to be given an alternative name (called an alias) after their name (This email address is being protected from spambots. You need JavaScript enabled to view it.) on a case-to-case basis.
"Having your name in the email will work better, especially in applying for scholarships where the name is needed, so we cater to those requests," says Mr. Cortes. "But the student number version is still retained because this makes it easier for teachers to identify their students' emails, plus it allows the Web Team to power-process 16,000 accounts using the tools we have."
"Faculty are strongly encouraged to use the students' official accounts for class management and communication starting September 2023," President Tulin added in his memo about the rollout of the accounts. Teachers can simply add "@vsu.edu.ph" to the student numbers in their roster to get their students' email addresses.
"Aside from the unlimited storage and other perks, having an official school account is a prestigious thing for students of a university," Mr. Cortes says. "If an email says EDU, it sends the message that the university is serious about its presence and communication online. So along with it, we encourage our students and staff to use the accounts we give them with utmost responsibility and respect to VSU."
VSU invested more than P4M for Google and Microsoft subscriptions for 2023. The contracts are renewed annually.