VSU students bag 2 top awards in young economists tilt
Details

Written by AGSarmiento

Published: 08 December 2016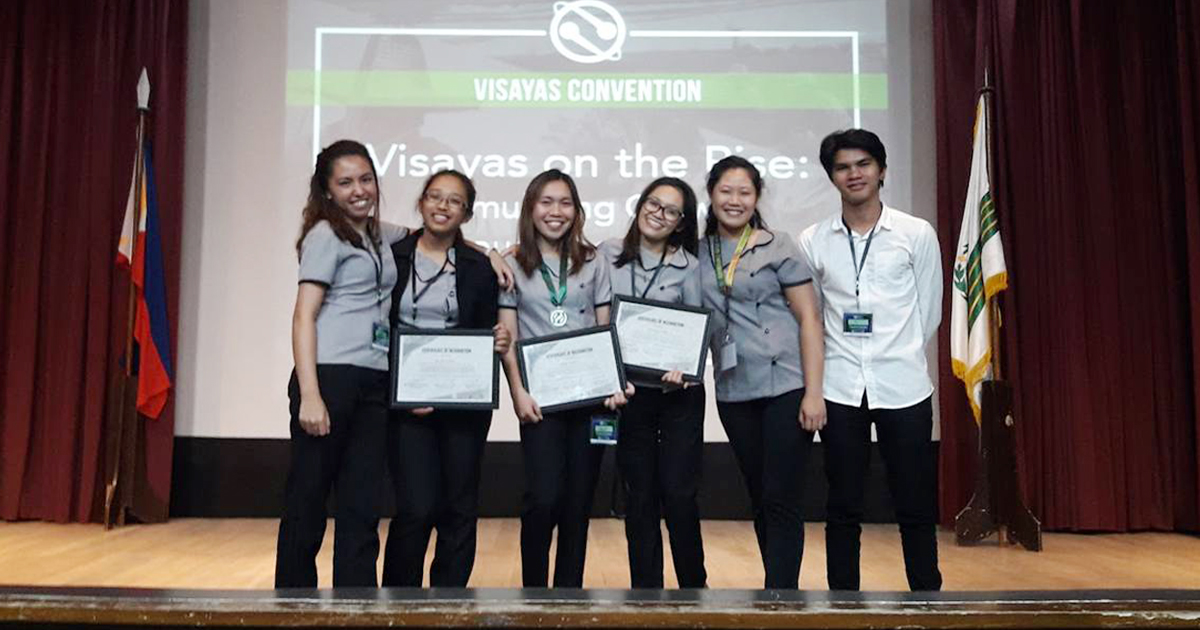 Two teams of senior BS in Economics students at VSU bagged first and second prizes during the Policy Making Competition at the Young Economists' Convention-Visayas at the University of San Carlos, Cebu City, December 3.
Six teams from different schools in the Visayas participated in the competition themed Visayas on the rise: Simulating growth through agriculture.
The team of Rhena Jane Soria, Therese Ratilla, and Ma. Precilla Balo won the first prize after their paper presentation on Policy implication for the cassava production of the Philippines.
The second prize was given to Wendy Enerlan, Romulo Jay Saloma, and Willa Rose Contapay for their paper, Gross margin analysis of vegetable crops production of small-scale farmers in Visayas.
Based on data from an ACIAR-funded research project with VSU, vegetable consumption in the Philippines is lower compared to the recommended vegetable intake of the Food and Agriculture Organization and the World Health Organization. This was deemed to be the cause of low production of vegetables in the country.
Through their analysis, Enerlan, Saloma, and Contapay said that full government support for farmers' planting materials and trainings, farm-to-market roads, among other infrastructure will help cut production costs of vegetable farmers, hence, improve their income.
Meanwhile, the team of Soria, Ratilla, and Balo measured the comparative cost competitiveness of cassava industry in the country to that of Thailand, the world's largest supplier of cassava.
Their research revealed that cassava in the country cost higher than in Thailand. Cassava, they said, is a high-value and low-maintenance crop making it highly viable for production at a larger scale.
To compete with the world market, the team proposed the following measures for cassava production:
(1) government subsidy for farm inputs, and investment on farm-to-market roads;
(2) a market price support system which will guarantee income to the farmers;
(3) collective efforts of cooperatives and private sectors;
(4) investment in cassava research by academic institutions and other stakeholders.
The students said they are grateful for the guidance of their advisers Lemuel Preciados, Jessa Ruales, and Dr. Moises Neil Seriño, the head of the Department of Economics.
"With the experience, we're more inspired to become future nation's builders," said Contapay.
Soria, Ratilla and Balo will compete in the Policy Making Competition at the National Young Economists Convention in March 2017.