VSU alumnus and CIAT Director for Asia is CME anniversary keynote speaker
Details

Written by Angelie Marilla

Published: 02 May 2018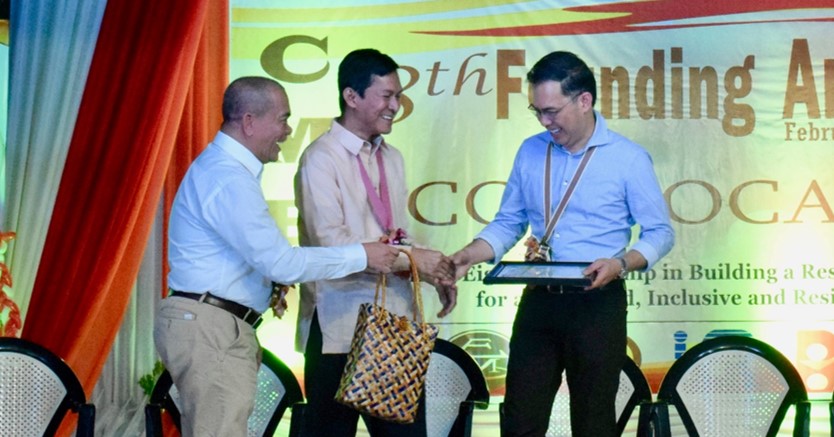 Dr. Dindo A. Campilan, VSU alumnus and Director for Asia of the International Center for Tropical Agriculture (Centro Internacional Agricultural Tropical, CIAT) served as the guest speaker of the culminating activity of the eight-year anniversary celebration of the College of Management and Economics (CME). This was held at the VSU Convention Center on March 2, 2018.
Following the theme "Partnership in Building Responsive Green Economy for a Sustained, Inclusive and Resilient Growth," Dr. Campilan highlighted the keywords productivity, sustainability, resilience and inclusivity in his keynote speech.

The CIAT Director kicked-off his message by posing a question on how to produce more [referring to productivity] using less resources [sustainability] in an uncertain future [resilience] for those who needed it most [inclusivity]?"

Dr. Campilan admitted that it will be a challenge for VSU to mobilize its expertise and knowledge in designing programs that would address such a question.
"As an academic community, we need to build a strong science for what is green, resilient, inclusive and sustainable," the CIAT Director said.

Dr. Campilan explained that understanding the key concepts and methods of these keywords would achieve the purpose of the CME anniversary celebration.

"You cannot promote studies on climate change and climate resilience without understanding what these concepts are, and that includes knowing the difference between climate and weather, or adaptation and mitigation. Or promoting a green economy without knowing about carbon trading, and greenhouse gas emissions. We need to understand the ABCs [science] of it," Dr. Campilan quipped.

The guest speaker went further in his message by inspiring students to hone creativity and innovation by not blending in with the crowd and by being a non-conformist.

"While it is good to be inspired by others, as there is no shortage of good Viscan examples, it is always better to follow your own calling in life, to define your own pathway, and to dream big. The greatest satisfaction in life is when you accomplish something that no one ever imagined you could," Dr. Campilan shared.

In closing, he challenged the crowd to not settle for average, but to be awesome in whatever they decide to pursue in life.

"Speaking from personal experience, never question your capacity to be 100 times who you are today. Be awesome. And no doubt you can be, because you are a Viscan," Dr. Campilan concluded.

Dr. Campilan finished his bachelor's degree in Development Communication in 1985 at then Visayas State College of Agriculture (ViSCA). He became VSU's youngest faculty at 18 years old, and the only alumnus who bagged two national awards, namely: one of the Top 10 Outstanding Student Leaders and the Top 10 Outstanding Young Scientists in the Philippines.

He finished his Master's degree in the University of the Philippines Los Baños (UPLB) and was awarded as the Most Outstanding Alumnus. He pursued his PhD in Netherlands and completed several professional studies in business management in Australia, United Kingdom and Japan.

Campilan first worked with the Consultative Group on International Agricultural Research (CGIAR), a group of 15 international centers engaged in research for food security which includes the International Rice Research Institute (IRRI) in the Philippines.

Some notable highlights of his career include managing a 15- country agricultural research program in South and Central Asia, leading an evaluation biodiversity conservation covering 45 countries in Africa, coordinating a network for participatory agricultural research consisting of over 40 institutions in 12 countries in East Asia and the Pacific, and facilitating scientific cooperation between Asia and Latin America and the Carribean countries.

The convocation was followed by a forum with the CME faculty staff in the afternoon to discuss immediate opportunities for international partnerships and to explore ways to mobilize international funding.

The college's week-long celebration ran from February 26 to March 2, 2018.