London-based zoological org taps ITEEM for scholarship grant
Details

Written by Sheila Lemos

Published: 02 May 2018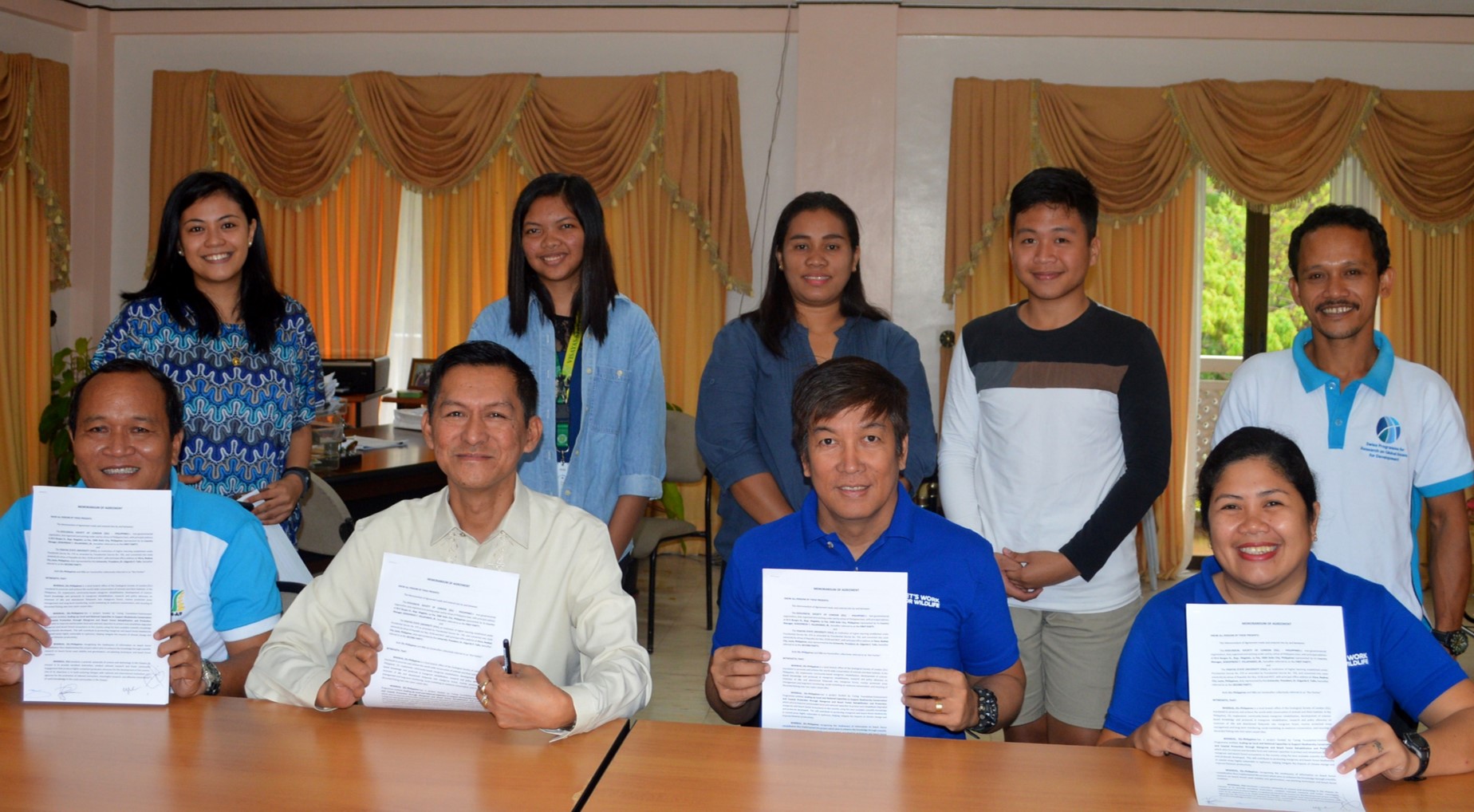 The Zoological Society of London (ZSL) through the Zoological Society of the Philippines (ZSP) forged a partnership with the VSU Institute for Tropical Ecology and Environmental Management (ITEEM) in offering scholarship grants to deserving students taking up forestry, tropical ecology and environmental science programs in both graduate and undergraduate levels.
A Memorandum of Agreement (MOA) was signed last March 11, 2018 between ZSL Country Manager, Mr. Godofredo T. Villapando, Jr., and VSU President, Dr. Edgardo E. Tulin. ITEEM Director, Dr. Marlito Jose M. Bande was also present in the MOA signing as main witness and local scholarship supervisor.
Because of this, ZSL and ITEEM will now set up a strategic partnership to give financial and technical support to a total of three students who are currently undertaking research on beach forest seed viability and germination, out-planting techniques and forest zonation which are all mainly intended for beach forest rehabilitation.
The provision of the said scholarship grant will take effect on the second semester of this school year until first semester of next academic year. Each grantee shall receive Php 37,500 research support in the second semester as initial fund for this scholarship program.
According to Dr. Bande, ZSL sought the assistance of VSU to conduct research on pollination, phenology, germination, and tree planting performance. The ITEEM Director said that this can be accomplished through provision of scholarship grants for master and undergraduate students who will work on these research areas.
ZSL chief mangrove scientific advisor, Dr. Jurgenne H. Primavera, together with Dr. Bande will co-supervise and provide technical assistance in the conduct of the research study. They will initially identify priority beach forest species that will be studied in this scholarship program.
The Zoological Society of the Philippines is a local branch office of ZSL currently based in Iloilo City. It is mandated to promote and achieve the worldwide conservation of animals and their habitats.
At present, ZSL implements community-based mangrove rehabilitation, development of science-based knowledge and protocols in mangrove rehabilitation, research and policy advocacy on reversion of idle and abandoned fishponds into mangrove forest, marine protected areas management and long-term monitoring, social marketing on seahorse conservation, and recycling of discarded fishing nets into nylon carpet tiles.