CME conducts seminar on the TRAIN law
Details

Written by Merry Jean Caparas

Published: 02 May 2018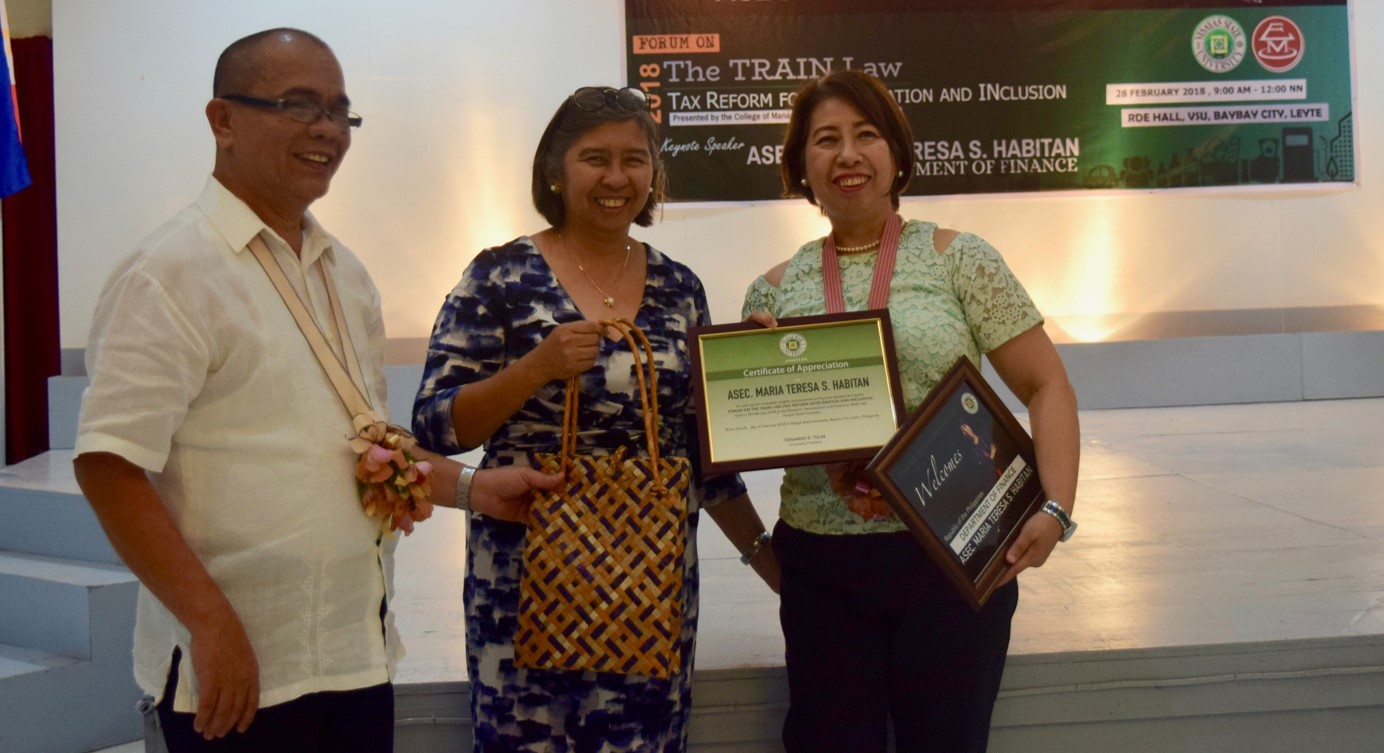 As part of the 8th year anniversary celebration of the College of Management and Economics (CME), a seminar on Republic Act (RA) 10963 or the Tax Reform for Acceleration and Inclusion (TRAIN) law was held at the RDE Hall on February 28, 2018.
Assistant Secretary (ASec) Maria Teresa S. Habitan of the Department of Finance (DOF) served as the resource person of the said activity.
According to ASec. Habitan, the TRAIN law is the first package of the Comprehensive Tax Reform Program (CTRP) which shall be implemented in several phases under the administration of President Rodrigo R. Duterte.
"TRAIN law seeks to correct a number of deficiencies in the tax system to make it simpler, fairer, and more efficient so it's really not a short-term vision but rather a long-term vision of the present government to finally reform our taxation system in the country," said ASec. Habitan.
She further explained that the law specifically addresses several weaknesses of the current tax system by lowering and simplifying personal income taxes, simplifying estate and donor's taxes, expanding the Value-Added Tax (VAT) base, adjusting oil and automobile excise taxes, and introducing excise tax on sugar-sweetened beverages that are found to have some health implications to consumers.
TRAIN law is not anti-poor
One of the common misconception of the TRAIN law is being anti-poor because of its direct effect in increasing inflation rates which may lower the poor's capacity to purchase different products and commodities.
ASec. Habitan corrected this by arguing that the TRAIN law will lead to massive infrastructure spending which in turn will generate local employment for the poor.
"There's a need to disseminate right information on the TRAIN law to correct public misconception on it. In fact, the law is very pro-poor because through TRAIN, every Filipino contributes in funding more infrastructure and social services to eradicate extreme poverty and reduce inequality towards prosperity for all," explains ASec. Habitan.
For the DOF Assistant Secretary, while there may be some implications on lowering the purchasing power of the poor, the current government made sure that some mitigating measures were put in place so that the economic gains from an improved taxation system are redistributed to our poor fellowmen.
A panel of reactors coming from both public and private sectors were invited to facilitate a community dialogue on the TRAIN law. Among those who graced the event were Southern Leyte Provincial Director Romulo Alcala of the Department of Trade and Industry (DTI), Baybay Market Vendors' Association President Amalia Matugas and a representative of the Baybay City Multicab Drivers' Association.