President's Notes: The role of accreditation in the time of pandemic
Details

Written by Dr. Edgardo E. Tulin

Published: 19 April 2021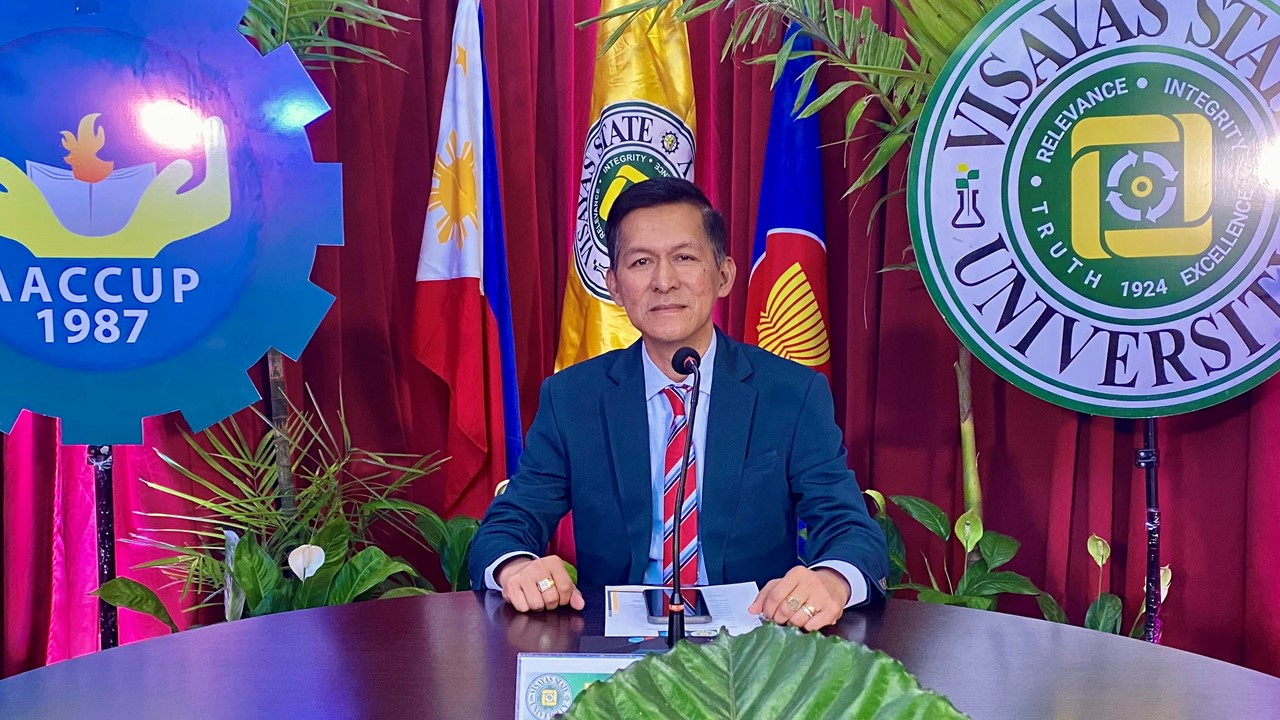 Delivered during the Opening Program of the April 2021 AACCUP Accreditation.
To the Executive Director of AACCUP, Dr. Milabel E. Ho, to our overall coordinator for this accreditation, Dr. Receli C Mendoza ably represented by a seasoned accreditor Dr. Felipe Pialago from the Jose Rizal Memorial State University, to all our accreditors of the 8 programs that will be evaluated this week, to the ever-active Vice Presidents of VSU, to the Director for Quality Assurance, Dr. Editha G. Cagasan, to all our faculty and staff, students, to everyone, good morning from the beautiful campus of the Visayas State University!
I'm grateful to the AACCUP management including all our courageous accreditors for allowing us to proceed with this accreditation despite the current challenges that we are all facing because of COVID-19.
Today, we are submitting ourselves once again for the accreditation of some of our programs both at the graduate and undergraduate levels, namely land administration and management, education, language teaching, agriculture, statistics, mechanical engineering, and English language.
You see more than a year into this pandemic we've all realized that our function and commitment to our respective institutions must remain unhampered. That despite the instability and uncertainty around us, all universities and colleges must continue on our quest of educating our public. Doing so will allow us to contribute in fixing some of today's problems by producing the needed amount of workforce who will power up our economy back to its usual shape.
We recognize the role of accreditation in ensuring quality not just in our instruction but also in the way we do things especially now that we had to adopt new ways of teaching that is heavily reliant on available technologies. Just as our mandate to continue educating the public must remain unhampered, activities that will ensure educational quality like accreditation should also be persistently pursued even in the time of COVID-19.
402 days into community quarantine, I understand fully well how this pandemic brought so much anxiety to our faculty members. For a short period of time, we had to adapt to new technologies, produce offline learning guides, attend to a lot of webinars, and adjust our operational systems so that we can keep serving our students the best way possible. That's why I'm grateful to our hardworking VSU faculty and staff that on top of the huge work added to you because of our new normal setup, you still managed to prepare all the required documents needed for this AACCUP accreditation.
In early February this year, we successfully passed with zero non-conformity the first remote surveillance audit for ISO 9001:2015. We also opened this year with another international recognition as a 4-star research university under the University Performance Metrics, which is a new ASEAN rating system for universities and colleges. Last year, we have been rated by QS as a 3-star university and we are working doubly hard to be included in the Asian rankings hopefully within the year.
On top of that, VSU is now an affiliate member of the elite University Consortium group managed by the Southeast Regional Center for Graduate Study in Agriculture or SEARCA. We also got funding from CHED to partner with IHE Delft Institute for Water Education based in the Netherlands to pioneer water education among higher education institutions in the Philippines.
All of these and many more charity works for our local pandemic response are the things we collectively accomplished despite COVID-19. That's why I'm sure that we will also be able to finish this AACCUP accreditation with flying colors.
Let me end my message by saying that VSU should continue to shine its light when darkness seems to loom all over us. We have the responsibility in the academe to serve as one of the beacons of inspiration for our people to see hope in times of great despair. And yes, as educators, we can become the source of strength and courage of our dear students so that we can effectively guide them in navigating through a challenging moment in their respective lives.
Mabuhay ang VSU at mabuhay ang AACCUP. Thank you very much and please continue to pray for the safety and security of everyone.
God bless us all!