Devcom wraps up its four-part research webinar series
Details

Written by By Ulderico B. Alviola

Published: 12 July 2021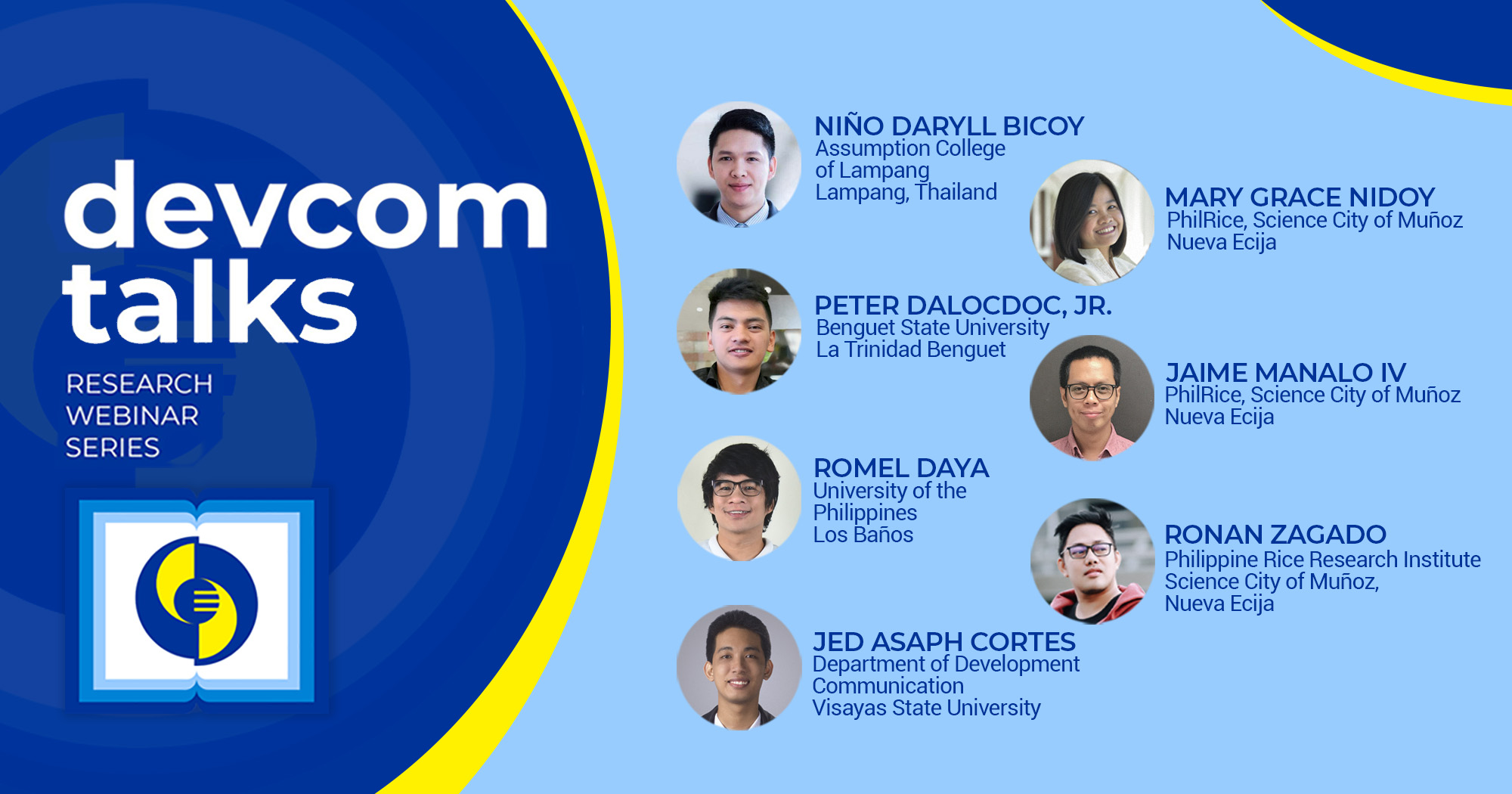 Dubbed as #DevcomTalks: DDC Research Webinar Series, this online research colloquium is the first of its kind highlighting the emerging directions in the field of development communication research.
For its maiden run, the webinar featured a total of seven research papers in a four-part series that was held from June 8 to 29, 2020 via Zoom with a livestream aired at the official Facebook page of VSU Department of Development Communication.
The first set covered topics on cultural identity construction in films presented by Mr. Peter Dalocdoc, Jr. of Benguet State University, and a media literacy intervention that resulted to a significant reduction of junk food intake among children in Leyte presented by Mr. Niño Daryll Bicoy of Assumption College of Lampang based in Thailand.
Both of these research papers were extracts of their master's theses with the former employing a qualitative inquiry while the latter used an experimental research design measuring behavioral changes before and after an arranged intervention.
The second webinar featured a purely Filipino research paper that analyzed environmental myths in travel blog photos of a famous tourist destination in Palawan using semiotics. This was presented by Assistant Professor Romel Daya of the UPLB College of Development Communication (CDC).
To put it simply, semiotics is an investigation into how meaning is created and how meaning is communicated. While this area is rarely studied in the field of Devcom, it has become an important approach in the bigger communication discipline because it examines the association between signs and their roles in how people create meanings on a daily basis.
The third installment of the research webinar series included three research papers, one coming from VSU while the other two are from the Philippine Rice Research Institute (PhilRice).
Mr. Jed Asaph Cortes, a home-grown faculty member of VSU Devcom, presented his master's thesis on thinking spaces and its role on deep thought in a world of distraction and technology.
His paper explored how thinking spaces and social media exposure interact and how it can either prevent or activate deep thought among post-millennial learners as indicated by their reading comprehension and multitasking behaviors.
Ms. Mary Grace Nidoy of PhilRice tackled a media monitoring study that scrutinized how the Philippine media reports about rice and rice agriculture in general. She also suggested ways in which science stories can merit the attention of the mainstream media.
Meanwhile, Dr. Jaime Manalo IV, the Supervising Research Specialist of PhilRice Socioeconomics Division, concluded the third webinar series with his presentation on how the Philippine mainstream media reported the issue of 'bukbok' or the weevil-infested rice. Attention on the said issue lasted for 21 days, which is a rare incident considering how local agriculture stories are underreported in the national media.
And as closing to the four-part webinar series, another researcher from PhilRice top billed the final webinar on Devcom at PhilRice in the pre and post-pandemic milieu presented by no less than the Chief of their Development Communication Division, Dr. Ronan Zagado.
In his presentation, Dr. Zagado explained the unique and vital role of development communication practitioners in a national research organization especially in the time of the COVID-19 pandemic. He revealed that in the absence of travels brought by mobility restrictions, PhilRice is currently using various social listening tools to engage the public about rice science.
Dr. Zagado also shared how their work in the Devcom Division of PhilRice made many technical scientists appreciate the importance of Devcom not only in implementing extension activities but also in the overall planning of all major research undertakings of PhilRice.
More than 200 unique participants, averaging about 80 per session, tuned in to Zoom for the past four weeks with attendees coming from VSU, Biliran Province State University (BiPSU), Leyte Normal University (LNU), Samar State University (SSU), Northwest Samar State University (NwSSU), Southern Leyte State University (SLSU), West Visayas State University (WVSU), Mindoro State College of Agriculture and Technology (MinSCAT), University of Eastern Philippines (UEP), and the University of the Philippines Los Baños (UPLB).
Professor Rotacio S. Gravoso, the mastermind of the first Devcom research webinar series, expressed his thanks to the speakers and participants of the event.
"We thank all our amazing lineup of speakers for the Devcom Talks including the more than 80 participants who took part in our weekly event. Thank you very much! We promise to organize similar activities like this in the succeeding semesters as our humble contribution in mainstreaming Devcom research for the greater growth of our beloved discipline," Dr. Gravoso said.
The webinar series was his way of exposing his undergraduate students to different methodologies in DevCom research.
For her part, VSU Devcom Head Dr. Christina A. Gabrillo said that more activities will soon be launched by the department including a radio school project with the East-West Center (EWC).
"The Devcom Talks and our upcoming radio school project with EWC are testaments that our important work in development communication shall continue despite the COVID-19 pandemic. We are hopeful that VSU Devcom will pursue more meaningful activities like this so that people will better understand the very important role we play in pushing both local and national development initiatives," Dr. Gabrillo explained.
The VSU Department of Development Communication is one of the two Centers of Development in Development Communication identified by the Commission on Higher Education (CHED).