VSU President's Speech for 2022 Orientation Program of New Students
Details

Written by Edgardo E. Tulin

Published: 12 September 2022
To our newest Viscans, welcome to the Visayas State University, one of the country's leading research universities!
First allow me congratulate you for you have now become a full fledged member of our ever growing family of #ProudViscans. I'm grateful to you and your family that you have chosen to entrust your education here with us.
Our university is one of the most respected higher education institutions in the Philippines. We have obtained a 3-star rating from an internationally recognized system called QS. We have also been accorded the 4-star evaluation by the UPM, which is an emerging ASEAN rating system based in Vietnam.
We are Top 8 in the Philippines according to the Impact Rankings of Times Higher Education. Iris, which is a university research ranking system based in the Philippines, placed us Top 12 in science and engineering, and Top 12 in health. And just recently, the Webometrics ranking evaluated VSU as Top 8 best university here in our country.
On top of those rankings, we have been identified by the Commission on Higher Education as a Level IV university and was rated as the highest ranked state university all over the Philippines in their 2018 evaluation report. In May this year, we have also been granted the Level IV status by AACCUP, the country's largest accrediting body of universities and colleges.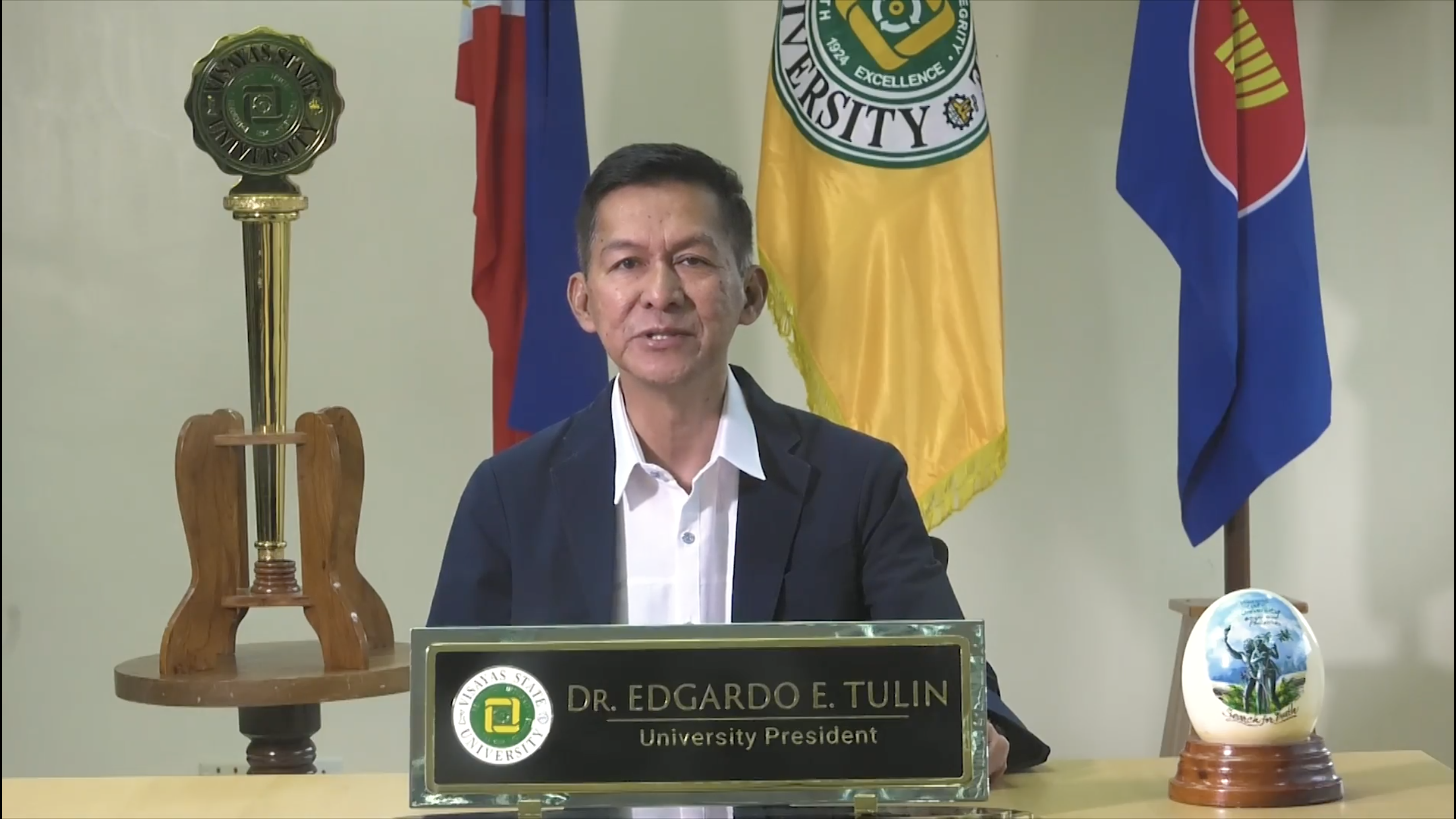 You see, we have cemented for the past years our reputation in instruction, research and extension. And currently, we are pursuing many efforts in internationalization for us to go global and become a truly world class university.
As freshmen, my challenge for all of you is very simple—that as you hone your mind and skills in this prestigious university, you will not just carry our name with pride. But more importantly, carry our brand as #ProudViscans with great responsibility.
Now that you're admitted to VSU, we expect you to excel. We expect you to behave well at all times. We expect you to be responsible. We also expect you to do all means so that you too can also bring honor to our dear university just like what many others ahead of you have previously accomplished. And lastly, we expect you to be a productive member of our society who will make this country a better place for all of us.
Whether physical or virtual, always know that in everything you do, the name of our beloved VSU will always be connected to your actions especially now that we have a growing reputation that has become an envy of many other state universities and colleges here in the country.
Now that you're a full fledged Viscan, there's so much expected of you from our society especially that your college education is fully covered by our taxpayers' money. You should return the favor by doing well in your studies and completing your education on time because many have tried to be in your shoes right now, but not all were given this golden opportunity to be accepted to this prestigious institution.
My dear freshmen, what I want you to realize is this—that your being a #ProudViscan is not a right but just a privilege afforded to you by our national government. Instead of thinking that being here is an entitlement that you deserve, I want you to see it as a responsibility that you will have to protect even after you graduate, hopefully four years from now.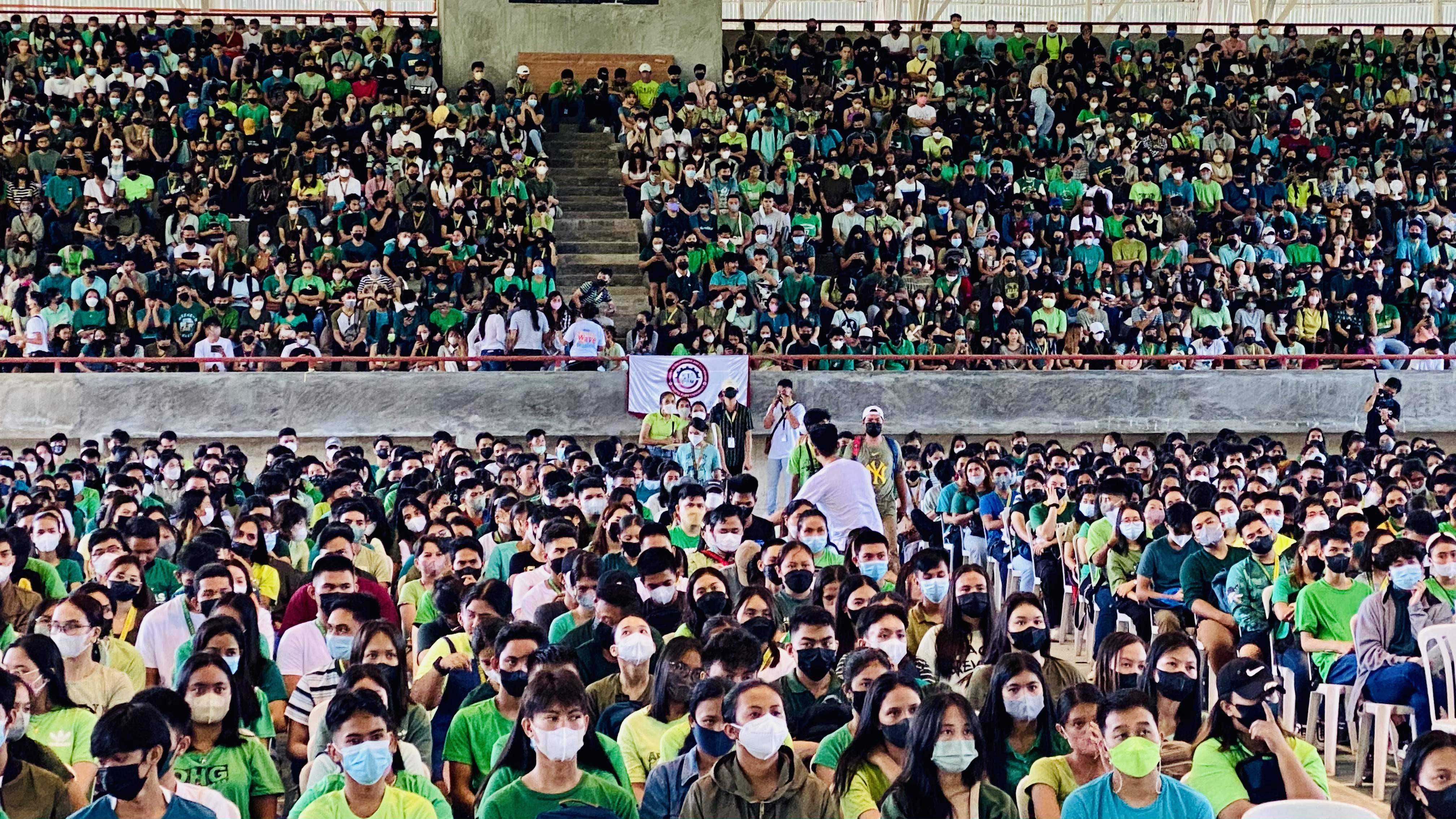 With this kind of mindset, I believe that this will motivate you to make the most of your experience here in VSU. You're very blessed to be surrounded by powerhouse faculty members who obtained their advanced degrees in reputable universities here and abroad.
You're also fortunate that we have facilities here that you can use to help in your education needs that are not even present in other schools. You're very lucky that you have a conducive environment that will hopefully inspire you to create, innovate and hone your critical thinking.
You're blessed that while others are still grappling with online learning, here you are right now being allowed to do full face-to-face classes so that you too can experience real and physical laboratory exercises while also earning new friends who may also become important people in your future life.
True enough that there are still many things that we can improve to make your education here in VSU more future-ready. My administration is fully committed to spearheading programs and projects that will not only help you excel academically but will also build your character to become a productive member of our society.
My wish for you is to succeed here in VSU, so that by the time that we release you to the outside world, you will be ready to face the bigger challenges that will soon come your way.
I hope that you will strive hard to stay true to the values of what a Viscan should be as we hone you to become future leaders who will spur inclusive and sustainable development for every Filipino.
Congratulations on your first day here in VSU. Welcome to our home that we fondly call the Very Scenic University.
God bless you and your supportive family members. May you build an extraordinary future here in our beloved VSU.
Mabuhay po tayong lahat!