As another #ProudViscan aces the Agri Board, she gets 150K incentive from VSU
Details

Written by Marianne C. Bayron

Published: 14 January 2023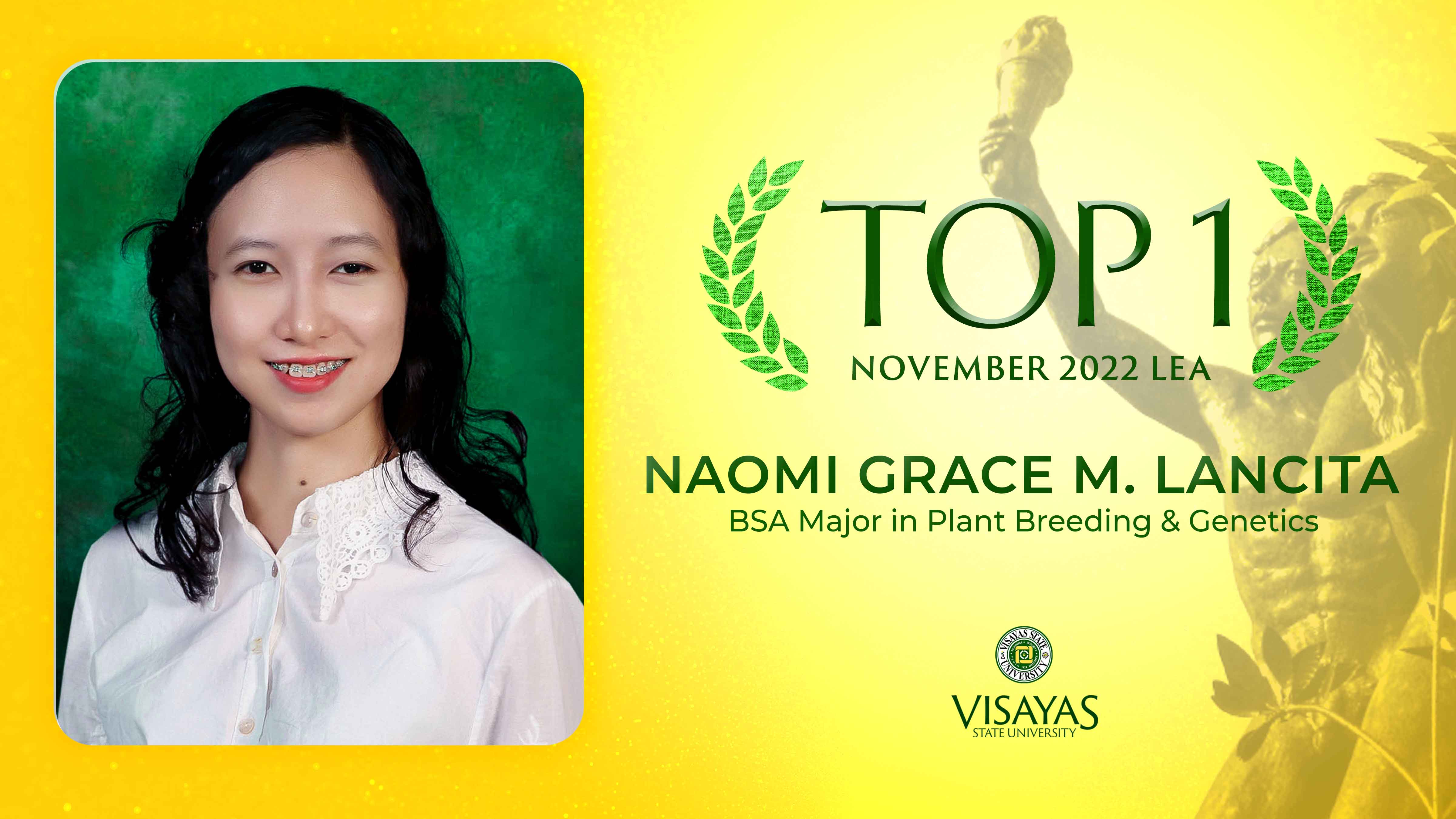 You read it right! Cash incentive for topnotchers in VSU has been raised three times as much as more #ProudViscans are performing very well in the recent licensure examinations.
The VSU Board of Regents approved this new policy that entitles all new topnotchers of the university system with higher cash incentives that also comes with a proposal-based funding grant for the department where the topnotcher belongs.
A year after the whole VSU community celebrated the success of the three topnotchers of the Agriculturist Licensure Examination in 2021, another VSU alumna kept up the record by placing top 1 again in the November 2022 agriculture board exam.
Naomi Grace M. Lancita, together with Rio S. Antion from the University of the Philippines Los Baños (UPLB) garnered a total score of 86.83% and topped the 4,035 passers from all over the Philippines.
This is the third time that a VSU graduate clinched the highest spot following Marco D. Aragon in 2007 and Ella Hazel B. Estrada in 2021.
Naomi is from the Department of Plant Breeding and Genetics. She graduated Magna Cum Laude in 2018 and was a scholar of the Department of Science and Technology (DOST) during her undergraduate years.
Currently taking up her master's degree at the Mindanao State University-Iligan Institute of Technology (MSU-IIT), this #ProudViscan is truly living the Viscan spirit—striving for excellence.
In an exclusive interview with her, she shared essential tips to ace licensure exams.
1. Give yourself enough time for preparation and then read as much as you can.
Despite her busy schedule, juggling between her thesis and review, she would always find time to read and study. \
"I actually enrolled in a review center in September as soon as I finished my coursework. I did my heavy studying for almost three months. I devoted most of my days to studying. In between preparing for my proposal defense, I would find time to study in a day," the topnotcher revealed.
For her, it would be a disadvantage to taking the board exam without reading.
"You must know a little bit of everything," she added.
2. You must identify your weaknesses [in the different subject areas].
Naomi believes that knowing what your weak spots are and addressing them is crucial when preparing for the licensure exam.
"If you feel that your foundation in a certain subject is weak, there you must exert more effort. You must identify what topics you feel your understanding is a bit shaky. And after acknowledging them, you must do something about it," she highlighted.
3. Consistency [in all subject areas].
The agriculture board exam covers six sub-fields. In order to pass and ace the board exam, according to Naomi, one must do equally well in all six. She noted that one must not neglect any one of the subjects.
"Bear in mind that what you learn from those six subjects will be useful to you as a future agriculturist," the topnotcher imparted.
4. Polish your mathematics skills.
Perhaps most of the students' clamor is about how they are going to apply the formulas and solutions in real life. Naomi emphasized that when preparing for the exam, it is important to work on problem-solving skills aside from purely memorizing stuff.
"When you are given a situational question and are asked to solve it, you should at least know how to find the solution to the problem," Naomi concluded.
You are a Viscan, and yes you can!
Naomi is in Mindanao right now, even then, she revealed that wherever she is now, she will forever carry the name of VSU. She shared that she never expected to top the board exam because she found the review and the exam in itself difficult.
She teased saying that after the exam was over, while she was on her way home riding a bus, she overheard fellow takers talking and foretelling that VSU will for sure have topnotchers again in the licensure exam.
She extended her gratitude to her Alma Mater, for the quality education that VSU has given to her. It was her training ground for four years. She also thanked her mentors and teachers for their expertise in teaching them.
Despite her achievements, she could not deny the fact that along with it lies the pressure of living up as a topnotcher. She noted that there are several challenges now in the agricultural sector. But she channeled that anxiety and turned it into motivation instead.
"I want to make things better for me and my family. I have this vision for myself, I want to be someone someday who can contribute to society through agriculture. Someday, if God allows, I can be part of the solution," she concluded.
Naomi is expected to finish her master's this year. She hopes to secure a job after it and pursue doctoral studies.
Along with Naomi, the Visayas State University (VSU) system produced a total of 185 new agriculturists, 157 (57.72%) were from the flagship campus in Baybay City, 21 (43.75%) were from the VSU Alangalang, 5 (26.32%) were from the VSU Villaba, and 2 (25%) were from VSU Isabel.
Here is the list of the VSU passers:
VSU Flagship Campus in Baybay
[Please take note that the list is incomplete as this is still being vetted by the different departments of the College of Agriculture and Food Science]:
1. Alabat, Rinhard P.
2. Ando, Richard L.
3. Andrade, Matthen
4. Aqui, Aherwin P.
5. Asauro, Gemmari
6. Autor, Anna Marie
7. Badilla, Febie Allyssa
8. Barbosa, Emily B.
9. Basalo, Aram Victor
10. Batucan, Christian
11. Batuto, Jocel D.
12. Bayron, Winah Louie
13. Burawin, Iwo Gemma B.
14. Caiña, Guin Marie
15. Caindoc, Junabel
16. Cainong, Jenny Lou
17. Caones, Jedyx Jude M.
18. Casimero, Ninive G.
19. Casinillo, Kriystel Kay M.
20. Cerna, Jezame B.
21. Cinco, Mark Anthony
22. Circulado, Almera D.
23. Compendio, Lyndon, Jr.
24. Conde, Anthony Christian
25. Contridas, Glenn L.
26. Cortel, Annalyn G.
27. Cuevas, Jeobert
28. Daffon, Valerie
29. Dalupan, Andrebve Harmony D.
30. De Guia, Pamela Ann V.
31. Decasa, Hargie
32. Decasa, Herzie D.
33. Dela Cruz, Jaime Jr. M.
34. Delig, Elmer
35. Doguiles, Fe Alddie
36. Donato, Roma Fryle O.
37. Donayre, Carol Niña S.
38. Doydora, Gay
39. Dula, Ronalyn R.
40. Edradan, Millene Ruth R.
41. Elmido, Kidei
42. Enero, Danelyn
43. Escasinas, Gino
44. Escultor, Princess Vergelle
45. Esguerra, Karen S.
46. Estoy, Claudine May T.
47. Fabella, John Marklin
48. Famor, Marianne
49. Galupo, Archille
50. Gaña, Marite C.
51. Garcia, Rhea Tess B.
52. Garrido, Ayron Nikki M.
53. Gasatan, Dina Joy
54. Godoy, Kevin M.
55. Golle, Jackquilyn C.
56. Gonzaga, Jemboy
57. Gorme, Ana Linda G.
58. Gorne, Nello D.
59. Goyo, Mart John
60. Ladaran, Marife C.
61. Lambo, Darin F.
62. Lancita, Naomi Grace M.
63. Lasco, Vincy P.
64. Lasquite, Rodel
65. Layola, Anna Lea M.
66. Limpangog, Roy
67. Lipian, Maria Rosario
68. Loreto, Lio Cris
69. Luchavez, Adrian D.
70. Mahipos, Rica, Rose B.
71. Makiling, Mark Joseph P.
72. Manla, Lilibeth O.
73. Marquito, Mark Neil D.
74. Mingao, Karen I.
75. Molato, Mark Anthony D.
76. Mondala, Brian Joseph
77. Montes, Arcel M.
78. Namoc, Christy T.
79. Naval, Shaina P.
80. Nogra, John Vincent C.
81. Notarte, Ma. Isalie A.
82. Ocares, Mecca Jane
83. Odias, Emmalyn D.
84. Olo, Ruy Niño L.
85. Olo, Vyra Mae L.
86. Omillion, Queenie R.
87. Onay, Mary Joanlyn J.
88. Ondras, Ralph A.
89. Orapa, Gabriel
90. Ordiz, Resurreccion
91. Padrigano, Jasmin Fiona
92. Padrigano, Maica Joy
93. Pancito, Jade Ellaine
94. Pecayde, Ejay
95. Peneda, Ian Nicholas
96. Piamonte, Marvin
97. Piquero, Shephelah
98. Pore, Roselyn S.
99. Posas, John Ray
100. Purca, Judy Ann I.
101. Ramirez, Jessa Mae M.
102. Regina, Analyn C.
103. Regina, Analyn
104. Risos, John Mark S.
105. Romero, Jia Carylle
106. Ronato, Andrew
107. Rosario, Jhoana Marie
108. Ruta, Cherry Mae
109. Sapico, Dawn Mariz
110. Sarco, Sheila T.
111. Suri, Jonalyn F.
112. Tahanlangit, Jess
113. Tan, Rolando Q.
114. Tano, Merilyn
115. Torrejano, Norilene
116. Trasmonte, Jayson C.
117. Tusoy, Jennie Ann
118. Vasquez, Mary Jane
119. Ventillanon, Marvi R.
120. Yamon, Rea Via Jane
VSU Alangalang
1. Artazo, Rodessa C.
2. Avelino, Jennifer G.
3. Baldos, Mary Jane B.
4. Boyano, Jimmy D.
5. Cajefe, Margie S.
6. Camino, Ann Mae V.
7. Casero, Rovelyn L.
8. Collado, Atillano L.
9. Ellera, Ruzzel B.
10. Garcia, Marvin C.
11. Labastida, Mark Anthony C.
12. Maraya, Denzel Rhecks V.
13. Nazareno, Johnrey C.
14. Obera, Zyra B.
15. Pallomina Mary Jane S.
16. Parcero, Daphne Jane A.
17. Pedrique, Jay Boy C.
18. Petilla, Joycee M.
19. Rendora, Pamela C.
20. Salvacion, Janelle D.
21. Tingzon, Rhodora S.
VSU Villaba
1. Ayo, Aldwen A.
2. Cuizon, Jeffsbor G.
3. Lumanta, Renante T.
4. Paquibo, Ryan L.
5. Segovia, Cali Shane Dy P.
VSU Isabel
1. Cabataña, Jolina N.
2. Pepito, Fhelda M.
UPLB is the consistent top performing school in this licensure exam with a 100% passing rate according to the Professional Regulation Commission (PRC).
The Agricultural Board Exam was conducted on November 22-24, 2022 at PRC testing centers located in NCR, Baguio, Cagayan de Oro, Cebu, Davao, Iloilo, Koronadal, Legaspi, Lucena, Pagadian, Pampanga, Rosales, Tacloban, Tuguegarao, and Zamboanga.
Full list of passers can be accessed here.