VSU reintroduces Pinoy Fries from sweetpotato on PhilRootcrops' 46th anniv
Details

Written by Marianne C. Bayron and Ulderico B. Alviola

Published: 03 April 2023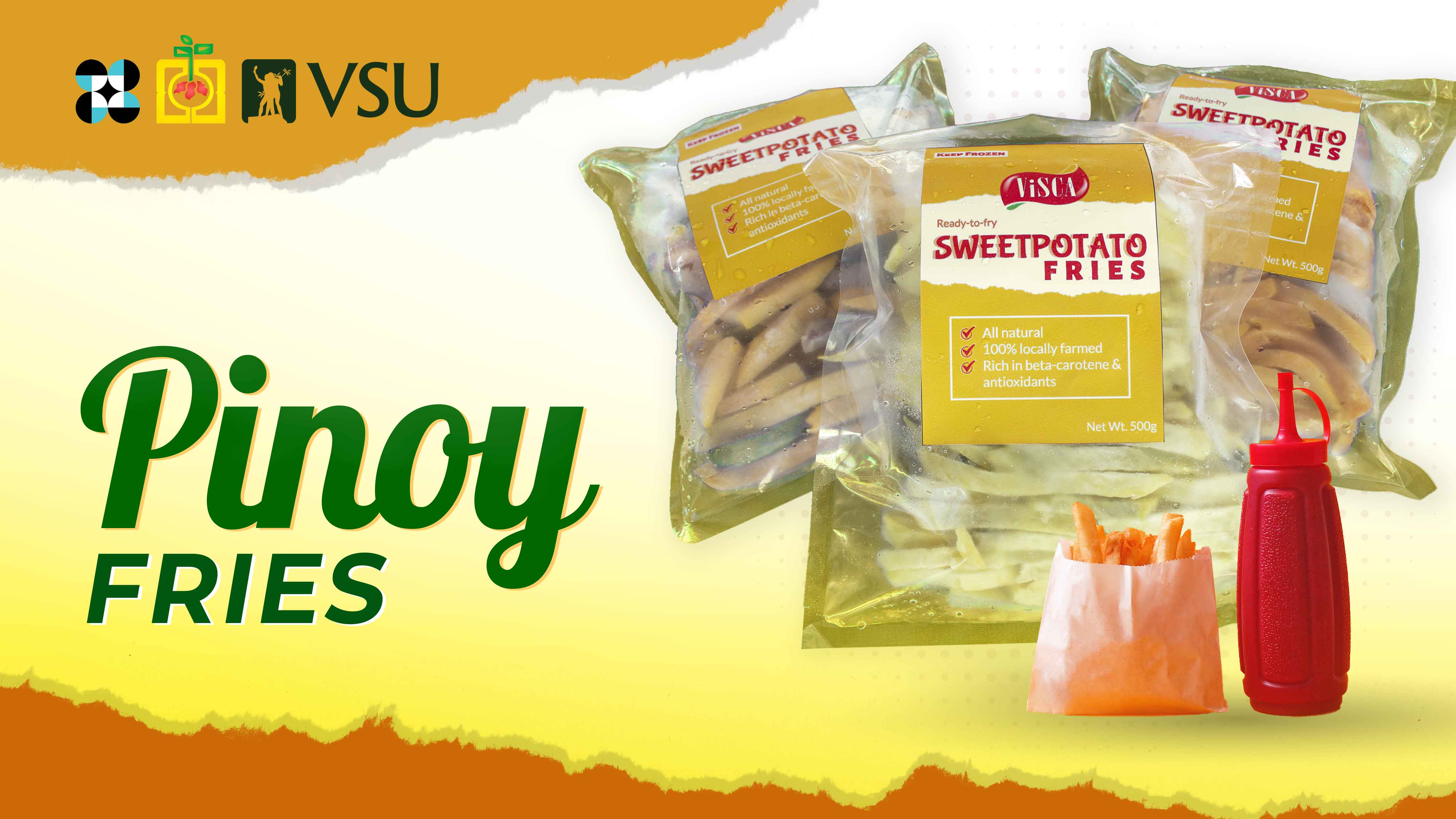 From chips, cookies, ice cream, and now a multicolored version of fries called the Pinoy Fries—these are just some of the notable food products that are proudly developed here at the Visayas State University (VSU) and are now mature for commercialization.
As a way of boosting the sweetpotato food value chains, the VSU's Philippine Root Crop Research and Training Center (PhilRootcrops) relaunched a new and improved kamote-based snack, which is an all-natural food that can become a healthier alternative to its popular fast food counterparts.
The Pinoy Fries boast of a multicolored variant sourced from different varieties of sweetpotato giving it a more appetizing look for children and other ages.
As a healthier alternative to the common French Fries, this product contains beta-carotene, which is a very good source of Vitamin A and is rich with essential antioxidants.
The official relaunching of the product happened on March 21, 2023, and included a free tasting event open for students, faculty, staff, and even children. This was one of the highlights of the 46th-anniversary celebration of VSU PhilRootcrops anchored on the theme "Rootcrop for food and nutrition security."
With the help of the Department of Science and Technology - Philippine Council for Agriculture, Aquatic and Natural Resource Research and Development (DOST-PCAARRD) through a project led by PhilRootcrops Assistant Director Asst. Prof. Marlon M. Tambis, the commercialization of this new variant of the Pinoy Fries is expected to attract local market adopters especially since the supply chain for this specific type of sweetpotato variety is currently being cultivated in upscaled demonstration farms within Baybay City, Leyte.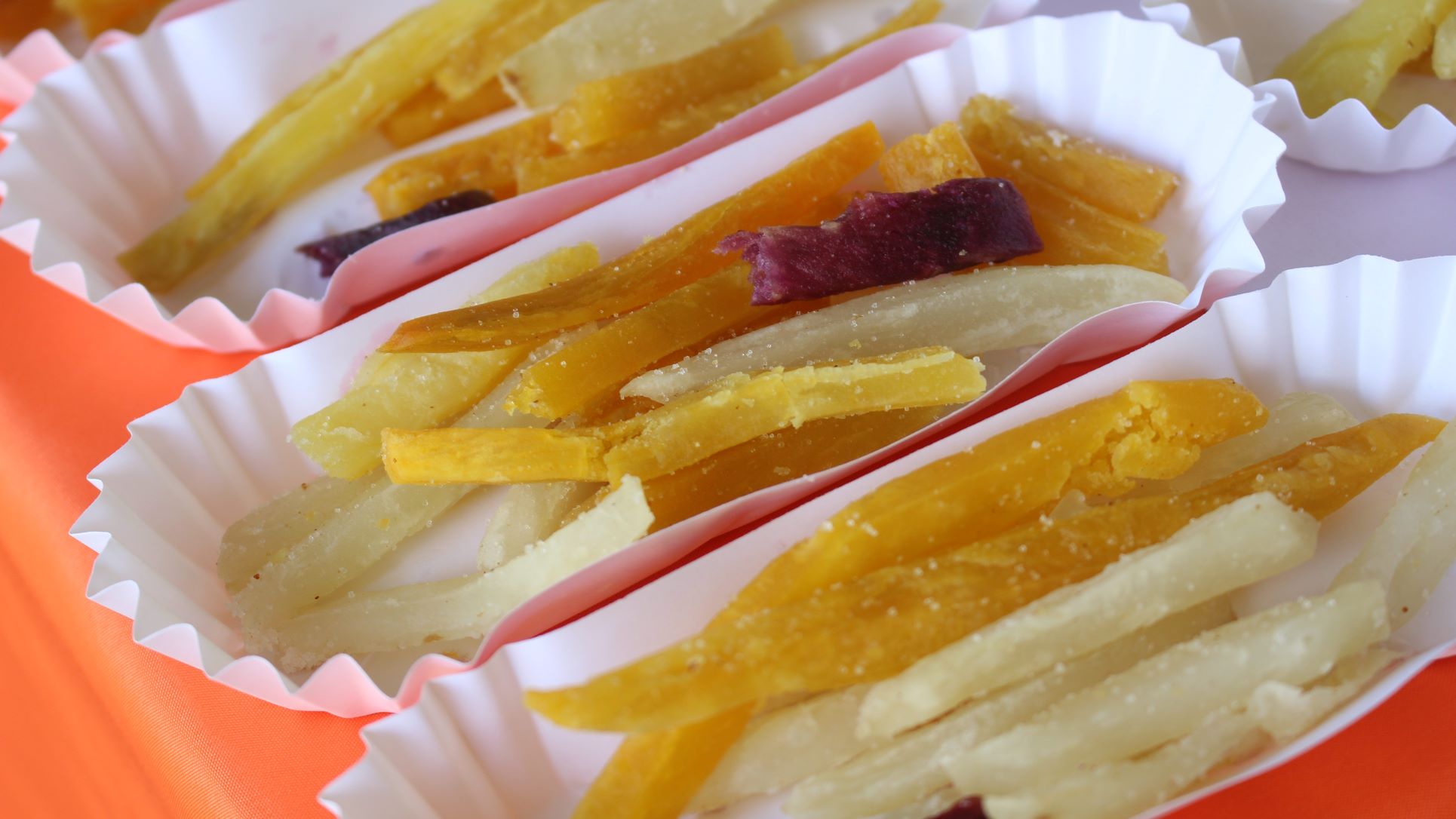 The multi-colored fries sample for free tasting contains 5 different varieties of sweetpotato.
The Pinoy Fries can be sold as a cooked product with a ready-to-fry variation that can be easily stored for widespread use. The supply of this food product is now available at the VSU Technomart located beside the upper gate entrance of the university.
It can also be purchased at the official Pasalubong Center which is currently operated and managed by the local government unit of Baybay City.
Aside from the Pinoy Fries, PhilRootcrops also displayed their other local delicacies such as the kamote (sweetpotato) ice cream, kamote chips, vacuum fried sweetpotato, cassava choco cookies, hopia, yuca puffs, and juice made from sweetpotato leaves and calamansi.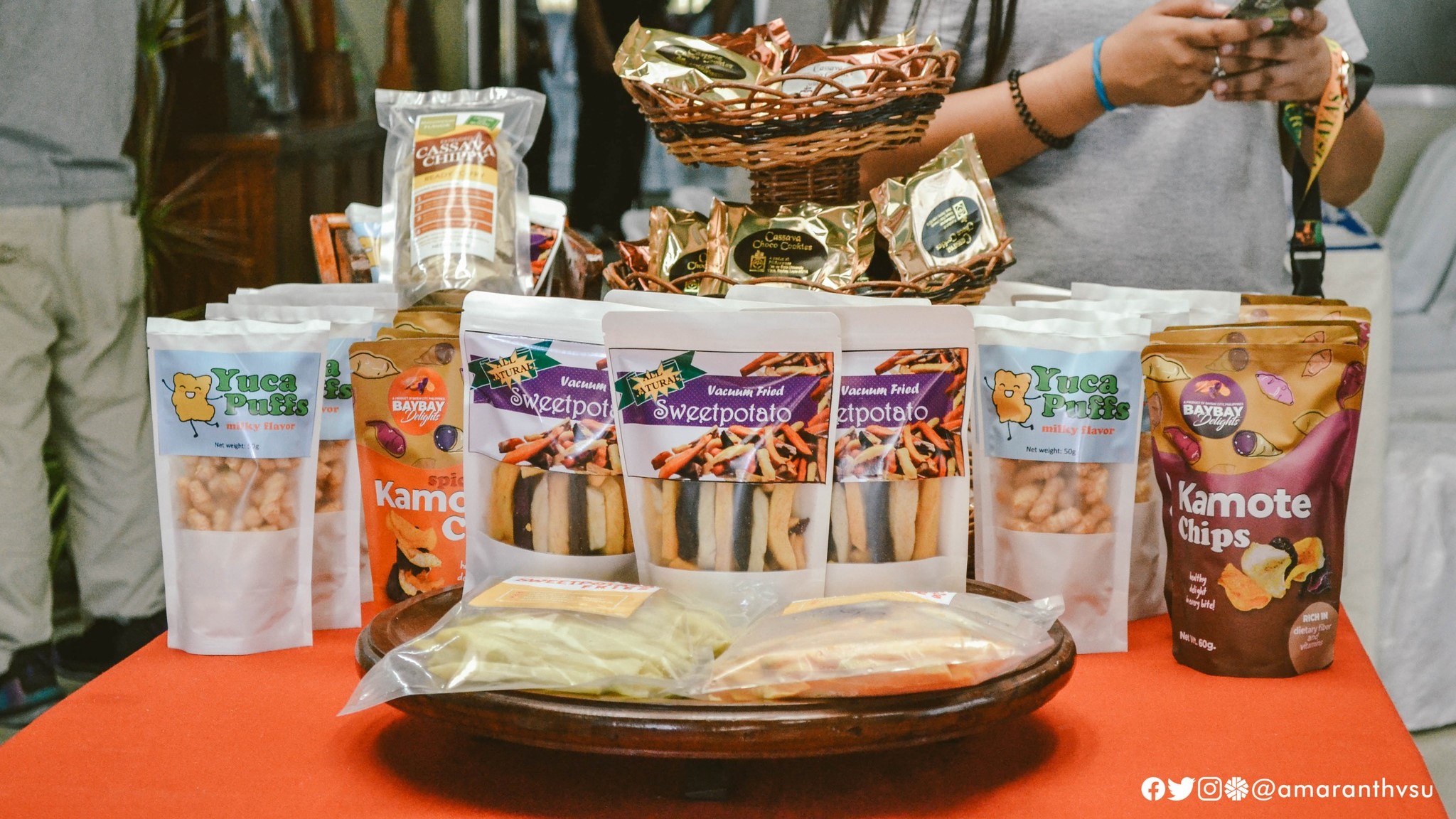 Photo courtesy of Amaranth
PhilRootcrops' four decades of service
For 46 years, PhilRootcrops has been one of the most productive research centers at the university by mainstreaming root crop research and development not only in Eastern Visayas but also in the entire Philippines.
On top of that, the many accomplishments of PhilRootcrops have also contributed to the overall academic performance of VSU, especially in the areas of research, development, and extension making it a potent commodity that will address local food security and nutrition challenges of the 21st century.
To celebrate this milestone, a weeklong anniversary celebration was held from March 20 to 24, 2023 that included techno demonstrations, educational lectures for farmers and students, painting contests, and the signing of partnership agreements with different agency partners in both the public and the private sectors.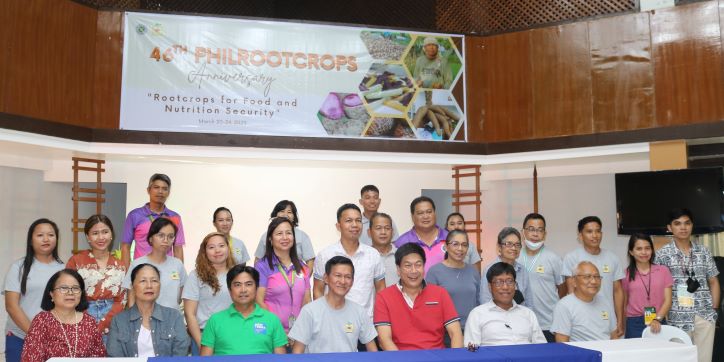 Three Memoranda of Agreements (MOAs)were signed between VSU and AGRITERRAPHILS, INC. and Fatima Multi-Purpose Cooperative (1st MOA), Green Care Solution (2nd MOA), and VSU-Agri-Aqua Technology Business Incubator (VSU-TBI) and entrepreneur Mr. Victor De Paz (3rd MOA), that will hopefully strengthen the local root crop industry and ensure wide adoption of newly generated technologies in different parts of the country.
VSU President Dr. Edgardo E. Tulin who also sits as the concurrent Director of PhilRootcrops congratulated the center for pioneering many research innovations that provided greater prominence and relevance to the university.
"VSU will continue to be the country's prime agency in root crop research and development and we will find ways to mainstream these very important commodities as the food of the future by focusing on the many health benefits and the suitability of root crops in many parts of the Philippines," President Tulin said.
Root crops are part of the two main commodities alongside jackfruit that are currently being promoted by the university as part of the Futures Thinking project—an initiative of Senator Pia S. Cayetano to use creative and divergent thinking that hopes to seek answers to many of our current and future development challenges.