VSU retains Top 1 performing status in PH's biggest accrediting body for SUCs
Details

Written by Marianne C. Bayron

Published: 05 April 2023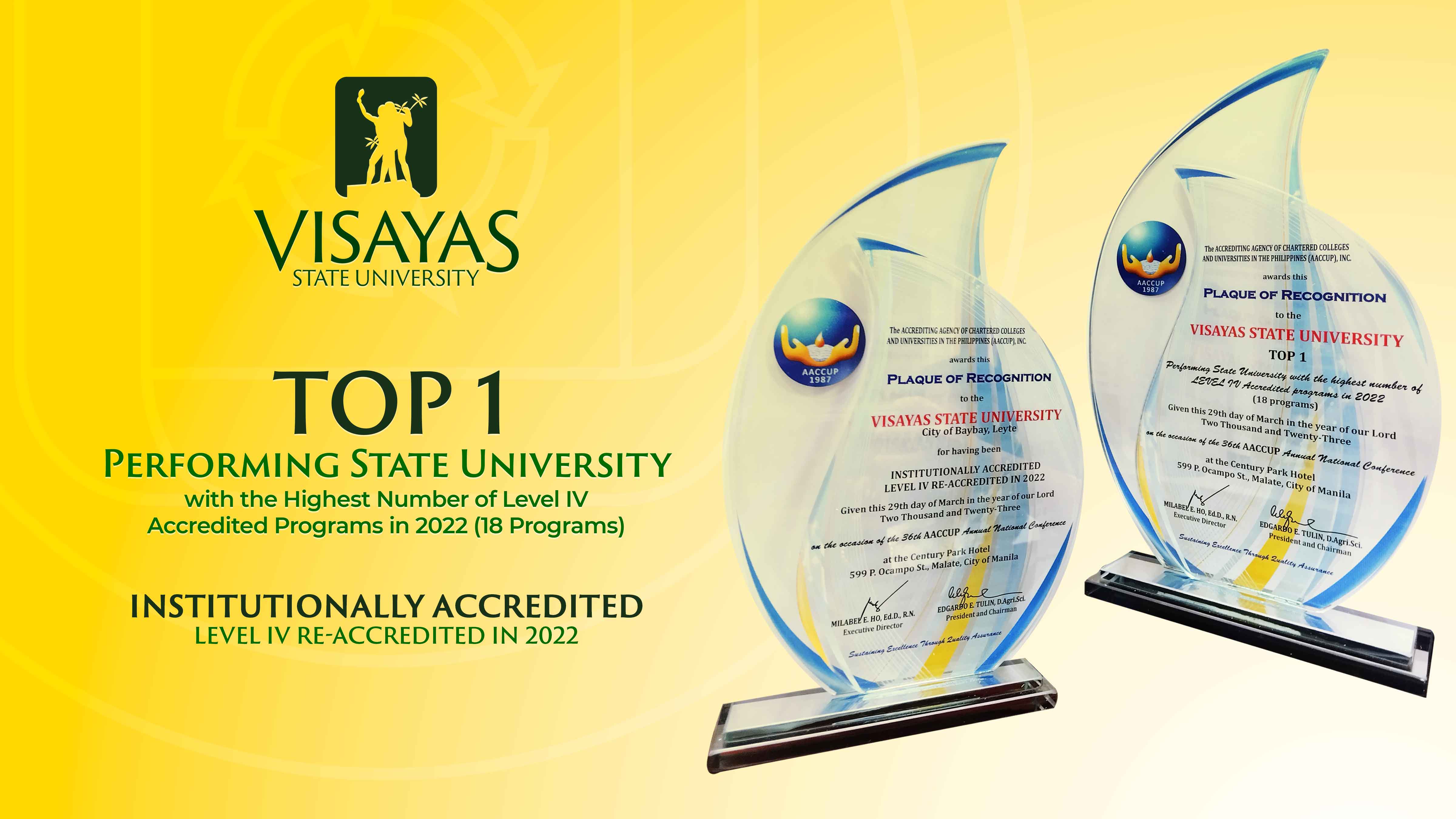 For two consecutive years, the Visayas State University (VSU) is hailed as the Top 1 Performing State University by the Accrediting Agency of Chartered Colleges and Universities in the Philippines (AACCUP)—the country's largest accreditation body for universities and colleges.
This particular award is given because a total of 18 degree programs for both graduate and undergraduate levels have been bestowed with the highest program accreditation status.
On top of that, VSU also officially received the plaque of recognition for its Level IV institutionally re-accredited status making the university the first in both Visayas and Mindanao to get the highest institutional accreditation from AACCUP.
These back-to-back awards from AACCUP were officially conferred to VSU on March 29, 2023, at the Century Park Hotel in Manila during the organization's 36th Annual National Conference and General Assembly which was attended by a total of 19 delegates from the VSU system.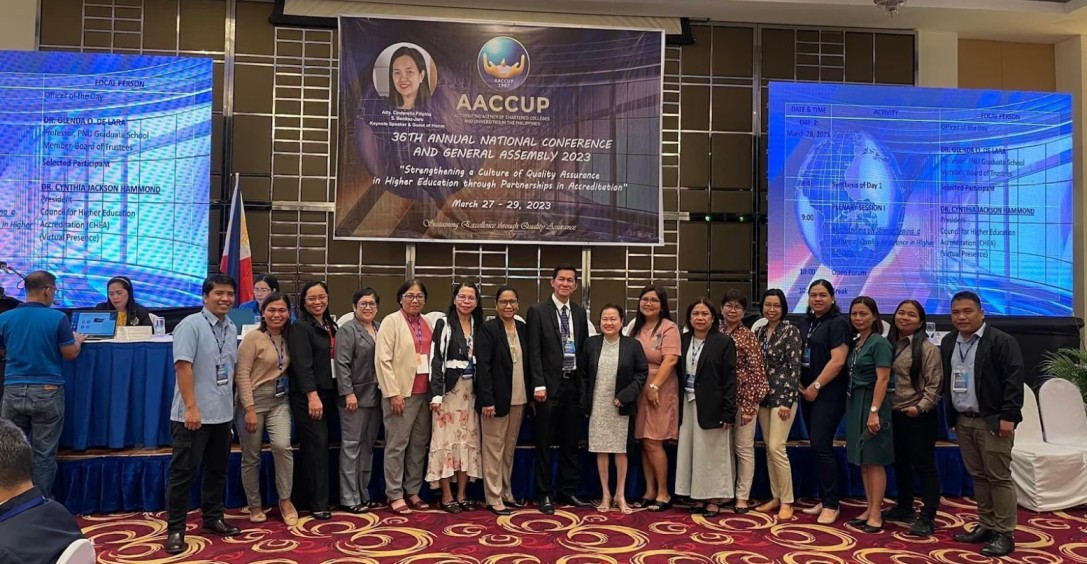 Part of the 18 programs accorded with Level IV status for this year are 4 undergraduate degree offerings and 14 graduate degree offerings that include the following:
Bachelor of Science in Agribusiness
Bachelor of Science in Agricultural and Biosystems Engineering
Bachelor of Science in Biology with majors in Botany, Ecology, and Marine Biology
Bachelor of Science in Development Communication
Master of Agricultural Development - Agriculture with majors in Agronomy, Animal Production, Entomology, Plant Pathology, Plant Protection, Agricultural Economics
Master of Agricultural Development - Education with majors in Agricultural Education, Agricultural Extension, and Development Communication
Master of Science in Agricultural Education
Master of Science in Agricultural Extension
Master of Science in Development Communication
Master of Science in Plant Pathology
Master of Science in Agricultural Economics
Master of Science in Agronomy
Master of Science in Animal Science
Master of Science in Entomology
Master of Science in Horticulture
Master of Science in Plant Protection
Master of Science in Soil Science
Master of Science in Weed Science
However, 13 of these Level IV re-accredited degree programs are still waiting for the official bestowment of their program status award as all of them are required to present their Certificate of Program Compliance (COPC) coming from the Commission on Higher Education (CHED).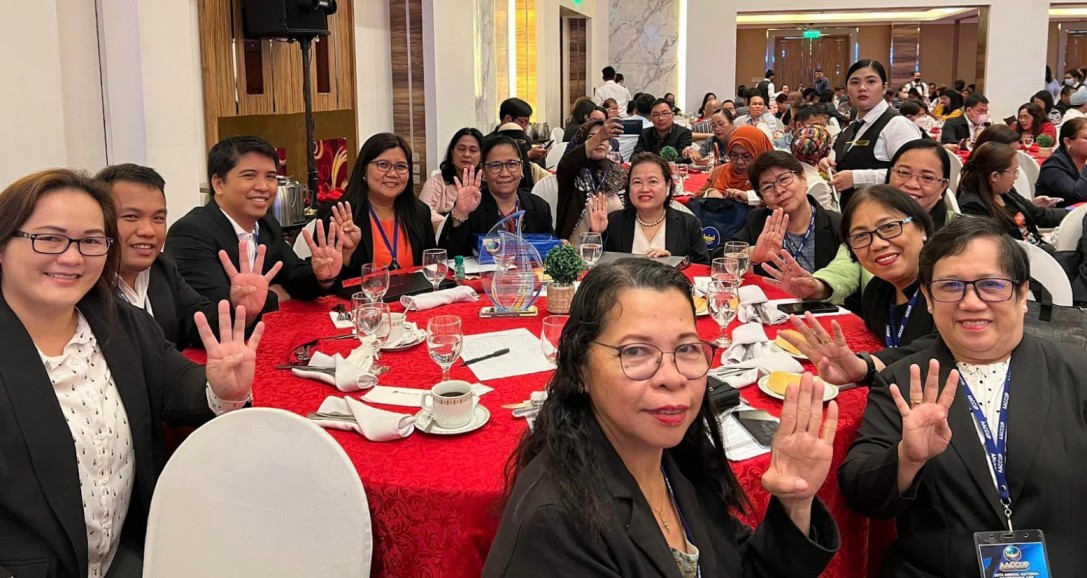 The Office of the Vice President for Instruction is currently awaiting the COPC awards from CHED, which has been processed and completed a few months ago. As per the latest update from CHED, the COPCs of these 13 programs are just waiting for the signature of CHED Chairperson Dr. J. Prospero E. De Vera III.
VSU's flagship campus in Baybay City also obtained Level III program accreditation for four additional degree offerings namely, the Bachelor of Science in Computer Science, Bachelor of Science in Food Technology, Bachelor of Science in Forestry, and Doctor of Veterinary Medicine.
Meanwhile, the component campuses also received their program accreditation awards with VSU Alangalang obtaining Level III status for their Bachelor of Secondary Education major in Mathematics, and Level II status for the Bachelor of Science in Environmental Management.
VSU Villaba, on the other hand, was granted Level II status for three of its programs which include the Bachelor of Secondary Education, Bachelor of Science in Agriculture, and Bachelor of Elementary Education.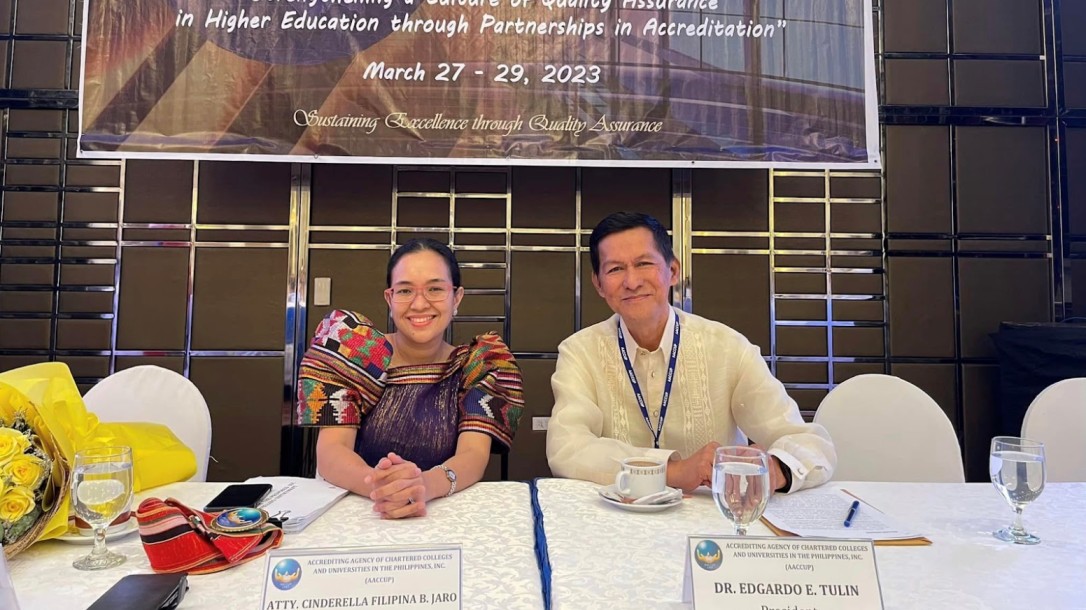 This another milestone of VSU is proof of the quality educational programs the university has to offer to the students both at the undergraduate and graduate levels.
VSU President Edgardo E. Tulin offered these awards to all #ProudViscans who continue to work hard to uplift the reputation of VSU on both global and national stages.
"I'm hopeful that we will be able to maintain this feat in the many years to come. I'm challenging all the other curricular programs in VSU, both in Baybay City and our component campuses, to continuously pursue accreditation and aspire to obtain the highest program status of Level IV so that we can set another standard for other state universities and colleges all over the country," Dr. Tulin said.
Because of VSU's commendable performance in AACCUP, the university's chief steward was elected as President of this prestigious organization in April 2022. He is the only #ProudViscan who has been elected in this post for the 35 years of the establishment of this national organization.