Edgardo Tulin is new President of PH's biggest accrediting agency AACCUP
Details

Written by Ulderico B. Alviola

Published: 23 May 2022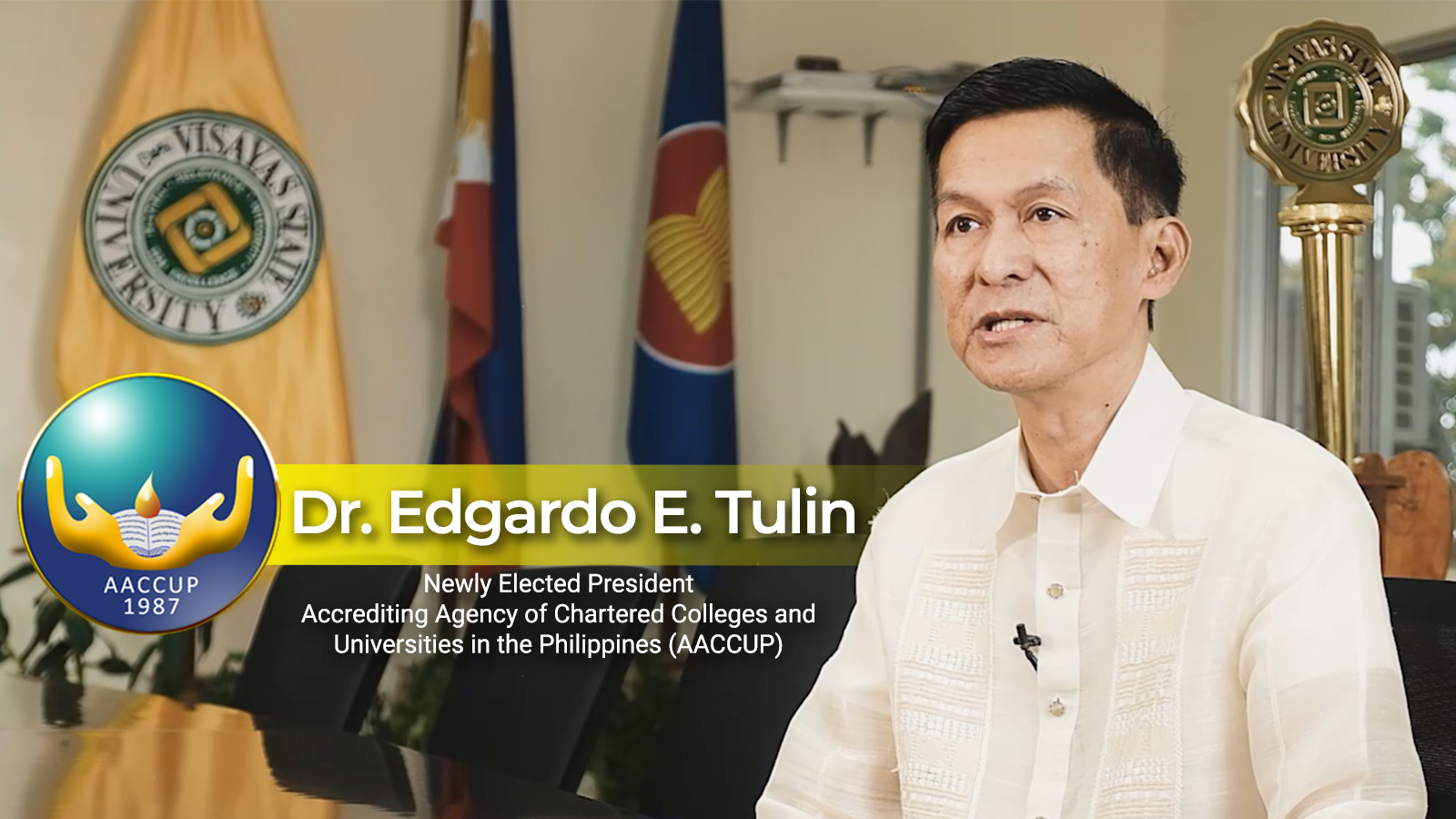 VSU President Edgardo E. Tulin is now set to take on another national leadership role as he was unanimously elected as President and Chairman of the country's biggest accreditation body for state universities and colleges.
In a virtual General Assembly of the Board of Trustees of the Accrediting Agency of Chartered Colleges and Universities in the Philippines (AACCUP) held on April 9, 2022, Dr. Tulin was overwhelmingly chosen to be the next prime mover of the 35-year old organization after serving as Board Member for nearly two years.
AACCUP is a non-profit and non-stock accreditation organization in the Philippines. The agency functions as one of the largest accreditors of curricular programs in the Philippines, particularly for state universities and colleges with over 112 member institutions that includes 421 satellite campuses all over the country.
He succeeds Dr. Myrna Q. Mallari, the 5th President of the Tarlac State University (TSU) whose term ended on March 31, 2022 after serving her university for eight straight years. Dr. Mallari served as President and Chairperson of AACCUP for five years from 2017 until 2022.
Dr. Tulin's designation as the newest President and Chairman of AACCUP adds up to the many national leadership roles of the VSU President including being the incumbent President of the State Universities and Colleges–Association of Colleges of Agriculture in the Philippines, Inc. (SUC-ACAP), an association of public and private higher education institutions (HEIs) offering agriculture degree programs.
He is also the National Vice President for the Visayas of the Philippine Association of State Universities and Colleges (PASUC) and the concurrent President of its regional arm in Eastern Visayas.
Dr. Tulin was also active in international organizations by serving as former President of the Asian Association of Agricultural Colleges and Universities (AAACU) from 2016 to 2018. AAACU boasts of a vast membership base in the Asia Pacific region from 12 countries including Guam in the United States, India, Iran, Indonesia, Japan, Malaysia, South Korea, Taiwan, Thailand, Turkey, Vietnam and the Philippines.
Because of his active involvement in international and national organizations, the VSU President was able to bring in a great number of partners that provided opportunities for VSU faculty and staff to collaborate with counterparts here and abroad.
Dr. Tulin's Chairmanship of AACCUP will be vital in setting new policy directions that could impact quality assurance mechanisms in the country. In an interview, he shared his vision for this national organization and how he plans to help in encouraging more state universities and colleges to subscribe to program and institutional accreditations.
"We've seen how AACCUP was vital in the continued growth and development of VSU and I hope that other schools are seeing this as one of the many benefits of subjecting ourselves to quality assurance evaluations. My vision for AACCUP is consistent with the aim of improving the overall quality of education in the country and we hope that within my stay as President of this organization, we can update our existing accreditation methodologies and some of our practices so that we can match this with how international accrediting bodies are doing their job," Dr. Tulin expressed.
This week, VSU is set for another challenge of subjecting the entire university for its second institutional accreditation. VSU made AACCUP history by being the first Level III institution to be accredited in April 2017. Now, the aim is to outmatch its previous standing by targeting to be a Level IV university and be the first institution in the region to be granted with such certification.